NBA Betting Trends, Notes & Stats: 76ers, Nuggets Rise in Power Ratings, Massive Comebacks, More
Credit:
Mitchell Leff/Getty Images. Pictured: Joel Embiid #21 of the Philadelphia 76ers.
We're at the halfway mark of the season already. Teams are gaining or losing momentum, and we're going to see trades that signal teams' intentions to move toward next season (or beyond) or load up for the playoffs in the next few weeks. Let's kick off the second half of the season with a look at the top, the middle and the bottom of my power ratings.
As always, this is not a subjective rating but the numbers I use to find value betting game-to-game, with the number representing the gap between the teams and an average team on a neutral court.
Manual adjustments have been made for injury and slight adjustments for how teams are currently playing, but ultimately, this is a quantitative, not qualitative, evaluation, and my power rankings would vary significantly.
Note: Data current as of Sunday evening.
Power Rating Top Five
The Celtics have stabilized a bit, partly thanks to a nice stretch of schedule where they got the Pelicans without Zion Williamson and Brandon Ingram and the Nets without Kevin Durant.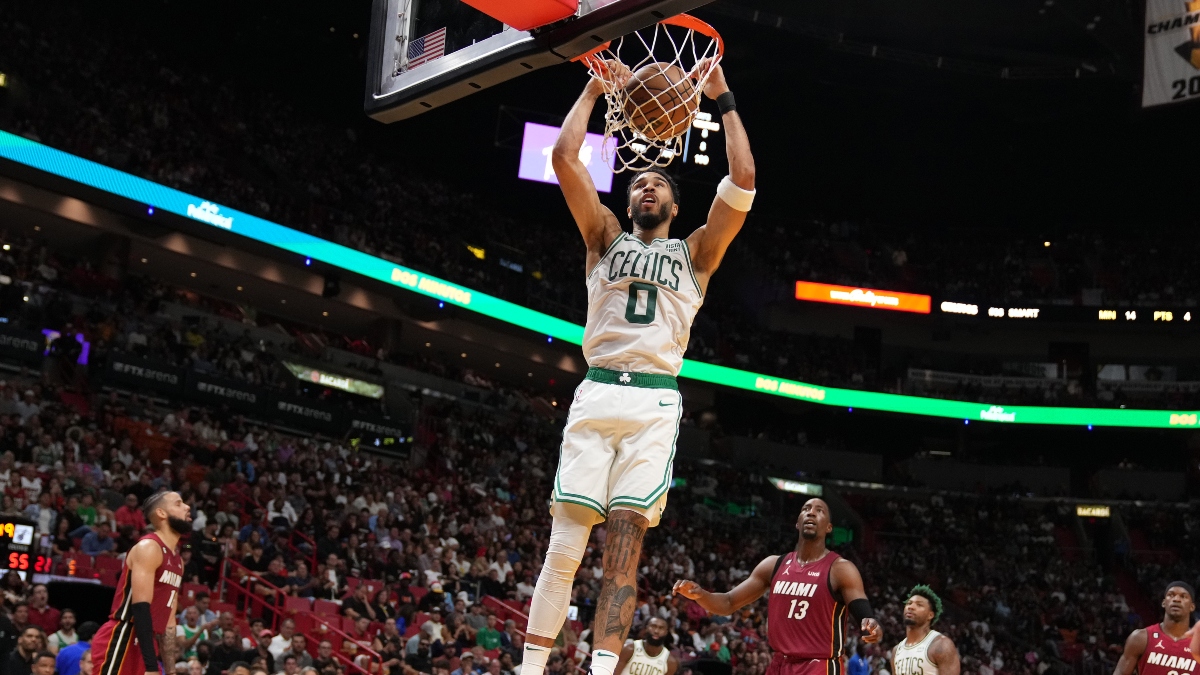 It's not that they're exceptional in this; players are out in every game night-to-night this season, but the bad teams aren't going to slow down the Celtics over the long haul. Honestly, at this point, nothing may slow them down; the lead they got off to in November may be too much.
This is after I downgraded them a full three points because of the KD injury–that's how good the Nets have been. They were decidedly the best team in the league by my power rating before Durant's injury. They have a few easy spots coming up (Spurs, Suns without Booker, Pistons), but we'll see if they remain stable without Durant.
I'm not sure why there's so much hesitancy around the 76ers. They're under the radar. They're not blowing you away every night, but look at the resume: 26-16 as of Sunday morning, top 10 in both offense and defense at Dunks And Threes.
The Sixers are also still +7 with James Harden on the court and +5.8 when Joel Embiid sits. They're playing the most underwhelming 50-win-pace season I can remember, which makes me wonder if it's a perception issue and not an actual one.
The Nuggets' ratings are finally starting to align with their record. They've won 16 of 19, and since losing to the Pistons at home before Thanksgiving, Denver has lost just one home game. The vibes are incredible. The ball is moving, and Jokic is a juggernaut pushing toward another MVP award.
I've been resistant to playoff futures on Cleveland. They're unproven; Evan Mobley and Darius Garland have zero playoff series played. Jarrett Allen only has two, playoff series played and nine games played in the two series.
But this team is so balanced on both ends. Donovan Mitchell has proven he can play up in big moments, and they're not one-dimensional. Are we sure this team isn't the East dark horse we've been looking for?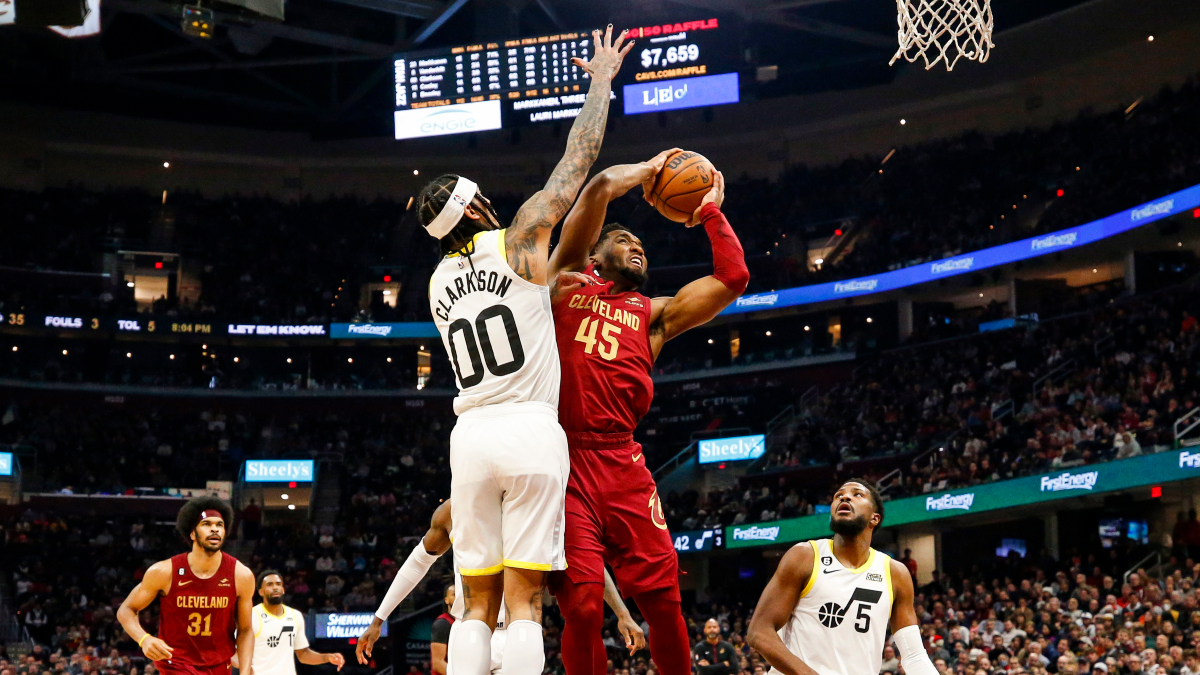 NOTE: If you're wondering where the tied-for-first-in-the-West Grizzlies are, they'll never look great in my model because of their halfcourt offense. Memphis is 24th in halfcourt offense, where most of the NBA-game offense takes place. That doesn't mean they aren't great or will finish outside the top three in the conference, but strictly under this projection, they won't look as good.
Memphis comes in sixth in my numbers based on their No. 1 halfcourt Defensive Rating. (Have I mentioned Jaren Jackson Jr. is Defensive Player of the Year?)
---
The Middle Five
"Steph's back! Warriors set to go on a run!"
holds finger to earpiece
"I'm being told the Warriors lost to the Zombie Suns at home."
Golden State is probably going to make a run, still–it's just not going to be the kind of run that people are talking about. It's likely not an 18-2 run but more like a 13-7-ish run. They will probably be on the road for the playoffs for most, if not all, rounds.
There are a lot of folks who believe that the historical trend of teams being top-two seeds matters more than the context of this team. I'll go the other way: the Warriors have won the title every season that they've finished with all five starters available and are 4-1 when Steph, Klay and Draymond are on the floor for the final game of the season.
But regular season? I'm not sure the sharp curve correction is coming.
OKC is 6-2 in its last 10 and back to three-under-.500. They're top 20 in halfcourt offense, halfcourt defense, transition offense and transition defense.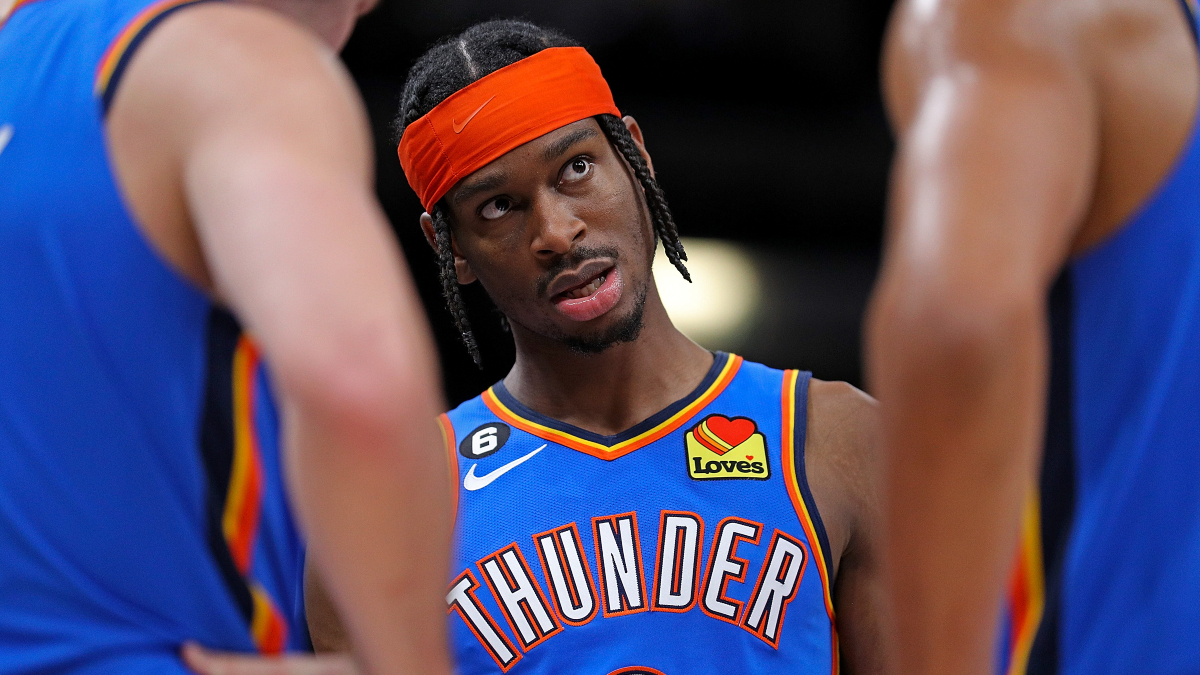 Their ceiling is extremely low because of their roster construction, but their floor is pretty high, so OKC is 27-16 ATS this season (63%). Home, away, on rest, on back-to-backs, they're consistently good against the number.
The one exception? OKC is just 5-5 straight up and ATS as a favorite this season. Only back them as a dog (18-8, 69%).
The Hawks are 2-3 (40%) straight up and 3-2 (60%) ATS without Trae Young this season. They're 51% straight up and 38% ATS with Young.
That's five games. It's probably nothing. But given how Young has played this season, it at least raised my eyebrow. League sources have said that there's a good chance John Collins isn't moved after the front office power shift that ousted Travis Schlenk.
I'm sure Collins is thrilled.
The Trail Blazers ended their losing streak with a dominant home win over the Mavericks Friday and then took the second game of the duplex set without Luka Doncic in the lineup on Sunday.
There's been discussion of Portland aiming for roster changes at the deadline, but their options are limited. Jerami Grant is needed to cover the defensive issues. If they could upgrade on Jusuf Nurkic, that might move the needle, but the market for him isn't blazing hot.
Ultimately, they still have a home-heavy schedule from here on out. They have been bad (relatively) at home, but if they can stabilize that, it'll put them much closer to the postseason.
The Bulls righted the ship with wins over the Nets, Sixers, and Jazz…then lost to the Celtics, Wizards, and Thunder. There is no consistency for this squad, even if DeMar DeRozan's absence mattered in a few of those.
Their bounce back win Sunday vs. Golden State was good, though.
The Bulls offense is worse than their defense this season; Billy Donovan's done great work with getting this unit to not bleed on defense, but they need more shooters to balance the second unit when DeRozan isn't on the floor.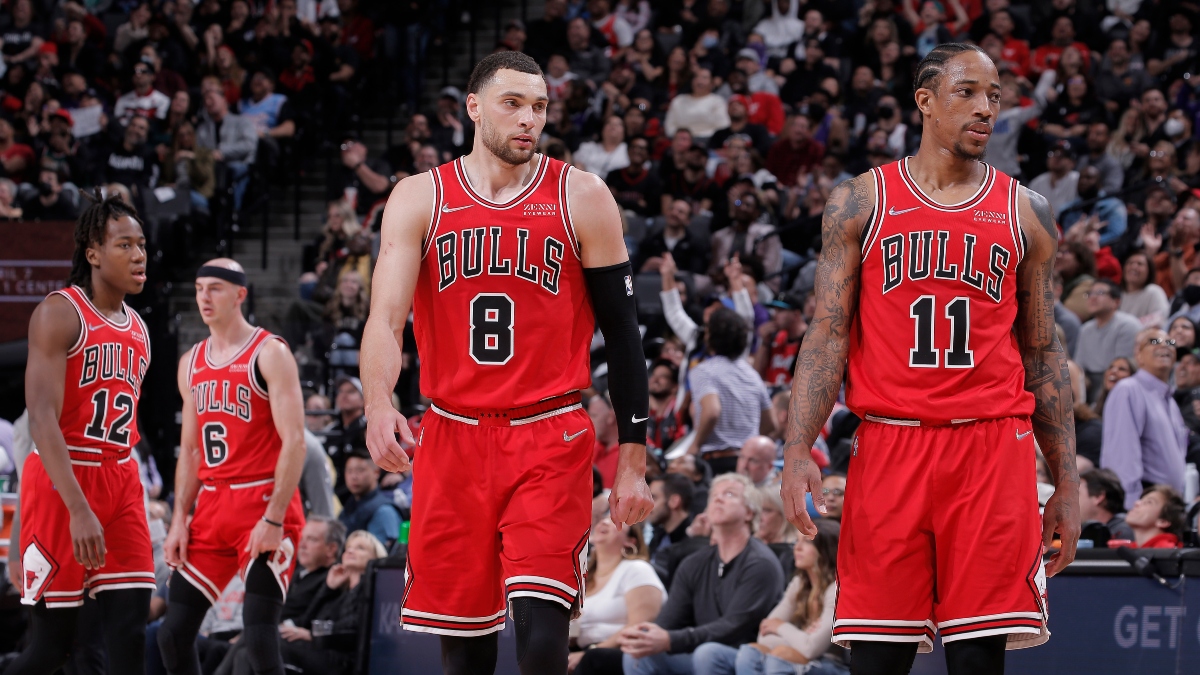 Chicago is 6.1 points worse with DeRozan on the bench, but they only have a 113 Offensive Rating–good, not great–with him on-court.
NOTE: Indiana Pacers with Tyrese Haliburton (out two weeks, bone bruise) and Myles Turner actually come in at 14, but with the 2.5-point adjustment I made for their absence, they slip out.
The Last Five
Orlando's defense hasn't been as good as last year, which is disappointing. I'd still like to see them for an extended stretch with the intended starting unit to get a sense of where they're at.
There is a lot of conversation around the league that the Pistons will just hang on to Bojan Bogdanovic, which is a shame considering how much he could help a contender. Detroit could probably win more by playing faster (17th in transition offense, ninth in offensive possession length).
Charlotte is a league-worst 6-14 ATS at home, including 1-7 with LaMelo Ball in the lineup. However, they're 6-5 ATS on the road with Ball.
Charlotte's had the fourth-toughest strength of schedule so far and plays in a weak division. Even then, I think this team has to pivot toward a rebuild pretty soon, so watch the injury report nightly for guys being held out as a precaution.
I'm not sure how you're not concerned right now about the overall direction of the franchise. The players have no discipline in shot selection or game plan. Their defense is a sieve. They've been in winnable games, like the one vs. Sacramento last week, and completely unraveled. Alperen Sengun is being underutilized. Jalen Green's efficiency has fallen off a cliff.
What do you hang your hat on with this team?
San Antonio is actually 12-11 at home this season against the spread, not that that helped me when I bet them against the Warriors in the Alamodome game, and they lost by a billion.
---
NBA Betting Trends
So Many Wild Comebacks … Only, Not?
There is an idea that no lead is safe this season in the NBA, and that the offensive explosiveness and 3-point variance lead to wilder swings in win probability.
Except that's just not true.
Going back to 2003, teams have won 78% of all games when their biggest lead has been 10 or more. This season, it's 77%. With a 20-point lead or more, teams have won 96.6% of their games–compared to 96.1% this season.
The same is true against the spread as well.
With a 10-point lead, teams have covered the number 72.4% of the time before this season and 71.8% this year.
Favorites, however, have been a little more vulnerable this season. Since 2003, favorites with a lead of 10 or more have won outright 87.2% of the time. This season, that number is down five percentage points to 82.9%.
Favorites with a lead of 20 or more, however, are actually winning slightly more, 93.5% of the time, compared to 90.8% flat.
These numbers carry forward later in games as well. Teams with a double-digit halftime lead have won 88.6% of the time, covering 88.2%. This season: 88.5% straight up and 82.8% ATS.
Teams with a double-digit lead going into the fourth quarter this season have won 96.9% of the time compared to 95.8% historically. Teams up 15 or more after three quarters are 168-0 straight up and 160-5-3 ATS this season.
There's just no real reason to believe leads are any less (or more) safe than they have been in previous seasons.
Minus the Star
Since so many players are missing time for injury or rest management, I thought I'd give you a sense of how each team is doing this season without its best player.
Top 10 in the Eastern Conference:
Celtics: 1-1 SU, ATS without Jayson Tatum

Nets: 2-1 SU, ATS without KD after their loss to OKC Sunday

Bucks: 4-4 SU, ATS without Giannis Antetokounmpo

Sixers: 7-4 straight-up, 6-5 ATS without Joel Embiid

Cavaliers: 2-3 SU, ATS without Donovan Mitchell

Knicks: 1-1 SU, ATS without Jalen Brunson

Heat: 7-7 SU, 6-7-1 ATS without Jimmy Butler

Pacers: 1-3 SU, 2-2 ATS without Tyrese Haliburton

Hawks: 2-3 SU, 2-3 ATS without Dejounte Murray, 2-3 straight up, 3-2 ATS without Trae Young

Bulls: 0-2 SU, ATS without DeMar DeRozan
Top 10 in the Western Conference:
Nuggets: 2-2 straight up, 2-2 ATS without Nikola Jokic

Grizzlies: 4-3 SU, 2-5 ATS without Ja Morant

Pelicans: 9-5 SU, ATS without Zion Williamson

Kings: 0-1 SU, ATS without Domantas Sabonis

Mavericks: 0-5 SU, 1-4 ATS without Luka Doncic

Warriors: 5-8 straight up, 7-6 ATS without Steph Curry

Wolves:

Clippers: 10-14 SU, ATS without Kawhi Leonard, 5-10 SU, ATS without Paul George

Jazz: 1-3 SU, 2-2 ATS without Lauri Markkanen

Suns: 2-12 SU, 4-10 ATS without Devin Booker
You'll notice some outliers in both directions, but the line is pretty efficient, and the good teams are still pretty good without their best players. But we'll check back in on this later in the season.
A Key Number
I noticed anecdotally this situation occurring a few times:
A team is an underdog and down four points with under 15 seconds, then misses the shot that would make the game one-possession. The opponent (the favorite) gets the ball, and the team down four elects not to foul, and the opponent runs out the clock.
That's an anecdotal piece of evidence, but I started looking at the numbers.
Teams who won the game and were favored by fewer than 4.5 points are 89% ATS. Teams who won the game and were favored by four points or fewer were 89% ATS. At 4.5, that number has dropped to 68.% ATS (11-5).
Since 2003 before this season, favorites of more than four points covered 67% of the time. Favorites of fewer than four points covered 89.9% of the time, and favorites of exactly four points covered at 82.7%.
This makes intuitive sense; if you win the game, you're going to cover a lower spread a higher percentage of the time. Your odds of losing the game outright are obviously higher in a game with a spread inside four rather than more than four.
But the specific drop from -3.5 or shorter to -4, and then from -4 to -4.5, is notable if not significant.
We've been looking for key numbers in the NBA to no avail, but I've been hesitant to play dogs inside 4 this season, or if I do, to ensure playing the moneyline for ROI.
How would you rate this article?
This site contains commercial content. We may be compensated for the links provided on this page. The content on this page is for informational purposes only. Action Network makes no representation or warranty as to the accuracy of the information given or the outcome of any game or event.