How NBA Free Agency Impacts Futures for Heat, Bulls, Nuggets and Lakers
Credit:
Kevin Tanaka/NBAE via Getty Images. Pictured (L-R): NBA players Jimmy Butler and Kyle Lowry.
NBA free agency isn't close to being done. At the time of writing, there are still a few notable names that haven't been reported on, but we have a good idea of how most teams are shaping up as the frenzy slows down.
With a field that wasn't as deep as previous seasons, teams are also actively signing and trading players and we could see more of that before the week is over.
Let's take look around the NBA betting landscape in the wake of this week's free agency and analyze how it could influence futures prices.
Miami Heat: Reportedly signed Kyle Lowry (three years, $90 million), PJ Tucker (two years, $15 million), Duncan Robinson (five-year $90 million extension), Dewayne Dedmon, Victor Oladipo and extended Jimmy Butler ($184 million).
The Heat will be one of the most interesting teams to watch see when win totals are released. Two years ago when they made their bubble run, they were a deep, versatile team led by Butler and a trio of youngsters in Robinson, Tyler Herro, and Bam Adebayo, with a little veteran boost from Goran Dragic. Jae Crowder, Solomon Hill, Kelly Olynyk, and Andre Iguodala provided key minutes.
This team is going to be razor thin, led by veterans deep in their careers with a ton of minutes.
Lowry turns 36 this season, Tucker turns 37, and Butler will be 32 before the season begins. Butler is one of just 14 players in NBA history to have played over 20,900 minutes in fewer than 635 games in his first 10 seasons. That's a very heavy load over a short span.
When Butler was available in trade discussions during his stints with the Chicago Bulls and MinnesotaTimberwolves and then as a free agent after playing for the Philadelphia 76ers, the big question was how he would fare as he got older after his years playing grueling minutes under Tom Thibodeau.
Butler had some issues with injuries the last few years but nothing major. It's just that the Heat have invested a ton in this core.
If last year was the outlier, with all four final-four teams going out by the second round, and the Heat can bounce back, then things are great. But Adebayo looked lost in the playoffs, and Robinson had a slightly down year.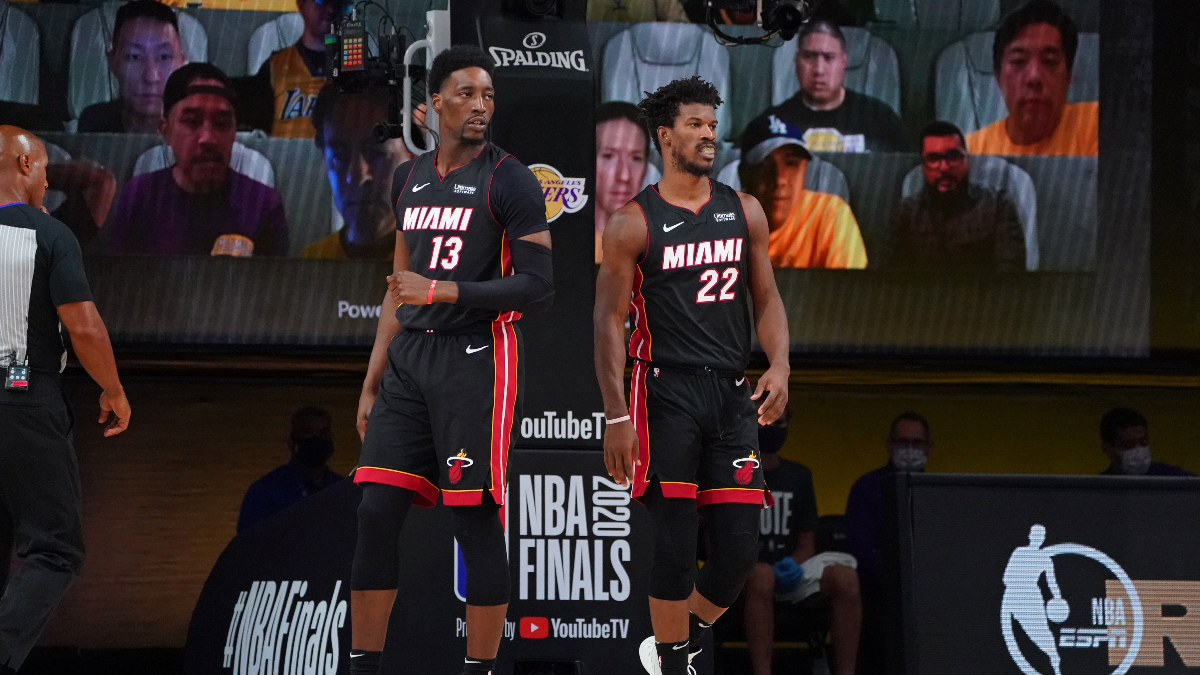 Robinson is also not the spring chicken he seems to be; he's 27. He's still obviously in his prime, but at $18 million per year, he has to be more impactful than he was in the Heat's playoff sweep to the Milwaukee Bucks.
Tucker is complicated.
His toughness and the way teammates respond to him matters. His ability to defend multiple positions and switch all defenses matters. However, the Bucks' defense was 10 points better in the regular season without Tucker and two points better in the playoffs. Tucker had moments where he was absolutely crucial for Milwaukee's title run. He's also just not quite the same player he was 2-3 years ago.
Tucker leaving the Milwaukee Bucks for Miami hurts the Bucks more than it helps the Heat.
The Heat still have young talent. Herro can either course correct, or get moved, Precious Achiuwa and KZ Okpala can play.
There will be a buzz about this team based on its seemingly splashy moves, but it is headlined by aging players who were never top of the league. Maybe the books will be too smart and hang a conservative line, but if they pop higher than 48.5 I'll be looking for under prices.
Miami's title odds shortened from 25-1 to 16-1 at some books, but you can still find their odds as high as 28-1 (DraftKings) if you're convinced that last year, not the bubble, was the fluke.
---
The Bull Market
Chicago Bulls: Reportedly signed Lonzo Ball (sign-and-trade, four-years, $85 million), Alex Caruso (three years, $37 million), DeMar DeRozan (sign-and-trade, three years, $85 million).
It's funny how one move can shift things into one perspective and another move can alter that perspective entirely.
Chicago had been chasing Lonzo Ball for months. Sources said they were among the most aggressive teams at the trade deadline trying to acquire the budding guard. Chicago managed to not only come to terms with Ball on a four-year, $85 million deal, but pulled off a sign-and-trade.
That left room for Chicago to add Alex Caruso as well.
When the Bulls added Ball, the response was largely that the Bulls' defense would improve. Ball has a reputation as a disruptive and effective defender.
I need to throw some context on this. Not exactly cold water, but room temperature at best.
Ball is a tremendous off-ball defender. He disrupts passing lanes and has great feel for how to dig on drives to create turnovers. However, this somehow gets translated to Ball being a great defender, which is not the same thing.
He can help in certain situations in certain schemes. In isolation, he gave up 1.167 points per possession, which was 11th percentile per Synergy Sports. He gave up the fifth-most points per chance on closeouts this season among players with at least 200 closeouts. He digs to try and be disruptive, gets caught, and then when he has to rotate back, he often gets flatfooted.
The Bulls will likely struggle defensively again next season with Zach LaVine and Nikola Vucevic alongside Ball. In fact, they could easily be one of the worst defensive teams.
However, adding Caruso helps — he is a genuinely disruptive defender. His offense is hit or miss, but Chicago shouldn't have any trouble scoring.
Then there's the move for DeRozan.
DeRozan has always been a flawed star player. He's a negative defensively: the San Antonio Spurs were 10 points worse on defense with DeRozan on-court last season. In particular, the combination of DeRozan, Vucevic, and LaVine is going to be absolute cheeks defensively.
However, for all the Bulls' defensive issues, they still finished 12th in defense last year. After All-Star Break, when the schedule hit, LaVine was out with COVID and their season imploded? They ranked eighth defensively.
This leads to the idea that Billy Donovan's coaching and scheme can basically "cap" the Bulls' defense to an extent. Donovan may be the stopgap from the Bulls being horrible defensively, and if they're not horrible on that side of the floor, they will be pretty good overall.
DeRozan has become a sublime passer, capable of complicated reads that end in smooth passes. He was the ninth-most efficient scorer on mid-range shots for players who attempted at least 200 such shots last season. DeRozan was the second-most efficient player in pick-and-rolls last season, including passes (minimum 200 sets). DeRozan at this point is not a "very good scoring guard," he's an elite offensive player.
Conceptually, Ball spaces the floor and acts as a relief valve for quick passes. DeRozan and LaVine can dominate the offense, putting teams through a meat grinder with Vucevic, who can post up smaller players on switches and burn drop defenders with pick and pops.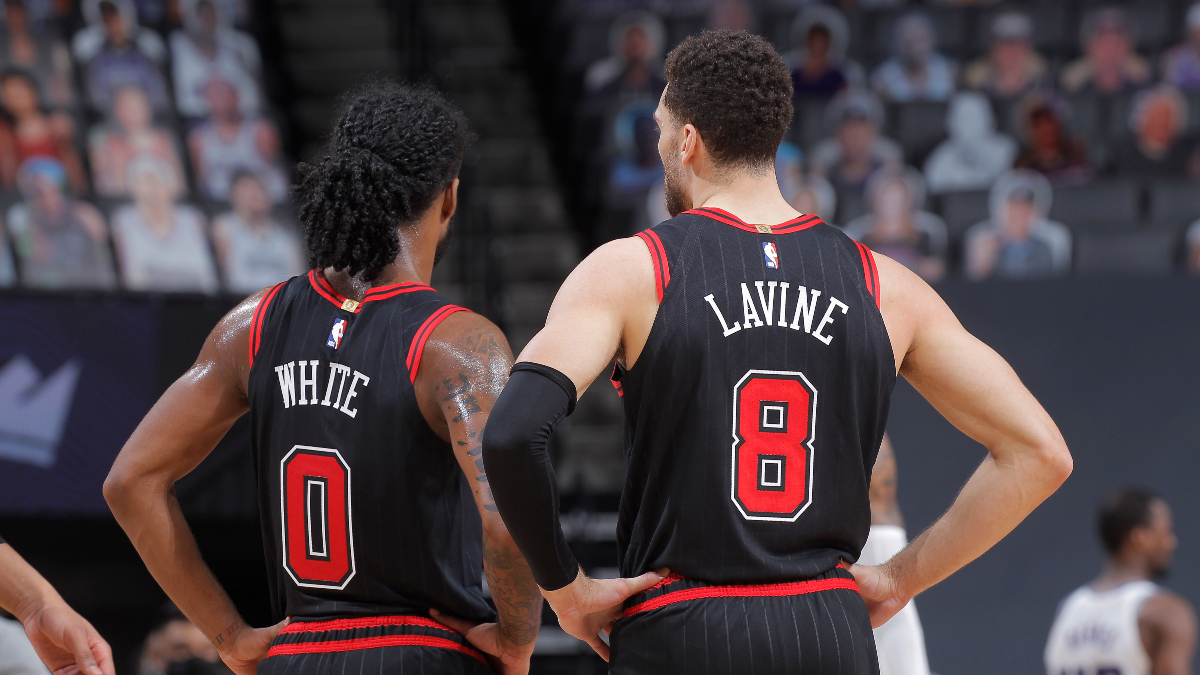 Offensively, if LaVine returns as even 90% of what he was last season, they will cook. Coby White's inconsistency was aggravating, especially in moments where he would try and take over instead of trusting LaVine. Ball has better instincts than that and his evolution as a spot-up shooter only helps.
A word on that, however: Ball shot 46% on 3-pointers in February and 40% in six games in May. In all other games he shot 33.5% from behind the arc. It's not like those shots in February and May didn't count, they did. But Ball can be an inconsistent shooter.
This is crucial to understanding the Bulls. A Ball-LaVine-DeRozan-Vucevic lineup features one consistent 3-point shooter, and that's LaVine. They also don't have any power forwards currently. I don't mean they don't have any good ones, I mean 6-foot-7 Patrick Williams may have to start at power forward.
There are still moves to be made, Lauri Markkanen remains without a deal as a restricted free agent. There's likely a sign-and-trade in his future, which will net the Bulls some depth.
Chicago is not a serious title, conference title, or division threat. However, if their win total comes in below 45, the over is going to have value. The Bucks, Nets, Sixers, and Heat should be better than the Bulls, but this team has a real shot at being in the Hawks–Knicks–Celtics tier. These moves were good enough to gain attention, but not good enough to inflate their line.
If you want to go the other way, however, it's pretty simple. DeRozan-LaVine-Vucevic won't be able to score enough to offset their defense, and LaVine takes even a slight step back from lat year's performance.
---
Check out our free NBA odds page, which automatically surfaces the best line for every game. Subscribe to our NBA Insiders tool at Action Labs to beat the market with our cutting edge player projections, injury news and betting thresholds.
---
Denver Runs It Back
Denver Nuggets: Reportedly signed Will Barton (two years, $32 million), JaMychal Green (two years, $17 million), Jeff Green (two years, $10 million).
The Nuggets' title odds moved from 22-1 to as short as 17-1 at some books Monday night. Why? Denver didn't add anyone of major consequence. Their big free agent acquisition was journeyman Jeff Green for part of the Mid-Level Exception.
But they also didn't lose anyone of consequence. Barton and Green both quickly re-signed on two year deals, leaving the books open for an extension for Michael Porter Jr. and potentially, if things go right, Aaron Gordon.
Barton was the fifth wheel in the short time period between the Nuggets' trade for Gordon and when Jamal Murray got hurt, a period where they looked like world killers. Opposing defenses, constantly trapped between trying to stop pick-and-rolls between Nikola Jokic and  Murray, or Micael Porter Jr. spotting up with Gordon cutting, often left Barton alone and he absolutely eviscerated teams.
Having a guard with size who can handle, create his own offense, finish and shoot next to the core four was massive. Barton was a huge part of their seven-game winning streak.
Losing him would have been catastrophic; their cap situation would not have allowed for them to sign an upgrade. So instead the Nuggets will run it back, while giving themselves long-term flexibility if they need to realign things in two years.
Denver has to sign Porter Jr. to an extension (likely the max) and figure out Aaron Gordon before he hits free agency in 2022. But the consequences and how to build around the core four come later.
For now, Denver is putting trust and faith in what this team looked like when healthy, which was a juggernaut.
Denver doesn't have a backup center; they're going to have a small-ball option off the bench, the way a lot of teams do. They can play either Green at that spot. They'll suffer in certain matchups (the matchup with the Los Angeles Lakers gets worse here), but can throw a different look out in non-Jokic minutes if they need it.
I liked Denver's longshot title odds before free agency began. They've moved to 16-1 from 20-1 at some books but you can still find them at 22-1. If you want a longshot ticket you'll excited about all year, I personally think this one has the best value.
---
The Lakers Get Weird … and Older
LA Lakers: Reportedly signed Trevor Ariza (one year), Wayne Ellington (one year), Kent Bazemore (one year), Carmelo Anthony (one year), Malik Monk (one year), Dwight Howard (one year), Kendrick Nunn (two years, $10 million) and Talen Horton-Tucker (three years, $32 million).
The Lakers reloaded, I guess, after the Russell Westbrook trade drained much of their depth and Caruso's departure left them vulnerable. They'll miss his defense and energy; the Caruso lineups always exceeded their skill level with performance.
I am a lifelong Ariza supporter, but I regret to inform you that he is beyond his expiration date. His role in Miami was very similar to what it is supposed to be in LA: hit open 3's and play defense.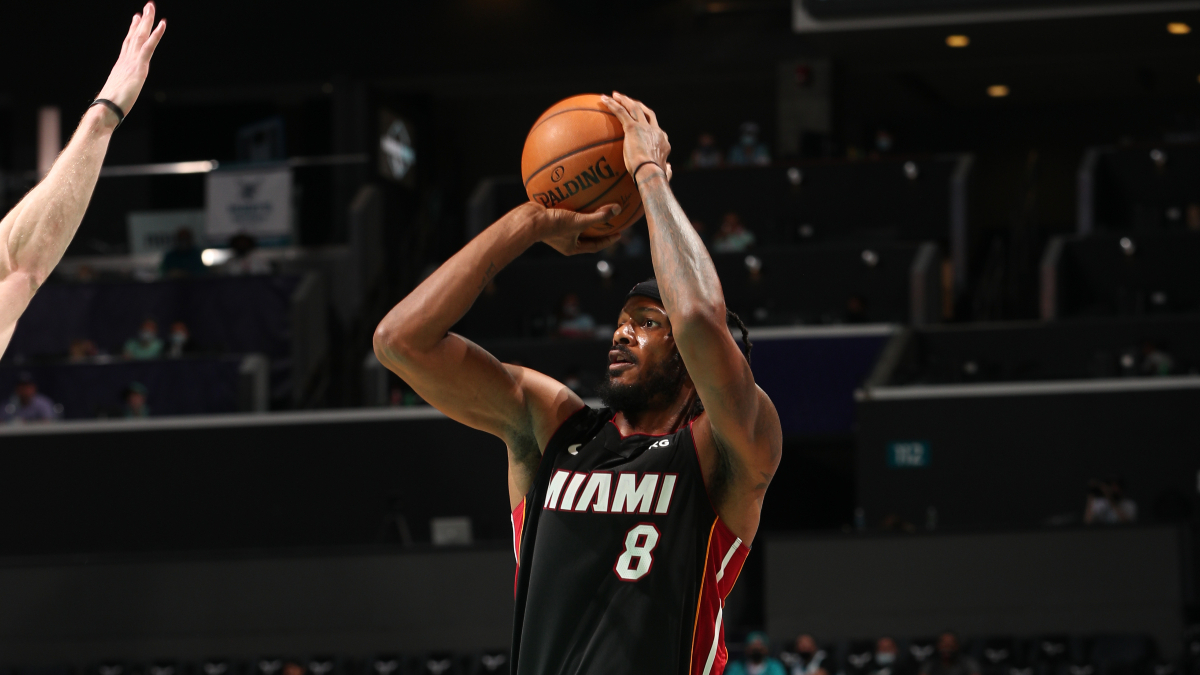 He struggled on both counts in Miami, unable to duplicate what Jae Crowder gave the Heat the season prior (Crowder is very much a modern day Ariza mold). Bazemore shot 40% on 3-point attempts last season, as did Monk and Ellington.
This is a good example of the difference in good shooters vs. shooters with gravity. It doesn't matter how well they shoot, teams will not react to the shooting threat of Ellington, Monk, and Bazemore the way the Lakers want. Maybe it doesn't matter if they knock down shots, though.
Like with the Bulls, the Lakers' defense may simply be capped, in a good way. It doesn't matter who they add or lose, they may simply always be a top-five defense with Anthony Davis under Frank Vogel.
The Lakers will remain a hot ticket for the title, just as they were in preseason last year. I'm not convinced this team is as well built as the optimists hope, but I also think there's a long time between now and when the value will get to a point you have to decide that.
Their regular season over, however, will be surprisingly sound. Westbrook, shooters, LeBron Jame and Davis. This isn't rocket science, that's a 57-win team at least.
How would you rate this article?
This site contains commercial content. We may be compensated for the links provided on this page. The content on this page is for informational purposes only. Action Network makes no representation or warranty as to the accuracy of the information given or the outcome of any game or event.