2022 NBA MVP Odds Model Projections: Joel Embiid Remains Favorite in Tight Race
Credit:
Mitchell Leff/Getty Images. Pictured: Joel Embiid #21 of the Philadelphia 76ers and Nikola Jokic #15 of the Denver Nuggets.
2022 NBA MVP Odds
| Player | Consensus Odds |
| --- | --- |
| Joel Embiid | -125 |
| Nikola Jokic | +140 |
| Giannis Antetokounmpo | +950 |
| Ja Morant | +3600 |
| DeMar DeRozan | +6500 |
| Luka Doncic | +5000 |
| Stephen Curry | +8000 |
| Devin Booker | +10000 |
| Kevin Durant | +10000 |
| LeBron James | +49000 |
Odds via BetMGM and updated as of March 15.
I'm tracking the MVP race for the rest of the season using my model to determine if there's value within the betting markets. And in this third installment, there's been some movement among the top names with a few players falling out of the top five and new players entering. For more on the methodology, you can check out the first post here.
Our linear regression model, which predicts the amount of voting shares each player would receive based on their individual statistics and team wins, has been far more accurate than our logistic regression model, which gives the probability of whether each player will win or lose.
The logistic regression model heavily weights seeding and MVP voters recently away from crowning a player from the top two seeds in each conference for the award, this model isn't capturing the market as well as it previously did. Outside of the Milwaukee Bucks, the remaining top two seeds in each conference — Miami Heat, Phoenix Suns and Golden State Warriors — don't have a viable candidate this season.
Nonetheless, this appears to be a three man race for MVP with Joel Embiid, Nikola Jokic and Giannis Antetokounmpo, with Embiid and Jokic as frontrunners throughout the betting markets.
While Ja Morant, Stephen Curry, DeMar Derozan, Luka Doncic and Kevin Durant have made their case for MVP, there's a clear hierarchy for this Award and Embiid, Jokic and Antetokounmpo are fully entrenched in the top tier.
Our linear regression model has been quite accurate and mostly reflected the betting markets, public perception, statistics and what we're seeing on the court throughout this season.
During our last update at the All-Star Break, it had Nikola Jokic, Giannis Antetokounmpo and Joel Embiid ranking first, second and third. However, with the Bucks taking over the No. 2 spot in the East, Antetokounmpo is now favored to win the award on both our linear and logistic regression models.
With voter fatigue weighing heavily on Antetokounmpo and the former 2 time MVP not having the narrative of Embiid or Jokic carrying their team in the absence of key players like Ben Simmons, Jamal Murray and Michael Porter Jr, our models differ from the betting markets as the consensus odds have Embiid as the favorite to win the award at -125, followed by Jokic at +140 and Antetokounmpo at +950.
Last night's heavy anticipated matchup between the Denver Nuggets and Philadelphia 76ers was thought to be a deciding factor in the race, however both candidates put up dominant performances with Embiid putting up 34 points, nine rebounds and four assists and Jokic dropping 22 points, 13 rebounds and eight assists leading the Nuggets to a 114-110 victory.
With the benches being a huge difference in the game and neither candidate doing much to separate themselves, this race is still wide open with just a few weeks to play in the regular season.
Here's how the list is shaping up as of Mar 15.
2022 MVP Model Projections
Here's a look at the odds to win the NBA MVP award compared to my model's projections. Reminder: This is a snapshot of the race at a given point in time, so these numbers will evolve.
2022 MVP Race
Joel Embiid
Joel Embiid is the odds-on favorite to win the MVP award as of Tuesday.
The biggest case for him wining the award is how he's led the 76ers in the absence of Ben Simmons, who sat out until he was traded for the Brooklyn Nets at the deadline. The 76ers are +11.1 points per 100 possessions better with him on the floor vs off the floor, a testament to how much he's carried the 76ers this season.
He's averaging 29.9 points per game, and he is on the verge to becoming to first center to lead the league in points since Shaquille O'Neal in 2000 when he won his first and only MVP.
Although many assumed the trade for Harden would hurt Embiid's stats,   that hasn't been the case as he's averaging 31.2 points, 11.8 rebounds and 3.6 since the trade and shows no signs of slowing down. Diving deeper, the 76ers still have a positive point differential in the minutes in which Embiid is on the floor with no Harden (+5.6).
The same can't be said in reverse as Harden has yet to find his footing in non-Embiid lineups. Those lineups are getting outscored by -7.8 points per 100 possessions, losing primarily due to a defense that is allowing 125.6 points per 100 possessions. It's clear the 76ers will go as far as Embiid takes them at the current state.
Embiid may have missed a chance to clinch the award in Tuesday night's loss. The 76ers had a 19-point lead at one point in the first half, and had the 76ers won, Embiid's to win the award would have certainly gone up. Last night during the game I actually recommend a play on Embiid as there's precedent for head-to-head matchups impacting voting.
Feels like there's precedent for these late season matchups between to MVP candidates impacting voting. The one that stands out to me was the Kobe's Lakers defeating Cp3's Hornets back on April 11th back in 08.https://t.co/3IMDXfMaT0

— Raheem Palmer (@iamrahstradamus) March 15, 2022
In the end, the 76ers lost largely due to the Denver's reserves outscoring the 76ers bench 48-14 with Bones Hyland scoring 21 points of their points. With neither player truly separating themselves, it appears we're in the same place we were last week in regards to the MVP race.
Nikola Jokic
Jokic is having arguably one of the best individual seasons in NBA history and has a case for being both the best player in the league and one who is most valuable for his team given their injuries.
Without Jamal Murray and Michael Porter Jr., and injuries to other role players like JaMychal Green, Will Barton and Austin Rivers, Jokic has kept the Nuggets afloat with a 41-28 record, well positioned to make a run in the Western Conference should this team get healthy.
Jokic is averaging 26.0 points on 57.2% shooting while also grabbing 13.8 rebounds, dishing out 8.1 assists and shooting 34.9% from behind the arc while leading the league in nearly every single advanced statistic.
Win shares: 12.7
Offensive Win Shares: 8.8
Win Shares Per 48: .296
Box Plus Minus: 13.8
Offensive Box Plus/Minus: 9.1
Defensive Box Plus/Minus: 4.7
Value Over Replacement Player: 8.2
Player Efficiency Rating:  32.4 (on track to be highest ever)
Given their lack of depth, it's tough for the Nuggets to remain competitive when Jokic isn't on the floor. The Nuggets are a whopping +16.3 points per 100 possessions better with Jokic on the floor vs. off and you could argue they'd be a lottery team without him on the roster.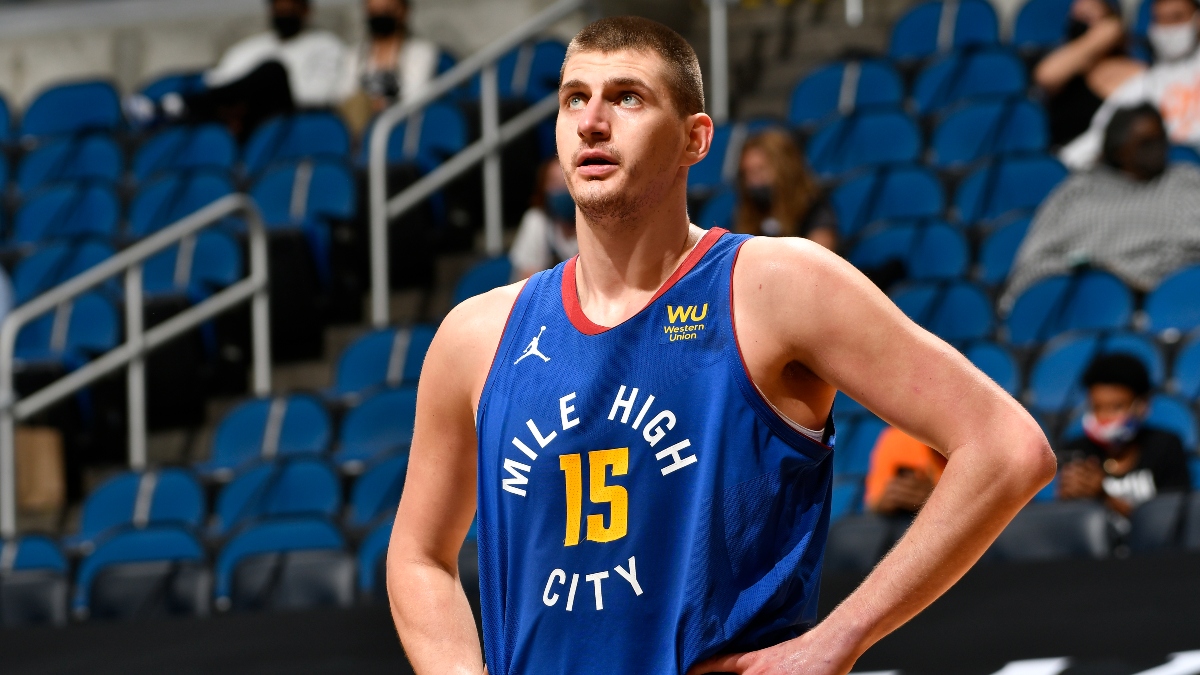 While the bench has improved with the emergence of Hyland and additions of Demarcus Cousins and Bryn Forbes, this is still a team dependent on Jokic.
The Nuggets have the second-easiest remaining Strength of Schedule, so they should pick up easy wins and move up the conference standings giving Jokic a chance to win his second consecutive MVP.
Although Jokic didn't do much to get a leg up on Embiid in last night's game against the 76ers, if you were bullish on Jokic's chances of winning, he proved you correct as he played solid defense on Embiid to prevent the tie up and then scored to put the Nuggets up 112-108 with 1:32 to go in the fourth, all but icing the game.
In the last update, I recommended betting Jokic to win at +270 and now his odds are down to +140. It's tough to recommend a bet now, but I do think he's the most deserving of the award.
Giannis Antetokounmpo
Both my linear and logistic regression model has Giannis Antetokounmpo as the favorite to win the award with the Bucks taking control of the No. 2 seed in the Eastern Conference playoff race.
The Bucks are 43-26 just two games behind the Miami Heat for the first seed in the Eastern Conference despite struggling to stay healthy for much of the season. They've dealt with injuries to Khris Middleton, Jrue Holiday, Brook Lopez, George Hill and Pat Connaughton and yet the Bucks are still in the mix for a top-two seed based on the stellar play of Antetokounmpo.
My colleague Brandon Anderson did a solid job at highlighting all the reasons why he checked all the boxes before the season started. The entire Buckets Podcast crew is currently holding Antetokounmpo futures at +800 or better and we've seen his consensus odds drop from +900 on Jan. 5 to +390 a month ago back to +950 as of today.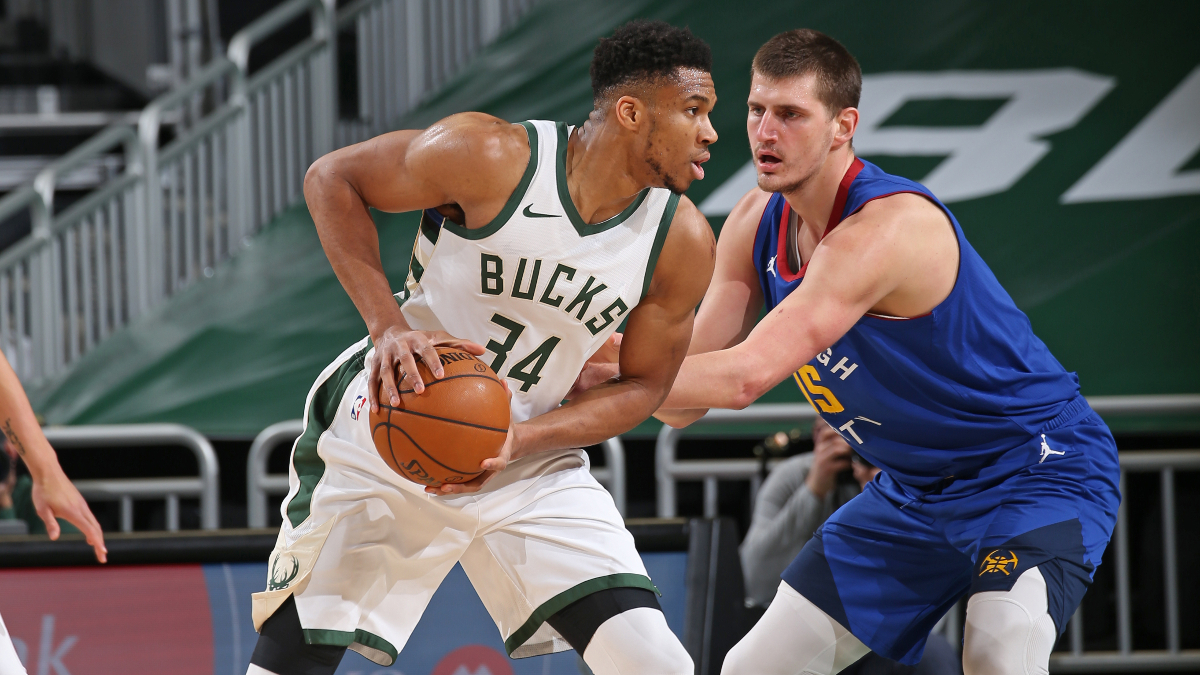 In many ways Antetokounmpo is being overlooked as he's third in points per game, just 0.2 behind Embiid for the scoring title. He's averaging 29.7 points, 11.5 rebounds and 5.9 assists and his statistics are nearly identical to Embiid's, who is favored to win this award a various books, however Antetokounmpo bests him in nearly every statistical category: field goal percentage (54.8%), assists (5.9), PER (32.4),  Offensive Rating (124), True Shooting Percentage (63%), Win Shares (11.7), BPM (11.3) and VORP (6.4).
With Antetokounmpo being just as good as Jokic and Embiid individually while leading the Bucks to a top-two seed in his conference, historical precedent says he should win the award. Both of my models make him the favorite but narrative is an issue here.
The Bucks haven't been the story for much of this season and with voter fatigue from Antetokounmpo winning the award twice, it's tough to imagine he can overcome this. Nonetheless, I can't make a recommendation on betting the +950 even if the numbers and the models say he has a good chance of winning.
How would you rate this article?
This site contains commercial content. We may be compensated for the links provided on this page. The content on this page is for informational purposes only. Action Network makes no representation or warranty as to the accuracy of the information given or the outcome of any game or event.