Moore: The NBA's Regular Season Restart Won't Alter the MVP Race
Credit:
Photo credit: Harry How/Getty Images. Pictured: LeBron James and Giannis Antetokounmpo
Many, many years ago, in a time called Early March (as what feels like a decade has passed during the pandemic), we conducted a straw poll of likely MVP voters.
This was after LeBron James had his most notable pair of regular season performances in several years, scoring 65 points with 17 assists and 16 rebounds across the two games.
He was pretty good. They also beat the Bucks and Clippers.
And yet, of the 43 voters we consulted, 35 said Giannis Antetokounmpo was still the MVP.
Has anything changed since then?
Nope.
ESPN's forecast panel voted for Giannis at a 76% clip. There's been no indication of anyone changing their mind in the long interim.
The shortening of the NBA regular season only exacerbates this. Eight regular season games, in a bubble, after a three-month layoff, is not going to change anyone's mind. And with the vast majority of likely voters settled on Giannis, you can go ahead and wrap that puppy up.
And it's not just the circumstances that dictate this.
I took a look at the average percentage share of the maximum possible votes by MVP winners since the award's inception, via Basketball Reference. The amount of voters and voting structure have changed significantly over the years, so that's the best way to get an idea of how homogeneous the vote has been: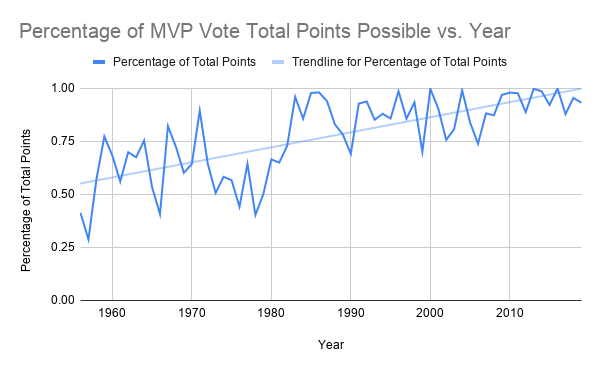 Here's the three-year rolling average: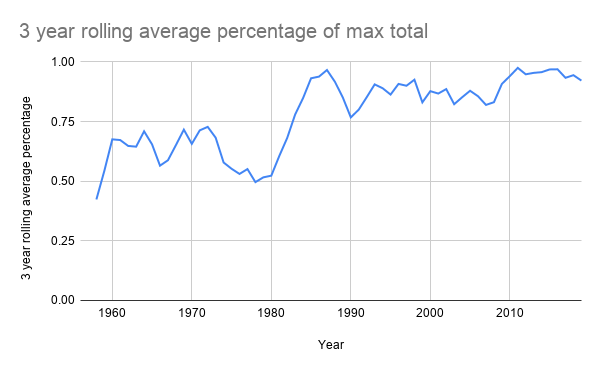 In 1980, the NBA converted its vote from players to media, and you see that immediate spike as the vote homogenized.
Now, it's easy to label this as "groupthink," but it's also more categorically centralized because media is going to both discuss the candidates amongst themselves and with peers as well as with other players and coaches.
Since 2009, every MVP award winner has held 89% or higher of the highest possible vote total, and the total point gap has not been below triple digits since 2005.
Even in 2017, a notably close season, Russell Westbrook still won by 135 points with 93% of the possible vote total.
The narrative and vote usually coalesce around a single player, and that's clearly Giannis this season.
James will pick up a chunk of votes, for sure. He's a lock for No. 2. But the MVP race is definitely over.
More NBA Return-to-Play Content
How would you rate this article?