NBA Playoffs Odds, Picks & Predictions: Betting Preview for All 3 Games on Tuesday (May 25)
Credit:
Glenn James/NBAE via Getty Images. Pictured: Luka Doncic, Kawhi Leonard
Three analysts on the same side of Clippers-Mavericks. A second quarter angle in Lakers-Suns. The over in Celtics-Nets.
Our staff reveals their favorite NBA playoff bets for all three of Tuesday night's games.
The first round of 2021 NBA Playoffs marches on with a trio of Game 2s on Tuesday night.

Our crew of basketball betting analysts outline their favorite picks of the slate, featuring three on the same side of the Mavericks-Clippers spread and a second-quarter angle for Lakers-Suns.
NBA Odds & Picks
Celtics at Nets Total
| | |
| --- | --- |
| Pick | Over 227 |
| Book | PointsBet |
| Tipoff | 7:30 p.m. ET |
| TV | TNT |
Raheem Palmer: It was clear early on in Game 1 that the Brooklyn Nets weren't themselves.
Home teams shot just 76-of-278 (37.3%) from behind the arc in Game 1s, and like the Bucks, the Nets weren't immune — they shot 8-of-23 (23.5%) from deep. This Brooklyn team — with the best offense in NBA history, scoring 118.2 points per 100 possessions — mustered only 111.8 points per 100 possessions in the series opener.
The first half was particularly a drag as the offense scored only 47 points on 0.979 points per possession, including a 16-point first quarter in which the Nets shot 6-of-23 (26.1%) with an Offensive Rating of just 66.7.
What's the likelihood of that happening again?
The Celtics have historically been a great defense under Brad Stevens, but this season's version can't defend, ranking 22nd in opponent field goal percentage at the rim (65.3%), 22nd in opponent mid-range percentage (43%) and 20th in opponent 3-point percentage (37.6%) per Cleaning the Glass.
We should expect the Nets offense to regress, however it's clear that the Celtics also left some meat on the bone. Jayson Tatum was just 6-of-20 shooting for 22 points in Game 1, but he can do more against a Nets defense that's just 21st in Defensive Rating and allowing 113.7 points per 100 possessions.
This number is short and has been over-adjusted based on Game 1. I'll take the over 227.
---
» Return to the table of contents «
---
Lakers at Suns
| | |
| --- | --- |
| Pick | Lakers -1 (+100) 2Q |
| Book | DraftKings |
| Tipoff | 10 p.m. ET |
| TV | TNT |
Matt Moore: So in a game in which everyone played horribly and they got absolutely pounced on, the Lakers lost only the second quarter of Game 1 by one point. That was with Anthony Davis going 1-of-4 in the second, along with LeBron James having only two shots and Talen Horton-Tucker putting up four. The Lakers went 0-for-4 from 3 in that quarter and missed 3-of-11 free throws.
The Suns were a great second quarter team for much of the year, but in the regular season when James played, the Lakers were +2.1 in point differential which would have been fourth-best overall for the season among all teams.
The Lakers stagger LeBron at the end of the first to play him with the bench unit to start the second quarter, putting James vs. mostly bench players for longer than a five-minute stretch. The Suns countered by having Devin Booker start the second, but he plays longer in the first so he needs to go to the bench sooner.
If we expect a better Anthony Davis game — and Lord knows the bar is pretty low there — a stronger performance from the Lakers' offense, and more of a letdown spot for the Suns, this gets the Lakers in an advantageous spot with rotations as only a one-point favorite at plus-money.
---
» Return to the table of contents «
---
Mavericks at Clippers Spread
| | |
| --- | --- |
| Pick | Clippers -7 |
| Book | PointsBet |
| Tipoff | 10:30 p.m. ET |
| TV | NBA TV |
Brandon Anderson: The Clippers have lost four straight playoff games.
Let that sink in for a second.
Yep, the Clips didn't just lose Game 1. The Clippers lost their last three playoff games before that, too — those three against the Denver Nuggets back in the bubble when the entire season came apart in one fell swoop when Kawhi Leonard and Paul George melted down and couldn't win a shot.
That was then, this is now. And one loss to a hot-shooting Mavs team to start the playoffs doesn't mean much, but it's another story altogether if the Clippers lose this one and go down 0-2 heading to Dallas for a pair of games.
The pressure is all on L.A., and it's time to see this team stand up, finally. Steve Ballmer paid a heap of dollars and draft picks for this chance, and it would be an absolute disaster to go out in the first round this season after what happened in the bubble.
Expect a new sense of urgency and focus from the Clippers with the dream suddenly in jeopardy. And there's a basketball reason, too: Kawhi Leonard. And it's him on both ends.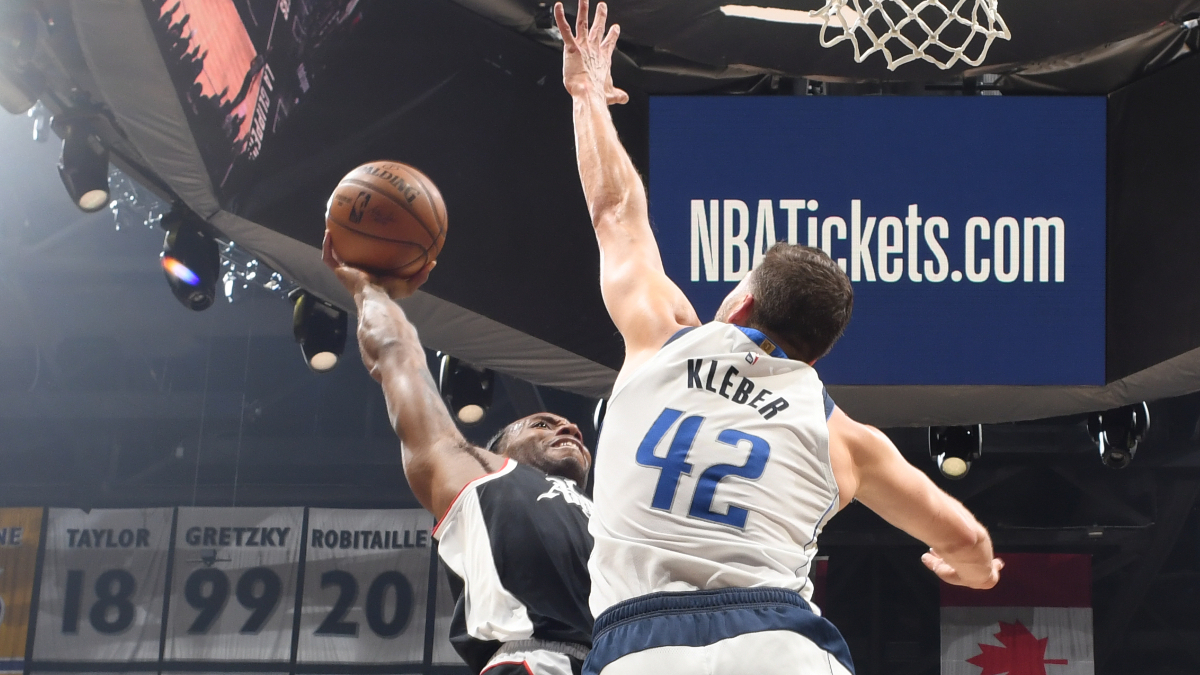 The Clippers had absolutely no answer for Luka Doncic in Game 1, but Ty Lue has hinted that he'll finally sic his former Defensive Player of the Year KLAW on Luka, and that's bound to help things out. It could also tire Leonard out, but Dallas looks like it will be missing a key player on the other end with Maxi Kleber questionable with that Achilles bothering him again.
He missed a lot of time down the stretch, so it wouldn't be a surprise to see him sit out, and Kleber was the main Kawhi defender in Game 1. That means an easier go for Leonard on offense and more energy left to take it to Luka on D, and I think that's what swings this game.
I have to trust the Clippers to come out and get a win they absolutely have to have. I'll play them to -7.
Austin Wang: A new coach. A new supporting cast. Yet, a similar disappointing result as Kawhi Leonard, Paul George and the Los Angeles Clippers opened up the postseason with a dud.
After closing as 6-point underdogs, the Dallas Mavericks took care of business at the Staples Center in Game 1, winning outright 113-103. Luka Doncic was brilliant, notching a triple-double with 31 points, 10 points and 10 rebounds. And the Mavericks got great support and big shots from role-players Tim Hardaway Jr. and Dorian Finney-Smith.
Now down 0-1, the Clippers will be desperate for a win to avoid the dreaded 0-2 hole. Here is where the known zig-zag playoff betting system comes into play.
The basic premise is this: In a playoff series, bet on a team to cover the spread following a loss in the same series. The idea behind this is the losing team will be one game closer to elimination and will come out the following game more motivated and play with more intensity. Also, perhaps recency bias will force oddsmakers to favor the previous winner in their price as the unknowing public may want to ride the hot team.
Favorites of four or more points in Round 1, Games 2-5 off a loss have gone 86-57-2 (60.1%) against the spread in the history of the Sports Data Query Language database, dating all the way back to the 2002-03 season. This is active on the Clippers in Game 2.
This is a great bounce-back spot for the Clippers. They were successful in this exact spot twice in last season's first round series versus the Mavericks.
The Clippers are still the more complete team and rank better in many metrics than the Mavericks, both on offense and defense. The Clippers shot a league-best 41.38% from behind the arc in the regular season, yet converted only 11-of-40 (27%) on Saturday. My recommendation is for to lay the points with the Clippers at -7 (no more than the key number of seven) as I think they bounce back strong on Tuesday.
Joe Dellera: The Clippers struggled to get into a rhythm in Game 1, especially from 3-point range, and I think this should normalize in this game.
The Clippers secured good looks and attempts from 3-point range, taking 43% of their shots from deep in Game 1, yet they were able to convert on only 27.5% of those opportunities. On the flip side, while the Mavericks took 3s at a similar rate, making 50% of them (in non-garbage time minutes and excluding projected heaves). This is a stark deviation for both teams' based on their regular-season numbers. While both like to shoot the 3 ball, the Clippers had the best shooting percentage from beyond the arc (41.8%) while the Mavericks were 17th (36.9%) per Cleaning the Glass.
The problem for the Clippers is that Luka began shredding them on the offensive side of the ball by consistently making the right pass, in the pick and roll. Maybe Coach Ty Lue will make the adjustment prior to tonight's game and throw Kawhi Leonard on Luka despite this being the toughest defensive assignment. This would really ask that Kawhi fight over screens, and not switch, because last game Luka torched Zubac when the Clippers tried to switch on him rather than play drop coverage. Considering Ty Lue made an adjustment in the middle of Game 1 to avoid this mismatch, it's not out of the question to see him make another change tonight.
At the time of this writing, the Clippers are receiving 48% of spread bets but 75% of the money according to our public betting data. This makes them a fit for one of our Pro Systems — NBA Playoffs: More Money On Favorites. When there is more money on favorites than tickets in the postseason, favorites are 132-88-3 ATS (60%) and cover by a margin of 2.26 points. This coupled with Lue's ability to adjust — and an expectation that the Clippers produce a stronger shooting performance — have me backing the home team tonight.
---
» Return to the table of contents «
---
Mavericks at Clippers Prop
| | |
| --- | --- |
| Pick | Dorian Finney-Smith Over 1.5 3-Pointers (-115) |
| Book | DraftKings |
Kenny Ducey: I'm not normally one for obscure props, but this one certainly caught my eye. The 3-point market can often be a fun and profitable one with how low lines are set, and this one is exceptionally low to me.
Finney-Smith has never attempted fewer than four 3s in a playoff game over the two series he's been a part of, and he's coming off a season in which he attempted five on average, and hit almost 40% of them!
What's more, he had a 4-for-5 performance from deep in Game 1 against the Clippers.
Now, I'd like this if Finney-Smith were a bench player seeing 20 minutes. The fact that he saw 37 minutes in Game 1 makes me absolutely love it. He'll be on the floor almost the entire game, and should get up at least four of five 3s again.
With the way he's been shooting all year long, at least two should go down.

---
» Return to the table of contents «
---
How would you rate this article?
This site contains commercial content. We may be compensated for the links provided on this page. The content on this page is for informational purposes only. Action Network makes no representation or warranty as to the accuracy of the information given or the outcome of any game or event.