NBA Player Props Betting Forecast: Nic Claxton, Jaren Jackson Jr. Swarming on Defense, More
Credit:
Justin Ford/Getty Images. Pictured: Jaren Jackson Jr. #13 of the Memphis Grizzlies.
We've hit the midway point in the season and teams are trying to manage their stars to avoid them getting rundown throughout the season. Additionally, there are some major injuries that are affecting lineups and rotations around the league.
Let's dive into some of the players that are stepping up when the stars take a night off in this week's NBA player props forecast.
NBA Player Props Forecast
Can Indiana Keep Pace Without Tyrese Haliburton?
Schedule: Mon. at Bucks | Wed. at Thunder | Fri. at Nuggets | Sun. at Suns
Tyrese Haliburton was diagnosed with a left elbow sprain and a left knee contusion and the team will reevaluate him in about another week and a half at this point. He's been a stud, averaging 20.2 points per game while leading the league in assists per game with 10.2. Those are massive shoes to fill.
Since Haliburton's injury, the player that has stepped up with his scoring the most is rookie, Bennedict Mathurin. He's scored 20, 26, and 16 in the last three games (including the game Haliburton was injured). He should continue to lead the scoring for Indiana and he may have earned himself a starting spot moving forward. This would likely take him out of the running for Sixth Man of the Year because he should be able to hold onto a starting role.
While Andrew Nembhard has seen a bump in his Usage over the last two games (21.4% compared to 15.5% on the season), it has not lead to significantly increased output. While the shot volume is significant, he has struggled to find his rhythm without Haliburton and is averaging just 6.5 points to go along with 3.5 rebounds and 6.0 assists.
His points prop has continued to open at 12.5 and his assists at 6.5. Both are fair at this point and I do not see much value at the moment given his play; however, his shooting should regulate a bit since he is a 44.6% field goal shooter including 38.5% from 3. I don't want to be in a situation where I'm trying to catch a falling knife waiting for him to break out.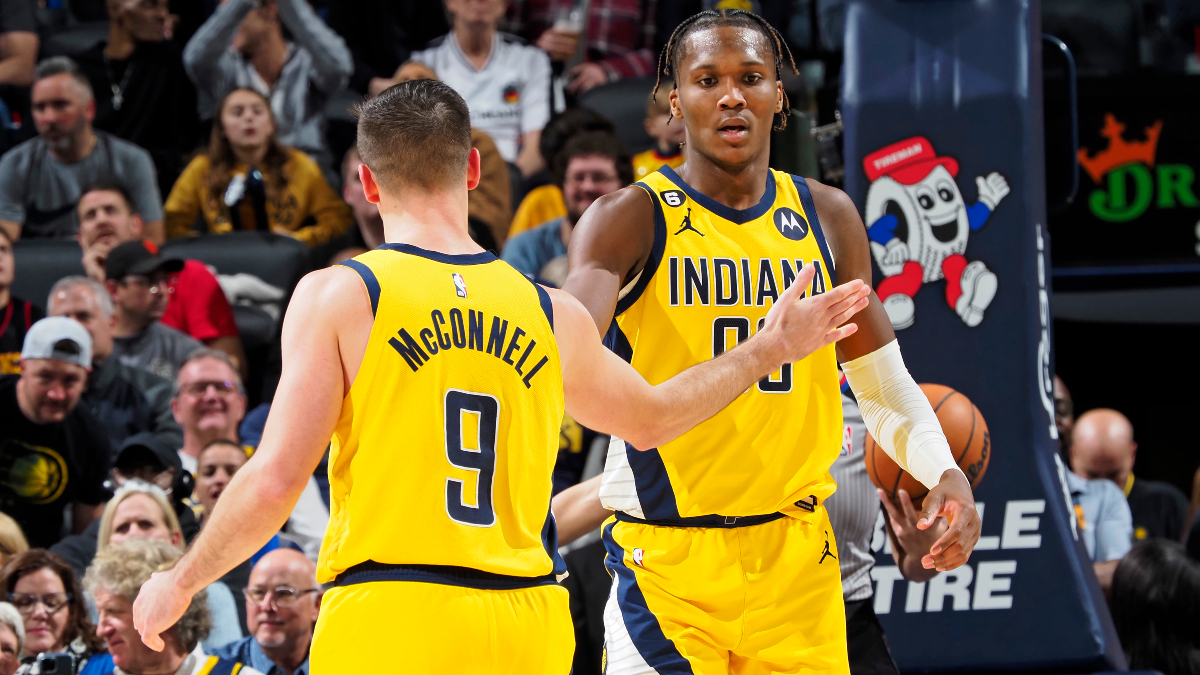 One player that I do trust though is T.J. McConnell. He is incredibly efficient and effective in limited minutes and commands an elite assist percentage while contributing across the board.
These past two games he has a 27.2% Usage Rate while averaging 10.5 points, 6.5 rebounds, and 7.0 assists on a whopping 17 potential assists.
His prop lines were set at 9.5 points, 3.5 rebounds, 6.5 assists and 19.5 PRA. I think there is immense value on his Rebounds and Assists lines moving forward. Part of why I like targeting McConnell is that he's a solid veteran who does not try to do too much, but he's also playing with the second unit which gives him softer matchups moving forward.
One other note regarding Indiana. Myles Turner has missed the past few games with a back injury. With him out of the lineup the Pacers are allowing more 3-point shots because they need to pack the paint with their one-dimensional bigs. If he continues to miss, target opposing sharpshooters.
---
Check out our NBA props page for daily player props lines and projections.
---
Welcome to Jackson & Claxton Block Party
Grizzlies: Mon. vs. Suns | Wed. vs. Cavaliers | Fri. at Lakers | Sun. at Suns
Nets: Tue. at Spurs | Thu. at Suns | Fri. at Jazz | Sun. at Warriors
The NBA Defensive Player of the Year Award is heating up and the odds are shortening for some of the league's best shot blockers.
Jaren Jackson Jr. has been transcendent on the defensive side of the ball but so has Nic Claxton. Both JJJ and Claxton have seen their DPOY odds cut dramatically over the last month or so, with JJJ moving to (-135) from (+6000) and Claxton to (+900) from (+16000). And both guys have been block machines this season.
Jackson is averaging 3.2 blocks per game and Claxton is averaging 2.7. Jackson has recorded two or more blocks in 22 of 26 games this season and three or more in 16 games. His blocks line has been set at 2.5, but there is still value at that number.
Claxton has recorded two or more blocks in 29 of 39 games and three or more in 20 games. However, Claxton is currently on a blocking streak.
He has recorded three or more blocks in eight consecutive games and he's a good bet to continue this on Tuesday against the San Antonio Spurs, a team he recorded three blocks against in just 20 minutes earlier this season.
Keep an eye on these defensive props — they're a bit niche, but they're a relatively untapped market.
---
When (And Who) Do NBA Teams Rest?
We are in the doldrums of the NBA season and everyone could use a day off here and there. One of the most common spots where teams rest their star players is on back-to-back sets, especially if it is also the third game in a four-day stretch. This week, we have a few notable teams with back-to-back sets.
Some teams, such as the Nuggets, generally do not rest their star players (Nikola Jokic); however, others such as the Clippers (Kawhi Leonard and Paul George) or the Warriors (Klay Thompson) almost always rest their stars in one end of a back-to-back set. So how do we determine when this will happen?
Matt Moore has explained this well on Buckets before and it's an interesting point because it is a bit counterintuitive. These teams rest their players on the game that is "harder" to win — the game we as viewers probably are itching to see. The reason is simple though. Play your full lineup in the matchups you are supposed to win and maximize your opportunity to secure a win.
In simpler terms, do not waste your chance at an easier victory for the opportunity to play in a coin-toss matchup against another great team. Unless the matchup could have some other tie-breaker implications (especially for divisions — see Saturday's Bucks vs. Cavaliers), a win against a bad team counts just the same as a win against a good team in the standings.
Reading into the schedule gives us an opportunity to get ahead of line movement or prepare a game plan for whose props to target if a star player gets a night off.
How would you rate this article?
This site contains commercial content. We may be compensated for the links provided on this page. The content on this page is for informational purposes only. Action Network makes no representation or warranty as to the accuracy of the information given or the outcome of any game or event.