NBA Playoffs Player Prop Bets: 3 Picks for Bucks vs. Nets Game 5 (Tuesday, June 15)
Credit:
Steven Ryan /Getty Images. Pictured: Milwaukee Bucks assistant coach Charles Lee and Brook Lopez #11.
On Tuesday night, the sole NBA Playoffs game in action is Game 5 between the Bucks and Nets, but that one game still offers plenty of prop-betting opportunities.
Brandon Anderson utilizes the Action Labs Props Tool in order to highlight the top-3 NBA player prop bets offering value on Tuesday.
Below, find Anderson's comprehensive analysis for all three picks, including which sportsbooks offer the best odds for each bet.
There's only one game on the slate tonight, but it's a doozy.
The presumptive NBA Finals between the Brooklyn Nets and Milwaukee Bucks has not exactly gone according to expectation. When James Harden went out injured in the first minute, it looked disastrous for Brooklyn. Instead, the Nets blew out the Bucks twice — so badly, in fact, that many thought the series a wrap after two games.
Instead, the Bucks won a rock fight in Game 3 and then got a big Game 4 win when another Nets star got hurt. Now Kyrie Irving is out for Game 5 and potentially beyond; meanwhile, James Harden has been upgraded to doubtful but still looks unlikely to play a pivotal Game 5 with things all tied up at 2-2.
So how is this series shifting and changing? Tonight, we'll focus on three role players. These props aren't for the faint of heart, so you're forgiven if you want to play only a half-unit on each tonight as Game 5 looks particularly unpredictable.
For those who are new to this article, we'll be using the Action Labs Player Prop tool to compare our NBA projections to the props posted at a variety of sportsbooks. Each bet is then graded on a scale from 1-10, with 10 being the best possible grade.
Below, I have laid out three prop bets that I'm playing, the case for each bet and the best books to find odds on those player props.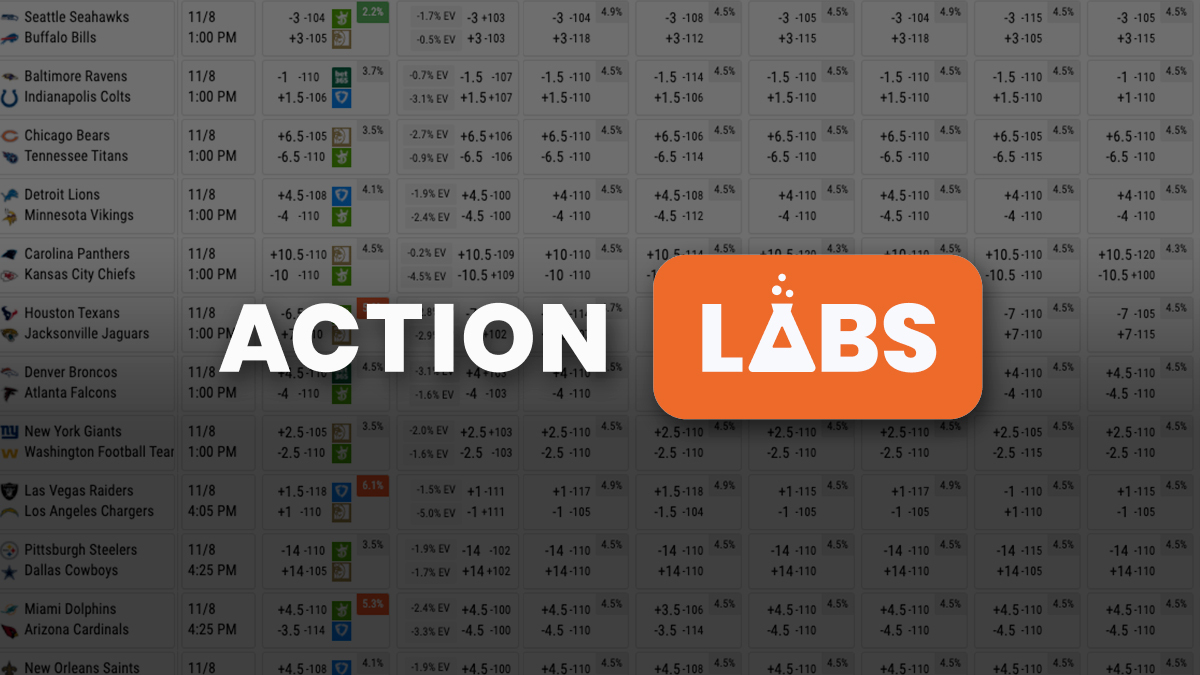 ---
NBA Player Props & Picks
Bruce Brown, under 19.5 points + rebounds (-118)

| | |
| --- | --- |
| Bucks vs. Nets | Bucks -4 |
| Time | TV | 8:30 p.m. ET | TNT |
| Best Book | FanDuel |
If you check our handy dandy Props Tool today, expect to see a whole lot of Bruce Brown at the top. And don't expect to find any overs.
As of Tuesday morning, Brown unders comprise our top seven prop recommendations. With the shorthanded Nets desperate for warm bodies and minutes, it seems the books are expecting Bruce Brown to play a major role for Brooklyn tonight. Brown has been great for the Nets at times this season, playing as something of a small big man and killing teams in the short roll.
But Brown played under 21 minutes in Game 4, even with Kyrie Irving out for a significant chunk of that game, and his role seems to be decreasing, not increasing. Brown was awesome for Brooklyn in Game 3, compiling a career playoff game with 16 points, 11 rebounds, and three assists, and the red-hot Brown played nearly 38 minutes in that one.
But in the other three games this series, Brown has played just 22.7 minutes and averaged 8.7 points, 3.7 rebounds, and 3.0 assists. That's more in line with a fair expectation for Brown, who is really just a useful role player at the end of the day. And that's closer to where we project Brown today, at 7.0 points and 5.4 rebounds in 20.2 minutes.
Besides, there's another obvious way Brown could go under: if James Harden plays. Brown has been Harden's most direct replacement, so his minutes could drop significantly if Harden ends up in the lineup.
Even if he doesn't see his minutes reduced further, Brown has averaged just 7.5 points and 4.9 rebounds per game outside of that Game 3 outlier. He doesn't shoot 3s or get to the line much and isn't the sort of guy who can explode for a big game. So unless we get another Game 3 where Brown is just too valuable to sit and ends up playing huge minutes, there's a good chance he goes under this line.
Brown is a former point guard and a nice passer, so I'm going to leave the assists out of this one. I like the rebounding under best if you want to play just one, but I also like including points to really push this line up. I'll play the combo under to -150, and our Props Tool gives this bet a whopping 37% edge in our favor.
Mike James, under 1.5 3-pointers (-110)

| | |
| --- | --- |
| Bucks vs. Nets | Bucks -4 |
| Time | TV | 8:30 p.m. ET | TNT |
| Best Book | DraftKings |
Mike James is another one of those no-name Nets role players who might end up in a bigger role tonight than anyone ever could have expected a few months ago.
Heck, James wasn't even in the NBA a few months ago. He played his first game with the Nets on April 23, and prior to that he hadn't played in the NBA since Feb. 2018. Since then, he's been playing ball in Europe, bouncing around Greece, Italy and Russia as a big-time scorer — often around 20 points a game.
But James has never really been a great 3-point shooter. He's 37-for-129 in his NBA regular season career, just 28.7% from behind the arc. Looking at his overseas numbers, James is an improving shooter but still shoots just 34.2% for his career internationally — and remember, that's with a shorter line too.
Instead, he is better driving and dishing. Brooklyn needs all the guard help it can get, so he'll certainly have a chance at a big game here. In four games this series, James has taken 12 3-point attempts, averaging 3.0 per game, and he's made five of them. That 41.7% rate is unsustainable compared to his career rate.
James has to hit two 3s to ruin our under, and there's a chance he doesn't even take that many tonight. That's been the case in three of his seven playoff appearances so far. Even if he does get up three or four attempts, James has to hit 50% to go over, and that's just not what his career numbers say.
Shooting variance is always tough, but the numbers suggest the under is the smart play here, despite James's hot shooting during this series. I'll play to -130.
Brook Lopez, over 1.5 3-pointers (-195)

| | |
| --- | --- |
| Bucks vs. Nets | Bucks -4 |
| Time | TV | 8:30 p.m. ET | TNT |
| Best Book | DraftKings |
Mike James may not be much of a shooter, but Brook Lopez can definitely shoot. Lopez started bombing 3s when he arrived in Milwaukee two seasons ago, suddenly making 2.3 per game at 36.5% after barely even shooting much for most of his career previously.
Those shooting numbers have fluctuated during BroLo's time in Milwaukee, and he tends to be pretty hot and cold. The attempts tend to rise and fall, too, depending on how the Bucks are deploying Lopez. Even in this series against Brooklyn, that has been the case.
Early in the series, the Bucks were playing Lopez in the paint a lot on offense. He racked up eight offensive rebounds the first two games but took only four 3-point attempts, playing as more of a traditional big man.
But as the Bucks adjusted their game plan in the two games in Milwaukee, that included stretching Lopez out beyond the arc, and look how the results have borne out. These past two games, he has just a single offensive rebound now that he's not in the paint as often, but he's also taken 11 3-pointers.
To be fair, Lopez has made only three of those attempts, but his volume of attempts is far more telling than his total makes. If Lopez continues to play in this stretchier role, he should get up four to six attempts again — and we only need one make!!
I realize the juice on this bet is crazy, but if Lopez really gets five or six shots up again like he did the last two games, then only an 0-for-5 or 0-for-6 night hits the under.
Including the playoffs, Lopez has 29 games this season where he's taken at least five 3-point attempts. He made at least one of them in all but one game, going over this line 96.6% of the time. Suffice it to say there's no juice in the world that makes this unplayable if those attempts stay up.
We project Lopez at 1.9 makes, and I think this line should be at 1.5. At 0.5, even with the steep juice, I have to grab the over and wait for my make.
How would you rate this article?
This site contains commercial content. We may be compensated for the links provided on this page. The content on this page is for informational purposes only. Action Network makes no representation or warranty as to the accuracy of the information given or the outcome of any game or event.