NBA Playoffs Props Betting Forecast: Kevin Durant Anthony Davis, Domantas Sabonis, Among Round 1 Targets
Credit:
Getty Images/Matt Roembke of Action Network. Pictured (L-R): Domantas Sabonis, Kevin Durant, Anthony Davis.
The NBA Playoffs are here! I'll be previewing each of the matchups in the upcoming rounds to give some insight on how I will be betting these markets.
This piece will focus on the Western Conference and you can view my Eastern Conference Round 1 preview here. Let's get right into the players I'm looking at in the West for the Round 1 NBA player props betting forecast.
NBA Playoffs Props Betting Forecast
---

Suns vs.
Clippers
The Suns take on the Clippers in what may be the most anticipated first round matchup in the Western Conference. While the Clippers may be missing Paul George for part of this series, the Suns are at full strength and have yet to lose a game with Kevin Durant in the lineup.
Much of this series will come down to how well the Clippers can shoot 3s. The Suns still have the "worst" shot profile in the NBA with the league's worst expected eFG% at 53.4%. The difference between this season, and last season when they also had the worst expected eFG% at 51.9%, is that they had the third-best actual eFG% at 55.5% in contrast with this season where they are 22nd with an eFG% of 53.8%, per Cleaning the Glass. In other words, the margins are even narrower for Phoenix despite having mid-range assassins Durant and Devin Booker.
The Clippers can take this series if they run hot from 3-point range. They have the fourth-best team 3-point percentage in the league at 38.4%. Interestingly enough, although he does not shoot many 3s, Kawhi Leonard the team with a 42% 3-point percentage this season (53% from the corner), Eric Gordon is also shooting 42%, and Norman Powell, Robert Covington, and Niclas Batum are all shooting about 39% from 3.
I'd expect a significant volume of 3s from this team against a Suns team that is about lead average defending the perimeter. Batum and Powell are individuals I'm specifically targeting because the Suns have struggled to defend the corner 3 —  Batum takes 34% of his shots from the corner and is shooting 43% from that location and Powell takes fewer from there but is shooting 48% from the corner, per Cleaning the Glass. I expect Ty Lue to game plan a way to attack this weak spot.
For the Suns, Kevin Durant should continue to excel. He scored 27 points against the Clippers in one matchup against them this season and he's averaged 26 points, 6.4 rebounds, and 3.5 assists per game in 33.6 minutes with Phoenix.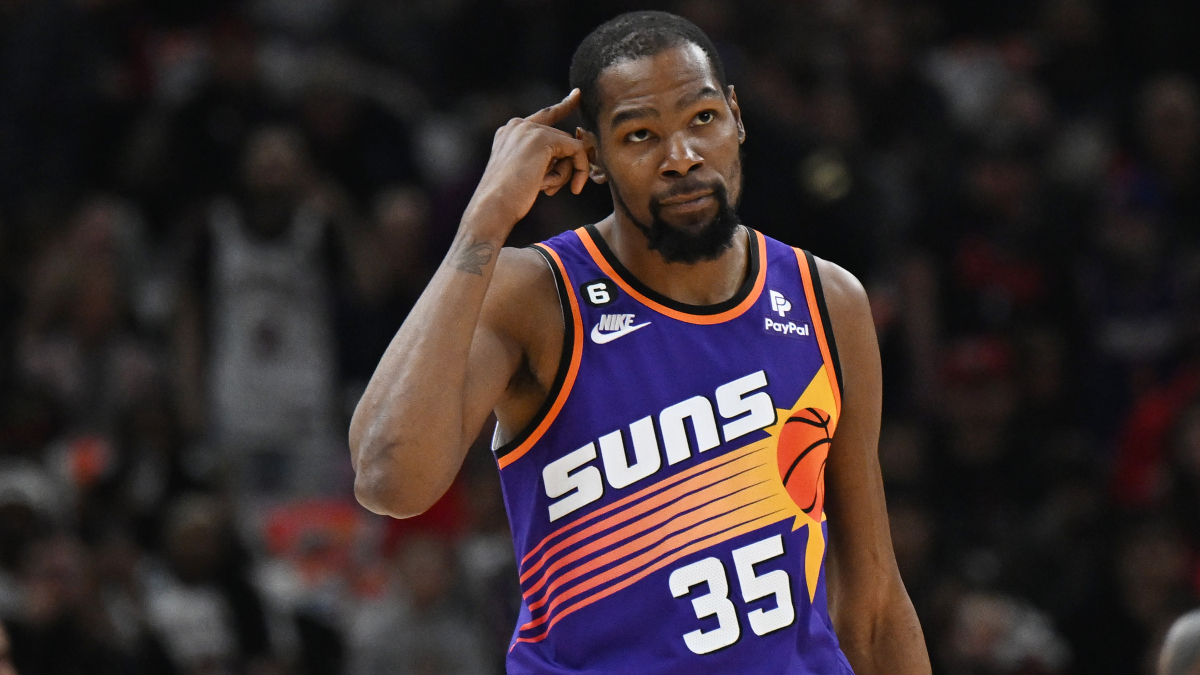 While the Suns may limit his minutes a touch, he has averaged minutes in the upper 30s and 40s throughout his career in the playoffs. He is ultra-efficient and should be able to carve up this Clippers team. His points prop is set at 26.5, a number he has exceeded in four of the six games he's played alongside Booker. Also, he has made at least two 3s in each of those six games.
Last season, Durant played in the entire first quarter of each game. With Phoenix, he has averaged just 8.7 minutes and he's tended to play more minutes in the second half. This has left the first quarter to Booker, who averaged 11.3 first quarter minutes this season and generally played all 12. In Book's eight games with KD this season, he's scored six or more first quarter points in seven games, at least one rebound in seven, and two or more assists in six. Those could be combined into a Same Game Parlay for some first quarter value. Additionally, Booker has exceeded 5.5 assists in 6 of 8 games alongside KD, and his assists prop at plus-money is exploitable in this matchup.
---

Kings vs.

Warriors
This series is going to be an absolute track meet. Both of these teams play at some of the faster Paces in the league. The Warriors play at the league's fastest Pace and the Kings are in 11th.
When these teams played each other this season, they averaged a 104.75 Pace which would be the fastest by far in the league. For reference, the Warriors' full season Pace is 102.54. In the four matchups between these two teams this season, they averaged 234.25 points per game and even with some increased defensive pressure, these teams will still push the Pace.
One player that I am targeting in this series is Domantas Sabonis and his rebounding prop and I already jumped on his prop for Game 1.
Domantas Sabonis over 12.5 Rebounds (-120)

First NBA Playoff Player Prop!

Sabonis has absolutely destroyed Looney and the Warriors this season with 22, 14, and 14 rebounds in just 29.9 mins per game. He should push 40 mins in a Playoff game & set up a 🪜 opp

Light the mf beam. pic.twitter.com/ovAYIdNJpi

— Joe Dellera (@JoeDellera) April 10, 2023
This has since moved to 13.5 (-110) and I think that's acceptable as well given his history with the Warriors this season. On the flip side, this presents value on Kevon Looney, who has played in all four games against the Kings this season. While he has yet to score double-digit points and is averaging just 5.5 ppg, he has recorded eight, 13, 10, and 16 rebounds to average 11.8 RPG in the season series.
His rebounds prop is set at 10.5 for Game 1 and while I think that has value, I prefer his Rebounds + Assists line at 12.5. Looney has averaged 16.5 RA against Sacramento this season and has gone over this line three times in four games with the miss at 12. I'll play that in Game 1 as his size will be needed on the floor and his passing ability is valuable.
Finally, we need to discuss Stephen Curry. In the regular season, he averaged 34.7 minutes per game, but playoff rotations are different. Specifically, his minutes in the first quarter change during the playoffs. He's averaged 9.6 minutes in the first during the regular season, but last year this jumped to 10.9 in the playoffs. However, this 10.9 is deceiving, he was returning from injury and played just a handful of minutes upon his initial return.
After those first few games, he played the entire first quarter in 15 of 18 games and never dipped below 10 minutes. In those 18 games, Curry recorded at least one assist in 17 games and two or more in 14. He recorded one rebound in 16 games and two or more in 14 games. He scored at least six points in 13 games. I'm targeting his first quarter props early and often.
---
Check out our NBA props page for daily player props lines and projections.
---

Grizzlies vs.

Lakers
The Lakers are officially in the playoffs and this should be an exciting series against Ja Morant and the Grizzlies. The Lakers won the season series 2-1 but these teams will look a bit different than some of the earlier iterations.
Anthony Davis has been a monster in this matchup. He has played two games against them (Feb. 28 and March 7 — both without LeBron James), but he logged stat lines of 30 points and 22 rebounds and another of 28 points and 19 rebounds. He has shredded Memphis. His rebound prop is set at 13.5, but I think there's a bit more value on his Points + Rebounds line at 38.5 given the matchup.
While Davis has excelled, Jaren Jackson Jr has constantly been in foul trouble. He tallied five fouls in both of those matchups and while he was effective in scoring the basketball with 26 and 16 points, losing him as a defender due to foul trouble is not something Memphis can deal with as they are without both Steven Adams and Brandon Clarke.
Another player we likely will see is Jarred Vanderbilt. He is a rebounding machine as well as a solid defensive player. I expect his rebounds prop to be viable throughout this series as they may use him to defend Jackson to give Davis a bit of a break on the defensive side of the ball.
---

Nuggets vs.

Timberwolves
This is an interesting matchup due to the size of both teams. The Nuggets live and die with Nikola Jokic at the Center position while the Timberwolves have two Centers of their own in Rudy Gobert and Karl-Anthony Towns.
Jokic has played well against Rudy Gobert throughout his career; however, Gobert's rebounding clearly cuts into Jokic's rebounding efficiency. Since 2021, Jokic has recorded fewer than 10 rebounds in three of seven games; however, he has averaged 28.4 points and 10.3 assists in those games with two triple doubles. I'm interested in his points prop over 24.5 — he has averaged 26.4 ppg in his playoff career.
Another note about Jokic is his assists have decreased dramatically in the playoffs and he averages just 6.4 assists per game. Some of this may be due to the injuries he has had to deal with his teammates having over the past few seasons, but I'm locking in a Rebounds + Assist under for Jokic in Game 1. It's listed at 22.5, a number he has exceeded in just four of his 25 playoff games since 2020.
As for the Timberwolves, Karl-Anthony Towns should excel in this matchup. His ability to stretch the floor is invaluable and Denver does not have anyone besides Jokic that can likely handle his size with Gobert also on the floor. KAT has yet to play Denver this season; however, in his past three seasons vs Jokic he's averaged 24.4 points and has made 2.8 3s per game with three or more in three of five games.
How would you rate this article?
This site contains commercial content. We may be compensated for the links provided on this page. The content on this page is for informational purposes only. Action Network makes no representation or warranty as to the accuracy of the information given or the outcome of any game or event.