NBA Trade Deadline: 10 Under-the-Radar Trade Candidates
Credit:
Photo credit: Robert Hanashiro-USA TODAY Sports. Pictured: Nikola Vucevic
The NBA trade deadline is this Thursday at 3 p.m. ET.
The headlines have been dominated by big names like Anthony Davis and Kristaps Porzingis, but most of the deals made before the deadline will not be blockbusters.
This piece will focus on 10 under-the-radar players who could be on the move before the deadline.
The NBA trade deadline is this Thursday at 3 p.m. ET, but the craziness is already in full swing. Anthony Davis has demanded a trade out of New Orleans. Kristaps Porzingis was shipped off for Dennis Smith Jr. and cap space. Rodney Hood was acquired by the Portland Trail Blazers.
OK, so maybe that last one wasn't so crazy.
Davis and Porzingis have grabbed the majority of the trade deadline headlines, but they are far from the only players who are available heading into Thursday. Non-contending teams will be looking to sell off pieces for future assets, while playoff-bound teams will be looking to bolster their rosters.
Let's look at 10 potential trade targets who are flying a bit under-the-radar at the moment.
---
Obvious Sellers
Atlanta Hawks SG Kent Bazemore
Contract: 1 year, $18.1 million (with a $19.25M player option for 2019-20)
The Hawks have been better than expected this season, currently owning a 18-35 record and sitting in 12th place in the Eastern Conference. That's obviously not very good, but Vegas set their win total at just 23.5 for the entire season. They're on pace to shatter that!
Regardless, the Hawks are clearly playing for Ping Pong balls at this point, and moving on from Bazemore would be a welcome sight. He will almost certainly exercise his option for next season, and the Hawks would love to get his contract off the books.
That said, it's unclear if he could actually help a contender. The Hawks have been outscored by 8.9 points per 100 possessions with Bazemore on the court this season compared to just 5.4 with him off.
He's also shooting just 32.6% from 3-point range this season, which is his worst mark since his rookie season. It's hard to see a contender taking the bait, especially with that player option looming large for next season.
Cleveland Cavaliers SG Alec Burks
Contract: 1 year, $11.25 million
The Cavs have done a nice job acquiring future assets this season. So far, they've managed to turn Rodney Hood, Kyle Korver and George Hill into seven draft picks.
Six of those are second-rounders, but any time you can get something for nothing – which is exactly what the Cavs were winning with those guys on the roster – it has to be considered a success.
Burks appears to be the next man up for the Cavaliers, and they should be able to find a taker. He's shot 38.1% from 3-point range as a member of the Cavs and can serve as a secondary ball-handler and playmaker as well.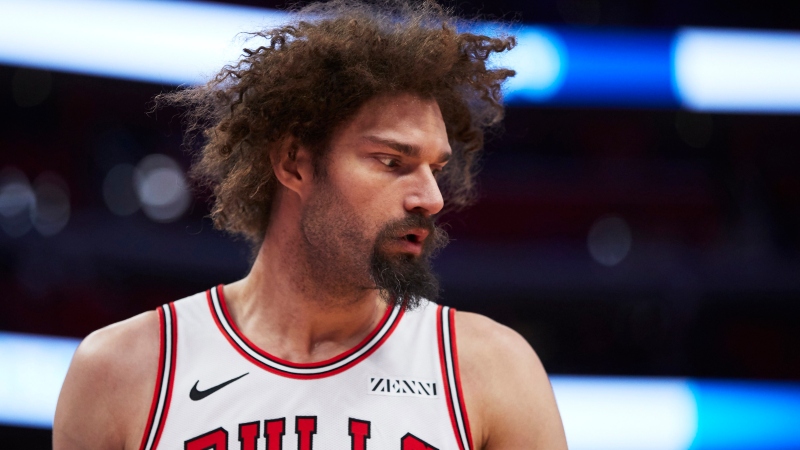 Chicago Bulls C Robin Lopez
Contract: 1 year, $14.35 million
Lopez barely played in the beginning of the season but has actually started seven of the past eight games for the Bulls. Part of that is due to the injury of Wendell Carter Jr., but is it possible that they're also trying to showcase him?
The odds of the Bulls re-signing Lopez during the offseason are about the same as the Bulls signing me, so they'd love to snag an asset for him if possible.
There should be some interest in a solid center like Lopez – the Warriors have been linked to him recently – but it remains to be seen if anyone is actually willing to deal for him.
A buyout might be the more likely result, in which case Lopez would be free to sign with whomever he chooses. One way or another, he likely won't end the season as a member of the Bulls.
Memphis Grizzlies PF JaMychal Green
Contract: 1 year, $7.67 million
The Grizzlies are a team that desperately wants to overhaul their roster at the deadline.
Marc Gasol and Mike Conley have been cornerstones of their franchise for more than a decade, but the Grizzlies would be more than willing to move on from both if they got the right offer. Memphis hasn't been the same team over the past two seasons, so it seems like the right time to hit the reset button.
The Grizzlies should also be looking to move on from Green at the deadline. Jaren Jackson Jr. is the future at the PF position in Memphis, and he needs to be playing more than the 25.8 minutes he's averaged through his first 53 games. Justin Holiday and Garrett Temple should be available as well.
---
Should Be Sellers
Washington Wizards F Jeff Green
Contract: 1 year, $2.4 million
Death. Taxes. Some GM talking himself into Green at the trade deadline. Those are the only guarantees in life.
The irony is that Green has actually given the Wizards some really quality minutes this season, but it still hasn't stopped them from turning into a dumpster fire.
He's shooting a career best 47.3% from the field and a very respectable 37.2% from 3-point range, and he has the ability to play both forward spots.
The Wiz should be shopping guys like Green, Trevor Ariza and Otto Porter ahead of the trade deadline, but they are just three games back of the 8-seed in the Eastern Conference. They could be buyers or sellers at the deadline, which makes them one of the biggest X-factors.
Sacramento Kings F Nemanja Bjelica
Contract: 3 years, $20.5 million
This one is really interesting. Bjelica is a decent role player and is on an affordable contract for the next two seasons, so it wouldn't be surprising if the Kings decided to hold on to him.
That said, his playing time has dwindled recently: He's averaged just 18.5 minutes over his past 11 contests. The Kings have a pair of first-round draft picks at the position in Marvin Bagley and Harry Giles, and developing those players appears to be the bigger priority at the moment.
If Bjelica does become available, he could be an interesting target for a contending team. He's shot at least 41.5% from 3-point range the past two seasons, including 42.8% this season, and that kind of perimeter shooting is very important come playoff time.
Orlando Magic C Nikola Vucevic
Contract: 1 year, $12.75 million
Outside of Davis and the Grizzlies duo, Vucevic might be the best player who is realistically available at the trade deadline.
He's averaging 20.7 points and 12.0 rebounds per game this season and rightfully earned a spot in this year's All-Star game.
Unfortunately, the Magic are currently sitting in 11th place in the Eastern Conference and spent the No. 6 pick in last year's draft on another center in Mo Bamba. They will almost certainly let Vucevic walk in free agency at the end of the season, so it's in their best interest to try and turn him into something before then.
Vucevic has traits that will fit on any team. He's shown the ability to shoot the ball from the perimeter this season, shooting 37.8% on 3.0 three-point attempts per game, and his defense has improved by leaps and bounds as well.
He's blocking just 1.2 shots per game, but that hasn't stopped him from ranking eighth at the center position in Defensive Real Plus-Minus (DRPM).
The only real question is which team is willing to roll the dice on him. There aren't a ton of contending teams with a huge need at the center position, but the Magic need to do everything possible to try and find a trade partner before the deadline.
Who Knows?
New Orleans Pelicans F Nikola Mirotic
Contract: 1 year, $12.5 million
The Pelicans have underperformed this season and are currently sitting in 13th place in the Western Conference. Davis is trying to force his way out, and if the front office ultimately caves, it makes sense to blow the whole team up and start over.
They apparently want to hold on to Jrue Holiday, who is one of the more under-appreciated players in the NBA, but Mirotic seems like an obvious candidate to sell.
He's not exactly a lights-out shooter – he's making 36.8% of his 3-point attempts this season – but he has shown the ability to score the ball. He's averaged a career-best 20.8 points per 36 minutes this season, despite the fact that he's often had to share the court with two high-usage players in Davis and Julius Randle.
It remains to be seen if the Pelicans are willing to start from scratch, but it's probably in their best interest to do so.
Minnesota Timberwolves PG Jeff Teague
Contract: 1 year, $19 million (with a $19M player option for 2019-2020)
The Timberwolves are another team that has disappointed this season. Jimmy Butler forced his way out of town in a ridiculous manner, and they haven't been able to overcome his departure.
They currently occupy the 11th spot in the Western Conference, although they are just three games back of the 8-seed.
The Timberwolves are also well over the salary cap, and Karl-Anthony Town's max extension hasn't even kicked in yet. They'd probably love to ship Teague off before the deadline since he will almost certainly exercise his player option for next season.
There's also a strong case to be made that Teague is the third-best PG on the Wolves roster. Both Derrick Rose and Tyus Jones own better Net Ratings than Teague does this season, and both players are making a fraction of what Teague will command next year.
---
Buyers
Toronto Raptors C Jonas Valanciunas
Contract: 2 years, $34.15 million
This is an absolutely massive season for the Raptors. LeBron James took his talents to Los Angeles, so the Raptors no longer have to go through King James to make the NBA Finals.
They will still face a serious test from teams like the Celtics, Bucks and 76ers, but their path to a championship has never been clearer. They also have Kawhi Leonard's upcoming free agency looming large, and a deep playoff run might make him think twice about leaving after the season.
The good news for the Raptors is that they have some appealing trade chips that don't necessarily factor into their plans for this year.
Valanciunas has never been an ideal fit for the Raptors, and he's averaged a career-low 18.0 minutes per game through his first 30 games this season. That said, he's still a talented big man, averaging 24.5 points and 13.8 rebounds per 36 minutes, and it's easy to envision a scenario where he thrives with a change of scenery.
OG Anunoby has also fallen out of favor for the Raptors this season but still has a promising future at just 21 years old. It's possible that Toronto could package these players for an upgrade that could make this team the clear favorite in the East.
It will be interesting to see how aggressive GM Masai Ujiri gets at the deadline since this could be his best shot at making the Finals.