Moore: Early Betting Value on 2021 NBA Season Win Total Over/Unders
Credit:
Getty Images. Pictured (L-R): James Harden of the Houston Rockets, Michael Porter Jr. of the Denver Nuggets, Zach LaVine of the Chicago Bulls.
The NBA season just ended. We have no idea when next season will begin. We don't even know when free agency will start, what the cap number will be set at, what the tax structure will look like, if there will be fans in arenas or even 82 games.
But it's never too early to bet on next NBA season!
PointsBet put out early lines on NBA win percentages for the next regular season. Not win totals, because there's no telling how many games will be played.
But I've put together a convenient table so you can put the win percentages into the context of a normal 82-game season.
2021 NBA Win Total Odds
Odds via PointsBet, where you can get $250 FREE instantly after signing up AND your bets automatically sync to the Action app. Learn more about BetSync here.
| Team | Win Pct Over/Under | 82-game projection |
| --- | --- | --- |
| Milwaukee Bucks | 0.683 [Bet Now] | 56 |
| Los Angeles Lakers | 0.652 [Bet Now] | 53.5 |
| Los Angeles Clippers | 0.652 [Bet Now] | 53.5 |
| Boston Celtics | 0.646 [Bet Now] | 53 |
| Denver Nuggets | 0.610 [Bet Now] | 50 |
| Miami Heat | 0.604 [Bet Now] | 49.5 |
| Golden State Warriors | 0.604 [Bet Now] | 49.5 |
| Brooklyn Nets | 0.604 [Bet Now] | 49.5 |
| Toronto Raptors | 0.591 [Bet Now] | 48.5 |
| Philadelphia 76ers | 0.591 [Bet Now] | 48.5 |
| Utah Jazz | 0.585 [Bet Now] | 48 |
| Houston Rockets | 0.585 [Bet Now] | 48 |
| Dallas Mavericks | 0.579 [Bet Now] | 47.5 |
| Indiana Pacers | 0.549 [Bet Now] | 45 |
| Portland Trail Blazers | 0.530 [Bet Now] | 43.5 |
| New Orleans Pelicans | 0.470 [Bet Now] | 38.5 |
| Phoenix Suns | 0.457 [Bet Now] | 37.5 |
| Orlando Magic | 0.451 [Bet Now] | 37 |
| San Antonio Spurs | 0.433 [Bet Now] | 35.5 |
| Oklahoma City Thunder | 0.433 [Bet Now] | 35.5 |
| Atlanta Hawks | 0.433 [Bet Now] | 35.5 |
| Memphis Grizzlies | 0.421 [Bet Now] | 34.5 |
| Chicago Bulls | 0.415 [Bet Now] | 34 |
| Sacramento Kings | 0.402 [Bet Now] | 33 |
| Washington Wizards | 0.390 [Bet Now] | 32 |
| Minnesota Timberwolves | 0.390 [Bet Now] | 32 |
| Charlotte Hornets | 0.317 [Bet Now] | 26 |
| New York Knicks | 0.311 [Bet Now] | 25.5 |
| Detroit Pistons | 0.305 [Bet Now] | 25 |
| Cleveland Cavaliers | 0.305 [Bet Now] | 25 |
So where's the value? I looked at last season's SRS — Simple Rating System– from Basketball-Reference which identifies strength of schedule vs. point differential, along with Pythagorean win percentage to get a sense for how many wins each team should have had last season.
Here are the eight values that stand out most to me.
Golden State Warriors Over .604
If you read my breakdown on how the Warriors had the best title value on the 2021 futures list, this won't surprise you, but I have to be consistent. This line extrapolates to a 49.5-win pace for a team that gets its big three of Klay Thompson, Stephen Curry and Draymond Green back together.
The Warriors' bench was decimated last season when Shaun Livingston retired and Andre Iguodala was traded as the Warriors pursued light years moves. However, the benefit of last season was giving the Warriors the ability to rebuild that bench.
Eric Paschall is a legit rotation player with high production capability. Ky Bowman can give solid minutes. Andrew Wiggins is still Andrew Wiggins, but he had some moments of not looking as much like himself when Curry came back last in the season before the shutdown.
Then there's the No. 2 pick, which could produce another big man (James Wiseman, perhaps) to combat the Los Angels Lakers or another guard to provide a different dimension.
Meanwhile, let's go back to the light-years concept. The Warriors have moves to make. They can package the No. 2 pick, and Wiggins' contract, which isn't exactly a plus but might get bites on the line. If they throw in Draymond Green, the offer probably gets more attractive.
The bigger point is that the baseline for the Warriors is the two-time MVP and best shooter on the planet with a healthy Thompson (with more rest time), alongside Green and one of the best coaches in league history in Steve Kerr, with more of an idea of supporting cast options.
Golden State is a 50-win team in almost any scenario.
---
Atlanta Hawks Under .433
The Hawks' Pythagorean expectation across an 82-game season, even without the last month of mostly tanking, was just 22 wins. Their line expects 35 wins across an 82-game season, but this is not a 35-win team.
Clint Capela was awesome with the Rockets, but struggled with injury issues last season and motivation is going to be difficult on a losing team after years with a contender in Houston. Plus, as good as Trae Young is, he's not James Harden, not yet. The ship has sailed on the Hawks as a defensive team.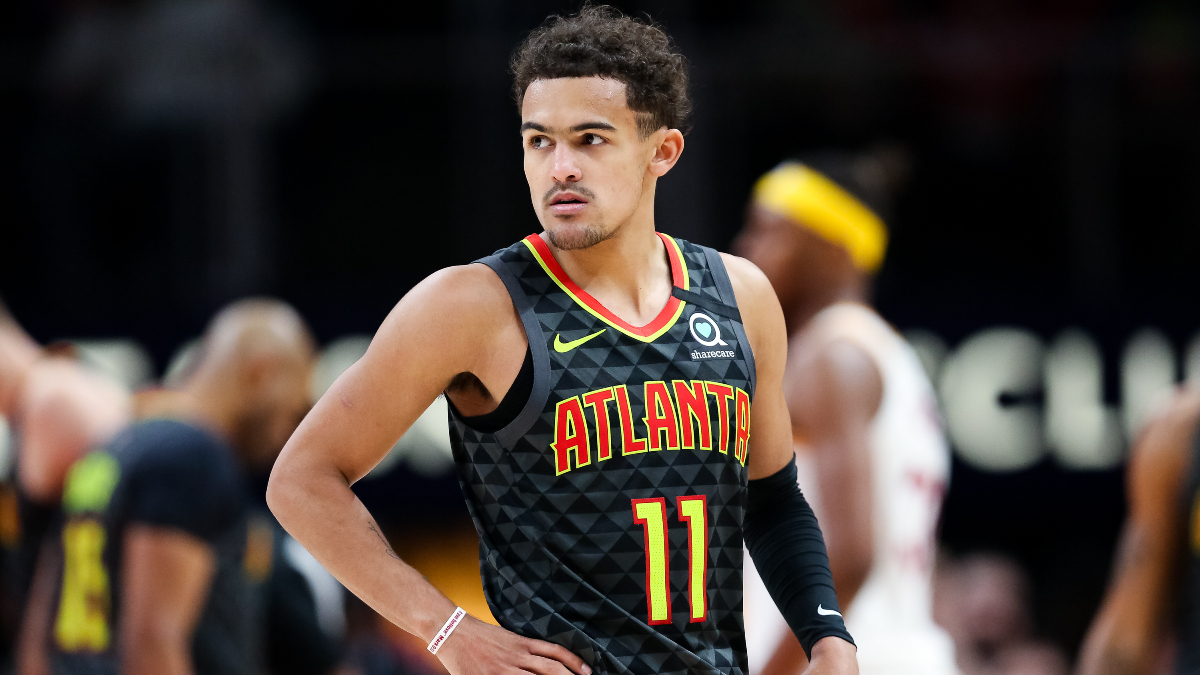 We have no reason to expect significant improvement from Young and John Collins on that end of the floor. If Lloyd Pierce is able to get through to them, then sure, but at that point there will be signs in-season opportunities to hedge. The Hawks have a ton of cap space this summer with a truncated market, meaning they might get veteran upgrades at low costs.
But the reality is that they play in a division with two playoff teams, and are a team that's not difficult to build a game plan against. A 12-win jump from Pythagorean expected last season to the total this season is just too much.
---
Sacramento Kings Over .402
Their Pythagorean expectation last season was 35, and their projected win total for this season by PointsBet is 33.5. And that's with their terrible run in the Bubble, where they were facing playoff teams every night.
Bogdan Bogdanovic is likely gone by some mechanism, and Buddy Hield may be as well. I do not trust Luke Walton's coaching, which is extremely suspect. (He took a great young team and decided to … slow it down?)
But if they trade Hield, they'll get return on investment. Marvin Bagley should never have been drafted ahead of Luka Doncic, but he can be a good player if he stays healthy. De'Aaron Fox has a legit star talent. I can't see their offseason moves making them two wins worse than last season, instead it seems pretty likely they'll be closer to .500 with a balanced schedule.
---
Houston Rockets Under .585
One of the best coaches in NBA history is gone. One of the best general managers in NBA history is gone. That's a lot of infrastructure to hold up your regular season gone overnight. Tilman Fertitta has sworn not to blow up the roster.
Rockets owner Tilman Fetitta on CNBC: "There is no reason to blow up your roster. This is still our window, the next couple of years. James and Russell are in their early 30s. We're not blowing up anything. We plan on contending. We're going to do whatever we had to do to win."

— Jonathan Feigen (@Jonathan_Feigen) October 20, 2020
However — as a man who has made it clear the pandemic has affected his business significantly — if things go sideways, there will be more change. League sources have all side-eyed the Rockets' moves and muttered "cost-cutting." No one is surprised by what's happened.
Does Fertitta have James Harden's complete trust? Will the remaining front office (all Morey people) come to believe the best way to cut costs and improve the roster is to trade Russell Westbrook? And if not, how does this team improve?
They can add a center, but any addition won't be as good as Capela who they dealt to go small-ball. Robert Covington is likely to be a costly free agent.
Houston's Pythagorean wins mark was 47.8 last season and their over/under bears out to a 48-win mark. Usually, I go with "Harden is going to win 50 games" but that sentence is usually "Harden with Mike D'Antoni is going to win 50 games."
Too much uncertainty, too low of a floor, too high a chance of a complete teardown if things go sideways which allows Fertitta to say he tried.
---
Chicago Bulls Over .415
The Bulls were one of the easiest marks for the over last season and yet drastically underperformed. They gave up 111 points per 100 possessions with Zach LaVine on the floor for the vast majority of their minutes and still finished ninth in defensive rating. Former head coach Jim Boylen deserves a lot of credit for getting a young, defensively compromised roster to play good defense.
And yet, the Bulls underperformed massively, with an expected win total for a full season at 32.8. Do you know how bad you have to be with this roster to finish 29th in Offensive Rating?!
New head coach Billy Donovan will likely keep the good parts (the defense) and not get in the way of the offense. Chicago's talent is enough with an Eastern Conference schedule to basically wake up every morning and find 40 wins over the course of the season. After the offseason, this one will likely be higher on my list going into the season.
---
Cleveland Cavaliers Over .305
I know, I know.
But there's some good stuff under the hood. First off, from an intangibles point of view, I'm always looking to see what teams like to play together.
The Cavaliers like to play together. You can tell there's a support between them, and while Kevin Love has obviously been frustrated with the foibles of the young team, that feels fluid. Plus, a trade is possible which might help in getting a more solid 1-10 NBA-caliber roster.
J.B. Bickerstaff's career coaching win percentage, mostly in interim situations, is .396, 9.1 percentage points higher than the line here. I'm big on Collin Sexton and Darius Garland.
---
Check out our free NBA odds page, which automatically surfaces the best line for every game. Subscribe to our new NBA Insiders tool at FantasyLabs to beat the market with our cutting edge player projections, injury news and betting thresholds.
---
Some players you need to watch game by game to realize how underwhelming they are. With Garland and Sexton, you need to watch their best games to get a sense of how good they can be.
Sexton shot 47% from the field and 38% from 3. He still struggles with running the offense, but Donovan will help with that. Garland's numbers were predictably worse as a rookie. However, he was 56th percentile as a spot-up shooter per Synergy Sports and 69th percentile off-the-dribble.
You can teach him all the other stuff (like how to not shoot 43 percent at the rim, woof). I don't think the Cavaliers will be good. I think they will be better-than-25-wins.
---
Denver Nuggets Over .610
Michael Porter Jr. That's it. That's the analysis.
After an incredible postseason run, going contrarian and playing the under on a 50-win pace seems sharp. However, there's a couple of things to note.
One, the team didn't have anywhere near their full complement of players in the Bubble, which took them from a 49-50 win pace to their Pythagorean expectation of 46.
The Nuggets will likely build off their postseason success by putting Jamal Murray into a more prominent position. The Nuggets have basically been running two offenses the past two seasons: a "Nuggets" offense built around sharing the ball and getting everyone involved and the Murray-Nicola Jokic pick-and-roll.
We're likely to see more of the latter and less of the former and unlocking Murray likely makes them better.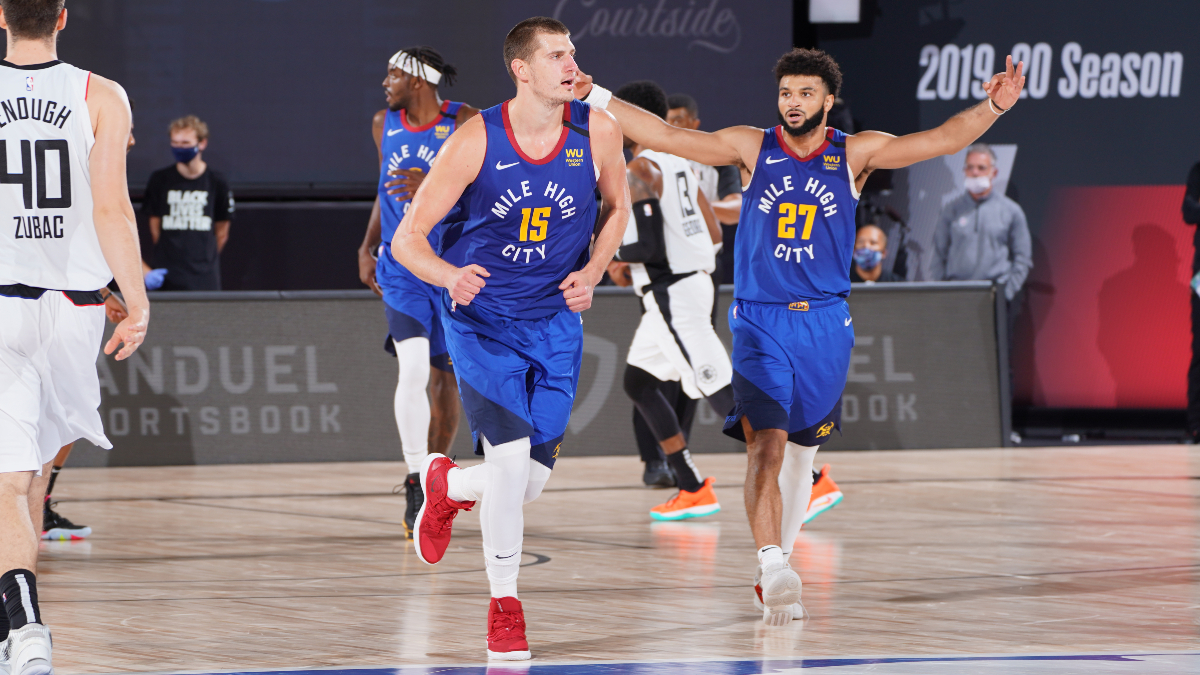 Michael Porter Jr. is likely to move into the starting unit and be integrated into the offense. Every indicator suggests that the Nuggets are going to be a beast with Jokic, Murray, and MPJ on the floor.
There will be more minutes for second-year player Bol Bol and Jerami Grant is likely to return at small forward, making a longer, more athletic team with a higher ceiling while internal development of a still-young team moves their floor up.
There's no reason to think Denver will win fewer than 50 games (or at a 50-win pace) next season, barring health issues.
---
Indiana Pacers Under .549
New coach Nate Bjorkgren said all the right things at his introductory presser. He talked about an "aggressive" style, and focusing on more 3's and free throws. He brings Toronto Raptors pedigree. However, the Pacers are an interesting case in analytics.
The Pacers didn't maximize their offense under Nate McMillan. Their lack of 3-point shooting (despite a roster that could very easily shoot 3's) held them back.
But despite that, the Pacers were really good under McMillan. This doesn't feel like a Mark-Jackson-with-the-Warriors situation. Bjorkgren can improve the process and not get the results, because oftentimes those things are influenced by intangible factors that you simply can't predict with a first-time head coach.
Then there's the Oladipo situation. League sources won't go so far as to say they expect Oladipo to be traded after a number of weird comments and situations with him over the past year as he returned from injury, but they are "keeping an eye" on the situation.
If Oladipo is traded, the Pacers will get good return for him, but the problem is those packages for stars are usually made up of several good role players. The Pacers already have good role players.
All of this gives the Pacers under value if you're looking to get ahead of the offseason shakeups with a first-time head coach.
How would you rate this article?