Nikola Jokic Is on a Playoff Run for the Ages — Now He Has to Finish the Job
Credit:
Barry Gossage/NBAE via Getty Images. Pictured: Nikola Jokic #15 of the Denver Nuggets.
Nikola Jokic is having a postseason for the ages.
Jokic and the Denver Nuggets are on their way to the NBA Finals, the first in 47 years for the franchise. They'll have nine days of rest with hopes of four more wins and the ultimate prize.
Jokic is the newly-crowned Western Conference finals MVP, and it's hard to argue with the voters. He averaged 27.8 points, 14.5 rebounds, and 11.8 assists in a four-game sweep of the Los Angeles Lakers, including three triple-doubles in four games.
When his team needed him most, Jokic stepped up.
Denver had never swept an opponent, never beaten the Lakers in six postseason tries, and LeBron James scored 31 points in the first half of an elimination game to give the Lakers a 15-point lead in Game 4. How did the Nuggets respond? Jokic had a double-double in the third quarter alone with 13 points, 10 rebounds, and three assists as Denver outscored the Lakers by 20 to snatch the lead and never looked back.
In Game 3, Jokic had just 24/8/6. He'd quietly struggled from the field since the first quarter of the series opener when the Lakers switched Rui Hachimura onto him, making just 13-of-35 field goals over his last eight quarters, an uncharacteristic 37% from the field. The Nuggets led by two entering the fourth quarter, until Jokic scored 15 of his 24 on 5-of-7 shooting to slam the door shut.
In both games, Jokic hit wild step-back fade-away 3s at key moments over a bewildered Anthony Davis, reminiscent of the shot Davis hit over the Nuggets in 2020 en route to a title.
This is what Jokic has done all postseason.
In a pivotal Game 5 against the Suns tied 2-2, Jokic scored 17 in the third quarter to turn a 3-point game into a 17-point margin, effectively ending the series. In a closeout game against the Timberwolves after Minnesota scored six in a row to tie it with two minutes left, Jokic scored eight of Denver's final 10 to finish the job.
Denver hasn't needed to face many clutch moments this postseason, but Jokic has answered the call every time his team needed him most.
Joker leads his team in points, rebounds, and assists. His numbers this postseason are staggering. Through 15 games, Jokic sits at 29.9 points, 13.3 rebounds, and 10.3 assists.
No one in NBA history has averaged a triple-double for an entire postseason (with at least 500 minutes played, as all stats below). Magic Johnson came half an assist away twice. James had 34/9/9 in a magnificent 2018 run. Jokic is averaging a triple-double — and one point short of 30 PPG on top of it.
The NBA has only ever seen 24 players record a 30-point playoff triple-double, and just 62 such games ever. Jokic is averaging that mark for the entire postseason!
Only James, Michael Jordan, Clyde Drexler, and Russell Westbrook have even put up 25/7/7 in a postseason. Jokic has actually done that twice now, and he's clearing that bar by five points, three dimes, and six boards this time.
Only James and Jordan ever recorded a 30/7/7 playoff. Only LeBron and Larry Bird had a 25/8/8. These are hallowed names, all-time NBA legends.
These are Jokic's only peers now.
The Ringer's Bill Simmons dubbed "The 42 Club" for guys with 13 or more playoff games averaging at least 42 points, rebounds and assists in a single postseason. This exclusive club of greats includes James, Jordan, Shaquille O'Neale, and Bird — only that quartet more than twice — along with Hakeem Olajuwon, Tim Duncan, Karl Malone, Kareem Abdul-Jabbar, Charles Barkley, Kobe Bryant, Kevin Garnett, Allen Iverson, and Dirk Nowitzki since the merger.
Jokic has gone over that magical 42 PRA mark in 13 of 15 playoff games. He's averaging an absurd 53.5 PRA for the postseason. Only LeBron, Jordan and Oscar have ever topped 50.
We've only ever seen 25 playoff games with a 25/12/12 line. Only Oscar Robertson had more than one in a single postseason. Jokic has five this postseason. He had two this series alone.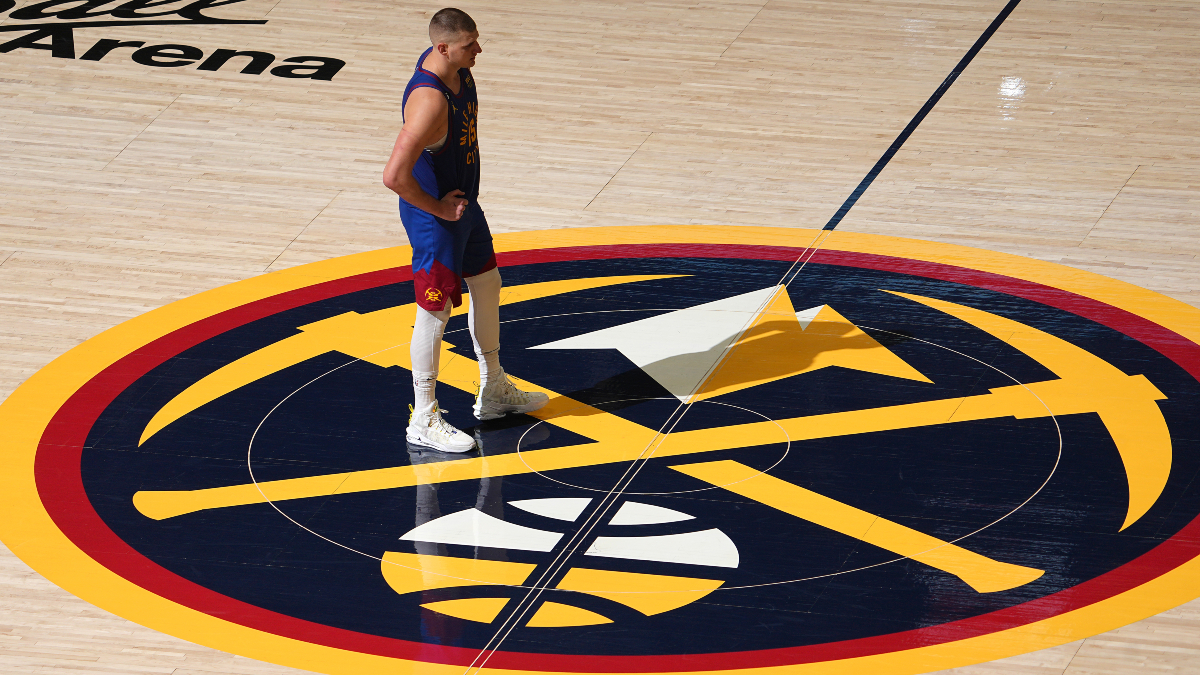 Jokic recorded his eighth triple-double this postseason in Monday night's win, breaking Wilt Chamberlain's record for triple-doubles in a single playoffs.
Anytime you break a Wilt record, you're doing something truly special.
How about some advanced metrics to illuminate the absurdity of this Jokic playoff run?
Only six players have scored 30 PPG on 60% True Shooting: James, Jordan, Abdul-Jabbar, Kawhi Leonard, O'Neale, and Denver's Alex English. Jokic looks set to join them. (Jimmy Butler is on the cusp at 29.9 PPG and 60.2% TS, too.)
John Hollinger created a stat called Game Score to provide a measure of a player's productivity in a single game. Only eight players in NBA history have more than five 30-plus Game Scores in a single postseason. Jordan and James lead the way with nine, O'Neale had eight, and Barkley, Olajuwon, and Giannis Antetokounmpo round out the list. Jokic already has seven — and counting.
Hollinger also created Player Efficiency Rating (PER) as another overall individual measure. Only James, Jordan, Shaq, and Chamberlain ever recorded a single playoff PER over 30. Jokic is at 31.6. Add in 60% True Shooting and now it's just James and Joker.
NBA Reference uses Box Plus-Minus (BPM) as its measure of player contribution. Only seven players have gone over 10 BPM in a postseason: LeBron, Jordan, Bird, Duncan, Kawhi, Butler (last year!), and Jokic — twice now actually.
Jokic sits at 13.4 BPM, fourth highest in playoff history. Only Jordan and LeBron have ever gone over 12, five times between them. And only one of those five seasons ended in a championship.
Jokic is on the precipice of NBA history.
All that's left now is to finish the job.
The Nuggets are -275 to win the championship, an implied 73%.
Jokic is -200 to win NBA Finals MVP at PointsBet (implied 67%) and the price is even more steep at other books. He'd have to win Finals MVP in 91% of all Nuggets victories for that to be a worthy ticket — though he could contend in a losing effort too.
Jamal Murray just averaged 32.5 PPG on scorching 53/41/95 shooting against the Lakers, and fans would have rioted if they gave Murray Western Conference finals MVP over Jokic. Is there any question left about who is the best player in all the land?
He didn't get MVP in the regular season, but his play is evidence that he won't have that issue in the the next round.
Jokic is four wins away from completing one of the greatest runs in NBA playoff history.
Looks like it's time to grab that Finals MVP ticket.
How would you rate this article?
This site contains commercial content. We may be compensated for the links provided on this page. The content on this page is for informational purposes only. Action Network makes no representation or warranty as to the accuracy of the information given or the outcome of any game or event.