Nuggets vs. Warriors Odds, Pick & Preview: 3 Bets to Make in Western Conference Showdown (February 16)
Credit:
Ezra Shaw/Getty Images. Pictured: Nikola Jokic #15 of the Denver Nuggets, Andrew Wiggins #22 of the Golden State Warriors.
The Denver Nuggets and Golden State Warriors will face off at the Chase Center in a key matchup for the road team.
Denver has maintained its place above the play-in teams in the Western conference and can keep pace with a win.
Matt Moore breaks down the game, including his three bets in tonight's game.
Nuggets vs. Warriors Odds
Nuggets Odds
+5.5
Warriors Odds
-5.5
Over/Under
225.5
Time
10 p.m. ET
TV
NBA League Pass

Odds via BetMGM. Get up-to-the-minute NBA odds here.
The Golden State Warriors take on the Denver Nuggets in a Western Conference battle before the All-Star break. The Warriors are still trying to find their way without Draymond Green, while the Nuggets have some momentum with Jamal Murray expected to be on his way back next month.
Both teams need wins to help keep their place in the West playoff standings. Which side has more value in a potentially crucial showdown? Let's take a look at both teams.
Nuggets Up-and-Down With Nikola Jokic Sitting
Jamal Murray and Michael Porter Jr. are out. Monte Morris is questionable with lingering concussion symptoms.
Denver's a much better team than their record reflects. They are 15-9 since the start of the new year and for the season have climbed to seventh in Adjusted Offensive Rating and 12th in Adjusted Defensive Rating (factoring strength of schedule) at Dunks and Threes.
This, with Murray and MPJ out basically the entire season and having to fill in the rotation with multiple minimum-salary players, is remarkable.
Here's the basics of how Nuggets games play out: The starters behind Nikola Jokic win their minutes by between five and 12 points. He sits down with about two minutes left in the quarter. The bench then gets outscored by between three and 15 points (no exaggeration) in the six minutes he sits. Then Jokic comes back in.
If the bench has held the lead, they typically hold it at half and go on to win — they are 24-8 when leading at halftime. The Nuggets overall are great in second quarters, with the best Net Rating in the league.
Then the third quarter arrives and it's basically a rollercoaster. The starters might fall apart, they might put the game away, and then the bench comes back in and it's again a coin flip between expanding the lead slightly and getting blown out so badly that three years evaporate from head coach Michael Malone's life expectancy.
The Nuggets have the worst Net Rating in fourth quarters in the league and yet somehow are 13-11 in clutch games (games within five points in the final minutes).
As an underdog this season, Denver is 10-11-1 ATS per GimmeTheDog.com, with many of those on back-to-backs or missing significant personnel.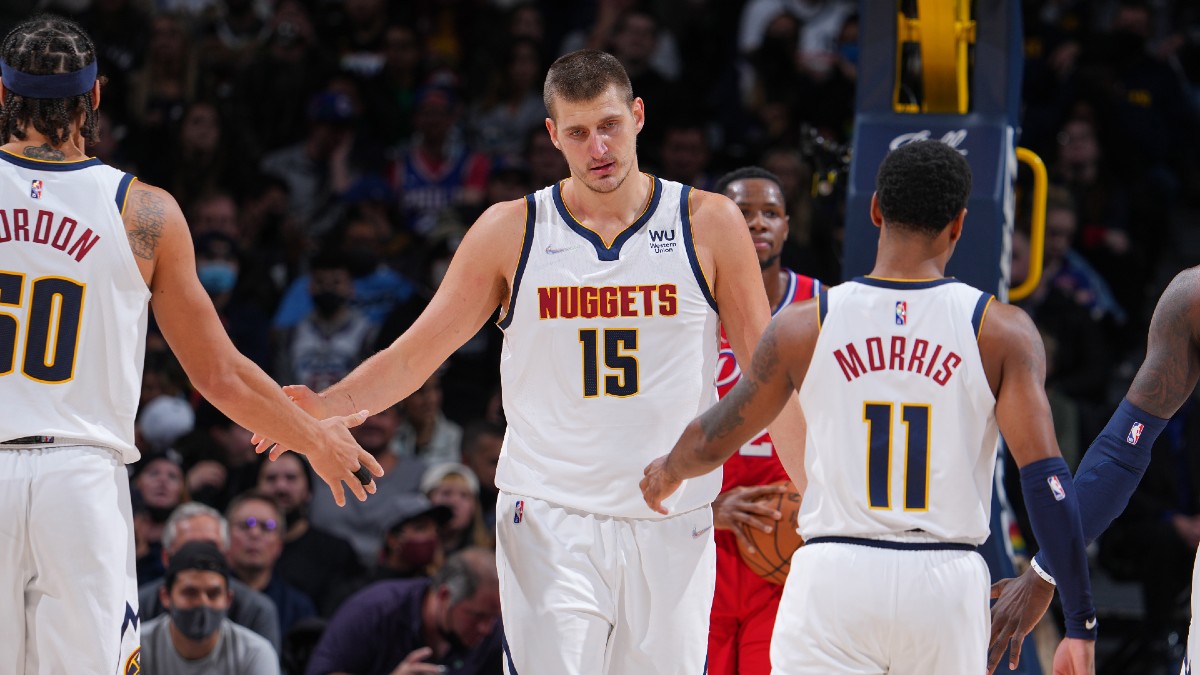 The Nuggets are better defensively than you'd think, and Jokic is central to that. Get the perception you have of Jokic out of your head; the Nuggets have made defense with Jokic not only tenable, but outright successful. Jokic is a liability on switches on the perimeter like most centers, so the Nuggets simply don't do that. They don't put him in those situations and he's become a high-level rim protector.
Now, the Warriors present a different problem with Stephen Curry. He'll force Jokic to play at the perimeter to get the ball out of his hands. Once the ball is out of his hands, now a perimeter defender, of which the Nuggets have very few, has to trail Curry on relocation catch-and-shoot shots off screens.
Will Barton is not a good match there. Morris is likely out and isn't a good fit anyway. Bones Hyland is a slight-framed rookie who will get absolutely lost. Facundo Campazzo is not a bad option, but his minutes are basically poison for the Nuggets' plus-minus.
Curry is gonna have a game.
Aaron Gordon likely takes the Klay Thompson assignment and that's a good matchup. Otto Porter will face off with Jeff Green, the Nuggets can be comfortable with that.
The bench is going to be the issue. The Warriors have Jordan Poole and a good bench unit; they stagger Curry to start the second quarter. Denver won't adjust its rotations for a regular-season game and the Warriors are absolutely winning that stretch.
---
Warriors Not Equipped to Slow Jokic
Draymond Green, James Wiseman and Andre Iguodala are out.
Golden State rattled off nine in a row to stabilize after the Draymond injury, but have lost three of their last four and the win was a shaky performance vs. the struggling Lakers.
Since Green was injured on Jan. 5, the Warriors are 5-10 ATS as a favorite.
What's interesting in that span is that the Warriors are still seventh in defense in that span, which is not what you would expect with Green out. But they've been 19th in offense during that time.
So the issue here is the Warriors' offense remains vulnerable and inept at times. Their defense is still stout. Since Green went out, they're still allowing just the fourth-most points in the paint per 100 possessions in the paint. That obviously bodes well for the matchup vs. the Nuggets.
But they are 28th in points in the paint per 100 possessions on the offensive end, and they are 18th in 3-point percentage.
Golden State has success against Jokic in part due to Green's ability to match up with him one-on-one. Kevon Looney does well, but they'll miss Green more in this matchup than most. Part of their success defensively is their ability to switch in pick-and-roll.
However, they're also the best team in the league defending the post this season. One key there, however, is that they double the post the seventh-most in the league. If you send doubles at Jokic, bad things happen. Jokic's assists prop is a strong play in this matchup.
Nuggets-Warriors Pick
Denver is live here, but there are also live-betting opportunities. The Nuggets are the best second-quarter team in the league but that stretch where Curry is on the court to start the second is going to be a disaster for Denver. If the Nuggets lead after the first, I will live-bet the Warriors first-half spread.
Denver is 17th in offensive rating vs. top-10 defenses this season per Cleaning the Glass. The Warriors' offense struggles overall, the Nuggets defense is better than expected.
The Warriors are not a bad matchup for Denver, Jokic should eat vs. the double teams, and Denver's shooting (third in eFG% league-wide) should keep them in this game.
Pick: Nuggets +5.5 | Under of 225.5 | Jokic Over 8.5 Assists
How would you rate this article?