76ers-Rockets Betting Preview: Will Houston Extend Its Win Streak at Home?
Credit:
Bill Streicher-USA TODAY Sports. Pictured: Philadelphia 76ers guard Ben Simmons (25), Houston Rockets guard James Harden (13).
Spread: Rockets -8.5
Over/Under: 230.5
Time: 8 p.m. ET
TV Channel: ESPN
---
---
The Houston Rockets will face the Philadelphia 76ers without Joel Embiid in the lineup and Houston is riding a six-game win streak heading into Friday's contest.
Does Philly have enough to contend on the road without its star big man? Our analysts discuss.
Betting Trends to Know
Embiid will miss his eight consecutive game for the Sixers Friday night in Houston. In their previous seven games without Embiid, the under is 6-1 in Sixers games, going under the total by 8.9 points per game.
A simple stat that displays Embiid's impact to opponent scoring this year: opposing teams are shooting 47.8%, while scoring 115.9 points per 48 minutes with Embiid off the floor and 43.7% from the field and 107.8 points with Embiid on the floor. — Evan Abrams
Over the past two seasons, the Rockets are 23-4 (85.2%) straight up at home against Eastern Conference opponents, the second-highest win percentage in the NBA behind the Warriors. In those 27 games, though, the Rockets are just 10-16-1 (38.5%) against the spread at home, including 4-9 ATS when Houston is favored by fewer than double-digits in this spot. — Abrams
As Evan mentioned above, opponents are scoring more when Embiid is off the court, but the under has gone 6-1 in the past seven games Embiid has missed. So what gives?
In those seven games the average over/under for the 76ers was 231. In all previous games this season the average total was 225. Oddsmakers are inflating the lines anticipating more scoring, which is making it easier for the under to hit. — John Ewing
Did you know? James Harden has scored 28 or more points in 39 consecutive games. Harden has led Houston in scoring in 42 straight games — the fifth longest streak in NBA history. — Ewing
Mears: Sixers and Rockets Trending in Different Directions
Prior to Wednesday's loss to the Bulls, the Sixers looked like they were weathering the absence of Embiid. In the prior six games, they went 4-2, and even the two losses — to the Warriors and Trail Blazers — were understandable.
They were merely staying afloat, however, barely pulling out games against inferior competition. Even that Golden State game was misleading. Sure, they kept it close at home, losing by just three points, but the Warriors were down Klay Thompson and Kevon Looney. Overall, Embiid's on/off metrics remain incredibly strong.
On the season, he's easily been their most impactful player: Per Cleaning the Glass, the 76ers have been 14.3 points per 100 possessions worse with him off vs. on — the 97th percentile of all players this year.
They are 6.3 points/100 worse on offense and 8.0 points/100 worse on defense. Tonight's starting lineup — Jonah Bolden in for Embiid — has posted a disappointing -5.9 Net Rating.
On the other side, the Rockets are rounding into form as they push toward a playoff run, winning their last six games — a sample that includes road wins in Golden State, Boston and Toronto.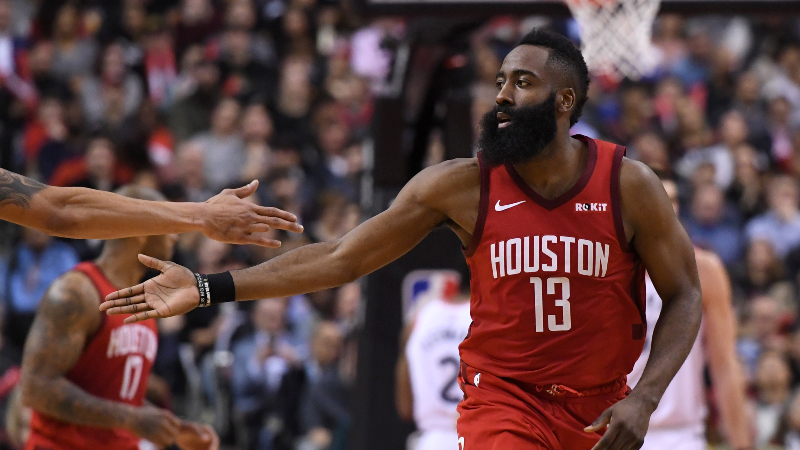 It's been an impressive run, and since Jan. 1 they've had the league's second-best offense, blitzing opponents for 117.0 points/100. That should hold, especially as they get more time as a healthy unit.
This shapes up as a difficult matchup for Philly. Without Embiid on the floor, the Sixers have given up 5.9% more shots at the rim. Opponents have also made them at a 4.8% higher clip.
Overall that translates to a 3.3% effective field goal differential for the Sixers with Embiid off vs. on, which is a pretty huge number. That seems problematic against a Moreyball offense that prioritizes optimization (3-pointers and shots at the rim) and is humming right now.
Sharp bettors seem to agree with Houston being undervalued, as the Rockets are getting more spread dollars and bets — a trend that has identified sharp bets against-the-spread. Those teams have produced a 5.3% ROI ATS historically and have covered the spread by more than one point per game. I'll hop on that train and continue to fade the Sixers sans Embiid.
Moore: The Rockets' Defense and the Total
I don't love this number either way, outside of John's note about the under. One thing to keep in mind: Houston' statistical profile suggests that they can handle individual defensive actions well.
If you drive and kick they can cover that. But they are rough defending shots off the cut, and that's an area of success for the Sixers. They can find little slip opportunities vs. this Rockets defense and they have the perimeter containment to be able to pressure and recover.
You won't stop Harden, but you might limit his assists. I'm just a little wary of this one.