NBA Win Total Odds & Pick: Can the Phoenix Suns Maintain Momentum?
Credit:
Barry Gossage/NBAE via Getty Images. Pictured: Devin Booker #1 and Chris Paul #3 of the Phoenix Suns.
Check out this post for updated season win total odds for all 30 NBA teams.
---
Phoenix Suns Win Total Odds
| | |
| --- | --- |
| 2023-23 Win Total | 52.5 |
| Previous Season's Wins | 64 |
The Case for the Over
Continuity
Balance
Win Profile
Monty Williams, plus Chris Paul, plus Devin Booker, with Mikal Bridges, Deandre Ayton, and Cam Johnson. This combination has gone over 50 in back-to-back seasons and over their win total in the same span. It's a tried and true formula.
This team is on a revenge-for-the-revenge tour streak. Last year was supposed to be their revenge tour as they followed up losing the NBA Finals with 64 wins, the No. 1 seed, and were set to contend for the West title again before … whatever that was that happened in Game 7 against the Dallas Mavericks.
Maybe it was COVID. Maybe it was a bad matchup. Maybe it was Luka Doncic.
Regardless, the Suns have a lot of reasons for sour grapes over how their season ended. That little bit of motivation might be enough to get them to 55-wins or more.
This is a really balanced team. They finished fifth in adjusted offense, and third in adjusted defense, per Dunks And Threes. They can win with defense if the shots don't fall, and they can win with offense against the high scoring teams. That versatility matters for getting through the regular season.
The Suns are more balanced this season. Dario Saric returns from ACL surgery, which provides the Suns with a small-ball option in reserve units that was sorely missing last season. They needed counters for teams that played small against the Ayton lineups, and Saric helps with that.
They added some wing defenders in Josh Okogie and a versatile wing in Timothe Luwawu-Cabborot, a journeyman who can fill in minutes. Throw in Bismack Biyombo who can fill in for Ayton at any point, and even with the Jae Crowder situation, they remain stacked.
Their win profile is excellent. The past two seasons, the Suns were 57-15 vs. teams under .500. Teams that win 70% of their games vs. sub-.500 teams have gone over 68% of the time in the last 10 years.
Phoenix is 17-11 straight up (61%) vs. division opponents and 64-20 (76%) at home. Those three elements, beating the bad teams, winning your division games, and protecting home court, are essential to getting over 50 wins.
You can fade the narrative with this team and take a great team that's gone over twice to keep it up and go over again.
---
The Case for the Under
The Number 
The Weird Vibes
The Roster
But the number is so friggin' high!
Teams that won 60 or more are 8-6 to the under the following season in the last ten seasons. Teams with a win total over 50 have gone 31-16-1 to the under the last 10 seasons. If you bump it up to 53.5 wins, the under is 24-10 (70.5%).
They just don't hit. You can have a great season and go under very easily here. If the Suns win 51 games with the No. 3 seed, was it a bad season?
The vibes are horrendous. Ayton is basically just there so he doesn't get fined. He has looked miserable in media appearances and clearly is unhappy that the Suns matched the max offer for him from the Indiana Pacers, and it's very likely he gets traded when eligible in January. Maybe that trade makes them better, maybe it doesn't.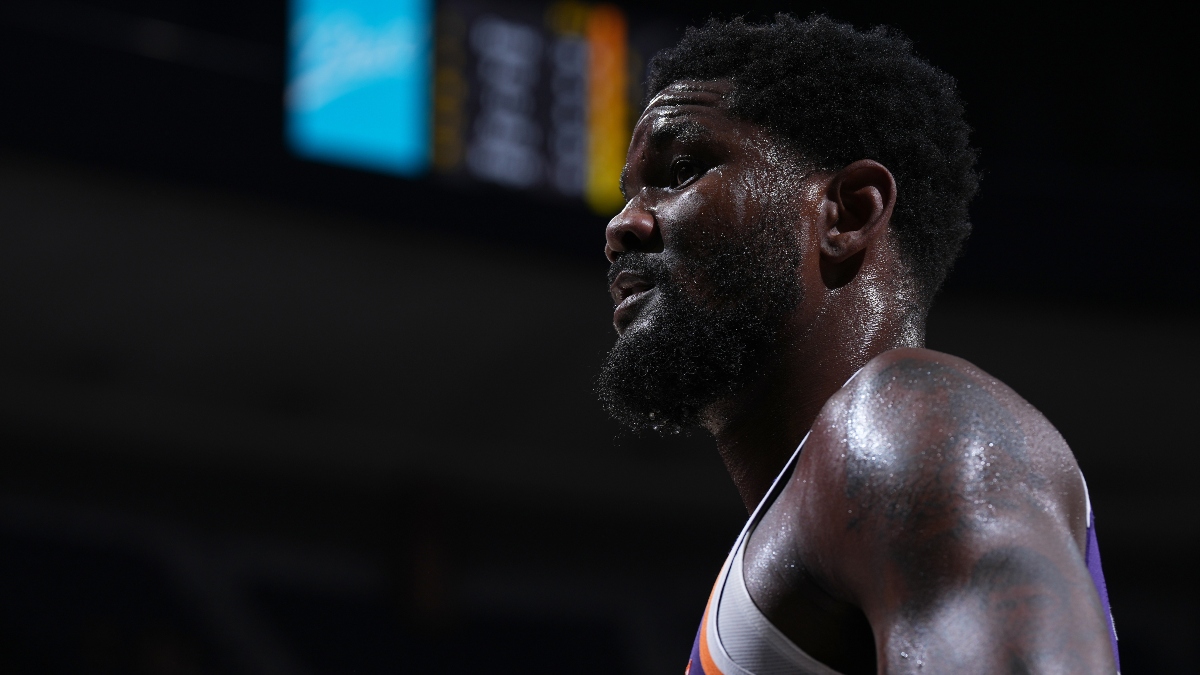 Crowder is not with the team while they pursue a trade for him. He had the best on-court Net Rating of any rotation player on Phoenix. They were +10.2 in Net Rating with him on the floor last season.
It's not that Crowder was why the Suns were great; it's that he was part of a combination that worked, and without him, you don't know if the replacement options will be as good, even if it's Cam Johnson.
The Robert Sarver scandal continues to linger over the franchise. That doesn't directly impact the players, but it's a distraction, and we've seen these situations disrupt teams before. It's just more bad vibes.
The roster also has some holes. It's one reason why they've been aggressive in pursuing major upgrades. Cam Johnson is a good and capable player; he's just not the same type of player as Crowder. Crowder is physical in a way Johnson can't be at this point in his career.
Landry Shamet plays a lot on this team. Like, a lot.
The Suns' defense was 4.0 points better with Shamet on the floor, but 8.4 points worse on offense. The Suns are so out on Cameron Payne that they're looking for anyone else to lead the second unit.
Ten guards in NBA history have played 60 or more games at age 37 or older with more than 17 seasons under their belt, like the season Paul is headed into. Paul is of the caliber of player that most of those players are (Jason Kidd, Ray Allen, John Stockton, Gary Payton). But it's rare.
The bench looks terrible in preseason. It's preseason, but it's something worth watching. Teams with bad benches have to put more pressure on their starters and that applies more wear and tear and increases injury risk.
Suns Win Total Bet
Lean under, but I'm not betting it.
The Suns are a high-motivation team because of how embarrassing last season's exit was. Winning a bunch of regular season games won't change the skepticism toward their title chances, but it's what they can control.
The Suns are also a prime trade buyer. They have been actively looking for not just small moves but big ones. Kevin Durant is the most obvious example, but Phoenix has kicked the tires on every major trade target this summer. Even if they don't pull the trigger until January with a deal involving Ayton, that would leave enough time for a big winning streak to secure an over.
Other than that? The number is too high, the team's vibes seem off, they lost to an NBL team in preseason (not a meaningful sign but not a good one), and the roster has holes.
My paradigm for the Pacific Division is that with three teams holding a win total over 50, you need to choose one to go over, one to go under, and one to stay away from. My other two slots are filled, so I'm staying away from this one.
How would you rate this article?
This site contains commercial content. We may be compensated for the links provided on this page. The content on this page is for informational purposes only. Action Network makes no representation or warranty as to the accuracy of the information given or the outcome of any game or event.