The Clippers' Endless Cycle of Frustration With Kawhi Leonard and Paul George Will Continue
Credit:
Photo by Winslow Townson/Getty Images. Pictured: Kawhi Leonard and Paul George.
The Los Angeles Clippers are going to run it back next season with Kawhi Leonard and Paul George. Of course they are. What else would they do?
After Leonard missed the final three games of the Clippers' first-round loss to the Phoenix Suns due to what was revealed to be a meniscus tear in his right knee (while George was already out with a right knee injury), the conversation turned to the future, and all parties concurred that running it back was the move. Leonard. George. Ty Lue. The same will be echoed by the Clippers front office when they speak in the coming days.
"If we can just get healthy …"
And fans and bettors will talk themselves into the Clippers again. So let's ask a few questions about this, from the viewpoint of someone who doesn't benefit from the team taking such a path, and evaluate it.
QUESTION 1: WHY WILL THE CLIPPERS RUN IT BACK?
Because to do it the other way is so, so hard.
Teams chase superstars endlessly and relentlessly because it is the easiest way to get there. Get the guy, then figure out everything else. So often in the NBA, the title is determined by who has the best player in the series. For the last two decades, the best guy in most series has either been Steph Curry, Kevin Durant or LeBron James. Since 2012, those three have combined individually or together for eight of the 11 possible championships.
Great players make great plays, hit tough shots, draw tough fouls and win tough minutes. It's a players' league.
So teams chase them. Endlessly. Embarrassingly, a lot of the time.
If you're not chasing them via free agency or mega-trades, you have to do the hard work. Going through a rebuild. Losing seasons. The luck of the lottery. Drafting the right guy. Keeping him healthy. Developing him. Building a good team around him, but not before he's really ready to compete.
So instead, you just take the quickest path, and Leonard and George were that for the Clippers in 2019, just like Kyrie Irving and Kevin Durant were in 2018 for the Brooklyn Nets.
The Clippers will say they have belief in those guys, and they know what they're capable of, to which I will ask …
Do they?
Do you know what this team can do? The one time (one!) they were fully healthy for a run, they lost a 3-1 series lead to the Denver Nuggets in the 2020 bubble season.
We have exactly zero evidence that Leonard can take a team to the title if there isn't a pre-existing and well-established 50-plus-win team that he is attached to, even if he is healthy.
But the alternative is too painful. So the Clippers will believe, in large part, because it's more profitable to believe and extend rather than deal with the realities in front of them.
QUESTION 2: SHOULD THE CLIPPERS RUN IT BACK?
No. Not in this form.
But the way they should change things requires a level of ruthlessness that flies in the face of the modern NBA's star-placation-at-all-times ethos.
Chicago Bulls GM Jerry Krause traded away players that Michael Jordan loved and brought in guys he was skeptical of. Krause suffered endless abuse from the GOAT on a personal level — a toxic dynamic that would spark investigations in today's world. Krause also made the deals he needed to.
Pat Riley, RC Buford, Mitch Kupchak. They would have made the hard trade and told the star player to deal with it.
That's not today's NBA, which is why George will not be traded.
That's the move, by the way. I'm a big proponent of George. He's underrated as a scorer, defender and playmaker. He plays with the right approach and he is a great teammate.
However, you can't have two injury-prone players that your team is this dependent on. George is good enough to get a bite from various franchises with replacement parts and long-term pieces to use in a three-way to get another star.
The idea here is not that George isn't good enough or that George is less available than Leonard. George has random ailments, vastly different from the downward spiral of the bottom half of Leonard's body over the past five years.
The idea is that you can't have one guy be really good but injury prone, but who also exists to essentially carry the load for the guy who is almost never available.
I don't have names for that next star. But you need someone who will be able to play when Leonard can't because, at this point, you will never know when Leonard will be able to play.
The rest of the Clippers roster is largely fine. We thought this was one of the deepest teams in the league coming in, and that's proven not to be true. But Terance Mann looks like a great point guard reaching higher levels. They have wing shooting and defense with Norman Powell and Nic Batum, center depth in Ivica Zubac and Mason Plumlee, and slithery guards in Eric Gordon and Bones Hyland.
Russell Westbrook is Russ. But it's looked closer to being something that can work in L.A. than it did in … well, L.A..
QUESTION 3: SO, WHAT'S THE DEAL WITH KAWHI?
Sigh.
Leonard was a monster yet again before he was pulled due to the meniscus tear. He looked like the best player on the planet again. His Game 2 performance was incredible, given the injury he was playing through.
This is also his second major knee injury in three years and the third major leg injury he's sustained since 2017.
When the injury was reported, a cacophony of responses poured in. "Maybe don't suggest a guy isn't hurt next time!"
And certainly, you should never question whether a player's injury is legitimate. The amount of treatment most players go through to get ready to play simply isn't worth it otherwise. Stand in a locker room after a NBA game; you'll see the toll playing takes on the body.
What we don't need to do is pretend that everything with Leonard is normal, or that there haven't been consistent suggestions about the lack of communication between Leonard and the team.
The reality is that it's unlikely the Clippers will reach a point where Leonard plays 70 games for them in the regular season. Or 65. Or, honestly, 60. He played 60 in his championship season with Toronto in 2018-19 and hasn't done so since (with the caveat that the league played two shortened seasons due to the pandemic).
The Clippers did everything they could to protect him this season. They were cautious with him every step of the way. Even after embarrassing losses, he would sit the next game for load management.
None of it mattered.
There's no one to blame for his meniscus tear. There's no hindsight to use to pinpoint what they could have done. It just is what it is.
At the same time, it's hard to be the leader of a team when you are gone as much as he is.
Even if the Clippers had played better and won more games in the regular season, they would have still lost in the first round — most likely. If we assume the same injuries (which is impossible to try and project given the butterfly effect, but let's pretend), even with the two seed they would have faced the L.A. Lakers or the Golden State Warriors with the third seed. Maybe winning a few more gets them to a 4-5 matchup with the Sacramento Kings, but it seems unlikely they win that one without Leonard or George.
They needed one of them. They had neither.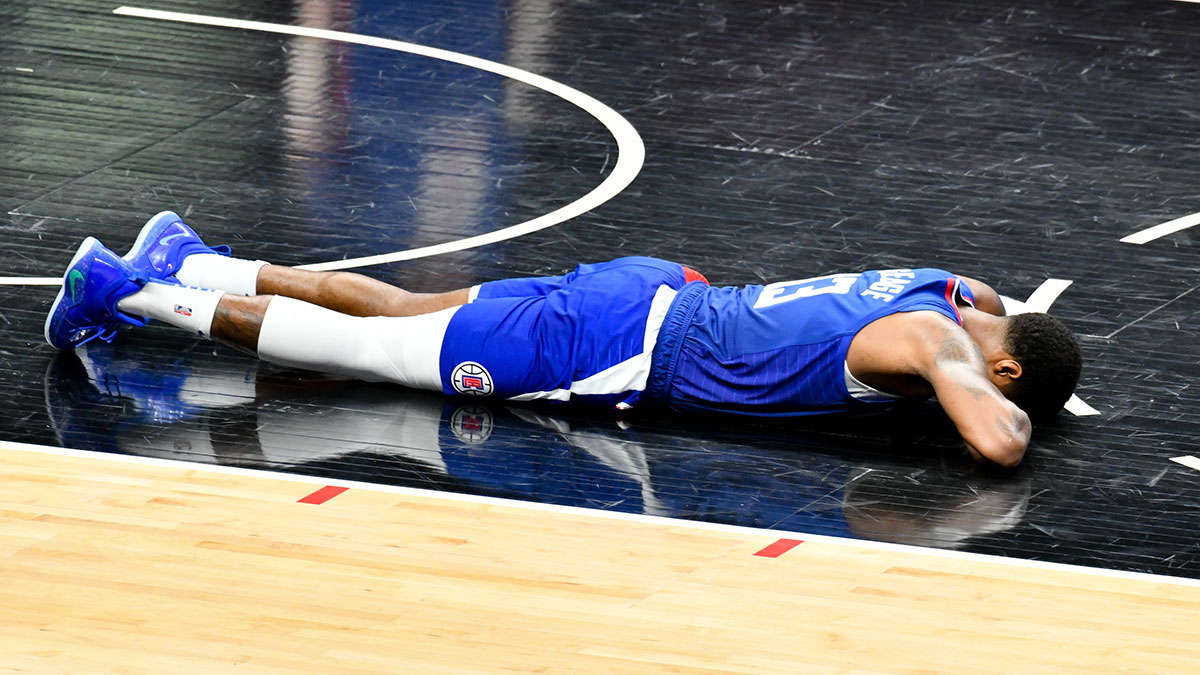 QUESTION 4: CAN L.A. SOLVE THIS WHILE KEEPING GEORGE AND LEONARD?
The answer is probably not. They could look to add a third star — Westbrook already believes he is that — but without the rights to their own draft pick over the next four years, it's going to be a challenge to offer anything for a player like Bradley Beal, who comes with his own availability and injury issues.
The Clippers will look to revamp the team with "better depth," but I need to stress this: the Clippers roster was awesome. They had Powell, who probably wins Sixth Man of the Year if fully healthy. Zubac is nothing special, but is solidly a top-15 center. Westbrook played well (!!!) and helped them win. Mann may have made the biggest leap on the team and looks like a real contributor.
They added a real backup center in Plumlee and a promising firebug guard in Hyland. They had Robert Covington as a small-ball option that they never, I repeat, never went to in a series against a Phoenix team that struggled vs. small-ball teams.
The Clippers should have been better.
When you face that reality, usually, the answer lies with a coach. Lue had a bad season. That doesn't mean Lue isn't a good coach — though the conversations about him being the best coach in the NBA last season were absurd. Good coaches have bad seasons.
But the problem wasn't Lue. It wasn't the supporting cast.
It's that their entire team is built around two players who are unavailable.
If Jamal Murray misses a game, the Nuggets run through Nikola Jokic. If Jokic sits out a game, the Nuggets miss their focal point but can at least run pick-and-roll with Murray.
If Kevin Durant is out, Chris Paul and Devin Booker can run constant pick-and-rolls with DeAndre Ayton. If Paul or Booker miss time, well, it's Durant iso time.
The Clippers don't have go-tos. They don't have redundancy. They don't have a Plan B.
It's just, "Welp, hope Kawhi and/or PG are healthy!"
Unfortunately, that formula only works if your guy is a monster who is always available or if you have a stable redundancy plan, a player that's maybe not as good but able to lead in the absence of the best player.
Instead, the Clippers have two 1a's, both of which have injury issues.
This is part of the modern NBA. You have to be able to win without your best guys, at least enough to get you through. But even if the Clippers had made it to the playoffs in better shape, it wouldn't have mattered.
Trading George should be — but likely will not be — a real consideration. George has been more available than Leonard overall, but that's not saying much. But Leonard is obviously the franchise.
Trading Leonard without getting a less injury prone star to hold things down doesn't really help. Trading Leonard moves you further from contention. There's no good answer.
So, the Clippers will run it back. And hope.
There's no good answer. Head of basketball operations Lawrence Frank seemed to suggest a shift in philosophy in his press conference on Thursday.
"We have to be honest with ourselves," Frank said. "We have to look in the mirror. It starts with me. We have to get back to honoring and respecting the regular season.

"The regular season matters. Not that our guys don't think it matters. I think all of us, starting with me, we can compete harder every single day. We can hold each other accountable every day."
At this point, the Clippers are going to have to prove that to everyone. This is what makes the situation tough to figure out:
The Clippers have been injury cautious in the regular season, and it's cost them team momentum, wins, seeding, homecourt  and put more stress on everyone.
The stars got hurt anyway.
Should they be less cautious? Does that make sense? Should they just bubble-wrap Kawhi and PG for the season and hope they can figure it out in March like the Suns?
The end of this winds up with the same thing that has been true of the Clippers, unfortunately, since their move from San Diego:
There are no good answers. Only more questions.
How would you rate this article?
This site contains commercial content. We may be compensated for the links provided on this page. The content on this page is for informational purposes only. Action Network makes no representation or warranty as to the accuracy of the information given or the outcome of any game or event.