The Stephen Curry 3-Point Leader NBA Betting Controversy, Explained
Credit:
Via Ezra Shaw/Getty Images. Pictured: Stephen Curry #30 of the Golden State Warriors shoots the ball during their game against the Oklahoma City Thunder at Chase Center on April 04, 2023 in San Francisco, California.
Stephen Curry is the greatest 3-point shooter of all time, and he proved it again this season with the Golden State Warriors by leading the league in 3-pointers per game despite playing in two fewer games than the NBA minimum required to be the official statistical leader.
Curry finished with 273 made 3-pointers in 56 games. While Curry did not play the minimum 58 games required, the NBA stipulates that for certain stats, if the player would have won with the total amount had they played 58 games, that player is considered the leader in that category.
Here is the official language from NBA.com:
"The only exception to this rule will be if, at the end of the season, the player would have led the league in the category had he played the required number of games with his current category total. For example, if Player A played 56 games and scored 1,590 points (28.4 PPG), Player A could still qualify for the league lead if his average (27.4) with that same point total (1,590) over 58 games was higher than any other player.

A past example: Gerald Wallace collected 138 steals in 55 games (2.51 SPG) during the 2005-06 season. Wallace would have still led the league in steals because his average with 58 games (2.38 SPG) would have been greater than the 2.28 SPG of Brevin Knight, the leader among players who met the 58-game qualifier."
Curry, with an average of 4.9 3-pointers per 58 games, edged out his teammate Klay Thompson, who finished with 4.4 per game.
What's interesting is that the NBA informed Action Network Monday that even this isn't the qualifier. "Curry led with 4.88 threes made per game this season — that's with no minimum used because there is no minimum standard for this category," the NBA said in response to our inquiry.
The NBA confirmed to Action Network that Curry is considered the NBA's 3-pointers per game leader for 2022-23.
Some sportsbooks, however, had some trouble accepting this result.
Multiple books, including DraftKings and BetRivers, graded the bet initially as a loss on Monday morning.
In replies to customer service requests obtained by Action Network, a DraftKings representative claimed that the bet was based on total 3-pointers for the season, which would certify Thompson as the winner.
Here is a preseason screenshot of the bet in question, captured on August 31: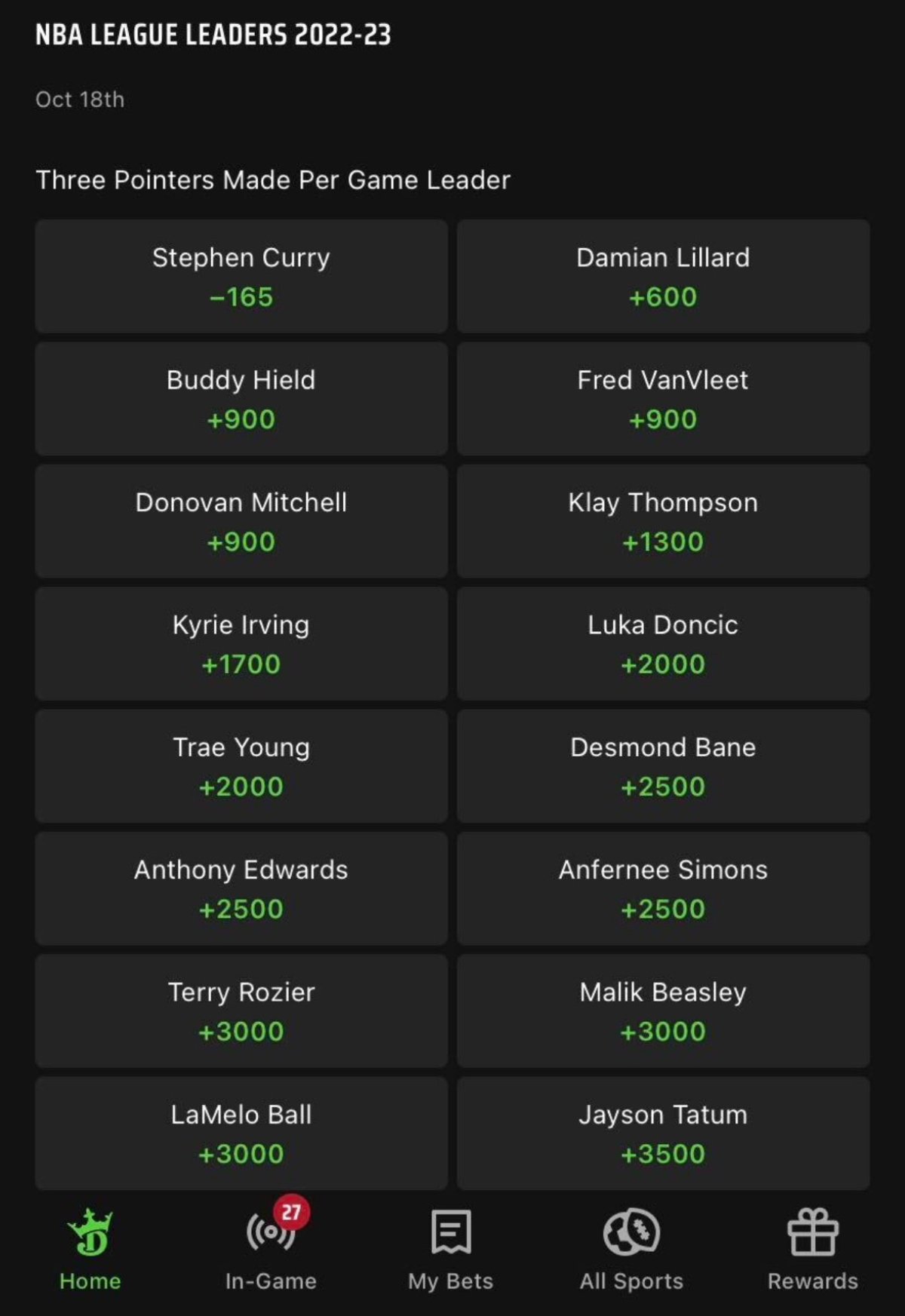 This was also the approach by DraftKings despite Joel Embiid leading scorer tickets being graded as the winner when Jayson Tatum finished with the most points scored this season. Embiid did finish with the NBA minimum of 58 games, but again, by the NBA's stated rules, Curry is the per-game 3-points leader and Embiid the per-game scoring leader.
Action Network's Darren Rovell reached out to DraftKings, and while the company declined comment, DraftKings acknowledged the grading as an error, and the bets were subsequently marked as winners.
On Tuesday, BetRivers made the same adjustment. BetRivers did not return a request for comment.
In the preseason, our Joe Dellera outlined the various rule differentials at various sportsbooks on this popular prop:
– FanDuel (-190): A player must play 70% of their teams games (58 in 82 game season)

– BetMGM (-190): 3s Per Game

– PointsBet (-210): 3s per game

– BetRivers (-200): NBA Eligibility

– DraftKings (-175): Player must qualify per NBA stat minimums to be settled as the winner

– Caesars (-150): Made 3-Pointers Leader – "Winner is determined by the league rules regarding the number of games played." This is a true leader bet
So FanDuel and Caesars both would correctly grade Thompson as the winner and Curry as a loss, while BetMGM, PointsBet, BetRivers, and DraftKings should grade Curry as the winner per their and the NBA's rules.
As a mark of Curry's 3-point dominance, he actually could have played in three fewer games (53) and still beat out Thompson per-58 games. He literally could've stopped playing at the end of March and would've still had enough 3s for the NBA-defined league lead.
With the NBA and NBPA agreeing in its new CBA that players must play in 65 games for various award eligibility, it's not known if this will impact league leaders as well starting next season, but don't be surprised to see house rules on this bet change as Curry continues his volume and efficiency dominance while playing fewer games into his mid-30s.
Darren Rovell, Joe Dellera, and Brandon Anderson contributed to this report. 
How would you rate this article?
This site contains commercial content. We may be compensated for the links provided on this page. The content on this page is for informational purposes only. Action Network makes no representation or warranty as to the accuracy of the information given or the outcome of any game or event.