Victor Wembanyama Is the Real Winner of the 2023 NBA Draft Lottery
Credit:
Via Aurelien Meunier/Getty Images. Pictured: Victor Wembanyama of Metropolitans 92 looks on during the Betclic Elite match between Metropolitans 92 and Strasbourg on April 08, 2023 in Levallois-Perret, France.
Victor Wembanyama was the real winner of the NBA Draft Lottery on Tuesday night.
The gangly superstar-in-waiting could have wound up in any number of different circumstances after the lottery ball clunked into place in a room in Secaucus, New Jersey. There were places he could contend faster, like Indiana and Oklahoma City, and franchises a lot more lost in the woods, even if they have more talent, like the Wizards.
But there were also teams that had they gotten Wembanyama, people around the league would have blanched at their landing the next great generational super-talent.
Houston has brought on Ime Udoka to take the next step. The Rockets have a smart front office with some of the infrastructure that remained from Daryl Morey's incredibly successful tenure. But Houston's culture is still a major question mark, and Udoka has never taken on a rebuilding team.
The Rockets last year were a mess. Don't take my word for it. You read between the lines of so many NBA players either in direct or indirect reference to Houston, and the commentary was rife with the idea that they didn't "play the right way."
Maybe Udoka fixes that. Maybe Jalen Green matures and takes a step toward impactful basketball. Maybe Jabari Smith or Alperen Sengun make a leap to become The Guy.
But had Houston gotten Wembanyama, there would have been possessions next year where fans would have wondered why he wasn't getting the ball more, where they wondered why the team looked so lost around him. Udoka's a good coach; he's not a miracle worker.
Charlotte, too, comes with more questions than answers. There are rumblings of Michael Jordan looking to sell the team, and that can cause internal instability. LaMelo Ball has battled injuries but also has played a brand of basketball that was good for the highlights and bad for the win total. The team is lacking in really great young talent beyond Ball despite several lottery picks.
Portland would have been fascinating, but Damian Lillard is 32. He's not looking to contend in four years when Wembanyama has been in an NBA strength and conditioning program and toughened by his time in the league. He wants to win now. Not in a year, not in two years, now.
Wembanyama may come in and make so much of an impact as make his team competitive, and the combination of Lillard with Wembanyama, Anfernee Simons and Jerami Grant might have made something of a run.
But Wembanyama needs to be able to go through the mistakes and grow at his pace.
The Pistons wouldn't have been bad. By all accounts, Troy Weaver is establishing the right culture and approach to things. Recently promoted Dwane Casey would have been a good mentor. But the Pistons just don't have the Spurs' track record.
The Mavericks, with their desperation, the Magic, with an already pretty clear path, the Jazz with how transient their roster feels, the Bulls with their various issues mostly stemming from ownership, the Pelicans with their medical complications — most of these teams would have been risky situations for a superstar that the league needs to give the best chance at greatness to.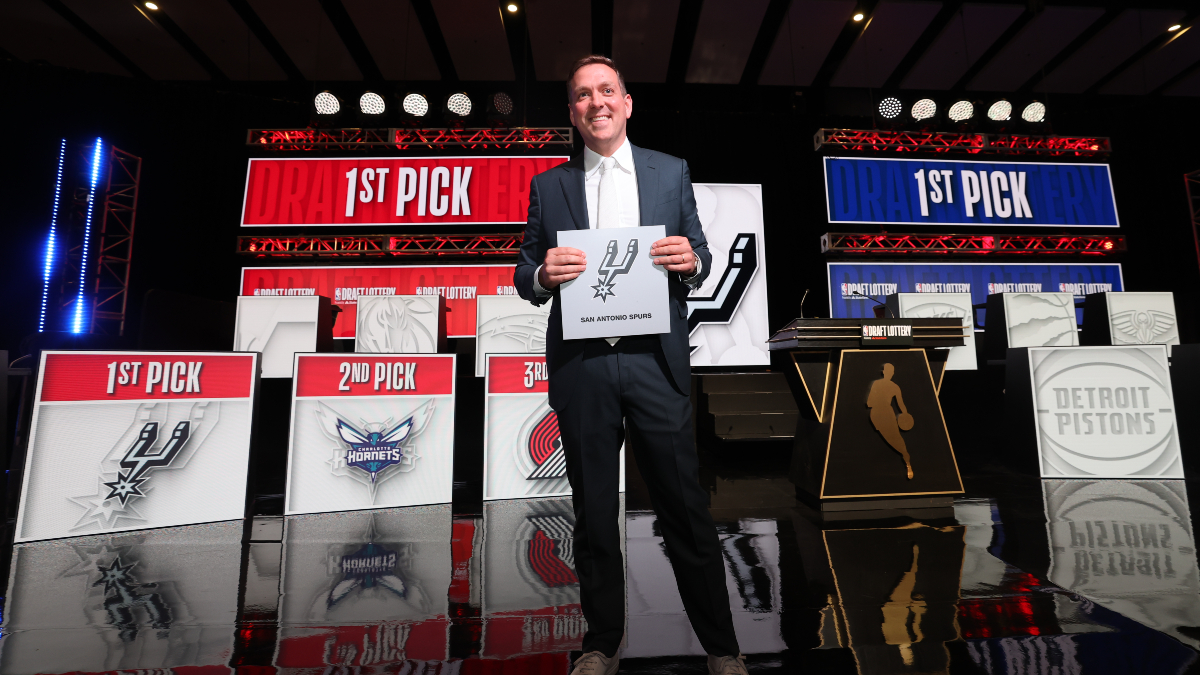 Instead, he landed with the Spurs.
The league office no doubt felt a sense of disappointment he didn't land somewhere bigger or more media friendly. (Don't worry, eventually we'll ask if Wembanyama is going to ask to be traded to the Lakers. On a long enough timeline we ask that about everyone.)
But San Antonio is a team you can trust with a talent like Wembanyama. It's not just because of Gregg Popovich, who league sources have said they believe has found a reinvigoration with coaching a team of youngsters on a rebuilding track. It's not just R.C. Buford who many say has taken on more of the business side of the Spurs and less of the basketball side.
But the Spurs are an institution. It's not just one person driving the machine as a president of basketball operations or a legendary coach. Their approach to everything is serious. They work with professionalism and focus. They strive towards winning, always. They approach things the right way, day by day.
There's not a lot of surrounding talent in San Antonio, but some of the players will look much better with Wembanyama filling up highlight reels every other play. Devin Vassell, Jeremy Sochan, Keldon Johnson, Tre Jones and Malaki Branham all showed flashes.
And hey, the Spurs have a boatload of future picks to build around Wembanyama as well.
Wembanyama (and his handlers) don't have to worry about whether Popovich is the right person for him. They can take the Greatest Power Forward of All Time's word for it. After all, Tim Duncan lives in town and is often seen at Spurs facilities.
Wembanyama isn't Duncan, and times are certainly different, but the league can feel comfortable with knowing The Next Big Thing is somewhere that will take the right approach in taking care of his body, his spirit and his game. Wembanyama can feel confident he's somewhere that has a commitment to winning.
The future of the NBA is in good hands, painted in Silver and Black.
How would you rate this article?
This site contains commercial content. We may be compensated for the links provided on this page. The content on this page is for informational purposes only. Action Network makes no representation or warranty as to the accuracy of the information given or the outcome of any game or event.