2019 NBA Finals Warriors vs. Raptors Game 2 Betting Preview: Will Golden State Even the Series?
Credit:
Credit: Kyle Terada-USA TODAY Sports. Pictured: Golden State Warriors guard Stephen Curry (30) during the 2019 NBA Finals.
2019 NBA Finals Game 2 Betting Odds: Warriors at Raptors
Spread: Raptors -2
Over/Under: 215
Time: 8 p.m. ET
TV Channel: ABC
Series Score: Raptors Lead 1-0
---
>> All odds as of Saturday evening. Download The Action Network App to get real-time odds and live win probabilities on your bets.
---
The expectation heading into Game 1 of the 2019 NBA Finals was that the hometown team Toronto Raptors would have early jitters. Instead they looked like more like it was their fifth NBA Finals appearance as they breezed past the Warriors to take 1-0 lead in the series.
Can they keep that same energy in Game 2? Our analysts discuss.
NBA Finals Betting Trends to Know
Did you know? In NBA Finals history, the Game 1 winner has gone on to win the series 51-of-72 (71%) times. Raptors lead 1-0 but are still +130 underdogs to win the championship at the Westgate Las Vegas Superbook. — John Ewing
Game 2 will mark the 12th time that the Warriors have been playoff underdogs under Steve Kerr. Golden State has gone 4-0 against the spread as a playoff dog when receiving less than 50% of spread tickets, but is 2-5 ATS when getting a majority of tickets. Nearly 60% of bets are on the Warriors despite their Game 1 loss. — Ewing
Since 2016-17, Kevin Durant's first season with the Warriors, Golden State is 10-2 (83.3%) against the first half spread after a straight up loss in the playoffs, including 9-2-1 on the moneyline in the first half. — Evan Abrams
The Warriors closed out the Blazers in the Western Conference Finals on the road in Games 3 and 4 and play Games 1 and 2 of the NBA Finals on the road in Toronto. Since 2005, teams to play at least four consecutive road games in the playoffs are 4-18 (18.2%) straight up, losing by 6.5 points per game. When that team lost their previous game, they are 2-13 (13.3%) SU, losing by 7.7 PPG. — Abrams
The Raptors picked a great time to shoot well from the field, connecting on 50.6% of their shots in Game 1. Toronto hadn't shot 50% from the field in 13 games, dating back to Game 1 of the Sixers series.
Here's the problem: Over the past two postseasons, the Warriors have allowed a team to shoot at least 50% from the field in five games. In Golden State's next game, it is 5-0 straight up and against the spread, covering the number by 18.6 points per game. — Abrams
Moore: My Thoughts the Game 2 Spread
If Pascal Siakam only has a 20-point night, Game 1 looks much different. If Fred VanVleet only had 8 points instead of 15, Game 1 looks much different. If Klay Thompson were more engaged, if Andre Iguodala hit just two 3's … I think you get the point.
There will be a great deal of talk about all the things the Raptors can clean things up, but the Warriors have a much greater distance between where they were in Game 1 and their actual ceiling, compared to Toronto.
One thing that really stood out on rewatch was how little Golden State was reading defense vs. trying to execute plays. They said openly several times that they had very little experience against this particular matchup, and it showed.
They'll adjust when and how they shoot, and go for more reactions against what the Raptors will give them. I just don't know if it'll be enough. There's still value here with Toronto only favored by -2, but we're within the range of what I think will be the threat of a backdoor cover. — Matt Moore
---
Locky: The Warriors' Simple Solution
I'm not sure we necessarily learned much from Game 1. A lot of things went how we anticipated: Stephen Curry and Klay Thompson worked hard for their shots but were effective, DeMarcus Cousins was barely helpful except that he kept Andrew Bogut on the bench and Kawhi Leonard struggled with the Warriors defense. All things we were pretty sure would happen.
Pascal Siakam, though, played far beyond his expectations. It reminded me of the 76ers series when Siakam excelled in Game 1 then struggled, with Philly winning Games 2 and 3.
The solution is actually easy for Golden State. Draymond Green guarded Siakam a lot in Game 1 and got burned repeatedly, and Green will likely guard Siakam in Game 2. He just has to be better. That's the adjustment. And because it's Green, I'm pretty confident it's going be a little better going forward at a minimum.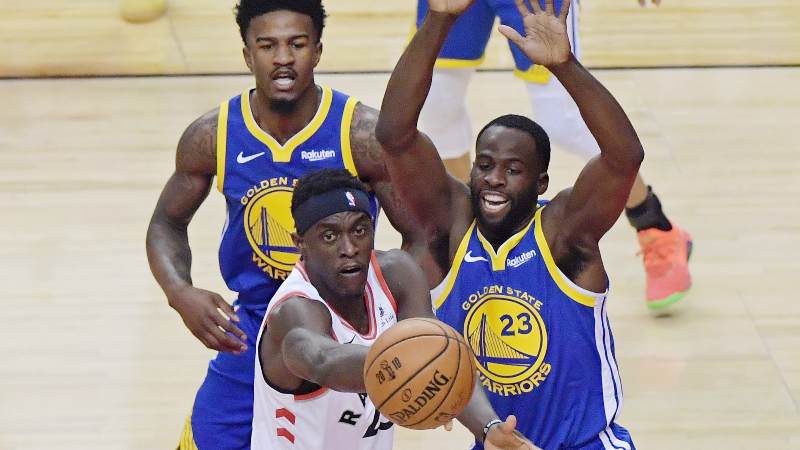 Andre Iguodala's health is the only thing preventing me from firing on the Warriors here, because their rotation options when he is out are so awful in this matchup. With that in mind I'll say lean Warriors right now.
They have the pieces in place to put forth a better effort and it doesn't require anything particularly drastic. If Iguodala is more toward "doubtful," all bets are off for me. — Ken Barkley
---
Mears: A Case for the Under in Game 2
Defense has been the weak point for Golden State all year, and that reared its head in Game 1. A lot of people believed the Warriors would get better in the playoffs — they would "flip the switch" — but that just hasn't happened so far.
Warriors in regular season: 108.7 Defensive Rating
Warriors in playoffs: 111.8 Defensive Rating
That said, I don't think the Raptors will be quite as efficient as they were on Thursday evening. You can point to Pascal Siakam going 14-of-17 while largely being defended by Green as the ultimate example, but there are other factors, too.
The Raptors added 8.5 points per 100 possessions in transition, which the Warriors apparently had been stressing leading up to the game. Sure, it's problematic that they were still unable to slow them down despite it being a point of emphasis from the coaching staff, but now it's real. That film session could not have been fun.
The Raptors also shot 55.6% on long mid-rangers, which may not continue for non-Kawhi players. They shot 42.3% on non-corner 3s; a couple of those came from Siakam, who probably won't continue to hit those moving forward either.
The Warriors rebounded the ball well, limiting the Raptors to a 17.9% offensive rebound rate, and the halfcourt defense would have been better if not for some really tough shot-making. The transition defense was awful, no doubt, but the rest of it wasn't quite as bad as the final product looked.
One thing that is real, though, is the Toronto's defense. It has so many long, quick, athletic defenders to throw at Steph Curry and Klay Thompson, and ironically the Warriors — a dynasty with three of the five best shooters in the history of basketball — have almost no shooting from the rest of the roster. Green and Iguodala were the only players who played at least 10 minutes and attempted a 3-pointer. They went 0-for-6.
If Iguodala is limited, the offense likely suffers even more. I just don't know where any shooting is going to come from other than the main two guys — and the Raptors will absolutely make those players prove it and blanket Curry and Thompson. Maybe the bench gets hot, or maybe the splash brothers hit contested shots all game, but I think the most likely outcome is another tough night on offense.
Given all of those factors, I think the best value currently is on the under. It opened at 215.5, but it's down to 214.5 as of Saturday night despite 73% of the bets coming on the over.
The under is getting a more even 46% of the total money wagered, which indicates sharp money that's causing this reverse line movement. I'll go with the sharps and take the under in Game 2. — Bryan Mears
---
Editor's note: The opinions on this game are from the individual writers and are based on their research, analysis and perspective. They are independent of, and may not always match with, the algorithm-driven Best Bets from Sports Insights.
How would you rate this article?