NBA Finals Game 6 Betting Guide: Will Warriors Force Game 7 vs. Raptors?
Credit:
Photo credit: Kyle Terada-USA TODAY Sports. Pictured: Steph Curry and Klay Thompson
The Toronto Raptors and Golden State Warriors will play in Game 6 of the 2019 NBA Finals on Thursday night (9 p.m. ET tip, ABC).
Spread: Warriors -2.5
Over/Under: 212
Series Score: Raptors Lead 3-2
The Warriors were all but defeated in Game 5 after the injury to Kevin Durant and late heroics from Kawhi Leonard, but the Splash Bros did what the Splash Bros do and saved their season. Now the focus turns to Game 6, where Golden State is a short home favorite as the Raptors try to capture their first ever NBA title. Can the Warriors rally again and push this to a Game 7? Our analysts break down all the trends to know and give some of their favorite bets.
Betting Trends to Know
The Warriors have played 55 playoff games in Oracle Arena under head coach Steve Kerr. They have closed under a five-point favorite just once at home: Game 3 of these Finals vs. the Raptors. The Warriors opened as four-point favorites in Game 6 and are now 2.5-point favorites. — Evan Abrams
Did You Know? In the 55 home playoff games under Kerr, the Warriors have never dropped three consecutive home games in the playoffs. — Abrams
Golden State has played five home games listed as a favorite of seven points or less with Durant not playing. The Warriors are 1-4 straight up and 0-5 against the spread (ATS), failing to cover the number by 10.4 points per game. — Abrams
Locky: How I'm Betting Game 6
If there was a way using Bet Labs' database to try to isolate and quantify how teams do "one game after a debilitating injury and a miracle comeback," I would sure love to see the results.
Where are those boxes and why can't I check them?
Game 5 was amazing, but there are plenty of obvious ways Game 6 will not be like Game 5. Most obviously, Kevin Durant played 12 minutes, scored 11 points and Golden State was +6 with him on the court in Game 5. Kevon Looney played 18 minutes and Golden State was a +4 with him on the court. Those advantageous minutes are no longer available and will now be consumed by worse players.
The dramatics of Game 5 also masked how atrocious Toronto was at shooting the 3.
While we were fawning over the initial solid start for Durant and then depressed about the extent to which his absence affected Golden State, Toronto shot 8-for-32 from beyond the arc.
Pascal Siakam and Kyle Lowry shot a combined 1-for-10, and in some cases the Warriors were leaving Siakam wide open (really, BEYOND wide open). Danny Green, who has already made a huge impact on the series, was 0-for-4 from deep.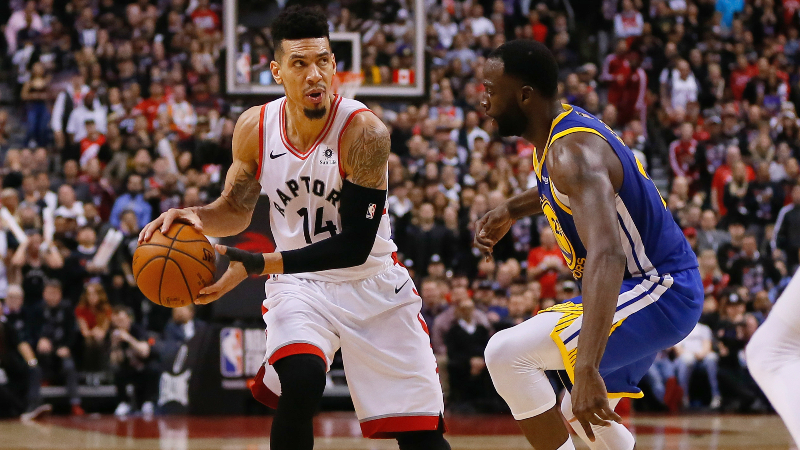 These are things that in isolation happen all the time, but together do not happen very often and are unlikely to continue happening in succession. This was a little like Game 2, where Toronto just kept missing wide-open shot after wide-open shot. Because there was no other narrative in the game, we talked about that. We had way too much to talk about from Game 5 to give this any meaningful coverage.
As much as you want to give the Warriors credit for being at home — and I'm sure the advantage will be significant (the last game ever at Oracle Arena may not even be able to be quantified precisely) — with Durant and Looney not playing, the Raptors are absolutely the better team.
It may not actually be very close. My guess is this is why you've seen the Raptors take money, since even if you give the Warriors a healthy 3-4 points of home-court advantage, the opener of -4 still basically assumed these teams were even.
And they are not even.
At +2.5 or +3, I would lean Toronto since I'm still not sure that's capturing the difference between these teams with the injured players out. — Ken Barkley
---
Mears: Is Game 6's Spread Correct?
Game 6's spread opened at Warriors -4 or -4.5. That suggests the Dubs are about a full point or 1.5 points better on a neutral court, or they're even if you give the final Oracle game four points of value. Is that right?
I don't see how you can look at anything from these Finals and think that's the case. The Raptors have been 5.7 points per 100 possessions better than the Warriors through five games. They've consistently gotten a higher percentage of "wide-open" shots. They've gotten to the line more. They've won the turnover battle.
Perhaps the most shocking way of looking at it. Here's a list for the first five games and which team has won each quarter:
The Warriors have won just four of 20 quarters! And that includes one in which Kevin Durant played. They lost the fourth quarter of last game, and if they had last it by just two more points, they'd be done for the summer. You could easily make the argument that they're incredibly lucky to have won two games.
There are some compelling narratives that are going around. The first is that the Warriors will rally after the KD injury — to "win it for KD," as Matt Moore wrote about here. That's possible. The other is that they'll be extra motivated in the final game at Oracle. That one I don't believe.
Wouldn't they have been motivated in Game 4 after losing Game 3 and not knowing it would get back to Oakland?
Anything can happen in one game. Anything can happen in two games. The Phoenix Suns, awful as they are, didn't lose every game the past two seasons. Players can get hot; others can struggle. Basketball — really sports in general — is way more random than we like to admit.
But given all the data we have and what we've seen on the floor, the Raptors are a better team given the injury situation and Kawhi Leonard is the best player in the series. As such, I bet this at +4 when it first came out and I think there's still some value at +2.5 or +3. — Bryan Mears
---
Editor's note: The opinions on this game are from the individual writers and are based on their research, analysis and perspective. They are independent of, and may not always match with, the algorithm-driven Best Bets from Sports Insights.
How would you rate this article?