How to Bet the ESPN Events Invitational | Bracket, Full Preview, Picks, Odds & Predictions
Credit:
Photo by Jacob Kupferman/Getty Images. Pictured: Tamin Lipsey (Iowa State)
The ESPN Events Invitational is overshadowed by the Maui Invitational and the Battle 4 Atlantis, but this year's field in Orlando is loaded.
Texas A&M is the favorite heading into Thanksgiving, but Florida Atlantic and Iowa State are right there with the Aggies. Virginia Tech and Boise State aren't slouches, either.
Penn State, Butler and VCU are definitely the worst of the bunch and drag the average KenPom ranking of the field down, but by the time this reaches the semifinals, this tournament will have some NCAA tournament-field implications.
Here's how to bet the ESPN Events Invitational, including a bracket, full preview, picks, odds and predictions.
---
ESPN Events Invitational Bracket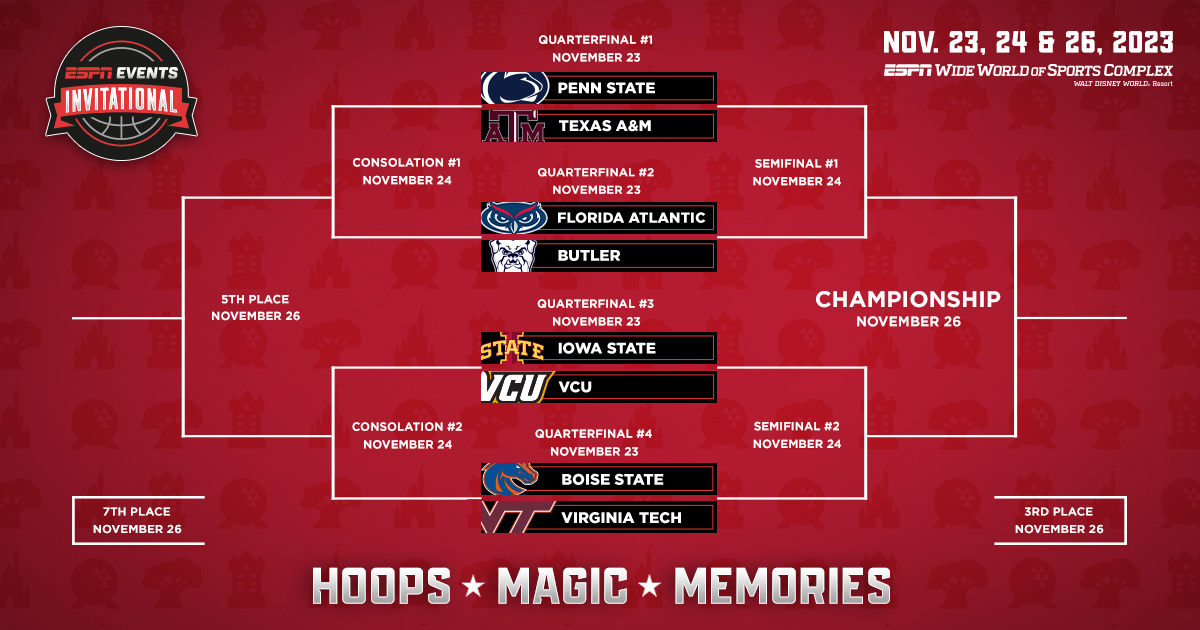 ---
ESPN Events Invitational Odds
---
Advantages
Wade Taylor IV is likely the most renowned name in this field. The Aggies guard has struggled from beyond the arc (19.2%) in the early going, but he's still averaging 17 points, 4.8 assists, 3.3 steals and 3.0 rebounds per game.
Taylor and company control the ball and can maintain possessions without making mistakes. Yes, they only have an effective field goal percentage of 44.7% at the moment, but an 11.1% offensive turnover rate and 45.8% offensive rebounding rate will allow them to maintain the pace of their liking.
This should propel them past Penn State into a likely matchup with the FAU Owls.
Disadvantages
They allow a 42.1% 3-point attempt rate. Per Shot Quality, this ranks 287th in college basketball.
In addition, their Open 3 Rate on defense ranks 258th. This will not bode well if they face FAU.
Julius Marble has been away from the team, so the depth in the frontcourt will take a hit for the time being.
Advantages
Penn State saw a roster overhaul with Micah Shrewsberry leaving to coach Notre Dame.
This is a rebuilding program for Mike Rhoades, but the Nittany Lions have shown some flashes on defense, despite a weaker-than-average schedule to open the season.
They've allowed a maximum of 65 points, and they're holding opponents to 19.7% from deep.
Now, Texas A&M has the talent to blow by Penn State, but the Nittany Lions may force the Aggies to score from inside.
Disadvantages
In turn, this will lead to some issues for PSU, as it's allowing an offensive rebounding rate of 31.4% to opponents.
This plays into the hands of the Aggies and will result in a massive rebounding discrepancy between these two, even if the Nittany Lions hold A&M to fewer deep shots.
Advantages
FAU is the opposite of Penn State, as it brought back several key pieces from last season's Final Four team.
The Owls have a great defense, as they rank 78th in defensive turnover rate. They're holding opponents to 26.2% from deep, and they also rank 43rd in holding opponents to 23.2% on the offensive glass.
Per Shot Quality, they rank 29th in defensive Shot Selection, as well.
Disadvantages
Offensive hiccups have been prominent for FAU so far this season. The Owls lost to Bryant by only scoring 51 points.
Yes, this team was a little overrated after its NCAA tournament run last season, but it shot 36.6% as a unit from outside last year. So far, the Owls are only shooting 33.3% in 2023-24, while ranking 79th in launching 3s on offense.
This, in turn, impacts their effective field goal percentage.
If the Owls don't hit their shots, they could be tested by Butler, especially considering the Bulldogs have a strong defense.
Advantages
The Bulldogs received a tough draw with FAU in the first game and Texas A&M — potentially — in the semifinals.
That said, these are two resume-building opportunities for the Bulldogs.
Much like FAU, Butler has a pretty solid defense. It ranks 55th in Adjusted Defensive Efficiency and has a 21.4% turnover rate defensively with a 39.1% allowed 2-point percentage and a 27% allowed 3-point percentage.
Posh Alexander averages 2.3 steals per game across his four-year college career, so he can disrupt the FAU backcourt.
Disadvantages
Butler ranks 241st in offensive rebounding and 161st in defensive rebounding. It already ranks 111th in Adjusted Offensive Efficiency, so unless it makes 3s, it's probably not going to have many chances inside.
FAU can crash the glass defensively, so Butler needs to hit its first shot down the floor.
This could be the main contributor to an early push to the consolation bracket.
---
Maximize your ESPN Events Invitational action with our BetMGM bonus code.
---
Advantages
Defense. Defense. Defense. The Cyclones are masterful on the defensive end and come into this tournament ranked second in Adjusted Defensive Efficiency.
They haven't really played anyone of note, but they're 4-0 and rank 13th overall in KenPom. This is the best ranking in the field.
Tamin Lipsey, Robert Jones and Curtis Jones all can force turnovers and should disrupt the VCU approach.
The Clones' 30% defensive turnover rate against a 12.7% offensive turnover rate could decide plenty of games for them this season.
Disadvantages
The Cyclones rank 349th in 3-point attempt percentage on defense and 347th in 3-point attempt percentage on offense.
If an opponent gets hot, it can overcome Iowa State's tenacious defensive schemes. But Iowa State will have issues coming back in games, unless it's able to hit the occasional outside shot.
VCU is only shooting 28.1% from 3 right now, but the semifinals could prove tumultuous for Iowa State.
Advantages
The Rams have actually played some strong mid- and low-major teams. They lost to McNeese State in the opener, but defeated Samford, Radford and Seattle in the last week and a half.
These teams all have a strong chance of winning their respective conferences, so VCU likely has seen the most underrated competition of all the programs in this event so far this season.
Disadvantages
The Rams turn the ball over a ton. They rank 316th in offensive turnover rate and 159th in defensive turnover rate. On paper, this may take them out of the game immediately against Iowa State.
The Rams also rank 29th in 3-point attempt rate offensively and are shooting below 29% from deep. This doesn't spell efficiency.
They don't match up well with Iowa State. They sorely need Sean Bairstow, who will be out until December. He shot over 38% from outside for Utah State last season and averaged fewer than two turnovers per game, as well.
Advantages
The Broncos are a pretty balanced team. They rank top-80 in both Adjusted Offensive Efficiency and Adjusted Defensive Efficiency, but they don't have a true identity yet.
They beat San Francisco — a top-100 KenPom team — but they lost by double digits to Clemson.
Tyson Degenhart, Chibuzo Agbo, O'Mar Stanley, Cam Martin and Max Rice are all solid players. They could be deep threats — when needed — and all can crash the glass.
Since they have multiple players who score in the double digits, the Broncos can get offense at any needed time.
Disadvantages
Offensive rebounding is an issue for this team dating back to last season; they ranked 225th in offensive rebounding rate.
Sure, they have plenty of guys who can grab boards defensively, but they don't have many who can give them a second chance.
This may not hurt them in the first round, but going forward, it will.
Advantages
The Hokies are predominantly an offensive team, and this can help against Boise State early on. Virginia Tech has a 37% 3-point shooting percentage from deep, while shooting 57.2% from inside the arc.
Boise State limited opponents from deep last season, but it's letting teams shoot 35.3% from outside so far.
Disadvantages
The Hokies play no defense. They force turnovers at a 22.3% rate, but opponents are shooting 37.5% on them from deep. They also rank 125th in Adjusted Defensive Efficiency by allowing teams to shoot 3s at a 40.4% attempt rate.
Boise State has guys like Rice and Agbo — who shot over 40% from outside last season — so this could be an issue in the first round for Virginia Tech.
ESPN Events Invitational Betting Picks
Iowa State looks to have the easiest path in this field. The Cyclones can make it by VCU, no matter how battle-tested the Rams seem in their first four games. After that, Iowa State will play Boise State or Virginia Tech, who both have their fair share of issues.
Iowa State's phenomenal defense and disruptive approach can get it to the finals against either FAU or Texas A&M.
Iowa State has a higher KenPom rating than both teams at the moment, so getting it above +270 holds value.
---
ESPN Bet is now live! Make sure you're ready for all the action with our exclusive ESPN BET promo code TANBONUS.
---
How would you rate this article?
This site contains commercial content. We may be compensated for the links provided on this page. The content on this page is for informational purposes only. Action Network makes no representation or warranty as to the accuracy of the information given or the outcome of any game or event.