Duke-North Carolina Betting Guide: Expect a High-Scoring Game in Cameron?
Credit:
USA TODAY Sports. Pictured: Zion Williamson and Nassir Little
Duke-North Carolina Betting Odds
Odds: Duke -9
Total: 164.5
Time: 9 p.m. ET
TV: ESPN
---
>> All odds as of 10 a.m. ET. Download The Action Network App to get real-time odds and win probabilities on your bets
---
You've seen the graphics, year after year. Yet it's still remarkable. Duke and UNC are separated by almost nothing.
In 179 meetings since 1950, the difference in points scored is 22. Yes, 22. Or an average margin of victory of .12 points.
Wins since 1978
Last 175 meetings
UNC points: 13,337
Duke points: 13,335
When both teams are ranked (75 times since 1961)
UNC points: 5,874
Duke points: 5,874
There's more separating Duke and UNC this season, given the point spread, but should be an electric game with plenty of scoring. Let's dive in.
Market Moves for Duke-UNC
Duke opened at -9.5 at most sportsbooks and has fallen just half a point. A few books opened as high as -11, but that was quickly bet down.
The total has seen more drastic movement. It opened as high as 169 and is down to 163.5 in some spots. — Steve Petrella
Trends to Know
Does home court advantage give Duke an edge against North Carolina? Since 2005, Duke is 18-22-1 ATS at home when facing a ranked opponent, including 4-8 ATS when playing the Tar Heels. — John Ewing
North Carolina enters its showdown against Duke, 8-1 against the spread (88.9%) on the road this season, the most profitable road team ATS in the country, covering the spread by 9.8 points per game.
Since 2005, Duke is 9-1 straight up and 6-2-2 against the spread when playing a team at home in February or later that has covered at least 75% of its road games. — Evan Abrams
The Stakes
With a season sweep of Virginia already in hand, a win for Duke tonight would go a long way in locking up the ACC regular season and No. 1 seed in the conference tournament.
It would be hard to envision Duke not ending up with a No. 1 seed in the NCAA Tournament in any scenario, but a win tonight would seemingly guarantee Coach K gets one of those four coveted spots.
On the other hand, if UNC can pull off the upset, it will move into first place in the ACC (same record as Duke, but 1-0 head-to-head). The talk nationally would take a momentous shift toward the Tar Heels and how good they really are and if they are worthy of a No. 1 seed.
If you are thinking they can pull off a stunner, maybe look to throw a few shekels on a national title future in addition to the moneyline tonight in anticipation of a drop in the futures market. — Stuckey
When UNC Has the Ball
Although the Tar Heels own the ACC's highest Adjusted Offensive Efficiency (113.7 points per 100 possessions), the Blue Devils' much-improved defense has the clear-cut edge in this one.
Duke has yielded the conference's second-lowest perimeter scoring rate (27.9%) while facing the most 3-point attempts. UNC's highest scoring percentage (36.1%) comes from behind the arc, and freshman point guard Coby White (15.7 points per game) is a big part of that.
Expect Blue Devils point guard Tre Jones, one of the premier defenders in college basketball, to make White uncomfortable throughout. His teammates will do the same to North Carolina's 3-point arsenal as a whole, too.
The Tar Heels have also been efficient inside the arc via the 17th-highest average in the country.
Despite producing the fifth-highest 2-point clip (50.4%) in conference play, UNC's opponents have combined for the third-highest block rate (11.7%). Duke's defense ranks second in the league in that department (15.4%), led by Zion Williamson and Marques Bolden.
The Blue Devils' rim protection should generate numerous transition opportunities in the process, allowing the Blue Devils a chance to control the tempo. — Eli Hershkovich
When Duke Has the Ball
Duke has shown all year that it can score in a variety of ways. However, the Blue Devils have shown vulnerability from both beyond the arc and at the free throw line.
They only rank 261st overall from the free throw line (68.3%) and 305th overall in 3-point percentage (31.3%). Fortunately, North Carolina has not shown an ability to contain its opponents from long range, ranking 10th in 3-point percentage allowed in the ACC Conference.
---
>> Sign up for The Action Network's daily newsletter to get the smartest conversation delivered into your inbox each afternoon.
---
The biggest offensive concern for Duke is producing second-chance opportunities on the boards. The Tar Heels are one of the few teams that can match Duke's rebounding prowess.
The Blue Devils are sixth nationally in offensive rebounding percentage while the Tar Heels are 16th-best at limiting their opponents on the offensive glass.
Duke rarely turns the ball over and will need for the big three of RJ Barrett (33.5% 3P), Cam Reddish (34% 3P), and Zion Williamson (29.2%) to make some shots from deep.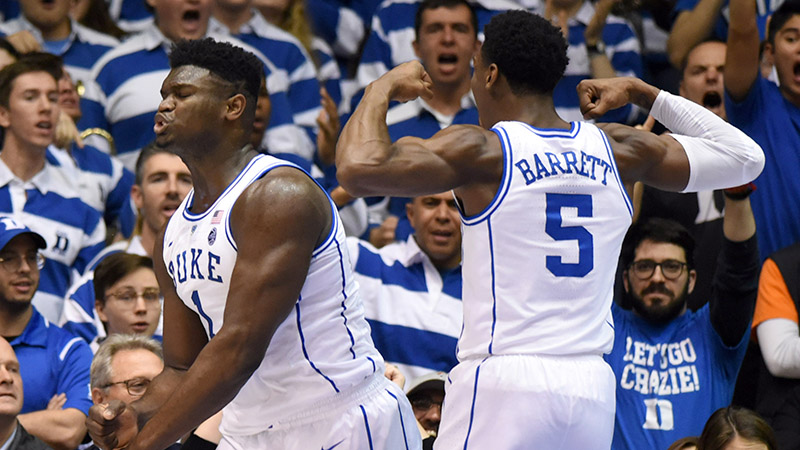 If it shoots efficiently and keeps its tenacity for rebounding on both ends of the floor, Duke will be difficult to stop at Cameron Indoor. — Mike Randle
Randle hit on this, but it deserves repeating because of the large spread: At 68.3% from the free throw line, Duke ranks 261st in the country. It has been slightly better during conference play, but still under 70% and 12th in the conference.
If Duke holds a comfortable lead throughout, the backdoor could open up for UNC backers. — Stuckey
A Case for the Over
UNC seems perfectly capable of walloping average ACC teams, but it hasn't exactly passed a lot of tests — losing to Virginia, Kentucky and Michigan with a win over Gonzaga in a favorable spot.
So while this spread may be a little eye-popping considering the name brands and the history, just keep in mind that Carolina isn't what a typical Carolina team is. The ceiling is the roof, or something.
I made this Duke -10, and don't intend to play the spread as of now.
The total, on the other hand, is intriguing.
There's pace … and then there's what this game might be. Not only do you have the No. 1 and No. 3 teams in pace in ACC play, but each team's weakness plays into the other's strength in a way that can create a very up-and-down game, in my opinion.
Duke's length and athleticism creates a lot of steals and blocks, which lead to run-outs, which lead to a crazy-high 2-point percentage. UNC turns it over like crazy.
There will be Zion run-outs and dunks, oh yes. Meanwhile, Duke can't keep teams off the offensive glass, and Carolina thrives at that very thing. There will be putbacks, oh yes.

With each team unable to stop the best thing the other team does, and the likelihood of a pretty competitive game throughout, I think this has a chance to go over even a total in the mid-160s.
Several reputable models put the likely finishing total in the high-160s or higher, and that's before really considering the extreme strength-weakness combinations mentioned above.
I'll take the over at the best price around the market (163.5), and like it provided it doesn't get into the high-160 range. — Ken Barkley
Barkley's Pick: Over 163.5
---
I said all week I make the number 8.5, so I don't see much value in the side.
However, I do think the over holds some value as I was surprised to see it drop from an initial opener of 167.5 all the way down to 163.5 at some places this morning.
Yes, these are two of the best offenses in the country (each ranking in the top 10 in adjusted efficiency and No. 2 and No. 3 nationally in points per game — only trailing Gonzaga), but more importantly, both teams want to fly.
UNC ranks fifth in Adjusted Tempo, while Duke ranks 18th. And if you look at average possession length on offense, UNC has the third-lowest while Duke comes in at 11.
Not surprisingly, they rank in the top two during conference play in both tempo and efficiency.
These are two elite transition teams that will look to break out as often as possible.
UNC should do work on the offensive glass against a Duke team that has struggled getting boards on the defensive end this year (246th nationally), which should lead to plenty of runout opportunities. And Duke should get plenty of chances off UNC turnovers, which have been an issue at times for Carolina during ACC play (18.2% turnover rate during ACC play; No. 8 in conference).
I make this total 170, so at 163.5, I have to hit the over in a game I think both teams at least get to 80. — Stuckey
Stuckey's Pick: Over 163.5
---
Editor's note: The opinions on this game are from the individual writers and are based on their research, analysis and perspective. They are independent of, and may not always match with, the algorithm-driven Best Bets from Sports Insights.
How would you rate this article?