Final Four Odds & Best Bets: 5 Spread & Total Picks for FAU vs San Diego State
Credit:
Jack Dempsey/NCAA Photos via Getty Images. Pictured: San Diego State Aztec Matt Bradley.
A few weeks ago, 68 teams entered the NCAA Tournament with hopes of hoisting the national championship trophy. Fast forward, and only four still have their dreams intact.
Few people predicted a tournament with this much madness, but that's exactly what we got. Every 1-seed has been eliminated. Every 2-seed has been eliminated. Every 3-seed has been eliminated.
This is March, right?
Now, the first men's Final Four matchup of the year features a 9-seed in the Florida Atlantic Owls taking on the 5-seed San Diego State Aztecs.
Our college basketball writers came through with four best bets for this early matchup, including two total bets, 2 first-half wagers and a spread pick.
Check out all three of our best bets for San Diego State vs. Florida Atlantic below.
---
Looking for our best bets for Miami vs. UConn? Click the button below to read more.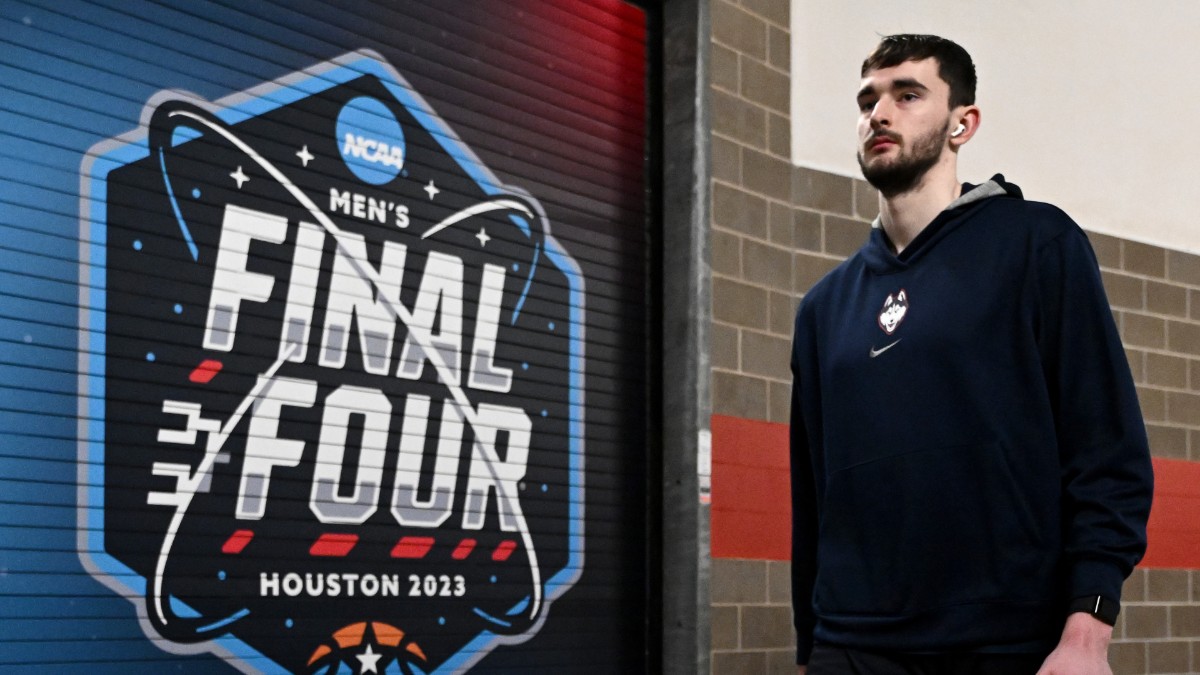 Our Miami vs. UConn Best Bets
---
---
Final Four Best Bets: FAU vs San Diego State
The team logos in the table below represent each of the matchups that our college basketball staff is targeting for Saturday's FAU vs San Diego State Final Four game. Click the picks below to navigate to a specific bet discussed in this article.
---
---
Florida Atlantic vs. San Diego State
The Owls are the far more flexible team in this matchup. San Diego State is stubborn about playing at its preferred slow pace, grinding out a game over 40 minutes. Florida Atlantic, meanwhile, is deep and capable of finding which style works for a given matchup.
In FAU's seven games that saw 60 or fewer possessions, the Owls went 7-0. That included sweeping very slow conference rival North Texas, with one game that featured fewer than 100 total points that the Owls stole on the road.
San Diego State has allowed one of the lowest 3-point shooting percentages in the nation, yet of the four teams remaining, allows the highest rate of shots to come from long range. That's good news for FAU, which took the most 3s in Conference USA and often plays lineups where every player is ready to fire from deep.
On the other end of the floor, FAU cuts off passing lanes and forces teams into isolation, allowing the second-lowest rate of assisted buckets in the nation. For San Diego State, that means Matt Bradley and Darrion Trammell will need to execute with the ball in their hands.
Bradley will need a bounce-back performance after hitting just 6-of-27 shots in his last three outings.
If FAU is finding 3s offensively and forcing Bradley to answer from the midrange at the other end, I like the Owls to advance.
---
So far, San Diego State has gone up against three high volume 3-point shooting teams in this tournament.
The Aztecs held Charleston to just 5-of-24 from beyond the arc and only allowed three open 3- pointers. Furman isn't a high volume 3-point shooting team, but it went 6-of-26 from beyond the arc and only had one open 3-pointer.
Alabama went 3-of-27 from beyond the arc and only had one open 3-pointer. Finally, Creighton went 2-of-17 from 3-point range, with the Bluejays only getting two open 3-pointers.
My point is that San Diego State is elite at defending the 3-point line and it contests everything. The Aztecs are allowing under 29% from beyond the arc for the season and are tops in the country in Open 3-Point Rate Allowed.
Florida Atlantic did face Tennessee – which is an elite 3-point defense on paper – but Tennessee was outside the top 150 in Open 3-Point Rate Allowed. Florida Atlantic had five open 3-pointers in that game.
The Owls then faced Kansas State – which again, on paper, is a good 3-point defense – and went 9-of-21 from beyond the arc.
Florida Atlantic is a very analytical team – much like Alabama – where everything is either at the rim or from behind the arc. Only 11% of the Owls' field goal attempts come from the mid-range, which is bottom 25 in terms of frequency.
San Diego State is a very average team defending at the rim, so if Florida Atlantic has an advantage that is it.
Florida Atlantic has seen a lot of mid-range jumpers in Conference USA this season and are a top-50 team in the country at defending them, which is obviously huge against San Diego State. The Owls have defended well at the rim throughout this tournament.
From a pace perspective, the game against Memphis – which is an incredibly fast-paced team – was played at a 60-possession pace.
The Fairleigh Dickinson and Kansas State games got sped up over 70, but the Tennessee game I think is key. That game was played at a 58-possession pace.
San Diego State held Creighton – which plays pretty much at the same pace as Florida Atlantic – to 62 possessions.
If the Aztecs can defend the 3-pointers like they have been and not get down early, I don't see Florida Atlantic being able to push the pace. I think there's value on under 132 points.
Pick: Under 132 (Play to 131)
---
---
One similarity for both Florida Atlantic and San Diego State in this matchup is they both are in completely uncharted territory.
Although both rosters have plenty of experience, I expect the first half of this contest to be highlighted by two offenses looking to feel out the defensive abilities of their opponent.
When Florida Atlantic has the ball, look for San Diego State's defense – which ranks fourth nationally in Adjusted Efficiency and 20th in effective field goal percentage – to force the Owls into low-percentage outside shots.
Although Florida Atlantic has been uber-successful from the perimeter, I wouldn't be surprised to see a slow-start given the circumstance.
On the other end, SDSU will look to use its 266th-ranked Adjusted Tempo to slow this game to a crawl in the half-court. The Aztecs have used this methodical tempo to go under the total in each of their last 12 contests.
Although the Owls will be characterized by their high-profile perimeter offense, they also rank 30th nationally in Adjusted Defensive Efficiency and 15th nationally in effective field goal percentage allowed.
The Owls are especially sound on the interior, ranking 11th nationally in 2-point percentage allowed, an area San Diego State turns to for 52.6% of its total points.
Overall, I expect both teams to play in the half-court in order to let the game come to them early on in what will be uncharted territory for both programs.
Pick: 1H Under 61 (Play to 60)
---
There are two key stats that stick out in this first game on the Saturday slate.
Both San Diego State and Florida Atlantic play a defensive drop style that allows opponents to walk the ball up the court. Don't be surprised when the full 30-second shot clock winds down during offensive possessions. The Aztecs and Owls rank 345th and 280th in average defensive possession length, respectively.
San Diego State sources its points from the paint and the free-throw line. That flies directly into a Floria Atlantic defense that ranks 15th nationally in effective field goal percentage and top-50 in defensive free-throw rate.
A heavy dosage of pick-and-roll with midrange jump shots awaits an Owls team that's top-40 in defensive efficiency for both categories, per ShotQuality. The Owls also saw the 10th-highest rate of midrange jump shots nationally after conference play, giving Florida Atlantic a key defensive advantage in this game.
The excitement around head coach Dusty May and his offense revolves around their propensity to hit 3-point attempts in transition. The Owls are 25th nationally in point distribution from beyond the arc, specifically firing the 17th-most off-the-dribble 3-point attempts.
Although San Diego State didn't see many off-the-dribble triples in Mountain West play, the Aztecs are seventh nationally in defending the off-the-dribble 3s.
Look for plenty of variables in the first half of this game, from Florida Atlantic hoisting shots from deep to San Diego State's sluggish offensive pace.
While the Aztecs look inside for points and Florida Atlantic attacks from the outside, keep in mind that both defenses hold clear advantages in rebounding.
With few quick putbacks expected, a slow pace and no intentional fouling in the first half, look for the first Final Four game to have an ugly stat line.
Pick: 1H Under 61
---
---
By D.J. James
Florida Atlantic is an incredibly balanced team. San Diego State is defensive-focused and likes to grind the games out to its preferred speed, as it averages 18.5 seconds per possession defensively and ranks 266th in Adjusted Tempo, per KenPom.
That said, the Aztecs do yield a 2-point field goal percentage of 49.4%, and although teams are only shooting 27.8% from deep against them, they give up a 3-point attempt percentage of 40.1%.
Per ShotQuality, the FAU Owls rank 15th in 3-point shooting, and they like to shoot often, launching 3s 44% of the time. SDSU ranks eighth in Open-3 Rate and fourth in defending off-the-dribble 3s, but it does sit 300th in catch-and-shoot points per possession (PPP). Look for the Owls to exploit this at times.
On the other side of the floor, FAU doesn't foul much. The Owls rank 43rd nationally in free-throw attempt rate defensively, so this rules out a potential scoring source the Aztecs are used to having.
Now, SDSU isn't the best offensive team, but they rank 27th in points per possession at the rim, per ShotQuality. The Owls rank 116th in this metric. Adding on, the Owls rank 74th in allowed PPP on catch-and-shoot 3s and 124th in allowed PPP on off-the-dribble triples.
Matt Bradley, Darrion Trammell, Adam Seiko, Lamont Butler and Micah Parrish all have shot over 100 threes this season, and they should have some open looks from deep.
Overall, this should be a defensive game. But FAU's usual pace should speed things up and produce more open shots. The over should be in play.
Pick: Over 131.5 (Play to 132)
How would you rate this article?
This site contains commercial content. We may be compensated for the links provided on this page. The content on this page is for informational purposes only. Action Network makes no representation or warranty as to the accuracy of the information given or the outcome of any game or event.