National Championship Player Props Odds & Picks for Davion Mitchell, Mark Vital, More Baylor Props
Credit:
Tim Nwachukwu/Getty Images. Pictured: Mark Vital #11 of the Baylor Bears.
Baylor has a trio of incredible guards in Jared Butler, Davion Mitchell, and MaCio Teague, but there are more players oozing with value in the props market as well.
Mark Vital could play a key role in the matchup, and Brandon Anderson is betting on him to have an impact on the boards.
Check out Anderson's full breakdown for Vital and more Bears players below.
NCAA Championship Game Player Prop Picks
No. 1 Gonzaga vs. No. 1 Baylor

9:20 p.m. ET on CBS
Oh baby — we made it. The championship game is here, and this is the title game we've waited for all season: Gonzaga vs. Baylor, one last game, with everything on the line.
Everyone's talking about Gonzaga's incredible walk-off win, but don't forget about that other game Saturday. Houston was really good, and Baylor mopped the floor with them, running up a 25-point first-half lead and playing nearly perfect basketball. Baylor has a pair of NBA-caliber guards, and the Bears are excellent on both offense and defense.
Still, Gonzaga is really good, and Baylor will have to play great basketball to pull this off. Gonzaga is more efficient scoring 2-pointers than any team in NCAA history, making nearly 64% of its 2s. And while Baylor's D gets a lot of credit, its 2-point defense is mostly average, and the Bears are a guard-oriented team that don't have reliable play in the paint.
Even though Gonzaga got into a dogfight against UCLA, it's not because the Zags weren't scoring. Gonzaga will get a lot of good looks against Baylor on the interior. That's the clear edge in this matchup.
The Zags have Drew Timme and Baylor has no great matchup in there. Instead, Baylor needs to make up the margin by scoring efficiently itself and by adding additional possessions by winning the rebounding and turnover battles.
Baylor is a good offensive rebounding team, and that's one area Gonzaga can be beaten, as UCLA just did. Baylor will also need to sic Davion Mitchell and Jared Butler onto Jalen Suggs and Andrew Nembhart all game, pressuring the ball and forcing turnovers. Gonzaga can cough the ball  up at times, and even pressuring the ball can slow Gonzaga's dangerous transition and tempo.
Mitchell's defense in particular will be huge this game. Baylor forces over 17 turnovers per game, and the Bears have wreaked havoc in the tournament even against teams like Villanova and Wisconsin that rarely turn it over.
So how does that all play out for Baylor's player props?
---
---
For those who are new to this article, we'll be using the Action Labs Player Prop tool to compare our NCAAB projections to the props posted at a variety of sportsbooks. Each bet is then graded on a scale from 1-10, with 10 being the best possible grade.
Our props went 42-19-1 through the first two weekends of games, with an awesome 69% hit rate and an incredible 33% return on investment.
Below, I have laid out three prop bets that I'm playing from Monday night's NCAA Tournament championship game matchup, the case for each bet and the best books to find odds on those player props.
---
Note: All photos below are via Getty Images.
---
Davion Mitchell, Baylor
---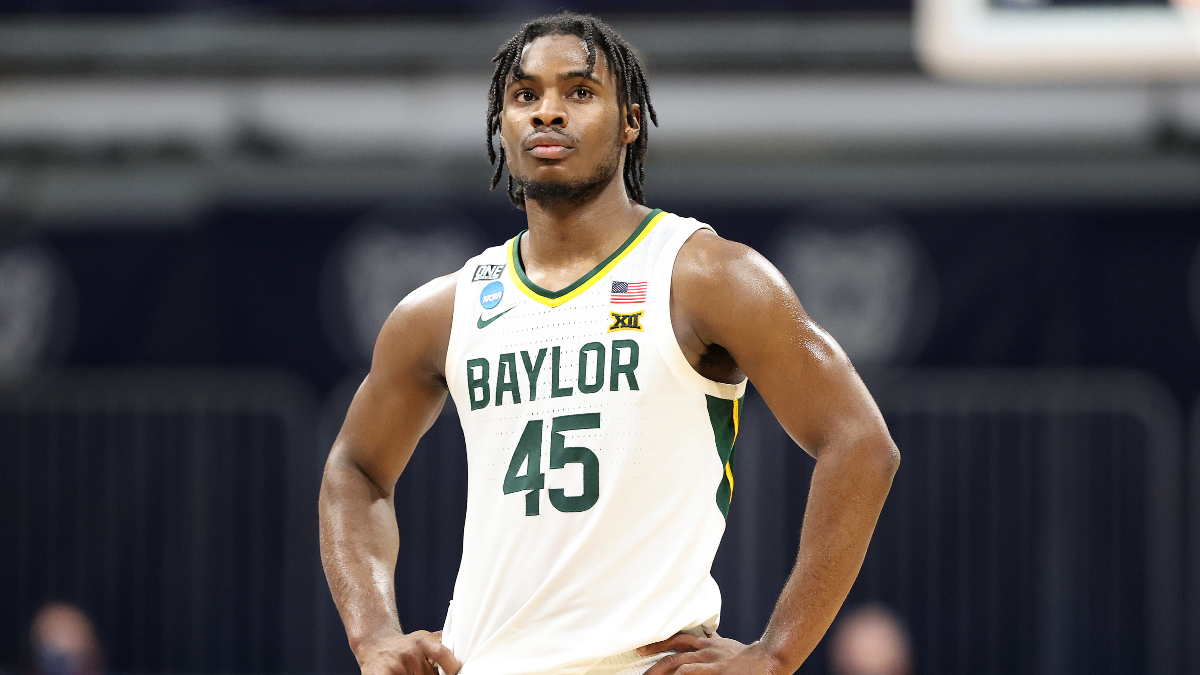 Davion Mitchell Under 14.5 Points (-102)

---
If Baylor's going to win this game, the Bears probably need Davion Mitchell to be the best player on the court. He can certainly do that, and he's rightfully getting real NBA Draft lottery buzz these days as a two-way guard who has taken over multiple games this tournament.
As explosive as Mitchell can be on offense, it's his defense that can really disrupt things. He's sure to get first crack at Suggs tonight, which should be a real treat and an absolute dogfight.
Mitchell is a complete pest on defense, and he's super aggressive and looks for opportunities to make plays. In each of the past two games, that's gotten him into early foul trouble, and against savvy guards like Suggs and Nembhard, that could be a problem.
Mitchell can't do everything for Baylor, and since his ball pressure defense is so important, it feels like his offense could suffer a bit. That's especially true with Suggs in his grill all game. We just saw how good Suggs can be defensively. These two will make life miserable for each other night and might cancel each other out enough to force the others on the court to make plays.
As great as Mitchell has been this tournament, he's not really a pure scorer. He's only scored more than 20 points three times all season. Mitchell is most dangerous getting downhill toward the rim and then kicking it out to an open shooter, and his passing numbers are up lately. After averaging 5.3 assists per game all season, he's had 27 the last four games (7.8 APG).
But his scoring hasn't risen. Mitchell is at 14.0 PPG for the season. He's been held to 16 or fewer points in six straight games and has gone under 14.5 points in five of those six. In fact, he's surprisingly under 14.5 points in 19-of-29 games this season, hitting this under 66% of the time.
When he does go over, it's typically because the 3s are open and falling. Six of his 10 overs have come in his only six games hitting four or more 3-pointers.
I don't think Gonzaga lets Mitchell get those good looks to get hot behind the arc, and if Mitchell does dominate this game, I expect it to be on defense and as a passer. We project Mitchell at 13.1 points. I'll play the under to -120.
---
Mark Vital, Baylor
---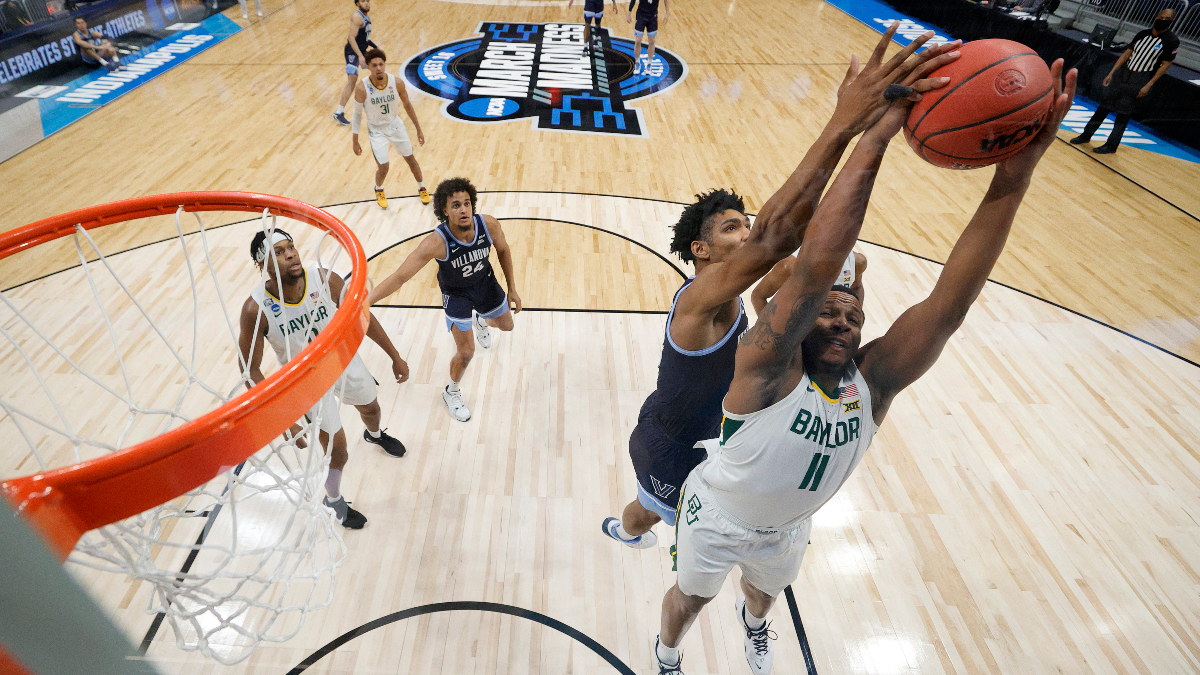 Mark Vital Over 4.5 Rebounds (-134)

---
Mark Vital is Baylor's pudgy version of Draymond Green. He's the Bears' ultimate glue guy, making all those little plays that winning teams need. Vital dives for the loose ball, racks up small-ball rebounds, and plays tough defense, and as a senior, he's the heart and soul of this team.
So far this tournament, though, he hasn't exactly been, uh, vital in Baylor's wins. That's because he's basically been in foul trouble ever since March Madness started. Vital has fouled out twice and finished with four fouls in two other games, and his production and minutes have totally tanked because of it. It would be tempting to stay way from Vital completely with his minutes down to 18 and then 15 the last two games.
Don't mistake that for a trend, though. The 18 minutes against Arkansas were serious foul trouble all the way, and Vital was also playing through an injury, and the 15 minutes last game were part foul trouble but mostly just Baylor blowing Houston out and not needing its glue guy. Look back at the three Bears games coming into March Madness: 7.0 points, 13.0 rebounds, and 3.0 assists in 28.3 minutes per game.
Vital isn't a scorer, but he can really rack up rebounds when Baylor needs it and this might be one of those nights. Remember, the Bears have an opportunity to win on the glass in this one, and they may need a lot of Vital.
I worry that Flo Thamba and Jonathan Tchamwa Tchatchoua may be too slow to match up with Drew Timme, so Vital could be Baylor's best matchup. The Bears need a big game from their versatile defensive senior. Vital is quick enough to defend on the perimeter and in the pick-and-roll, and he may be Baylor's only "big man" capable of doing that.
I'm counting on Vital staying out of foul trouble here, and that's been a risk lately. But he can really rebound if he stays on the court. Vital has six games with double-digit rebounds, including four with at least 15 boards, and he's had at least four rebounds in all but six games. We only need one more than that number.
Vital is over 4.5 boards in 20-of-29 games, hitting this over 69% of the time. I'll play this one as high as -155.
---
MaCio Teague, Baylor
---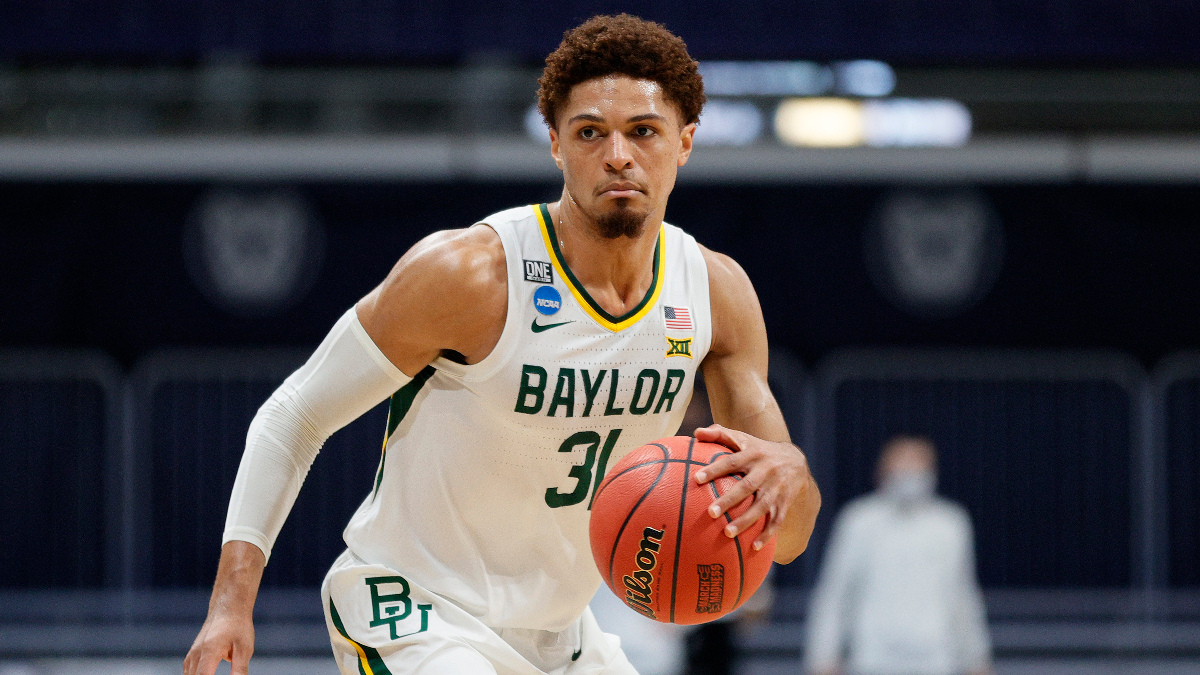 MaCio Teague Under 2.5 Assists (-145)

---
MaCio Teague is Baylor's other key senior, and like Vital, he should play an important role tonight for the Bears. Teague can be a bit of an X-factor for this team, especially if he gets hot behind the arc. He hit 10 3-pointers in a game against Texas Tech this season, and he has seven 20-point games.
What Teague doesn't do, though, is rack up assists. He simply doesn't play on the ball as much as Mitchell or Butler, and that should be even truer with everything on the line. Teague is typically the guy who catches ready to shoot, and he fires away without conscience.
Teague did have a season-high six assists against Houston, but it's tough to draw much from that matchup since it was basically over before it even got to halftime. Teague had gone under 2.5 assists in six straight games before that one, and he's gone under 2.5 dimes in 23-of-29 games this year, hitting this under a whopping 79% of the time.
Don't be thrown by those six assists last game. Baylor was raining 3s and hitting everything, and that won't likely happen against Gonzaga. The ball should be in the hands of Mitchell and Butler most of the time. Teague has four or more assists only four times all year, so there's not much ceiling here.
We project Teague at just 1.7 dimes tonight and rate this one a 10 out of 10. It may not be the sexiest pick in the world, but this is my favorite Baylor prop of the night. I'll drink the juice here and would play as high as -180.
---
---
How would you rate this article?
This site contains commercial content. We may be compensated for the links provided on this page. The content on this page is for informational purposes only. Action Network makes no representation or warranty as to the accuracy of the information given or the outcome of any game or event.