Stuckey's 11 Favorite College Basketball Situational Spots: LSU-Georgia and More
Credit:
Derick E. Hingle-USA TODAY Sports. Pictured: Kavell Bigby-Williams
Which college basketball teams are primed for a letdown on Saturday? Which could come out flat or get caught looking ahead?
Stuckey runs through his 11 favorite betting situational spots, starting with an ACC noon tip between Louisville and Clemson.
There's no time to ramble about the glory of another college basketball Saturday. College Gameday is here in Lexington for Tennessee-Kentucky and it feels like a March Saturday (which by the way is two weeks away!).
The day is highlighted by No. 1 Tennessee visiting Kentucky in primetime, but there are also plenty of intriguing situational spots worth looking into on today's card.
The four most popular situational angles include letdowns, lookaheads, sandwiches and revenge (which I went into greater detail on a few weeks ago).
But those are just the first four high-level factors to consider; there are plenty of others that pop up. I simply use this exercise to circle the best situational spots on the card, then I use my numbers and analyze the matchups to finalize my bets.
There's no easy formula with situational spots; it's definitely more art than science. But you should at least be aware of the non-mathematical angles when capping college kids playing basketball.
My ultimate goal is to either point out a spot or two you may have overlooked — or push you toward or away from a side you were contemplating.
Let's dive into this week's list, starting with our only early tip in an ACC showdown between Clemson and Louisville at noon ET on ESPN.
Things will then get very busy starting at 4 p.m. ET. — where we will get into a few of my favorite spots of the weekend, as those of you who listened to our most recent podcast episode already know. Good luck!
Season Record: 20-16 (+2.72 units). All odds as of 1 a.m.. ET

Clemson +5 at Louisville
12 p.m. ET on ESPN
Louisville finds itself in the midst of a brutal stretch. After four straight games against ranked opponents (North Carolina, at Virginia Tech, at Florida State, Duke), the Cardinals still have Clemson, Syracuse and Virginia on deck. Vicious.
I think this game has flat spot written all over it for Louisville after losing two consecutive heartbreakers — both after blowing leads: first at Florida State in overtime and then at home in stunning fashion to Duke after leading by 23 halfway through the second half.
I expect a major hangover from that collapse, especially with a noon start, which should make for a more subdued crowd at the KFC Yum! Center.
Similarly, Clemson is also coming off a brutal loss at the buzzer against Miami earlier this week. However, the Tigers are playing their best basketball of the season and are, to me at least, the most undervalued team in the ACC at the moment — and one of the most undervalued in the country.
Clemson has dealt with some misfortune this year. Not only did the Tigers lose on a lucky Miami buzzer-beater in their last game, they also lost at the buzzer against NC State.
The Tigers have had some horrid free-throw luck (for and against) and really should be sitting at 7-4 in the ACC, comfortably in the tourney field. Instead, at 5-6, they could really use this win. I expect a fully focused effort from Brad Brownell's bunch.
I also like a few things from a matchup perspective:
Clemson's offense can struggle with turnovers, but Louisville doesn't turn teams over (314th in steal%)
Clemson, which has length all over, has one of the best interior defenses in the country (top 20 in 2P%)
The Tigers can also force turnovers, which we all recently saw how vulnerable Louisville can be in that department
Louisville should have some negative regression coming its way in regards to opponent 3-point shooting, while the opposite can be said for Clemson, who has a number of players who have shot unusually poor compared to their career averages
This is a very experienced Clemson team that should keep this close with its outstanding defense against a Louisville team that I think finds itself in a terrible spot.
---
Iowa State +3 at Kansas State
4 p.m ET on ESPN2
While I love this Kansas State team and recently invested in the Wildcats in the futures market, this is just a great spot to fade them.
Not only does Iowa State have revenge from a one-point home loss to Kansas State earlier this season, it's coming off a bad home loss to TCU last weekend. The Cyclones have also had a week off to stew over that loss and prepare for this one. I'm sure they haven't forgot about the two losses they also suffered at the hands of Kansas State last season as well.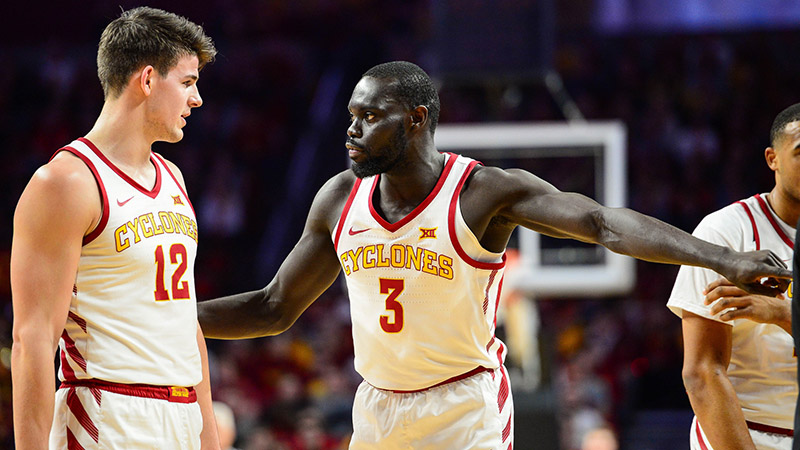 Kansas State undoubtedly owns one of the nation's best defenses, but Iowa State has excelled on that end of the floor as well even if most aren't aware.
Everybody knows about the extremely efficient Cyclones offense, but they also rank 31st nationally in Adjusted Deficiency Efficiency, per Kenpom. Iowa State will also have an enormous advantage at the line, where it has shot 75.9% in Big 12 play (1st) to Kansas State's 67.9% (9th).
It's also worth mentioning that Kansas State won't have the services of Carter Diarra, who played 31 minutes in that first meeting.
One final note, we all know what happens when Kansas needs a game to go its way in order to win the Big 12…
Dayton -1.5 vs. VCU
4 p.m. ET on NBCSN
This game has enormous conference implications and is a revenge spot for Dayton.
While the loss of Trey Landers will only leave Dayton with seven scholarship players, I think everybody else steps up in his absence in this triple-revenge spot as the Flyers have lost three in a row to VCU, including in the conference tournament last year.
I think Dayton can control the tempo at home (it wants to go slow while VCU wants to speed teams up). The Flyers also don't foul, which is a huge part of the VCU offense. A home whistle could also help in this area.
Lastly, Dayton has had a full week off to prepare for this huge game, while VCU played its city rival on Wednesday. That can only help.
You can also expect a raucous crowd in an underrated home-court environment. The VCU defense is legit, but Dayton can slow this up and work through Josh Cunningham and its efficient offense down low to get enough offense in the half court to take out the Rams.
---
North Alabama +13.5 vs. Liberty
4 p.m. ET on ESPN+
Yes, North Alabama is a D-1 team.
That said, this bet is all about the Liberty fade after a huge road upset of Lipscomb to move into a tie for first place in the Atlantic Sun. I'm not sure how focused the Flames will be for a road trip to Florence, Alabama — to take on a team it beat by 25 earlier this year.
And after four straight losses, North Alabama has enjoyed a full week break ahead of this one. I think the Lions can keep this close for a while. Plus, the line is simply too high.
BYU -2 at Loyola Marymount
4 p.m. ET on Sportsnet LA (DTV: 691)
Tough turnaround for Loyola Marymount after a game effort against Gonzaga late Thursday night. The Lions exerted a ton of emotional energy for that nationally televised game that they hung around in for a while.
I foresee a pretty flat effort today after that effort, especially with this being an odd 1 p.m. local tip time. Don't expect much of a crowd for this one.
Yes, BYU comes off an overtime win over San Diego, which you could argue could lead to fatigue today.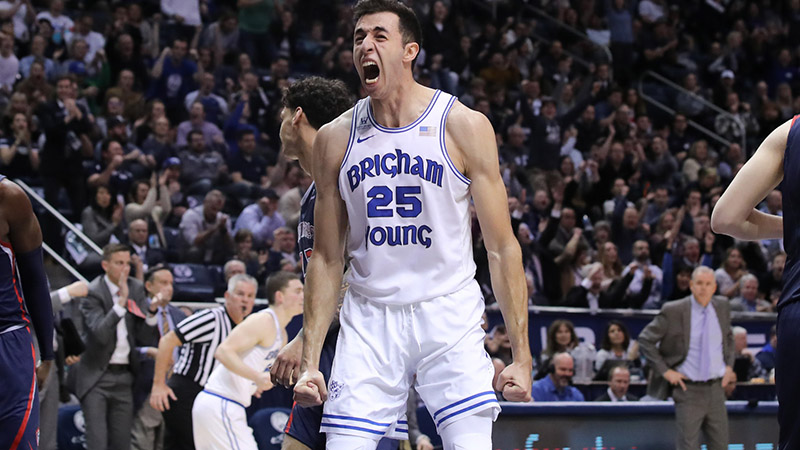 However, I think you get an inspired effort from the Cougars, who not only have a lot of depth, but now find themselves sitting at No. 2 in the WCC standings. That's enormous since the top two seeds in that conference tourney get a double bye and the No. 2 seed could only face Gonzaga in the title.
I think BYU carries momentum over from that comeback win at San Diego and gets another road victory against what I anticipate will be a flat LMU team.
---
Pitt +6 vs. Virginia Tech
4:30 p.m. ET on ACCN
Virginia Tech is simply not the same team without guard Justin Robinson, who played in 121 straight games before getting hurt against NC State. So much of the Hokies' offense ran through him and it's showing on the court.
You also have a massive lookahead angle to consider here with Virginia Tech having a date with in-state rival Virginia on Monday. Pitt has lost eight straight, but it seems to still be fighting at least. And the young Panthers have defended the perimeter at a decent clip — a must vs. Virginia Tech.
It wouldn't shock me to see Pitt pull off its third ACC home upset of the season (Louisville, Florida State).
---
VMI +20 at Furman
4:30 p.m. ET on ESPN3
I have to hold my nose and bet VMI because this is the sandwich du jour.
Here are the clear four best teams in the Southern Conference (by a mile) and their respective conference records:
Wofford (14-0)
UNC Greensboro (11-2)
Furman (10-4)
ETSU (10-4)
Well, Furman just won back-to-back games against ETSU and UNC Greensboro — and did so quite easily, winning both by double digits. And now, the Paladins will take on lowly VMI before a date with first-place Wofford on deck. You can check the letdown, lack of focus potential and lookahead boxes here.
There is absolutely nothing to like about this matchup on paper. VMI chucks a ton of threes, but Furman has a solid perimeter defense. And VMI has one of the worst defenses in the country. I'm simply trusting the spot since the number is right around where I make it.
I just don't see how Furman gets up in this particular spot for a VMI team it beat by 32 points on the road earlier this season. I think it goes through the motions and picks up a 14-16 point win.
---
Georgia +8.5 vs. LSU
6 p.m. ET on SECN
Keep holding your nose because it's time to fade LSU after its huge win at Rupp. Unfortunately, we have to do so with a dreadful Georgia team that is just 1-10 in SEC play.
Yes, LSU is a perfect 6-0 on the road in SEC play, but three of those wins came in overtime and one came on a controversial buzzer-beater the other night at Kentucky. LSU has been impressive, but it's had plenty of fortune, which is why I think it is a little overvalued in the market right now.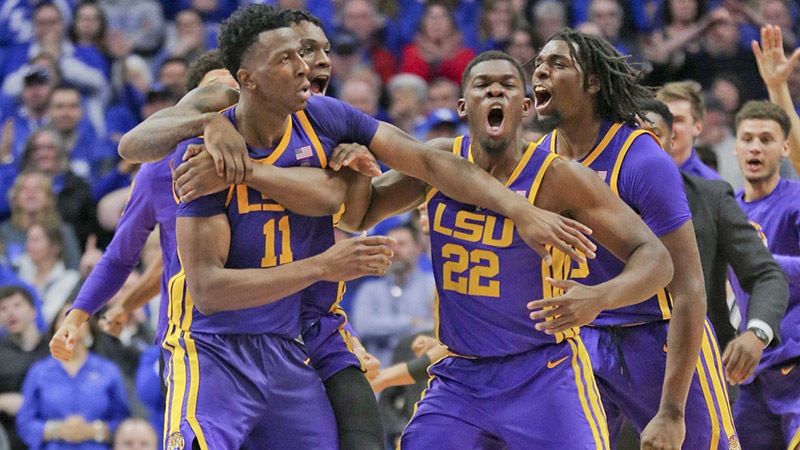 This has letdown written all over it for a young team that ranks 325th in overall experience. Georgia at least has some length to compete on the offensive glass, where it should have some success. I think this goes down to the wire.
---
Others
Morehead State +5.5 vs. Austin Peay  (4:35 p.m. ET)
UT Rio Grande Valley +1 vs. Utah Valley (8 p.m. ET)
San Diego +16 vs. Gonzaga (10 p.m. ET on ESPN)
What a brutal spot for Austin Peay after a heartbreaking loss against Belmont in which it had a game-tying bucket reviewed and disallowed in the final seconds that would've forced overtime. A win would've put the Governors in first place in the OVC. I'm not sure how they get up for this one.
We also have more WACtion. After a 2-0 Thursday night with the Wolverines and Kangaroos, it's time to get down on the Vaqueros. You gotta love the WAC nicknames.
After a bizarre two week break in the schedule, Utah Valley got us a prayer cover at first-place New Mexico State on Thursday. I'm not sure how much UVU will care for this trip to UTRGV, which they beat with ease earlier this season. UTRGV, winners of five straight, is playing its best basketball of the year by far and its relentless pressing style (No. 2 nationally in turnover rate) should have some home success (on homecoming weekend) against a Wolverines team that does not take care of the ball.
And lastly, as I said a few weeks ago when we played San Diego on the road against Gonzaga, I hate fading Gonzaga in-conference — unless it is against San Diego — a senior-laden team that always seems to battle the Zags. After a home overtime loss to BYU, you should get the Toreros' best effort.
---
Editor's note: The opinions on these games are from the individual writer and are based on his research, analysis and perspective. They are independent of, and may not always match with, the algorithm-driven Best Bets from Sports Insights.