College Football Playoff Rankings: Why Cincinnati & Alabama Belong In Your Betting Portfolio
Credit:
Michael Hickey/Getty Images. Pictured: Michael Young Jr. (#8) celebrates a TD with his Cincinnati teammates.
The first College Football Playoff rankings were introduced last week, and this column discussed how the current contenders aligned with past playoff teams.
A few teams can be thrown off the boat as contenders for the national championship, mainly Oregon and Northwestern. The Action Network Power Ratings have both the Ducks and Wildcats outside the top nine after losses against Oregon State and Michigan State, respectively.
Alabama, Notre Dame and Clemson made it abundantly clear they are the top three teams in the nation with against-the-spread victories in Week 13. The Irish held North Carolina to a success rate of just 27% in passing downs while allowing Sam Howell to throw just three passes over 20 yards.
Clemson went havoc-crazy over Pitt, benefiting from five turnovers and a 400-yard passing performance from Trevor Lawrence. The Alabama defense deserves credit for limiting Auburn to zero explosive drives and picking off Bo Nix twice.
One item that is not crystal clear is who belongs in the playoff with these three teams, and if Notre Dame or Clemson will slip after the ACC Championship.
Texas A&M allowed an LSU backdoor cover late and never looked like the powder keg offense that is the top three of the playoff rankings. The Aggies had one explosive drive in 17 possessions that included no passes over 20 yards. The national average for available yards is 44%, and Texas A&M's lackluster offensive performance gained just 24% against the Tigers.
Florida did not cover Kentucky as the Wildcats were reeling from a 60-point loss to Alabama. In the committee's eyes, Florida could not replicate Alabama's production just as Texas A&M does not know the definition of style points.
Once Kentucky had scored a touchdown, Gators head coach Dan Mullen lit into his defensive coordinator, as there would be playoff seeding consequences.
This column will serve as an appetizer to the rankings using advanced analytics to see if a team is actually worthy of competing for the National Championship.
To do this, we will lean on three key indicators of a team's strength: Success Rate, Explosiveness and Finishing Drives. Not only will we look at how the 2020 contenders shape up, but we will compare them to previous CFP participants back to 2014.
---
Check the latest Action Network Power Ratings for all teams when projecting College Football Playoff and New Years Six odds
---
College Football Playoff: Success Rate
Efficiency defined as 50% of needed yards on first down, 70% of needed yards on second down, or 100% of needed yards on third or fourth down.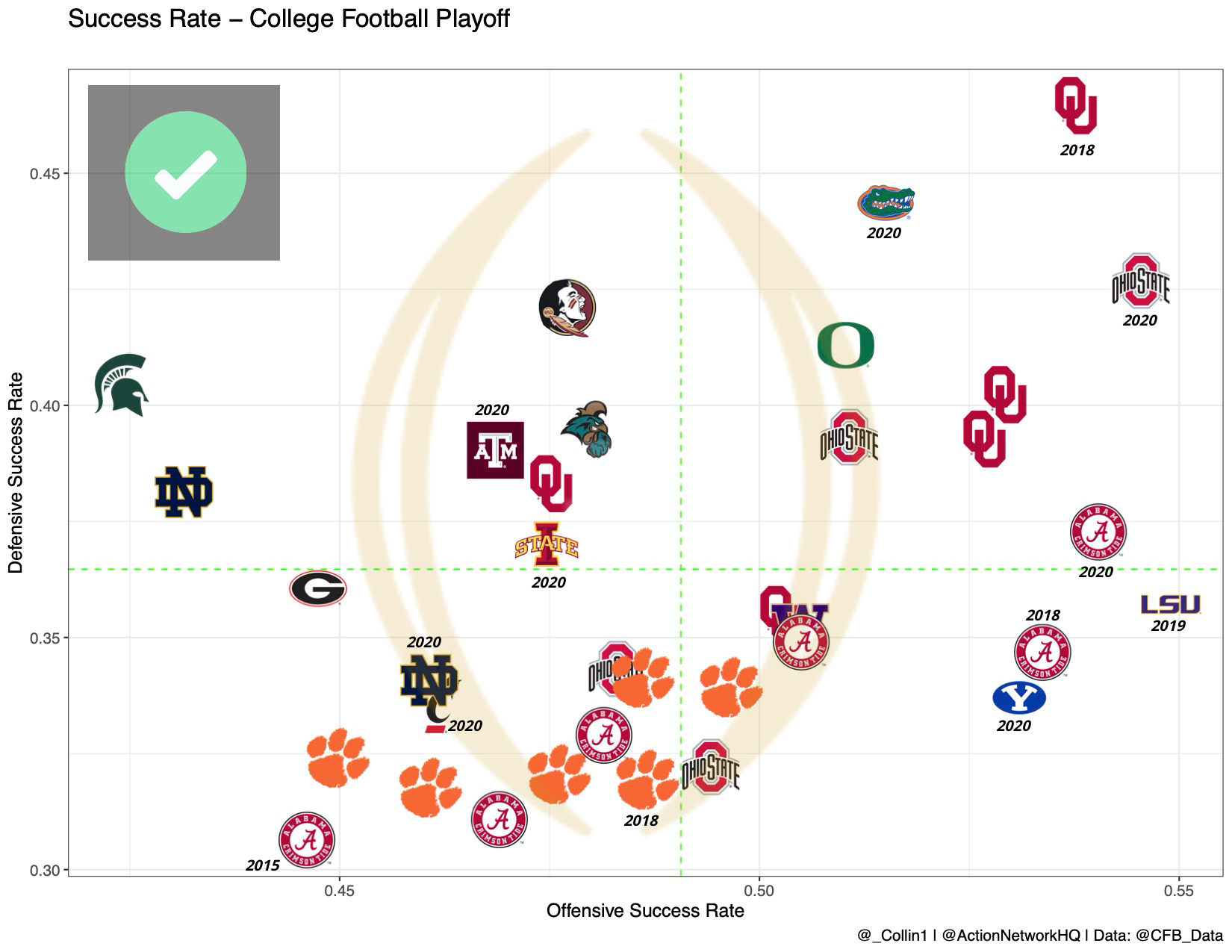 There is no doubt college football is now dominated by offense.
Consider evidence of LSU's historic 2019 run, which included the best success rate numbers from an offensive perspective in the College Football Playoff history. This season, Alabama is hot on the heels of that historic LSU team with BYU not far off. In the age of the pandemic when futures tickets should be sparse, the Crimson Tide are one of the few that should be in an investor's portfolio.
One other reason to believe Texas A&M fails the vaunted "eye test" is low marks in success rate from both an offensive and defensive perspective. There is a lack of sample size with Ohio State, but this visual shows why the Buckeyes are a complete pass in the futures market.
College Football Playoff: Explosiveness
A measure of the value of individual plays in terms of points by down, distance, and field position.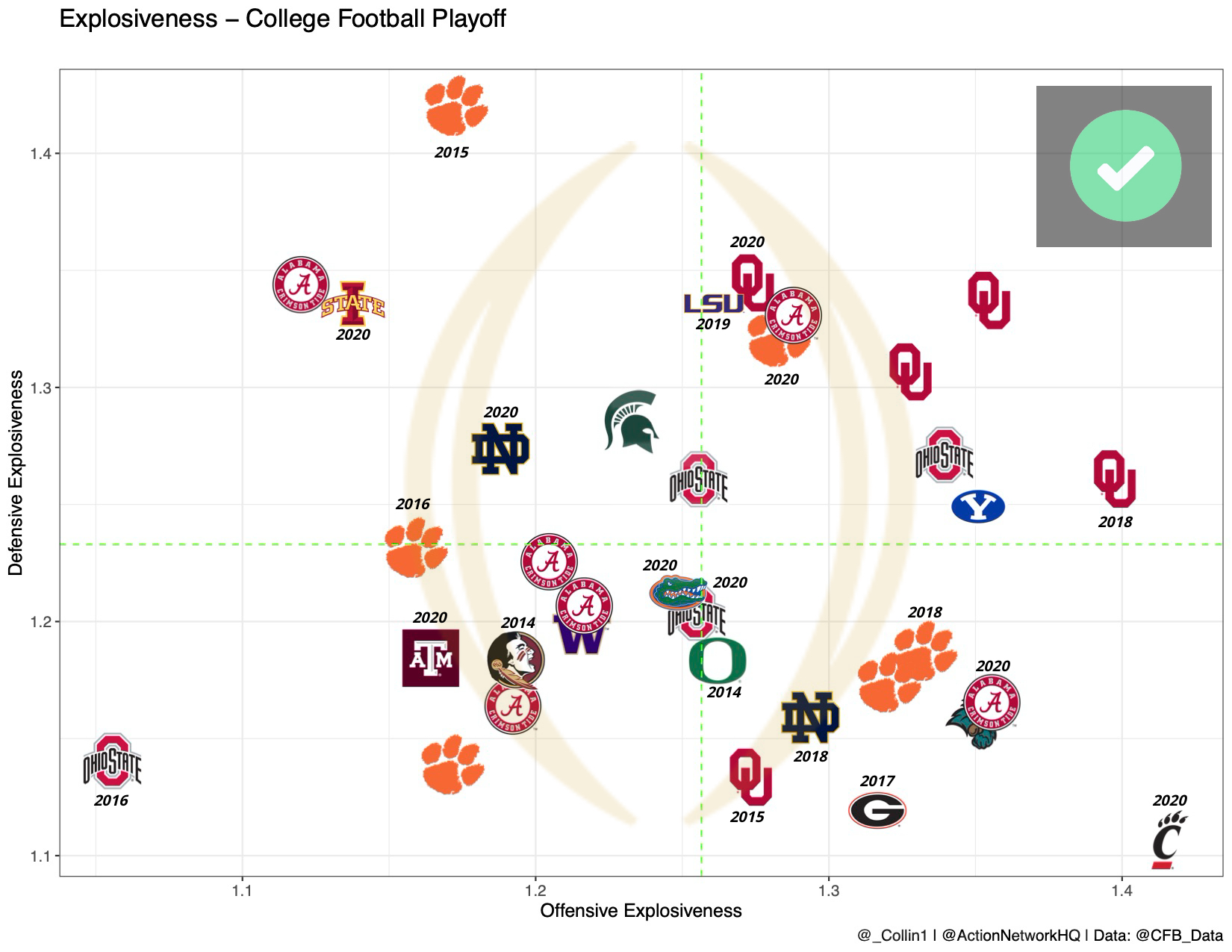 While success rate is the most trusted advanced stat category, explosiveness can turn a single game event upside down. In that vacuum, Cincinnati absolutely deserves consideration from an expected points perspective. The Bearcats are offensively better than Kyler Murray's season at Oklahoma and defensively better than 2017 Georgia. These would be all-time marks in the field of offensive and defensive expected points if Cincinnati made the playoff.
Another reason to doubt Texas A&M from an advanced metric overview is the explosive play. There is zero shot undefeated Coastal Carolina gets into the College Football Playoff, but it is noteworthy of the numbers posted that are in parallel with the current version of Alabama.
College Football Playoff: Finishing Drives
Points per trip inside the opponent 40-yard line.
When Nick Saban said the days of college football defenses were over, the Alabama head coach need look no further than 2020 finishing drives. Florida, Alabama and BYU would set all-time marks in points per scoring opportunity for playoff teams.
Cincinnati has been the best 2020 playoff contender in limiting opponents in scoring position, ranking next to an all-time 2018 Clemson defense that sent an entire team to the NFL.
How would you rate this article?