College Football Playoff Rankings: Breaking Down Week 13's Contenders and Pretenders
Credit:
Kevin C. Cox/Getty Images. Pictured: Mac Jones.
The first College Football Playoff rankings of 2020 will be revealed on Tuesday night. The pandemic has wreaked havoc on the college football landscape, but executive director Bill Hancock has decided they won't remove teams from the playoff if complications due to COVID-19 arise. In other words, there won't be a replacement team waiting in the wings.
The Playoff rankings will be released every Tuesday from now until Dec. 20, when the four semifinalists will be revealed. This will present a difficult challenge to the committee and the teams as they deal with disruptions to the schedule. Adding more fuel to the fire is the fact that a handful of teams from the Group of Five are still undefeated and will hope to catch the committee's eye.
This column will serve as an appetizer to the rankings using advanced analytics to see if a team is actually worthy of competing for the National Championship.
To do this, we will lean on three key indicators of a team's strength: Success Rate, Explosiveness and Finishing Drives. Not only will we look at how the 2020 contenders shape up, but we will compare them to previous CFP participants back to 2014.
---
Check the latest Action Network Power Ratings for all teams when projecting College Football Playoff and New Years Six odds
---
College Football Playoff: Success Rate
Efficiency defined as 50% of needed yards on first down, 70% of needed yards on second down, or 100% of needed yards on third or fourth down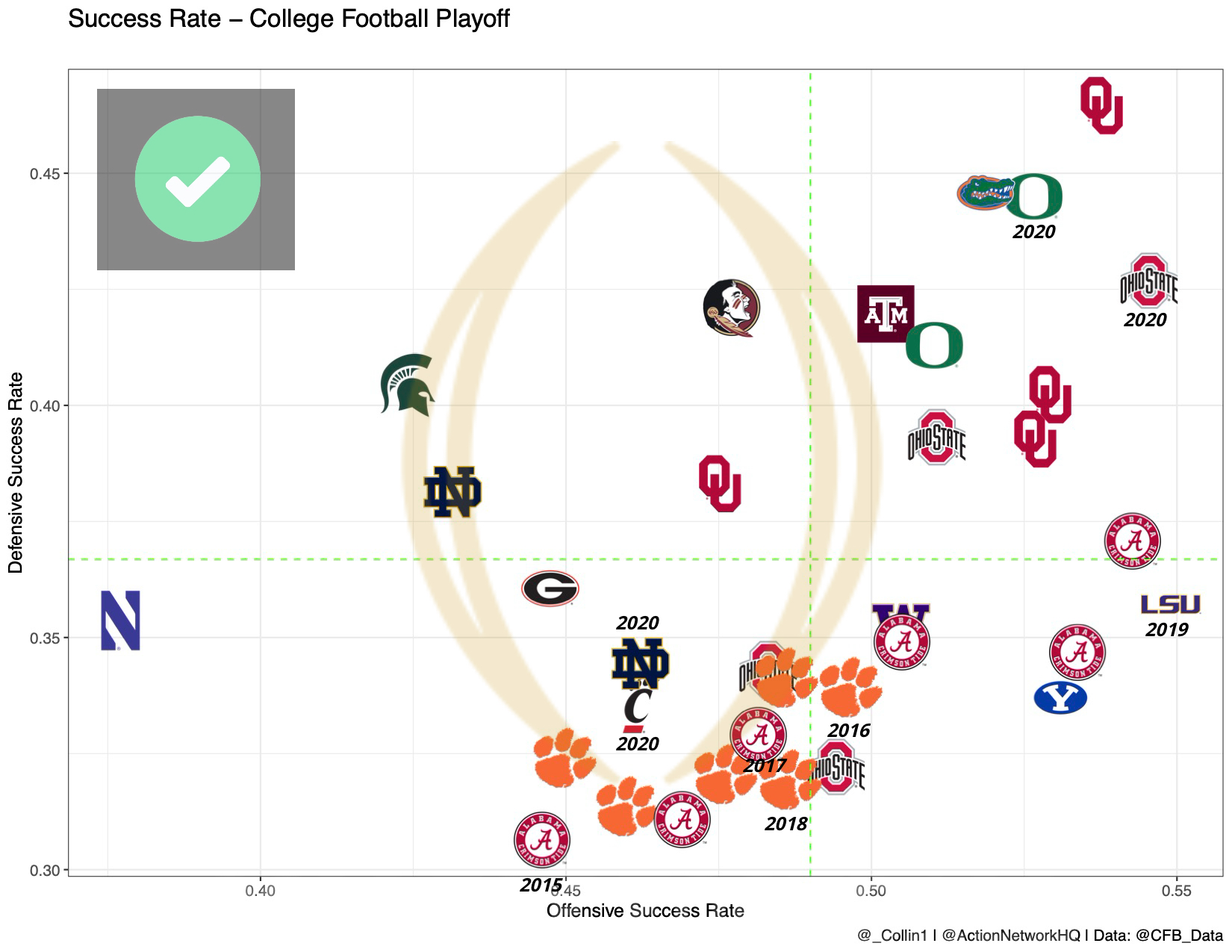 How much is college football changing? The days of the 2018 Clemson and 2015 Alabama defenses could be long gone, and Nick Saban admitted as much just recently.
Success Rate is the most stable predictor of any advanced stat, and BYU is setting near 2019 LSU numbers. Cincinnati and Notre Dame are essentially the same team by this metric, which grades better than 2018 Notre Dame. Alabama is currently at 54.2% Success Rate, just shy of LSU's record-breaking 54.9% mark a year ago.
College Football Playoff: Explosiveness
A measure of the value of individual plays in terms of points by down, distance, and field position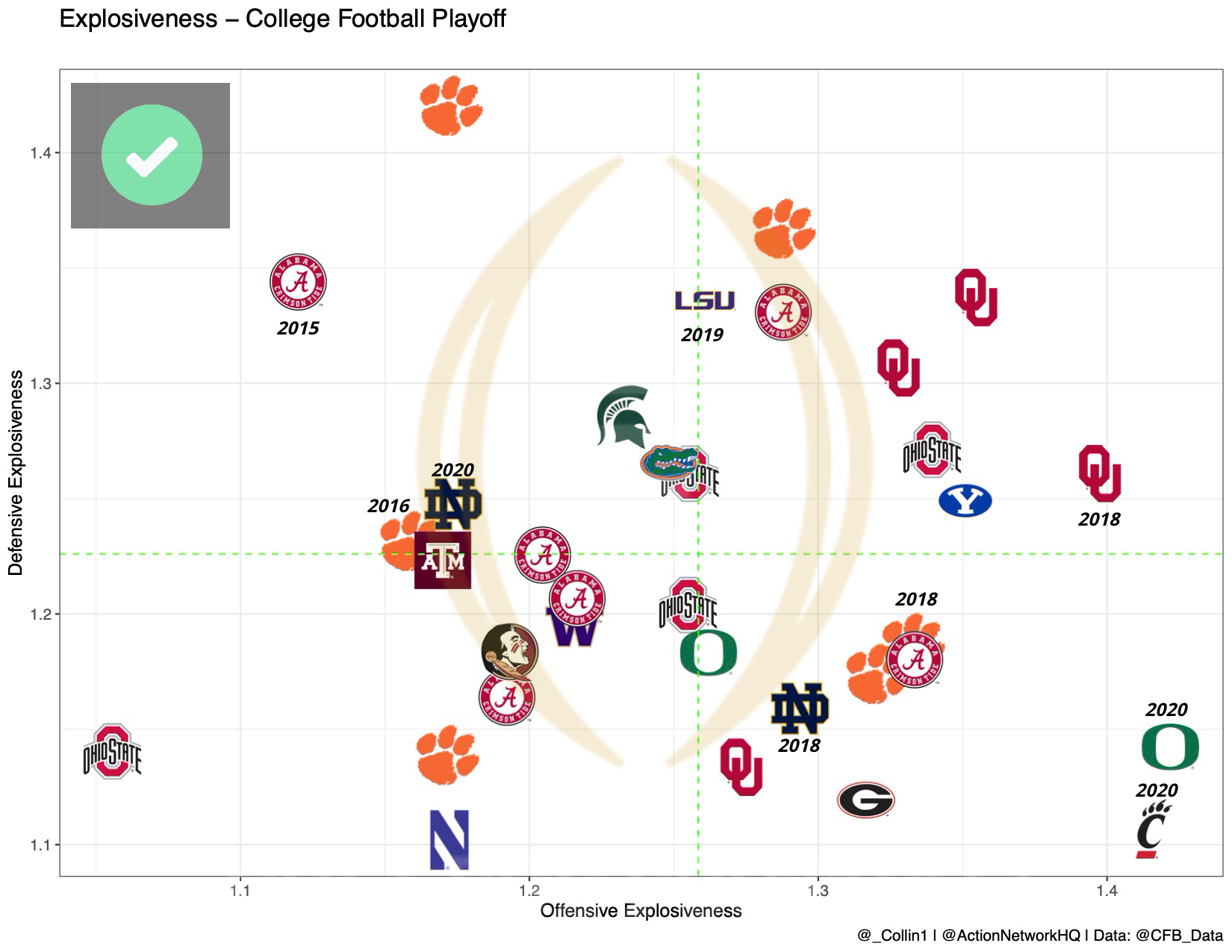 Explosiveness is one of the most unstable predictors from game to game, but Cincinnati and Oregon are on pace to set all-time records. Both teams are on pace to shatter Kyler Murray's explosive 2018 season in Norman. While Northwestern isn't gaining any chunk yardage, it has stopped Big Ten opponents from gaining explosive plays. The Wildcats are outpacing the 2017 Georgia Bulldogs led by Roquan Smith.
College Football Playoff: Finishing Drives
Points per trip inside the opponent 40-yard line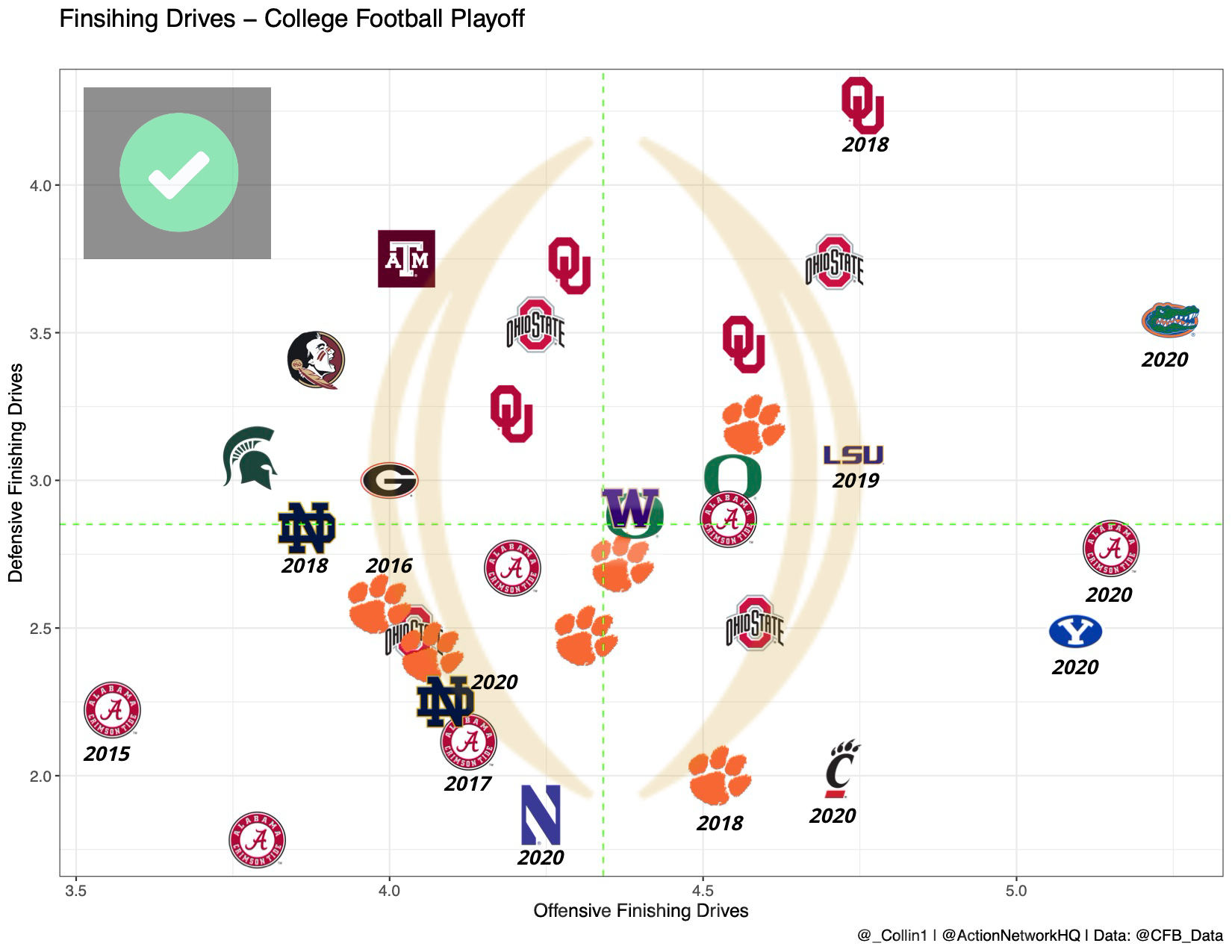 Northwestern has perfectly positioned itself between former national champions in Alabama and Clemson. Florida is setting all-time records in converting opportunity into points at 5.2 per trip past the opponent 40-yard line. The 2020 versions of Alabama and BYU are hot on the Gators' tail offensively, but they've allowed fewer less points defensively.
How would you rate this article?