College Football Playoff Rankings: Bet Alabama Before Bowl Season
Credit:
Chris Graythen/Getty Images. Pictured: DeVonta Smith (right) and Brian Robinson Jr. (right).
College football conference championship week is almost here, but we still haven't reached the final edition of the College Football Playoff rankings.
Collin Wilson explains which teams should be looked at the hardest and which programs deserve a wager now.
There is only one futures bet to make when it comes to the College Football Playoff.
Clemson and Notre Dame had moments of struggle against inferior ACC opponents in Week 14, but both are on track to meet in Charlotte on Dec. 19 to determine the second seed in the playoff.
If Clemson loses, that may open up the floodgates for any of the teams not currently in the top four. As Ohio State and the ACC jockey for position as the second seed to the Rose Bowl, a question must be asked: Can anyone stop the Alabama Crimson Tide?
The biggest news a week ago was the number of games Ohio State had on its resume. After a convincing victory over Michigan State, the Michigan rivalry is on track to play in Week 15. The Buckeyes winning a sixth game will cement their spot in the Big Ten Championship, which is also considered a quarterfinal for the playoff.
Sources: Lot of optimism out of Michigan today. They are preparing to practice, which is a good sign for playing the Ohio State game.

— Pete Thamel (@PeteThamel) December 7, 2020
Any outsider looking into the top four needs a Notre Dame victory over Clemson in the ACC Championship, as The Action Network Power Ratings have Ohio State as a minimum two-touchdown favorite over the next two weeks. The biggest loser in Week 15 may be Texas A&M, slotted fifth and having its final resume builder game with Ole Miss canceled due to COVID-19.
For Cincinnati to make the leap into the top four, a number of dominoes must fall. Alabama, Notre Dame and Ohio State must all win their respective conference championships. The Bearcats then need consecutive victories over Tulsa, all while the Golden Hurricane remain in the top 25.
This column will serve as an appetizer to the rankings using advanced analytics to see if a team is actually worthy of competing for the National Championship. Now that the committee has announced teams will not be removed from the playoff due to COVID-19, the question remains whether or not the price is right for an Alabama team that is destroying competition.
To do this, we will lean on three key indicators of a team's strength: Success Rate, Explosiveness and Finishing Drives. Not only will we look at how the 2020 contenders shape up, but we will compare them to previous CFP participants back to 2014.
---
Check the latest Action Network Power Ratings for all teams when projecting College Football Playoff and New Years Six odds
---
College Football Playoff: Success Rate
Efficiency defined as 50% of needed yards on first down, 70% of needed yards on second down, or 100% of needed yards on third or fourth down.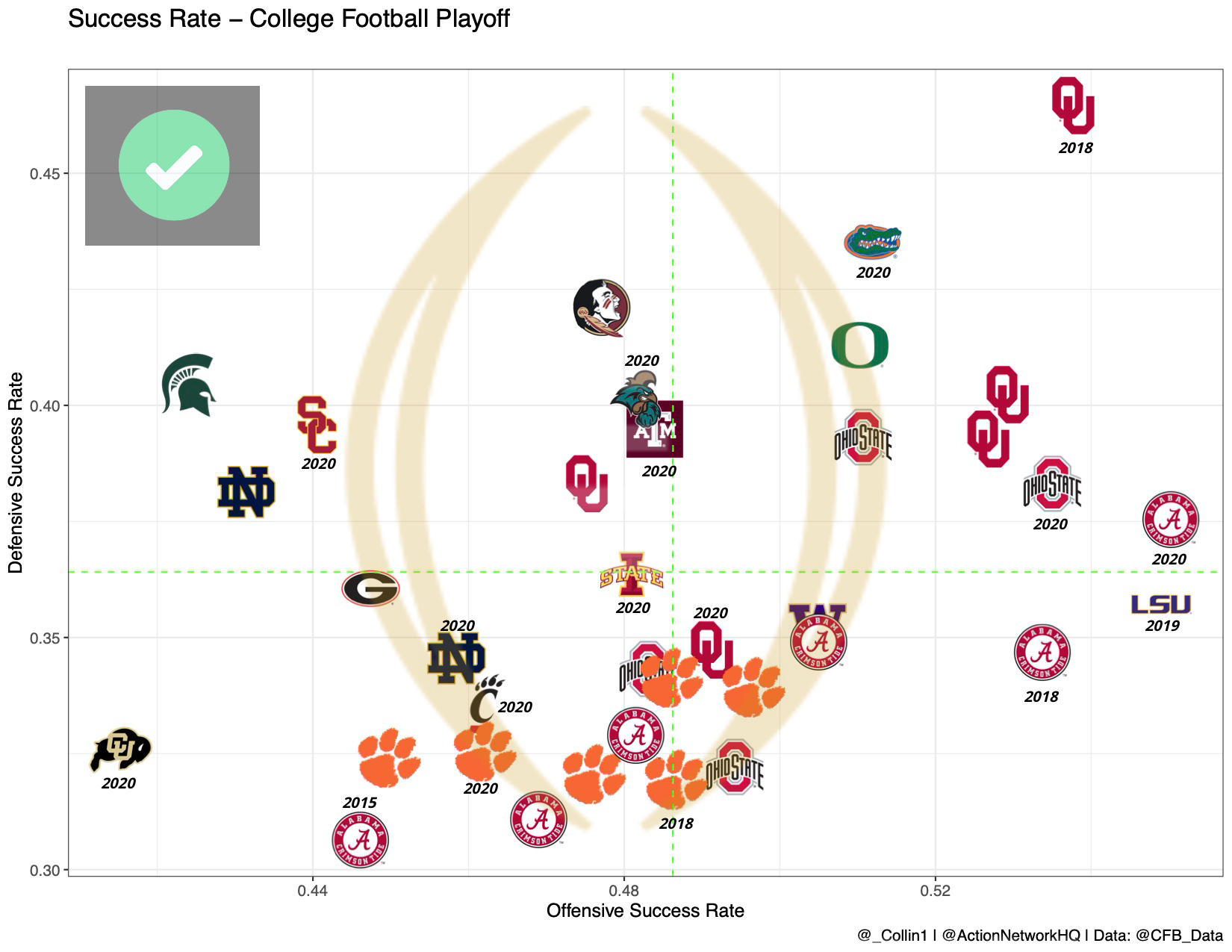 Success Rate is the biggest indicator of who will win a football game, and Alabama is now on pace to shatter every single offensive unit to compete in a playoff game.
The Crimson Tide gained over 75% of available yards against LSU and cranked out a 74% Success Rate on standard downs. In comparison, the national average for available yards is 44% and Success Rate in standard downs is 47.5%. Nick Saban's offense, led by Steve Sarkisian, is now leading the Joe Burrow-led 2019 LSU offense.
The undefeated Pac-12 teams were included in this week's advanced math look at playoff contenders. From a Success Rate angle, both USC and Colorado have a long way to go on the offensive side of the ball to identify with their 2020 peers. From a head-to-head standpoint, Texas A&M vs. Coastal Carolina and Cincinnati vs. Notre Dame would be games featuring teams that mirror the opponents' Success Rate.
College Football Playoff: Explosiveness
A measure of the value of individual plays in terms of points by down, distance, and field position.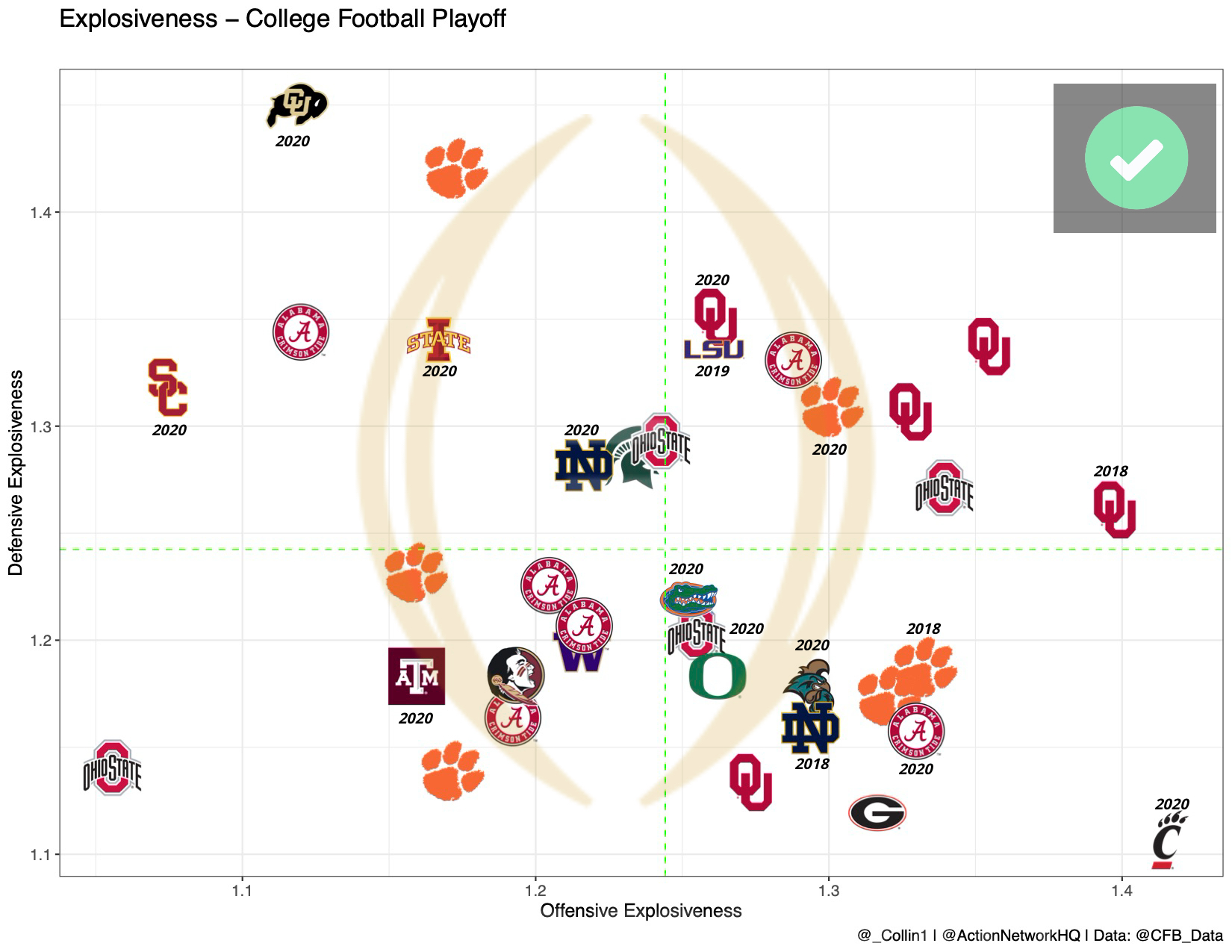 For context, Jeff Sagarin sets the Crimson Tide strength of schedule at eighth in the country and Cincinnati at 86th. This helps put into context the season the Bearcats are having both offensively and defensively. Desmond Ridder has been tremendous in pressured drop backs and explosive in scrambles. Alabama deserves a ton of credit for almost out-ranking the entire playoff historical field in limiting explosiveness and chunk gains on offense.
As great as the resurgence of Colorado has been under new head coach Karl Dorrell, the Buffaloes give up more explosive plays than anyone who has ever competed in the playoff.
College Football Playoff: Finishing Drives
Points per trip inside the opponent's 40-yard line.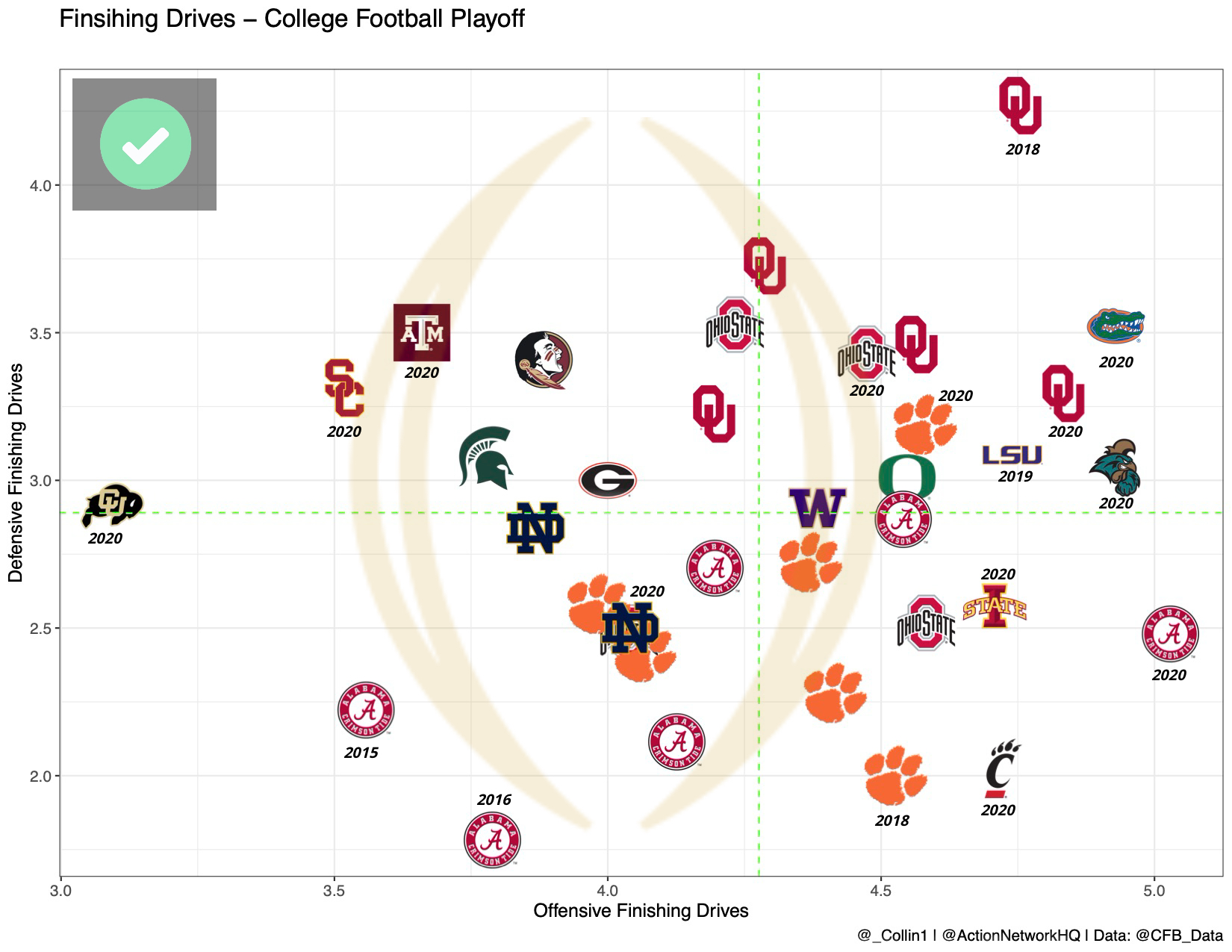 Alabama averages over five points per trip past the opponent 40-yard line — an impressive feat with a top-10 strength of schedule. Undefeated Coastal Carolina is also lapping the playoff field but certainly comes with an asterisk of schedule strength outside the top 100.
The coaching job Matt Campbell has done at Iowa State shines in this chart. The Cyclones are allowing fewer points inside the 40 than last year's national champion LSU defense and scoring more on offense than the current version of Clemson.
---
In summary, Alabama is putting up historical numbers from a Success Rate and Finishing Drives standpoint. Those two key categories are the biggest in determining outright winners in college football head-to-heads.
Combine those historical numbers with the fact that no one in the playoff will have played a tougher schedule — Clemson (63rd), Notre Dame (67th) and Ohio State (41st) all fall short — and you get something awfully impressive.
The Crimson Tide are looking at a remaining schedule with Arkansas and Florida before facing a combination of Notre Dame, Clemson or Ohio State.
Alabama will be a minimum touchdown favorite in all of those games, as a running moneyline parlay against Florida, Ohio State and Clemson would pay around +130. If you have means to obtain a future at DraftKings for +100 or FanDuel at -105, this will be the last chance for any value on an Alabama future.
How would you rate this article?