2021 Bowl Confidence Pool Rankings: Collin Wilson's Picks for Each College Football Game
Credit:
Kevin C. Cox/Getty Images. Pictured: Jameson Williams.
This college football season will consummate a fantastic return from a COVID-19-plagued 2020 with a full slate of bowl games.
There's such an appetite for bowl season that an additional game in Texas, now named the Frisco Football Classic, has been added to accommodate 84 eligible teams.
A full season of football indicates we can return to our favorite postseason investment activity: bowl confidence pools.
There are many ways to participate in bowl pools from against the spread to straight up and hybrids that include totals. These pools represent a cheap option to have action on every single game while competing for a large pot.
There are strategies for every single type of contest, but this article will focus on a straight up bowl confidence pool.
The rules are simple: Pick the team that will win the bowl and assign a point value to that pick. The numbers range from 1 through 43, with the lowest number representing the least confidence and the highest being a surefire banger on the schedule.
The point system in this article includes the Celebration Bowl but does not include the National Championship game.
The news is ever-changing in regards to coaches and players, making Stuckey's Bowl News Tracker an important tool for submitting your selections for a confidence pool.
There are coaches who have moved on but will still call the bowl, players who have opted for the NFL Draft and plenty of players with a questionable tag from an injury standpoint.
All of the above are worth considering when assigning value to your bowl winner.
Without further ado, let's get to the value ratings on every single bowl game.
---
Every Bowl Game, Ranked by Confidence Points
---
Click on any matchup to skip to our specific game breakdown.
---
---
Northern Illinois vs. Coastal Carolina
Cure Bowl: Friday, Dec. 17 ⋅ Orlando, FL
Spread: Coastal Carolina -10.5
The point spread is priced as if Grayson McCall may not play in this game, with an Action Network projection of 14 on the Chanticleers.
There's motivation on both sides, with MAC champion Northern Illinois reaching its first bowl under Thomas Hammock after not winning a game in 2020.
The Chanticleers' Jamey Chadwell is still searching for that first bowl victory. Coastal is the top team in the nation in big play percentage and Passing Downs Success Rate. Throw in a rank of sixth in Offensive Finishing Drives, and Northern Illinois will not have many answers.
Northern Illinois will certainly make headway with the offensive rushing attack led by Jevyon Ducker, but the defense posted some of the worst numbers in the MAC. Even without McCall for Coastal Carolina, Bryce Carpenter has been with the Chants since 2017 and serves as an excellent backup.

Pick: Coastal Carolina ⋅ Confidence: 36
---
Middle Tennessee vs. Toledo 
Bahamas Bowl: Friday, Dec. 17 ⋅ Nassau, Bahamas
Spread: Toledo -10.5
Toledo finished the season 5-1 ATS away from home with three straight covers and four straight overs.
The switch to Dequan Finn at quarterback has made the Rockets a lethal ground attack, an Achilles heel for Middle Tennessee, which owns a rank outside the top 100 in Line Yards.
The Blue Raiders have struggled with injuries on offense all season at the quarterback position, while the Toledo defense is second in the nation in tackling.

Pick: Toledo ⋅ Confidence: 35
---


Jackson State vs. South Carolina State
Celebration Bowl: Saturday, Dec. 18 ⋅ Atlanta, GA
Spread: Jackson State -11.5
Deion Sanders has led Jackson State to its first-ever 11-win season to take on a 6-5 South Carolina State team that won the MEAC.
Jackson State's first SWAC title since 2007 was led by quarterback Shedeur Sanders and his 29 touchdowns.
The Tigers have not played in a bowl game since 1971, giving "Prime Time" all the motivation he needs to win as a double-digit favorite.

Pick: Jackson State ⋅ Confidence: 39
---
UTEP vs. Fresno State
New Mexico Bowl: Saturday, Dec. 18 ⋅ Albuquerque, NM
Spread: Fresno State -11.5
Both head coach Kalen DeBoer and offensive coordinator Ryan Grubb have departed Fresno for Seattle to take on the same roles at the University of Washington.
Fresno State quarterback Jake Haener entered the transfer portal, but with the hire of Jeff Tedford to lead the Bulldogs, he reversed his decision. Now, Haener's status is up in the air for the New Mexico Bowl as video apology referenced a return in 2022.
UTEP hasn't won a bowl since the Lyndon Johnson presidential administration. The Miners are the top overall team in the nation in passing downs expected points, a problem area for the Fresno State secondary.

Pick: UTEP ⋅ Confidence: 6
---

Marshall vs. Louisiana 
New Orleans Bowl: Saturday, Dec. 18 ⋅ New Orleans, LA
Spread: Louisiana -4.5
Marshall enjoyed being away from home this season, tallying a 5-1 against-the-spread mark on the road. First-year head coach Charles Huff was a single victory away from the Conference USA Championship game and brings plenty of uptempo offense to New Orleans.
Offensive coordinator Michael Desormeaux has been upgraded to head coach in the wake of Billy Napier's departure to Florida.
With quarterback Grant Wells set to play for the Thundering Herd offense, the Ragin' Cajuns can be attacked on a defense that is outside the top 100 in tackling and pass explosiveness.

Pick: Marshall ⋅ Confidence: 8
---

Western Kentucky vs. Appalachian State
Boca Raton Bowl: Saturday, Dec. 18 ⋅ Boca Raton, FL
Spread: Appalachian State -2.5
When offensive coordinator Zach Kittley and quarterback Bailey Zappe left Houston Baptist for Western Kentucky, plenty of love for the Hilltoppers filled the market in 2021.
Kittley has taken on the same role with Texas Tech but anticipates calling plays for the Boca Raton Bowl.
There are rumblings of a number of Western Kentucky players hitting the transfer portal, but the handicap remains on whether or not Appalachian State can defend the pass. That answer is "yes" with evidence from ranks in the top 30 in Defensive Passing Success Rate and coverage.
Throw in the best overall Defensive Havoc ranking in the nation, and the Hilltoppers could be in danger of even more offensive turnovers.

Pick: Appalachian State ⋅ Confidence: 27
---


UAB vs. BYU 
Independence Bowl: Saturday, Dec. 18 ⋅ Shreveport, LA
Spread: BYU -7
There certainly is a difference in these two teams away from home. BYU posted a 1-5 against-the-spread mark on the road, while UAB thrived at 6-1 against the mark away from Birmingham.
There are plenty of roster questions for Bill Clark with Dylan Hopkins grasping firm control over the quarterback position as Tyler Johnston and a few other players have hit the portal.
Hopkins has led a Blazers passing attack that is top-five in explosiveness, but the Cougars are fourth in defensive pass expected points.
Kalani Sitake has signed an extension to stay on as head coach of BYU, but this game could go down to the wire.

Pick: BYU ⋅ Confidence: 10
---
Eastern Michigan vs. Liberty
LendingTree Bowl: Saturday, Dec. 18 ⋅ Mobile, AL
Spread: Liberty -8.5
Malik Willis is playing in this game and looking to increase his draft stock. That is a monster boost to a Flames team that has lost three straight games.
This is one of the biggest discrepancies in bowl season when it comes to Line Yards, with Liberty's rank at fourth and Eastern Michigan's defensive rank at 125th.
The Eagles cannot expose the spotty offensive line play of Liberty, giving room for Willis to run wild.

Pick: Liberty ⋅ Confidence: 38
---

Utah State vs. Oregon State -7
LA Bowl: Saturday, Dec. 18 ⋅ Inglewood, CA
Spread: Oregon State -7.5
This is another game in which one team is much more comfortable on the road.
Oregon State has covered just a single game away from Corvallis, while Utah State has covered all but one game away from Logan.
The Beavers' leading tackler in linebacker Avery Roberts will not play in this game.
Utah State has a great chance to keep this game close taking on an Oregon State defense that is near dead last in tackling, Stuff Rate and Sack Rate.

Pick: Utah State ⋅ Confidence: 26
---

Old Dominion vs. Tulsa 
Myrtle Beach Bowl: Monday, Dec. 20 ⋅ Myrtle Beach, SC
Spread: Tulsa -9.5
The Tulsa defense consistently ranked outside the top 100 before head coach Philip Montgomery hired Joseph Gillespie as defensive coordinator. Gillespie has moved on to TCU with a few assistants, leaving the Golden Hurricanes looking for answers on defense against Old Dominion.
Both of these teams finished hot down the stretch, with the Monarchs covering the final five games and the Golden Hurricane covering every game in November.
There may be no team more motivated than Old Dominion after Ricky Rahne's first season was canceled due to COVID-19.
Tulsa will have no luck rushing the ball, while quarterback Davis Brin has many interceptions as touchdowns.
Look for Hayden Wolff to continue leading a potent attack in passing downs with an 18:9 big-time throw to turnover-worthy plays mark.

Pick: Old Dominion ⋅ Confidence: 12
---
Kent State vs. Wyoming
Famous Idaho Potato Bowl: Tuesday, Dec. 21 ⋅ Boise, ID
Spread: Wyoming -3
Craig Bohl has covered 10-of-13 bowl games as a head coach, a good sign for Wyoming as the favorite.
The key to beating Kent State is stopping an offensive attack that is the best in the nation in Standard Downs Success Rate and third in tempo.
The Cowboys are excellent at preventing explosive plays and will be boosted in the run game with linebacker Chad Muma electing to play in this game.
Wyoming has shut down more potent offenses in the Mountain West, while Kent State has posted near dead last defensive numbers against the MAC East.
Quarterback Levi Williams will generate enough third-down conversions to propel Wyoming to victory.

Pick: Wyoming ⋅ Confidence: 16
---

San Diego State vs. UTSA
Frisco Bowl: Tuesday, Dec. 21 ⋅ Frisco, TX
Spread: UTSA -2.5
The Roadrunners can be exposed in the secondary but will not have those issues against a San Diego State team that runs on 62% of offensive snaps.
Even though both of these squads are top-20 in special teams, the Aztecs field the much better defense. A top-five rank in Rushing Success Rate and Line Yards will keep the combination of quarterback Frank Harris and running back Sincere McCormick grounded.
The Aztecs' rank of seventh in Defensive Havoc should be the difference-maker in a tight game.

Pick: San Diego State ⋅ Confidence: 1
---
Missouri vs. Army
Armed Forces Bowl: Wednesday, Dec. 22 ⋅ Fort Worth, TX
Spread: Army -3.5
Jeff Monken is 9-3 against the mark in bowl games, notably blowing out Houston, 70-14, in this very bowl game in 2018.
The Black Knights may be heavily motivated after losing the Commander-in-Chief's trophy to Navy.
That spells bad news for a Missouri team that struggles against the rush, ranking 116th in Defensive Rushing Success Rate. The Black Knights' triple option is second in Offensive Finishing Drives, a stark contrast to a Missouri defense that ranks 121st in opponent scoring opportunities.
Missouri is having an open battle at the quarterback position and has covered just one game away from home this season.

Pick: Army ⋅ Confidence: 37
---
UCF vs. Florida 
Gasparilla Bowl: Thursday, Dec. 23 ⋅ Tampa, FL
Spread: Florida -7.5
Interim coach Greg Knox got the Gators to bowl season by holding on to a lead against Florida State. Now, another team from the Sunshine State is knocking in Raymond James Stadium.
UCF has struggled at the quarterback position since the injury to Dillion Gabriel, as Mikey Keene has not posted a big-time throw in three straight games.
Isaiah Bowser is on track to return for Central Florida which may get UCF the cover.
Even with transfer portal and possible opt-outs on the defensive side of the ball, Florida will take advantage of a Knights team that is outside the top 100 in tackling, opponent rush explosiveness and special teams.

Pick: Florida ⋅ Confidence: 34
---

North Texas vs. Miami (Ohio)
Frisco Football Classic: Thursday, Dec. 23 ⋅ Frisco, TX
Spread: Miami (OH) -3
The hottest team down the stretch was North Texas, covering and winning five straight games to make a bowl that is miles from campus.
The Mean Green have been dominating opponents on the ground, as running back DeAndre Torrey has created 44 missed tackles with a team rank of 26th in Line Yards.
The RedHawks struggle to defend the run, particularly the explosive play with a rank of 120th in expected points against the opponent rush.
Standard downs explosiveness is Miami's best shot to pick up the win, especially through the air. Ultimately, a defensive rank of 129th in opponent passing downs explosiveness will be the fall.

Pick: North Texas ⋅ Confidence: 28
---
Hawaii vs. Memphis
Hawaii Bowl: Friday, Dec. 24 ⋅ Honolulu, HI
Spread: Memphis -7
There are significant issues in the Hawai'i program with a laundry list of players in the portal and allegations of verbal abuse. The biggest losses for the Rainbow Warriors are quarterback Chevan Cordeiro and running back Dae Dae Hunter.
Putting the off-field issues aside, this is a terrible matchup for Hawai'i.
Memphis has a pass attack that is top-25 in Success Rate and explosiveness. That is bad news for the Warriors, who are outside the top 100 in coverage and Defensive Passing Downs Success Rate.

Pick: Memphis ⋅ Confidence: 40
---
Ball State vs. Georgia State
Camellia Bowl: Saturday, Dec. 25 ⋅ Montgomery, AL
Spread: Georgia State -4.5
The team that can establish the run and control the clock will win this game, and all indications are that Georgia State is that team.
The Panthers covered every game but one on the road this season and will take a short trip to Montgomery. Georgia State runs the ball on 65% of snaps with a top-25 rank in Stuff Rate and Standard Downs Success Rate. Those numbers will exhaust a Ball State defense that is 126th in Standard Downs Success Rate.
The Cardinals generate little success on offense, creating plenty of opportunities for Georgia State.

Pick: Georgia State ⋅ Confidence: 25
---

Nevada vs. Western Michigan
Quick Lane Bowl: Monday, Dec. 27 ⋅ Detroit, MI
Spread: Western Michigan -3.5
There are not too many times a MAC team is steaming in a bowl game, but with Nevada facing plenty of big departures, the market has reacted.
Head coach Jay Norvell has moved on to Colorado State, while defensive coordinator Brian Ward has taken the same role with Washington State.
Future NFL quarterback Carson Strong may elect to opt out of this game, especially without full health. If Strong plays, this game could have plenty of points with Western Michigan struggling against the pass and Nevada struggling against the rush.

Pick: Western Michigan ⋅ Confidence: 5
---

East Carolina vs. Boston College
Military Bowl: Monday, Dec. 27 ⋅ Annapolis, MD
Spread: Boston College -3
Phil Jurkovec will play this bowl game and return for the 2022 season, a huge boost to Boston College.
East Carolina is one of the worst teams at pressuring the quarterback, but it maintains a top-25 rank in Defensive Passing Success Rate and Havoc. The issue is the Pirates' lack of offense, sitting outside the top 100 in explosiveness and 90th in Offensive Finishing Drives.
If Boston College can work around a highly-graded East Carolina special teams unit, the future of the Eagles' 2022 season begins in the Military Bowl.

Pick: Boston College ⋅ Confidence: 14
---

West Virginia vs. Minnesota
Guaranteed Rate Bowl: Tuesday, Dec. 28 ⋅ Phoenix, AZ
Spread: Minnesota -4
The secret weapon has arrived for Minnesota as it brings back offensive coordinator Kirk Ciarrocca. The coordinator was best known for producing one of the most electric attacks in Minnesota history during the 2019 season.
Ciarrocca comes off a stint as an analyst for West Virginia, the Gophers' bowl opponent.
With an advantage in Stuff Rate and Line Yards, look for Minnesota to go run-heavy and drain clock for the win. Fleck has covered 4-of-5 bowl games in his career as a head coach.

Pick: Minnesota ⋅ Confidence: 2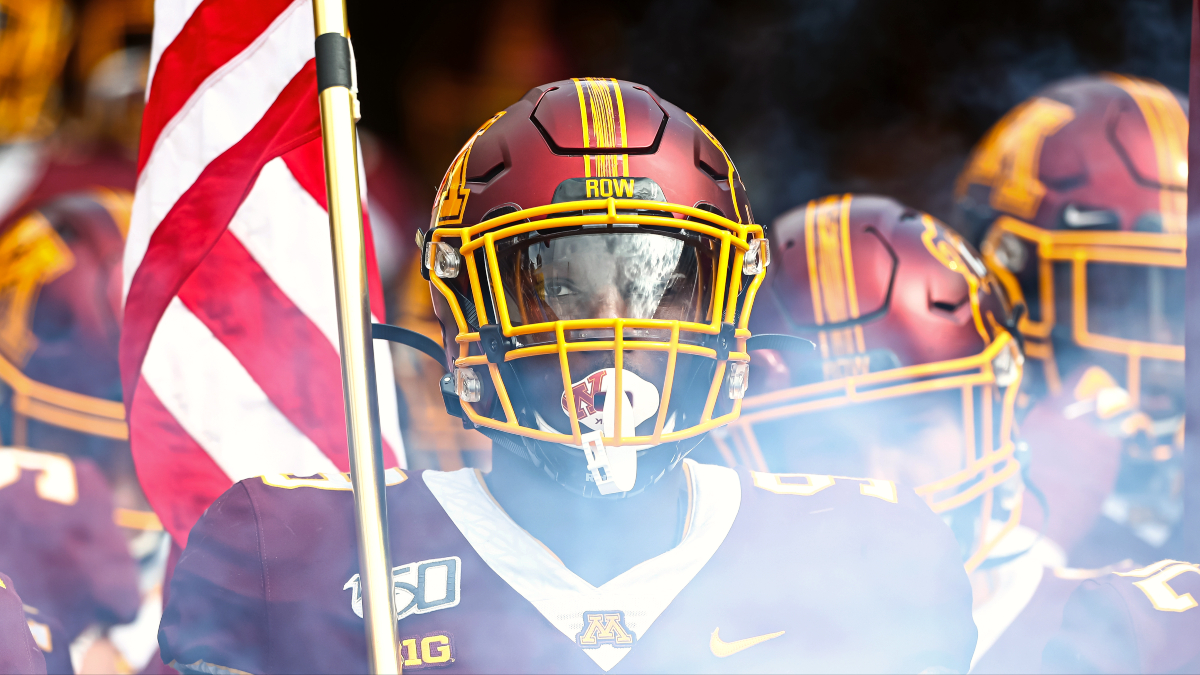 ---

Air Force vs. Louisville
First Responders Bowl: Tuesday, Dec. 28 ⋅ Dallas, TX
Spread: Louisville -2
It was a great turnaround for Scott Satterfield, who penned a letter to the Louisville fanbase a year ago after interviewing for the South Carolina job.
Satterfield is 3-1 against the spread in bowls.
Although Air Force quarterback Haaziq Daniels is listed as questionable for this game, he is expected to play. Both he and Louisville quarterback Malik Cunningham should run wild, as both defenses are bottom-15 in defending the explosive rush.
Both teams have superior offenses in Finishing Drives, but Air Force's ability to dominate the clock and its top-10 rank on defense in Passing Downs Success Rate is the difference.

Pick: Air Force ⋅ Confidence: 11
---

Texas Tech vs. Mississippi State
Liberty Bowl: Tuesday, Dec. 28 ⋅ Memphis, TN
Spread: Mississippi State -8.5
Texas Tech is undergoing a management changeover with former Baylor associate head coach Joey Maguire on the recruiting trail as the new head coach.
Interim Sonny Cumbie has been hired at Louisiana Tech but will coach this game. Bowl preparations will be short, as Cumbie wears two hats as a Bulldogs recruiter and Red Raiders bowl coach.
Meanwhile, is there any coach more motivated than Mike Leach? The former Texas Tech head coach reminded the media the school still owes him a check from the last time the program won nine games.
Mississippi State is top-10 in Standard and Passing Downs Success Rate, while the Red Raiders defense is 126th in Defensive Finishing Drives.
Texas Tech quarterback Tyler Shough may return from injury in mid-December, but it will not be enough against the Bulldogs.

Pick: Mississippi State ⋅ Confidence: 41
---

Houston vs. Auburn 
Birmingham Bowl: Tuesday, Dec. 28 ⋅ Birmingham, AL
Spread: Auburn -3
While Auburn has fired its offensive coordinator and lost a few players to the transfer portal, the status of Roger McCreary must be monitored. The accolades keep coming in for the defensive back who will be selected in the first round of the NFL Draft.
Dana Holgorsen has covered just once in eight previous bowl trips, while Bryan Harsin has won 4-of-6 before coming to Auburn.
Houston quarterback Clayton Tune will look to avoid McCreary and Smoke Monday, but the Tigers still have a clear advantage in rush explosiveness.
The Cougars are outside the top 100 in allowing opponent chunk yards on the ground, which may indicate Tank Bigsby and Jarquez Hunter will control the game for Auburn.

Pick: Auburn ⋅ Confidence: 31
---


UCLA vs. NC State
Holiday Bowl: Tuesday, Dec. 28 ⋅ San Diego, CA
Spread: NC State -1
The hiring of Dan Lanning as the Oregon Ducks head coach is a huge weight off the back of UCLA as the school retained Chip Kelly.
The Bruins covered three straight games to end the season and covered all but one game on the road. UCLA will have its hands full against a stout NC State defense that is best in the nation in pass rush.
The Wolfpack are top-five in the nation in Defensive Success Rate and third in Standard Downs Success Rate. Dorian Thompson-Robinson will be in passing downs often, which is key to beating UCLA.

Pick: NC State ⋅ Confidence: 21
---

SMU vs. Virginia
Fenway Bowl: Wednesday, Dec. 29 ⋅ Boston, MA
Spread: Virginia -2.5
This will be Bronco Mendenhall's last game as head coach of Virginia, but the door is swinging for assistants at both programs. Rhett Lashlee is the new head coach at SMU, but his participation in this bowl is questionable, especially with recruiting taking top priority.
SMU covered just one game away from Dallas this season and just one game over the final five through the season. The Mustangs have also lost their top targets in the passing game.
Cavaliers quarterback Brennan Armstrong expects to play in Boston, giving Virginia the biggest advantage in the Fenway Bowl.

Pick: Virginia ⋅ Confidence: 18
---
Maryland vs. Virginia Tech 
Pinstripe Bowl: Wednesday, Dec. 29 ⋅ Bronx, NY
Spread: Maryland -1
There is plenty of movement from the player and coach perspective on the Virginia Tech side, as interim head coach J.C. Price will piece together a roster for New York.
While the Terrapins take plenty of money in the market, this game will depend on their ability to not turn the ball over. Virginia Tech is top-10 in Standard Downs Sack Rate and consistently plays in the opponent's backfield.
Maryland has covered just one game away from home this season and has a rank of 122nd in special teams.
Whatever roster is put together for the Hokies, there will still be enough talent to win a bowl game for the interim staff.

Pick: Virginia Tech ⋅ Confidence: 3
---
Iowa State vs. Clemson 
Cheez-It Bowl: Wednesday, Dec. 29 ⋅ Orlando, FL
Spread: Iowa State -1
The motivation would seem to be bigger for an Iowa State side that retained head coach Matt Campbell and has yet to hear of an opt-out from running back Breece Hall.
The negative narrative has hit Clemson with the loss of longtime defensive coordinator Brent Venables to Oklahoma.
There are no opt-outs as of this writing, but there is a major gap in blue-chip players between these two programs.
Clemson found a rhythm at the end of the season, winning five straight and scoring at least 30 points. The defense finished the regular season third in Finishing Drives and fourth in Standard Downs Success Rate.
Iowa State quarterback Brock Purdy will be in passing downs for most of the game, giving a huge advantage to the Havoc creators on the Tigers defense.

Pick: Clemson ⋅ Confidence: 24
---

Oregon vs. Oklahoma
Alamo Bowl: Wednesday, Dec. 29 ⋅ San Antonio, TX
Spread: Oklahoma -4.5
Two surprising figures will fill coaching roles for the Alamo Bowl. Joe Moorhead will call the Oregon offense after taking the Akron job, while former National Champion head coach Bob Stoops will act as interim for the Sooners.
Most of the advanced statistics can be thrown out the window with key players on both sides opting out for the NFL, ranging from the Ducks' Kayvon Thibodeaux to the Sooners' Nik Bonitto and Perrion Winfrey.
These rosters are in complete flux, but the market has certainly been in more support of Oklahoma through early wagering.
Look for Stoops to get the most out of Caleb Williams, where the Sooners are seventh in Offensive Finishing Drives and the Ducks defensive is 95th. Oregon's tackling rank of 125th will be the difference in this game.

Pick: Oklahoma ⋅ Confidence: 30
---

Michigan State vs. Pitt 
Peach Bowl: Thursday, Dec. 30 ⋅ Atlanta, GA
Spread: Pitt -1.5
Kenny Pickett is still undecided on this bowl as of the Heisman Trophy ceremony.
The loss of offensive coordinator Mark Whipple and Pickett would sink chances of the Panthers winning the Peach Bowl. Head coach Pat Narduzzi has covered just one bowl game in four tries.
On the flip side, Kenneth Walker III will suit up for the Spartans. Michigan State is one of the most explosive offenses in the nation on the ground and through the air but has the same struggles on defense.
Without Pickett, the Spartans will not be exposed through the air. Be ready to pivot on confidence pending the outcome of Pitt's quarterback situation.

Pick: Michigan State ⋅ Confidence: 19
---

Arizona State vs. Wisconsin 
Las Vegas Bowl: Thursday, Dec. 30 ⋅ Las Vegas, NV
Spread: Wisconsin -7
The Wisconsin defense has dominated every team on its schedule, and the Vegas Bowl should be more of the same.
The Badgers are the best team in the nation in Success Rate and Havoc while supporting a top-10 unit in Finishing Drives.
The Badgers offense changed with the emergence of running back Braelon Allen. With plenty of time to get healthy, Wisconsin could get a few spins on the UNLV sideline slot machine.
Although it's a short trip from Tempe to Las Vegas, the Sun Devils have covered just one game away from home this season.

Pick: Wisconsin ⋅ Confidence: 42
---


Purdue vs. Tennessee
Music City Bowl: Thursday, Dec. 30 ⋅ Nashville, TN
Spread: Tennessee -4.5
Steam in the market on the Volunteers can be attributed to the best players on Purdue's roster declaring for the NFL Draft. Defensive lineman George Karlaftis and wide receiver David Bell have both declared and will not play in the Music City Bowl, a game where the Boilermakers were routed in 2018.
Hendon Hooker is questionable with a hand injury but is expected to play, leaning on an offense that is 11th in Standard Downs Success Rate and eighth in passing downs explosiveness.
Without Bell in line for Purdue quarterback Aidan O'Connell, history may repeat for the Boilermakers in Nashville.

Pick: Tennessee ⋅ Confidence: 32
---

South Carolina vs. North Carolina
Duke's Mayo Bowl: Thursday, Dec. 30 ⋅ Charlotte, NC
Spread: North Carolina -7
The biggest surprise is quarterback Sam Howell's participation in this game even with a top-10 projection in the next NFL Draft.
South Carolina upset Auburn to become bowl eligible but lost leading rusher ZaQuandre White who opted out for the NFL.
The Gamecocks are outside the top 100 in Standard and Passing Downs Success Rate, giving little chance to keep up with Howell and the Tar Heel weapons in what could become a shootout.

Pick: North Carolina ⋅ Confidence: 33
---

Wake Forest vs. Texas A&M 
Gator Bowl: Friday, Dec. 31 ⋅ Jacksonville, FL
Spread: Texas A&M -7.5
Quarterback Zach Calzada entering the transfer portal and running back Isaiah Spiller declaring for the NFL Draft is all the news for Texas A&M, but the handicap comes on the defensive side of the ball.
Aggies defensive coordinator Mike Elko has taken the Duke head coaching position and will not coach the Gator Bowl, creating opportunity for one of the assistants to earn the position with Jimbo Fisher.
The 4-2-5 scheme could give Wake Forest's offense plenty of trouble with a rank of third in Passing Success Rate and fifth in Passing Downs Sack Rate.
No matter the quarterback, the Aggies have plenty of explosive weapons at his disposal against a Demon Deacons defense that is 115th in defensive big play percentage.

Pick: Texas A&M ⋅ Confidence: 7
---

Washington State vs. Miami
Sun Bowl: Friday, Dec. 31 ⋅ El Paso, TX
Spread: Miami -2.5
Mario Cristobal started off a new era as the Hurricanes head coach by stating, "There's not a better quarterback in the country [than Tyler Van Dyke]."
Some of the advanced statistics support this claim, especially in passing downs, as the Hurricanes own a top-20 mark in Success Rate and a rank of 31st in explosiveness.
Van Dyke, the former baseball prospect has 25 big-time throws and 12 turnover-worthy plays since taking over for D'Eriq King.
There should be plenty of credit given to Jake Dickert in getting this Washington State team to bowl season, but a bottom-10 rank against the rush and in Passing Downs Success Rate on defense will not hold up against the Hurricanes in El Paso.

Pick: Miami ⋅ Confidence: 17
---
Central Michigan vs. Boise State 
Arizona Bowl: Friday, Dec. 31 ⋅ Tucson, AZ
Spread: Boise State -7.5
There certainly could be an upset in Arizona for this bowl, as Boise State may be without an experienced quarterback with starter Hank Bachmeier in question and Jack Sears in the transfer portal.
Central Michigan thrives on the explosive play on offense, particularly in the passing game with a top-25 rank. Boise State has struggled on defense against chunk passing, producing a rank outside the top 100 in expected points against the pass.
If the Broncos have a new signal-caller under center, expect Central Michigan head coach Jim McElwain to be aggressive with a defensive unit that ranks eighth in Havoc.

Pick: Central Michigan ⋅ Confidence: 22
---


Michigan vs. Georgia
Orange Bowl: Friday, Dec. 31 ⋅ Miami Gardens, FL
Spread: Georgia -8
Michigan has a chance to beat Georgia in the national semifinals, but the method of victory would be much different than what Alabama showed in the SEC Championship.
The Crimson Tide had a stellar offensive line performance from a pass-blocking perspective in keeping Heisman Trophy winner Bryce Young clean. The issue for Michigan is that the downfield pass is not the Wolverines' weapon of choice.
For Michigan to win this game, the battle in the trench must be won on standard downs rushing attempts. That is a large ask against a Georgia defense that has better numbers in Rushing Success Rate and Line Yards.
The Bulldogs are second nationally on defense in Standard Downs Success Rate, suggesting quarterback Cade McNamara may have long distances on third down.
There is a path for Michigan, but it must play a perfect game in the trench.

Pick: Georgia ⋅ Confidence: 23
---

Cincinnati vs. Alabama 
Cotton Bowl: Friday, Dec. 31 ⋅ Arlington, TX
Spread: Alabama -13
Because Cincinnati fields maybe the best secondary in all of college football, the Crimson Tide will focus on rushing the ball. Brian Robinson Jr. should be at full strength, adding to a stable of running backs that have been banged up all season.
The Crimson Tide posted their best offensive line numbers of the season against Georgia, and that trench play could continue against Cincinnati to avoid the stout secondary of the Bearcats.
The loss of John Metchie III is also an indicator that head coach Nick Saban may elect to make this game a grinder.
Desmond Ridder leads an offense that is 92nd in the explosive pass, an area where the Alabama defense could be exposed.
This will be tough sledding for the Cincinnati offense against an Alabama defense that is top-25 against the run and pass.

Pick: Alabama ⋅ Confidence: 43
---

Utah vs. Ohio State 
Rose Bowl: Saturday, Jan. 1 ⋅ Pasadena, CA
Spread: Ohio State -6
The most beautiful display of college football comes at the Rose Bowl, and the 2022 version will feature several high-profile players that will headline in the NFL.
The best bet in this game may be the over, as the Buckeyes and Utes have hit a combined nine overs in their past 11 games away from their respective home fields.
With Ohio State fielding several NFL targets, this game is about the Utah secondary. The Utes are outside the top 50 in both coverage and defensive passing downs explosiveness, indicating CJ Stroud should have no resistance.
It also helps that Ohio State is the best team in the nation in Offensive Finishing Drives.

Pick: Ohio State ⋅ Confidence: 29
---


Arkansas vs. Penn State
Outback Bowl: Saturday, Jan. 1 ⋅ Tampa, FL
Spread: Penn State -2.5
The Razorbacks have an inside advantage with tight ends coach Dowell Loggains, who worked under James Franklin at Penn State last season.
Treylon Burks has opted out of the game for the NFL Draft, taking away the Hogs' most explosive weapon in passing downs.
Penn State does not plan to release names of players sitting out until the team arrives at the bowl site, leaving questions around the participation of the Nittany Lions star wide receiver Jahan Dotson.
Both teams excel in Defensive Finishing Drives and struggle in Offensive Finishing Drives, an indicator that this will be a low-scoring game.
Penn State has given up at least 140 yards on the ground in recent games to Michigan State, Michigan and Ohio State. Arkansas will be at full strength on the offensive line and a running back stable that runs four players deep.

Pick: Arkansas ⋅ Confidence: 15
---

Iowa vs. Kentucky
Citrus Bowl: Saturday, Jan. 1 ⋅ Orlando, FL
Spread: Kentucky -3
Both teams are expected to be at full strength for this smash-mouth grinder on New Year's Day.
Iowa capitalizes most against teams that make mistakes, but Kentucky finished the season ranked 32nd in Havoc Allowed.
With a rank of second in Line Yards and fourth in Offensive Finishing Drives, the Wildcats will have methodical possessions that finish with points on the board and plenty of ticks off the clock.
With Hawkeyes running back Tyler Goodson opting out for the NFL Draft, there are not many weapons for Iowa to counter on the scoreboard.

Pick: Kentucky ⋅ Confidence: 20
---

Ole Miss vs. Baylor
Sugar Bowl: Saturday, Jan. 1 ⋅ New Orleans, LA
Spread: Baylor -1
Another chapter will be written in the saga of Lane Kiffin offenses versus Dave Aranda defenses.
Matt Corral plans to play in the Sugar Bowl with a number of elite targets for an Ole Miss offense that is second in tempo.
The Bears have one of the best ranks in Defensive Success Rate, but defending the explosive play has been a consistent issue for the defense.
Quarterback Gerry Bohanon should be healthy after dealing with a hamstring issue through the final three games for Baylor.
Ole Miss has improved its defense by not giving up the explosive play and stiffening in the red zone. The Rebels' rank of 52nd in Defensive Finishing Drives will be enough to take home a Sugar Bowl victory.

Pick: Ole Miss ⋅ Confidence: 4
---

Oklahoma State vs. Notre Dame
Fiesta Bowl: Saturday, Jan. 1 ⋅ Glendale, AZ
Spread: Notre Dame -2
There is plenty of off-field activity for both participants, as Oklahoma State defensive coordinator Jim Knowles will not coach the Fiesta Bowl and Notre Dame will be without two of its top players.
Defensive coordinator turned head coach Marcus Freeman loses safety Kyle Hamilton and running back Kyren WIlliams, as both have opted out for the NFL Draft.
Notre Dame does not generate a pass rush, one of the keys to forcing Cowboys quarterback Spencer Sanders into mistakes.
Even without Knowles, the Pokes defense will be heavy on blitz against a Notre Dame team that is outside the top 100 in Passing Downs Sack Rate.

Pick: Oklahoma State⋅ Confidence: 13
---

Kansas State vs. LSU
Texas Bowl: Tuesday, Jan. 4 ⋅ Houston, TX
Spread: Kansas State -1.5
With almost a month until kickoff, there are plenty of questions that need to be answered.
Kansas State head coach Chris Klieman is 11-6-1 against the spread in his career during the postseason but may be without quarterback Skylar Thompson. A left ankle injury suffered against Baylor will keep Thompson out of early practices, as Will Howard, Jaren Lewis and Jake Rubley may rotate at the position.
The Wildcats offense will be interesting to watch after running on 59% of snaps this season before recently firing offensive coordinator Courtney Messingham and looking to Collin "Optimus" Klein to call plays.
LSU has as many questions with offensive line coach Brad Davis serving as interim head coach for the bowl, as plenty of other assistants have left Baton Rouge with the change to Brian Kelly underway.
With Max Johnson in the transfer portal, quarterback duties may fall on Garrett Nussmeier. The freshman has a cannon of an arm and posted six big-time throws and just two turnover-worthy plays. Nussmeier has appeared in four games, as a decision is made on burning his redshirt for the bowl.
LSU has the better advanced statistics on both offense and defense, but with a laundry list of questionable players and the potential of wide receiver Jontre Kirklin playing quarterback, only a small confidence rating should be placed on the winner of the Texas Bowl.

Pick: Kansas State ⋅ Confidence: 9
---
How would you rate this article?
This site contains commercial content. We may be compensated for the links provided on this page. The content on this page is for informational purposes only. Action Network makes no representation or warranty as to the accuracy of the information given or the outcome of any game or event.