2022 Big 12 Odds, Conference Preview & Futures Picks: 10 Bets for Oklahoma, TCU, Texas & More
Credit:
Tim Warner/Getty Images. Pictured: Bijan Robinson.
We're just over a month away from the start of the 2022 college football season, and there are plenty of conversations surrounding the Big 12.
The Big 12 is one of the most uncertain conferences entering the new season, as a number of schools can compete for a conference title.
Check out Collin Wilson's full betting breakdown for the Big 12 below, including quotes from Wilson's stop at Big 12 Media Days.
Despite three healthy bowl wins in the 2022 calendar year, the future of the Big 12 is clouded with a number of forks in the road.
Oklahoma and Texas are expected to exit for the SEC as early as 2024, while a handful of teams have been "called up" to join the Power Five.
Cincinnati, Houston, Central Florida and BYU are expected to join by next season, while the bombshell of USC and UCLA heading to the Big Ten may help the Big 12 grow even more.
New Big 12 commissioner Brett Yormark said at Big 12 Media Days that the conference is "open for business" in terms of growing its brand.
There's also a transformation within the current programs, from head coaching changes in Norman and Fort Worth to an influx of portal moves in Austin. With the exception of Oklahoma, no team from the Big 12 has made the College Football Playoff.
There are a number of contenders to win their first-ever conference championship game. TCU, Iowa State and Oklahoma State have each played in a conference title game without a victory. Kansas State last appeared in the title game back in 2003, as head coach Chris Klieman looks to take the next step in his fourth season.
This forthcoming season may be the last instance of original Big 8 members sending a farewell to the Longhorns and Sooners.
This article will take a look at Action Network projections against current market offerings in conference odds, national title odds and individual win totals.
---
Click any logo to navigate directly to that team's section.
---
Projected Win Total: 3.4 · Projected Conference Wins: 1.6
Lance Leipold's reconstruction of Kansas football continues into a second season after having just a few months to prepare for the inaugural schedule in 2021.
The Jayhawks exceeded a low win total with victories over South Dakota and Texas, covering the final three games of the season. The Leipold tenure at Buffalo was remarkable, as the Bulls finished in the basement of conference recruiting time and again but competed in the MAC Championship on a consistent basis.
After dozens of transfers in the past 15 months, Kansas will look to implement multiple personnel in a heavy-run offense behind quarterback Jalon Daniels.
The Jayhawks return 78% of their offensive production and look to integrate transfer running back Ky Thomas from Minnesota. The offensive line brings back 59% of its 2021 snaps — including four starters — trimming a Havoc Allowed rank down to 75th in FBS.
The offense was one of the worst in the nation in moving the chains and converting scoring opportunities, but it was the defense that held Kansas back from winning more games.
Coordinator Brian Borland will look to improve a defense that switched between the 4-3 and 4-2-5. The Jayhawks finished 2021 dead last in Defensive Success Rate with ranks in the bottom 10 in Havoc and Finishing Drives.
Reinforcements are on the way, as former Miami (OH) edge rusher Lonnie Phelps and former Purdue safety Marvin Grant look to improve against the pass.
Leipold will continue to make Kansas better, as oddsmakers tempt investors with a win total of 2.5.
The pass rush will be the most improved aspect of the defense, but limitations against the run will keep the Jayhawks defense in standard downs. Kansas had just 44 tackles behind the line of scrimmage last season, a critical stat to creating more possessions for the offense.
There will be at least one victory on the schedule, an opening game with Tennessee Tech that will close with a point spread greater than four scores. A second game can be considered against Duke, as new head coach Mike Elko has been a lifelong defensive coordinator.
The Jayhawks are projected to be favorites in those games only, as a third win must come against Houston or on the Big 12 schedule.
Low expectations for West Virginia, Iowa State and Texas Tech all serve as underdog spots to back a rising Kansas team.
Pick: Kansas Win Total Over 2.5
---
» Return to the table of contents «
---
Projected Win Total: 3.7 · Projected Conference Wins: 2.7
The USC reunion between quarterback JT Daniels and Graham Harrell at offensive coordinator is a throwback to 2019.
Daniels won the USC quarterback job in the preseason leading into Harrell's inaugural year. Then a sophomore, Daniels threw for over 200 yards before a season-ending ACL tear in the second quarter of the season opener.
Kedon Slovis, now at Pitt and on West Virginia's schedule in Week 1, took over the quarterback position and started the descent of Daniels to Georgia.
With Jarret Doege transferring to Western Kentucky, Harrell and Daniels will look to bring the Air Raid to Morgantown.
A handful of transfers at the running back and wide receiver will look to improve poor Success Rate and Finishing Drives statistics that persist through head coach Neal Brown's fourth season.
While a new scheme, coordinator and quarterback fill the offensive side of the ball, the defense must find a way to fill the gap with just 39% returning, per TARP.
"We put everything we had (offensively) in the spring," Brown said at Big 12 Media Days. "Schematically, we will not be different. It was all installed during the spring."
This has been an elite 3-3-5 defense when pinned in the red zone, finishing last season ranked 16th in Finishing Drives. A handful of incoming cornerbacks and linebackers filled the portal this offseason, a script that has been successful in previous seasons for coordinator Jordan Lesley.
A win total projection of 3.7 would indicate the worst season in the Brown era is yet to come. Virginia Tech and Towson round out the nonconference schedule with the Mountaineers looking to enter just two games heavy favorites this season.
There may be too many questions on this roster to get to bowl season. Will JT Daniels attempt more than 100 passes for the first time since 2018? Will the JUCO and portal additions be enough to maintain an elite level on the defensive side?
For West Virginia to exceed a win total of 5.5, the variables must become productive constants.
The last five games project the Mountaineers as heavy underdogs against TCU, Iowa State, Oklahoma, Kansas State and Oklahoma State. Each one of those games represents an opportunity to buy out of a season with total under.
Neal Brown may have his best talent in house yet thanks to the portal, but health and Success Rate history are not on the Mountaineers' side.
Pick: West Virginia Win Total Under 5.5 (+110)
---
» Return to the table of contents «
---
Projected Win Total: 4.7 · Projected Conference Wins: 3.4
Plenty of programs are firing coaches well before Thanksgiving, cutting the legs off of head coaches who reach six wins and the postseason. Texas Tech followed this path in 2021, letting Matt Wells go while sitting on a 5-3 record.
A new regime begins with legendary Texas high school coach Joey McGuire. The former Cedar Hill High School head coach arrives in Lubbock as one of the leading recruiters in the state of Texas while serving a CEO role to the staff.
McGuire pulled off fantastic coordinator hires, luring Tim DeRuyter back to Texas on the defensive side and snagging former Western Kentucky coach Zach Kittley on the offensive side.
Kittley, a Texas Tech alum, is no stranger to the landscape after serving in the coordinator role at Houston Baptist for three seasons.
The 30-year-old enters camp with a quarterback battle between Tyler Shough and Donovan Smith. The winner will lead an offense that ranked 29th in Success Rate last season.
Aiding the offense is the return of 86% of snaps on the offensive line, as Kittley is expected to stick to a predominantly 10 personnel that passed on 67% of downs at Western Kentucky last season.
DeRuyter will keep the Red Raiders defense in a nickel formation, but Havoc and Success Rate ranks waned in the coach's last stints with Oregon and Cal.
Texas Tech will continue to give up the middle of the field and opt to firm up in opponent scoring situations. The Ducks fell outside the top 100 in Finishing Drives last season, continuing a downward trend for DeRuyter defenses.
Expect Texas Tech to put plenty of points up with Kittley running empty sets for Shough or Smith, with the defense providing little to no resistance.
Wins may be hard to find before conference play begins, as the Red Raiders host Houston and travel to NC State. Texas Tech is expected to be a coin-flip with the Cougars and double-digit underdogs to the Wolfpack.
The projection for Texas Tech on the win total sits at 4.7 and 3.4 on the conference win total — both just shy of odds listed at DraftKings. There are a number of coin-flips on the schedule from Kansas State, West Virginia, Baylor and Iowa State.
With a projection short of 5.5, the under is the recommendation for a season-long wager, but hedge spots against the Bears and Cyclones must be played if the Red Raiders contend for the postseason.
Pick: Texas Tech Win Total Under 5.5
---
» Return to the table of contents «
---
Projected Win Total: 5.9 · Projected Conference Wins: 4.0
Jeff Grimes' transition as offensive coordinator at BYU to Baylor was flawless last season. The Bears finished top-40 in Success Rate and 14th in Finishing Drives, making most offensive drives sustainable and productive.
Grimes' coaching will be put to the test, as Baylor returns just 24% of last season's offensive production.
Blake Shapen returns at quarterback after 58 passing attempts in 2021, racking up more turnover-worthy plays than big-time throws. Shapen benefited from an experienced offensive line last season, throwing just 18 passes under pressure with a 54% adjusted completion rate.
Shapen posted 10 rushing attempts last season, an element that could expand this season with an offensive line that has two members on the All-Big 12 team.
With Shapen now set to take over under center, former starter Gerry Bohanon has transferred to South Florida.
"Competition between Blake and Gerry was strong," Baylor head coach Dave Aranda said at Big 12 Media Days. "At the end of the spring game, it was apparent Blake was a better passer (for us). This was very difficult for me."
Aranda will have double the returning experience on defense — just shy of 50% — for a unit that finished top-15 in Success Rate, Finishing Drives and Havoc.
The defensive line is intact and will continue to terrorize backfields after finishing seventh in tackles for loss last season.
Replacements are needed in the back seven, but plenty of talent from the recruiting trail and portal will contribute. Linebacker Josh White follows Aranda from LSU to continue the chaos for a Bears defense that blitzed on 27% of snaps.
There will be a downward shift for Baylor after completing a 12-2 season and finishing just short of snagging a spot in the College Football Playoff.
The style of play from an offense that runs a smash-mouth two-tight end set, along with an aggressive multiple nickel defense, will continue to dominate the softer teams in the Big 12.
The Bears project to win six games this season thanks to poor numbers in TARP, with less than 40% of passing, rushing and receiving yards returning to Waco.
Three games on the schedule are sure-fire wins, including Louisiana Tech, Texas State and Kansas. The win total is dependent on victories against BYU, Iowa State, Oklahoma State, West Virginia, Texas Tech, Kansas State and TCU — all projected to be within a one-possession spread.
Granting two wins against the Bulldogs and Bobcats, the Bears must win six of their seven coin-flip games to exceed the win total.
Pick: Baylor Win Total Under 7.5 (+130)
---
» Return to the table of contents «
---
Projected Win Total: 6.4 · Projected Conference Wins: 4.1
The Cyclones were a preseason national champion dark horse for plenty of investors just a short 12 months ago.
A turnover-filled loss to Iowa preceded a four-loss conference season that ended with a Cheez-It Bowl defeat to Clemson.
Now, the roster has been drained of experience on both sides of the ball, returning just 36% on defense and 28% on offense.
Hunter Dekkers assumes quarterback duties with a limited sample of 45 dropbacks in his career. The heavy-tight end offense returns preseason All-Big 12 offensive lineman Trevor Downing and wide receiver Xavier Hutchinson.
The 3-3-5 defense will have plenty of new faces looking to continue the Cyclones' postseason streak, but holdover defensive linemen Will McDonald IV will continue the Havoc. McDonald ranked top-20 in tackle for loss yardage in 2021.
Head coach Matt Campbell took the Big 12 by storm, going 18-7 against the spread through his first two seasons. Iowa State has been below .500 against the mark since 2018, as consumer expectations have not been met.
Despite failing to win the conference the past few years, Iowa State still has plenty of brass rings within reach. A bowl game at the end of the season would mark the longest streak in program history.
Since Campbell took the head coaching position in 2016, Iowa State has lost the turnover battle, 9-0, in games against Iowa.
With an Action Network projection of 6.4, there's no value on the win total of 6.5. The Week 2 game against Iowa puts the Cyclones at +6 — short of multiple preseason projections.
Neither team will expose much of the playbook in openers against FCS schools. The Hawkeyes are on the opposite side of the spectrum in returning experience, giving this Game of the Year number value through the key number of 7.
Pick: Week 2 Game of the Year (Sept. 10) · Iowa -6 (Play to -7)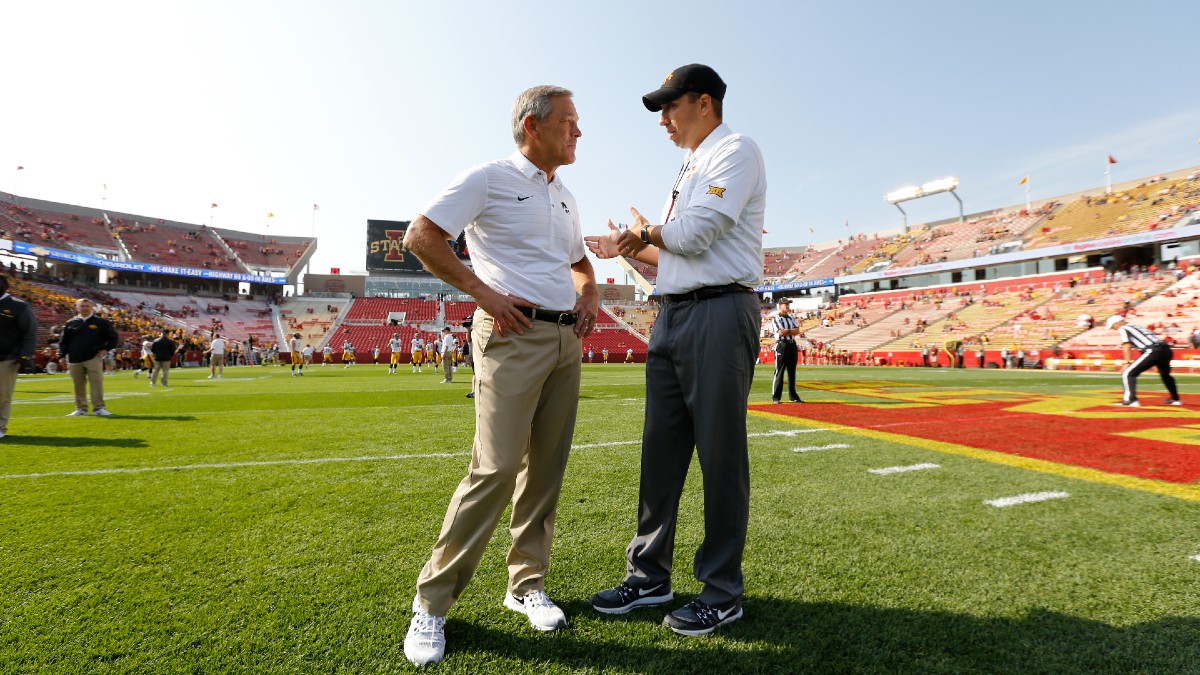 ---
» Return to the table of contents «
---
Projected Win Total: 7.1 · Projected Conference Wins: 4.5
Head coach Chris Klieman's move from North Dakota State to Kansas State has been nothing but money since 2019.
Klieman has led the Wildcats to a 22-13-1 against-the-spread record, last annihilating LSU in the Texas Bowl.
Now, 73% of the offensive production returns with the addition of Nebraska transfer quarterback Adrian Martinez. Will the trip south down State Highway 77 provide more stability for Martinez after four frustrating years with the Huskers?
The fifth-year quarterback has recorded 30 interceptions and a whopping 42 fumbles since 2018.
Deuce Vaughn anchors the running back position, and the Wildcats return 69% of receiving yards.
Klieman will look for ball security in a 21 personnel that averages a rushing play on 71% of downs. Kansas State finished top-10 nationally in Standard Downs Success Rate and near dead last in tempo, putting front-seven defenses in the Big 12 on alert.
The biggest handicap with Kansas State is the projected turnover rate with Martinez at quarterback. While fumbles and interceptions are considered random, the number of one-score Nebraska games impacted by a turnover is in the double-digits.
If coaching has a direct correlation to turnovers, Martinez and the Wildcats may have a mixed bag.
Vaughn has fumbled just once in 334 rushing attempts, while former quarterback Skylar Thompson lost 15 fumbles in his final three seasons. The Wildcats have put the ball on the carpet 22 times the past two seasons, losing 12 of those games with the bulk of the turnovers coming from Thompson.
The Wildcats will continue to dominate the trenches while posting top-30 Success Rate ranks on both sides of the ball. If offensive coordinator Collin Klein can limit mistakes, Kansas State has an outside shot at making the conference championship game in Arlington.
"I'm excited for Collin Klein, (who) won the job leading up to the bowl game," Klieman said at Big 12 Media Days. "We're still gonna find a way to get No. 22 (Vaughn) the football, but Collin and Adrian are meshing really well."
The Wildcats are expected to be comfortable favorites in nonconference play and an additional three Big 12 games. Five additional games fall within a field-goal spread, meaning their trip to Oklahoma is the one game out of reach.
Pick: Kansas State Win Total Over 6.5 (-135)
---
» Return to the table of contents «
---
Projected Win Total: 8.0 · Projected Conference Wins: 5.4
The Pokes had one of the best defensive seasons in program history in 2021, leading to a Big 12 Championship appearance.
Not only did Oklahoma State rank seventh in Defensive Success Rate and 14th in Finishing Drives, but this was also the second-best team in Havoc.
Preseason All-Big 12 sophomore Collin Oliver returns to harass opposing offenses and generate plenty of chaos.
The biggest news from Stillwater this offseason was the move of defensive coordinator Jim Knowles to Ohio State. Known as an elite college coordinator, the 4-2-5 scheme will now be called by former Vanderbilt head coach Derek Mason.
Mason called the defense for a single season at Auburn before making a lateral move to Oklahoma State. He posted to- 50 ranks in Success Rate, Finishing Drives and Havoc for the Tigers.
Both Knowles and Mason call blitz on 25% of downs, but Mason switches between two-to-four down linemen in the nickel set.
Linebacker and cornerback will be the area of inexperience this fall as Oklahoma State looks to repeat their success of 2021.
For the Cowboys to return to the conference title game, the offense must improve on the ground to give quarterback Spencer Sanders relief. Oklahoma State fell outside the top 100 in Rushing Success Rate and Line Yards last season.
Head coach Mike Gundy did pull offensive tackle Casey Collier from USC to bolster the trench, but if the defense falls behind, Sanders must produce. The senior posted the best touchdown-to-interception ratio and big-time throw to turnover-worthy play ratio of his career in 2021.
While Sanders recorded the best adjusted completion rate of his career, the Pokes had target drops — 16 more than the previous two seasons.
Gundy will be favored in all three nonconference games from T. Boone Pickens Stadium. Of note, a 2016 revenge game against Central Michigan should have Gundy's full attention in Week 2.
Oklahoma State will be double-digit favorites in two conference games against Kansas and West Virginia. Baylor, TCU, Texas and Kansas State will all be coin-flips. With a projection of eight wins, there's value on the current market under of 8.5.
For the Cowboys to exceed this total, three of the coin-flips must be won if Bedlam falls back to Oklahoma.
Pick: Oklahoma State Win Total Under 8.5 (-115)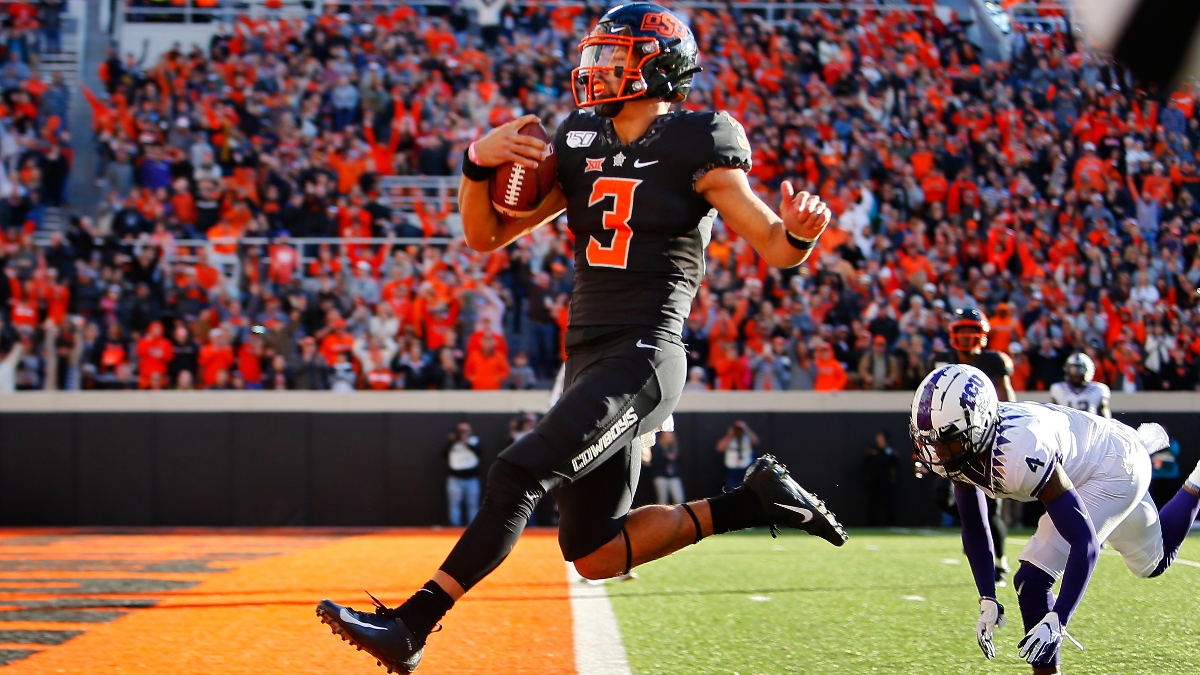 ---
» Return to the table of contents «
---
Projected Win Total: 8.3 · Projected Conference Wins: 6.3
The first season for head coach Steve Sarkisian followed in a long line of disappointment since Vince Young and Company won the National Championship in 2006.
The Longhorns had double-digit leads against Oklahoma, Oklahoma State and Baylor but could not rattle off a victory in any of those games. Texas lost six consecutive games toward the end of the season, including an overtime loss to lowly Kansas.
Sarkisian has done everything this offseason to wipe away the memories of 2021 with a number of events on the recruiting trail, transfer portal and coach hirings.
First, Patterson signed on as a special assistant on the defensive side with coordinator Pete Kwiatkowski. Both coaches run nickel-based defenses, but it remains to be seen if Patterson was hired to get Kwiatkowski from multiple personnel to the classic 4-2-5 that TCU ran for decades.
All suggestions should help with a defense that finished outside the top 100 in Havoc, pass rush and Finishing Drives.
Offensively, there's both portal and coaching news to keep tabs on as practice begins in Austin.
Quinn Ewers enters with the highest recruiting rank at Texas since Young, who delivered the Longhorns their last national title over 16 years ago. Ewers elected to forgo his senior year of high school only to be buried on the Ohio State depth chart behind CJ Stroud.
Now, Ewers and Hudson Card will compete for duties under center with the primary task of feeding one of the best running backs in college football in Bijan Robinson.
Tight end Jahleel Billingsley reunites with Sarkisian after transferring from Alabama. Texas utilized 12 personnel on almost 50% of offensive snaps, and Billingsley looks to be the lead tight end in passing downs.
The coaching staff also got better on the offensive side of the ball. Pass game coordinator Brennan Marion joins from Pitt after previous stints with Hawaii and William & Mary. Sarkisian is a mastermind in all things offense, but will the addition of Marion see the GoGo offense make its way to Austin?
There may not be a more talent-rich college football roster outside of Tuscaloosa and Columbus.
A cornerback and linebacker join Texas through the portal on a defense that will search for hustle with Kwiatkowski and Patterson.
The offense will be led by unknown factors at quarterback, as Ewers has yet to attempt a pass and Card had just 103 dropbacks last season.
The biggest question is the half-dozen freshmen competing to win a couple of spots on the offensive line. Robinson catching swing passes in the flat proved to be a viable solution to get around the holes in the trench in 2021, but consistency on running between the tackles is imperative for Texas this fall.
The Longhorns will be a heavy underdog to Alabama but a heavy favorite in five games. There's little room for error on this schedule, especially with the Crimson Tide in Week 3.
Texas must win nine of its other 11 to go over the market win total of 8 juiced to the over.
Action Network projects 8.3 wins, but all must go right for Sarkisian to succeed. Nine wins are possible if Ewers is electric under center and the coaching staff makes the defense improve on a tackling rank of 80th.
For Texas to exceed the posted win total, losses may only come against Alabama, Oklahoma and just one other game. A projection of 8.3 leaves more of a probability that this team finishes with eight or nine wins rather than seven or less.
The number is priced properly, but an over is the only way to play the massive talent in Austin.
Pick: Texas Win Total Over 8 (-145)
---
» Return to the table of contents «
---
Projected Win Total: 8.8 · Projected Conference Wins: 6.3
The primary focus of conference previews has Kansas State as a dark horse to win the conference — a viable notion considering the coaching track record.
Another team flying under the radar is TCU, fresh off the firing of Gary Patterson and an interim stint from Sonny Cumbie. Patterson now finds himself on Texas' defensive staff, while Cumbie has become the head coach at Louisiana Tech.
But there's optimism in Fort Worth after the hiring of SMU coach Sonny Dykes.
After three consecutive seasons of taking the Mustangs to a bowl, Dykes will look to rebuild a complacent defense and an offense with superstar potential.
Dykes comes from the school of Mike Leach, implementing an Air Raid offense at every stop in his career. This will pull quarterback Max Duggan into plenty of no-huddle shotgun formations with 11 personnel.
Per TARP, over 80% of the offense returns through returning production and the transfer portal.
The Frogs finished top-50 in Success Rate last season but struggled to put points on the board when drives extended past the opponent's 40-yard line. That issue should be resolved with the play calling of Dykes, as SMU finished 27th nationally last season in Offensive Finishing Drives.
TARP indicates the defense will have as much experience as the offense, but ranks in the bottom 20 of all FBS teams in Success Rate, Finishing Drives and Havoc are all reasons Patterson now resides in Austin.
Dykes made two key decisions when his campaign at TCU started. His first was to raid the transfer portal. Plenty of positions will have new faces, from Josh Newton at cornerback to Ezra Dotson-Oyetade at linebacker and Caleb Fox on the defensive interior.
Dykes' second decision was to lure defensive coordinator Joseph Gillespie away from Tulsa. The Golden Hurricane consistently finished top-25 in Defensive Havoc and tackling, as Dykes took notice when his SMU team lost to Tulsa in each of the previous two seasons.
The 3-3-5 is Gillespie's bread and butter and made the comment that Iowa State is the blueprint for TCU's defense.
With more than 80% of experience returning on both sides of the ball, TCU had one of the biggest power rating adjustments in the offseason. If Gillespie can improve this defense to ranks in the top 100, the season will already be a major success.
The star power on offense, along with Dykes' Air Raid scheme, is sure to make TCU a dark horse contender for the conference championship.
Pick: TCU to Win Big 12 (+1600)
---
» Return to the table of contents «
---
Projected Win Total: 9.0 · Projected Conference Wins: 6.6
There has been as much drama in Norman as any daily soap opera on cable television.
Head coach Lincoln Riley departed for USC, along with the top talent on the team, including quarterback Caleb Williams, wide receiver Mario Williams and cornerback Latrell McCutchin.
Athletic Director Joe Castiglione tapped former Sooners defensive coordinator Brent Venables for the head coaching position in 2022. Venables has been with Clemson since 2012, making Oklahoma his first head-coaching gig.
As his first order of business, Venables dipped into offensive-rich Ole Miss to snag Jeff Lebby as his offensive coordinator. The coordinator's previous stint at UCF was the main driver in getting quarterback Dillon Gabriel to commit to Oklahoma through the transfer portal.
Gabriel thrived under Lebby in 2019, posting a 27:7 touchdown-to-interception ratio.
There are plenty of weapons remaining in Oklahoma's arsenal for a downfield attack, but the issue of tempo will be a variable to consider with Sooners' game totals. Lebby led Ole Miss to the second-fastest time in seconds per play last season, a pace that Gabriel will be familiar with from his time at Central Florida.
The question is whether or not Venables' defense will be prepared to deal with an offense that calls plays at lightning speed and risks fourth downs in unfavorable field positions. No team had more fourth-down attempts than Ole Miss last season.
The switch from Alex Grinch's scheme to Venables' multiple personnel and hyper-aggressive blitz calls will be a shock to the Sooners defense.
Venables is looking to change the culture at Oklahoma after a perceived casualness and soft reputation from the Riley era.
The numbers for Venables speak for themselves, as he annually coached one of the best defenses with Clemson's 2018 unit becoming one of the best in recent college football history.
Venables has spent the majority of the offseason pounding Oklahoma football as a new brand.
Oklahoma is the favorite to win the Big 12 at +170 at DraftKings. While Action Network projects the Sooners to have the highest conference win total, their win total of 9.5 exceeds the projection of 9.
The first test of the season comes in the third game as short favorites at Nebraska. Only three games on the conference slate are projected to make the Sooners two-touchdown favorites or greater, with an opening Big 12 stretch of Kansas State, TCU and Texas being the biggest hurdles.
The Big 12 sends the top two teams in conference win percentage to the championship game, with last season serving as the first time since 2009 that the Sooners did not compete for the title.
A return to the championship is probable, but two losses in conference to other contenders such as Texas, Kansas State or Oklahoma State would put the Sooners in jeopardy.
Building a new culture at an established program does not happen overnight. With a projection of nine wins, taking the under is the safe bet with new coordinators, schemes and an influx of transfer portal players.
An easy hedge would be a Big 12 Championship future, as no team in the Big 12 will make Oklahoma +170 on the moneyline in Arlington.
Pick: Oklahoma Win Total Under 9.5 (-120)
How would you rate this article?
This site contains commercial content. We may be compensated for the links provided on this page. The content on this page is for informational purposes only. Action Network makes no representation or warranty as to the accuracy of the information given or the outcome of any game or event.