2022 Big Ten Odds, Futures & Conference Preview: How to Bet Ohio State, Michigan, Nebraska & More
Credit:
Emilee Chinn/Getty Images. Pictured: CJ Stroud.
No conference is safe from talks of realignment and the future of college football, especially when it comes to the Big Ten.
As the SEC prepares to take on Texas and Oklahoma, the Big Ten looked west to pluck the Los Angeles market by taking UCLA and USC. With an expected arrival date in 2024, the Big Ten has fortified future placement in competing with the SEC.
Focusing on the upcoming season, the Big Ten will be players in the national title picture.
Ohio State looks to field one of the best offensive units in recent history, while Michigan hopes to continue momentum after making its first trip to the College Football Playoff last season. Mel Tucker also signed a sizeable contract to remain with Michigan State after posting a 10-3 mark against the spread last season.
Teams that sauntered around the cellar have found recent stability. Rutgers won five games but was a last-minute invite to the Gator Bowl — its first postseason appearance since 2014. Purdue returned to the Music City Bowl after a three-year gap, while Nebraska became a spread-covering machine despite a three-win season.
Nine teams are projected to win at least 6.5 games, giving the Big Ten rights as the deepest conference in all of FBS.
This preview will look at win totals, conference futures and possible Heisman contenders that may have preseason value. Before the invasion of Pac-12 After Dark, the Big Ten will look to win its first National Championship since the Buckeyes won it all in the inaugural College Football Playoff.
---
Click any logo to navigate directly to that team's section.
---
Projected Win Total: 4.4 · Projected Conference Wins: 2.0
The betting deliverable when Greg Schiano returned to Piscataway was recruiting and defense. As the pipeline of recruits continues, the on-field product showed improvement — particularly against the rush and a top-40 rank in Defensive Finishing Drives.
Schiano's nickel defense showed three- and four-man fronts while blitzing at a heavy 34% last season, generating a Standard Downs Success Rate in the top 15.
Rutgers never cleared up issues against the explosive pass, specifically against teams that went to the air in passing down attempts. Both cornerbacks and safeties return, as 82% of all passes defensed will look to improve against opponents that want to press through the air.
The Scarlet Knights do lose their top tackler, but plenty of Havoc will be provided from a back seven that includes safety Christian Izien, who posted nine tackles for loss in 2021.
Sean Gleeson returns as offensive coordinator for a third season with previous stops at Oklahoma State and Princeton.
Rutgers has yet to find playmakers on offense, as sixth-year senior Noah Verdal will be challenged by a trio of underclassmen for snaps under center. Redshirt freshman Gavin Wimsatt was the most highly recruited out of the bunch and will look to take the job away from Verdal during camp.
Gleeson, known for turning Princeton into an offensive juggernaut in FCS, has yet to find any stride with an offense that goes 11 personnel with an even run/pass distribution. Rutgers finished 2021 ranked bottom-five in Passing Success Rate, along with a Finishing Drives rank outside the top 100.
No matter the distance, the Scarlet Knights were near dead last in third-down conversion percentage, making sustained drives and points scored a scarcity.
The bad news is Rutgers is set to face the toughest schedule of opposing defenses in the Big Ten, per SP+ rankings, which includes a nonconference schedule of Temple and Wagner.
The Action Network projection is spot on with the current market, making the games against the Seahawks and Owls comfortable victories. Short underdog spots bookend the season with Boston College and Maryland — both must-wins to go over the win total.
The pivotal game on the schedule comes in the form of a mid-October home game against Indiana, as Rutgers won, 38-3, last season thanks to a net gain of six turnovers.
The under is the play on the current market number with a focus on Indiana and a road trip at Maryland as hedge positions. Of the five potential victories on the schedule, three of them come on the road.
Pick: Rutgers Team Total Under 4.5 (-130)
---
» Return to the table of contents «
---
Projected Win Total: 3.9 · Projected Conference Wins: 2.3
Just 18 months removed from a trip to the Outback Bowl, the Hoosiers have spiraled out of division contention.
Indiana covered just two games on the schedule last season with every aspect of the offense falling apart. Quarterback play suffered with Michael Penix Jr and Jack Tuttle combining for 12 interceptions, while the offensive line produced a Line Yards rank of 121st.
Penix has transferred to Washington, so Indiana expects to start Missouri transfer Connor Bazelak under center this season. The fourth-year sophomore posted more turnover-worthy plays than big-time throws with the Tigers last season. The improvement came on scramble attempts, dropping from nine fumbles to just one last season.
Former UMass head coach Walt Bell takes over the offense as coordinator, with previous stops at Florida State and Maryland in the same role. Bell did little to improve the Minutemen's offensive ineptitude before losing his job after a loss to Rhode Island.
Nothing worked for a UMass offense that played a majority of snaps behind schedule with no efficiency or chunk plays.
The defense continues to be the strong point under head coach Tom Allen. Despite a 10-loss season, the Hoosiers ranked top-15 in tackling. While the Hoosiers showed tackling fundamentals and one of the lowest penalty rates last season, the defense folded when pressed against the goal line.
The Havoc rate fell off the map for Allen's defense, dropping outside of the top 100 in tackles for loss and forced fumbles. The two top tacklers depart from last year's defense, but Indiana will field nearly a dozen seniors in the two-deep depth chart.
The Five Factors of defense are expected to improve after bottoming out last season, as tackling and penalties will remain a constant under Allen.
Bazelak's quarterback play will determine the effectiveness of Bell's offense.
Considering the past track record of both coach and player, Indiana may struggle out of the gate in the opener against Illinois.
The schedule features the highest average of projected offenses of any other team in the Big Ten, per SP+. Five games are projected as one-possession spreads, with the Fighting Illini opener as the only time Indiana will be favored.
Coming off of a two-win season, Indiana is projected to be a favorite in just two games this season, needing wins over Western Kentucky, Rutgers and Maryland to eclipse the win total.
The under is the play considering the transfer portal did not supply Indiana with enough improvement in the trenches or skill positions. With most of the toss-up games within a possession spread, hedge spots exist in October against Rutgers and Maryland.
In lieu of a win total under, investors may opt for an Illinois moneyline ticket in Week 1, where the Hoosiers sit in the market at -5. This will be the Illini's second game of the season after opening with Wyoming in Week Zero.
Pick: Indiana Team Total Under 4 (+110) · Illinois ML vs. Indiana in Week 1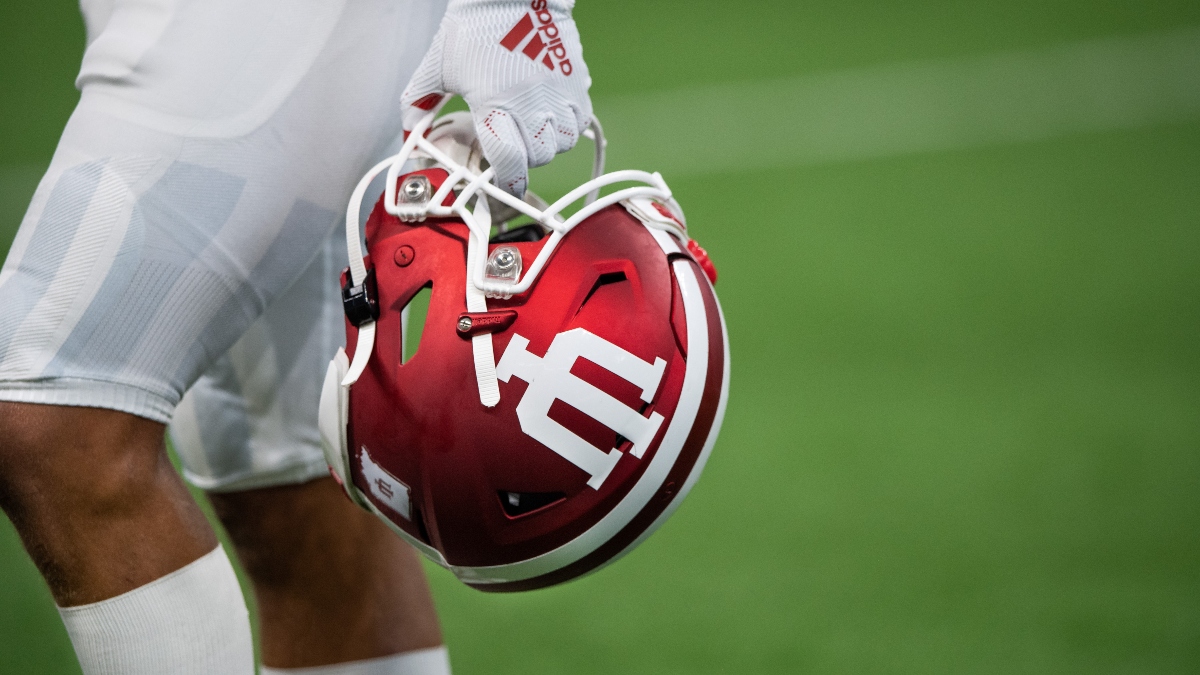 ---
» Return to the table of contents «
---
Projected Win Total: 5.2 · Projected Conference Wins: 2.9
No team in the Big Ten returns more offense than Maryland, as 86% comes back to an offense that will return nearly every snap on the offensive line, per TARP. That's good news for junior quarterback Taulia Tagovailoa, fresh off his best season from a touchdown-to-interception ratio.
The trench provided top-40 ranks in Standard and Passing Downs Sack Rate but struggled to control the line of scrimmage in rushing attempts.
Head coach Mike Lockley enters his fourth season with a lethal receiver combination of Rakim Jarrett and Dontay Demus. Before a season-ending injury against Iowa, Demus ranked 11th in the nation in yards per route run, showing why he's one of the most explosive weapons in the conference.
Maryland will take advantage of defenses with little experience in the back seven — an issue that could plague the Terps' defense this season.
Defensive coordinator Brian Williams impressed as a play-caller in the final games of 2021, but his defense fields two new safeties and edge rushers.
Neither were strong points for Maryland last season, ranking outside the top 100 in pass rush and coverage grading. Nickel Tarheeb Still and cornerback Jakorian Bennett return after posting 24 pass breakups, each placing within the top 50 nationally in individual passes defensed.
With one of the most explosive offensive units and experience returning on defense, Maryland projects to be a play-on team in nonconference play before the Big Ten opener at Michigan on Sept.24.
Three of its four winnable conference games come at home against Purdue, Indiana, Northwestern and Rutgers.
Ultimately, for Maryland to go over a posted total of six wins, the home game against SMU is a must-win. Game of the Year numbers are scarce, as the Terrapins are projected as a small underdog at home.
This is a prime spot to back Maryland against a Mustangs team that's projected to have one of the worst pass defenses in the American Athletic Conference.
This is also a look-ahead game for SMU with former head coach Sonny Dykes and TCU scheduled on Sept. 24.
Pick: Maryland vs. SMU (Sept. 17) · Maryland PK (Play to -3) 
---
» Return to the table of contents «
---
Projected Win Total: 7.7 · Projected Conference Wins: 5.4
Mel Tucker made Michigan State investors plenty of coin in the 2021 season, turning around a team that went 2-5 in his inaugural pandemic season. The head coach is now 7-2 against the spread as a home underdog since his stint at Colorado. It's good timing for the Spartans, as they're set to host Ohio State and Wisconsin this season.
Now, Michigan State is tasked with replacing star running back Kenneth Walker III, receiver Jalen Nailor and a handful of offensive linemen.
Thanks to the transfer portal, the Spartans reloaded at running back with Wisconsin's Jalen Berger and Colorado's Jarek Broussard.
The former Buffaloes rusher has created 69 missed tackles with an average of 3.8 yards after contact over the past two seasons. With 24 rushing attempts eclipsing 15 yards in his career, Michigan State looks to continue an explosive ground attack that contributed to a top-10 Standard Downs Explosiveness Rate last season.
Michigan State's strength through nonconference play will be the defense, returning 77%, per TARP, thanks to seven of its eight top tacklers coming back after the 2021 season.
One area that could dip is pressure from the defensive line; just 51% of the pressures recorded last season return after the departure of Jacub Panasiuk and Drew Beesley.
Transfer edge rusher Khris Bogle from Florida posted nine pressures and 10 tackles over 99 pass rushing snaps last season.
The Spartans are expected to finish with similar ranks as last season after posting a top-35 number in Finishing Drives on both sides of the ball.
Neither the offense nor defense has been the model for Success Rate, but creating and defending explosive plays have been the recipe for Tucker.
Michigan State will have the advantage in coin-flip games against teams that are inexperienced or undersized on the offensive line. Washington and Penn State are both expected to struggle in the offensive trench.
Other close projected games against Wisconsin and Michigan come against spectacular offensive line play that will give the Spartans fits.
MSU's odds to win the Big Ten are too high from a mathematical perspective in probability, but the October stretch featuring Ohio State, Wisconsin and Michigan makes too many pitfalls in the schedule for a hedge.
There are five sure-fire wins on the schedule, with advantages in the Washington and Penn State coin-flip games.
Michigan State is expected to be favorites in eight games and short underdogs in two more, making the over the suggested play for Tucker's third season in East Lansing.
Pick: Michigan State Team Total Over 7.5 (-125)
---
» Return to the table of contents «
---
Projected Win Total: 8.5 · Projected Conference Wins: 6.0
The departure of Brent Pry as defensive coordinator left an opening for former Miami head coach Manny Diaz in State College.
After consecutive years of musical chairs in the offensive coordinator position, head coach James Franklin will now look for stability on the defensive side while returning just 45% of experience, per TARP.
Less than 40% of tackles, pressures and stops return from a 2021 roster that sheds Ellis Brooks and Brandon Smith. Diaz will now look to find replacements after his Miami defense fell to 128th in tackling and 115th in Finishing Drives last season.
Pry leaves behind a long-term defensive scheme that showed multiple two-, three- and four-man fronts with heavy blitz. Penn State will look to stay at those blitz rates under Diaz but with plenty more snaps in just 4-3 and 4-2-5 personnel.
The health of PJ Mustipher proved to be one of the pivotal points of last season, leaving a gap in the middle for teams like Illinois to exploit.
While health was an issue on the defensive side of the ball, second-year offensive coordinator Mike Yurcich returns super senior quarterback Sean Clifford under center.
Clifford had the best season of his career under Yurcich in 2021, posting more big-time throws than the previous three seasons combined. The decision-making improved with the lowest rate of turnover-worthy plays in Clifford's tenure in State College.
Moving into this season, Yurcich's biggest task is replacing an offensive line that loses more than 75% of snaps. There's minimal experience along this offensive line in a scheme that called 128 play-action passes last season.
Line play was abysmal in 2021, ranking 123rd in Line Yards and 125th in Rushing Success Rate.
A bevy of talented running backs fill the backfield, but their ability to generate yards after contact will determine Penn State's ability to stay in standard downs.
Western Kentucky transfer wide receiver Mitchell Tinsley is expected to contribute in the role Jahan Dotson played last season.
Penn State's market win total falls in line with Action Network's projection of 8.5, leaving no value in the number. A better bet presents itself in the Sept. 17 trip to Auburn, closing the series after a Penn State win and cover at home last season.
There's a large mismatch in opposing trenches for this game, specifically in an Auburn defensive line that's expected to be the best in the SEC.
Despite Clifford's success under Yurcich, the offensive line is unproven and will start the season with two road trips to Purdue and Auburn in the first three games.
Look for Auburn to dominate the trench and keep Clifford under pressure in a revenge spot for head coach Bryan Harsin.
Pick: Penn State vs. Auburn (Sept. 17) · Auburn -1
---
» Return to the table of contents «
---
Projected Win Total: 9.3 · Projected Conference Wins: 6.3
The biggest question for Michigan heading into the season is whether the Wolverines' success in reaching the playoff was due to two highly-respected coordinators or head coach Jim Harbaugh.
Offensive coordinator Josh Gattis left Ann Arbor to take the same position at Miami after producing a unit that finished top-30 in Success Rate and Finishing Drives. More importantly, the Wolverines finished as the top team in the nation in Havoc Allowed.
New co-coordinators Matt Weiss and Sherrone Moore were on staff last season. However, their offensive line returns just 40% of its snaps from last season. Virginia transfer Olusegun Oluwatimi is the biggest addition from the transfer portal, filling in at the center position for an offense that thrives on pounding the rock.
The defense also has a change at the coordinator position after Mike MacDonald's pit stop from the Baltimore Ravens. MacDonald goes back to Baltimore as its defensive coordinator, but Harbaugh elected to pull another coach from the staff in Jesse Minter, who served under John Harbaugh from 2017-20.
The Wolverines thrived on a defense that switched between a 4-3 and 3-3-5 against opponents, finishing seventh in tackling and 12th in Finishing Drives. Minter is expected to keep the same personnel, schemes and blitz packages from a season ago.
Michigan loses more than 50% of experience on the defensive side, looking to replace six of its top nine tacklers from a season ago. More than 70% of pressures are gone with the departure of Heisman runner-up Aidan Hutchinson, but relief is expected from the schedule.
The Wolverines draw Iowa and Illinois in cross-division play, marking the second-easiest schedule of projected offenses among all Big Ten teams.
In the face of losing two coordinators and a Heisman Trophy runner-up on defense, Michigan is expected to be favorites in 11 of its 12 games this season.
Coin-flip games are few and far between, as Michigan projects to be a short favorite against Iowa at Kinnick Stadium and at home against Penn State. If either of those games ends in a win for Michigan, the finale against Ohio State is expected to have minimal impact on the result of the win total.
Considering there's no scheme change and a projected uptick in special teams production, Michigan is a win total over bet with all eyes on a trip to Iowa City on Oct. 1 as the key game on the schedule to cash a ticket.
Pick: Michigan Team Total Over 9.5 (-125)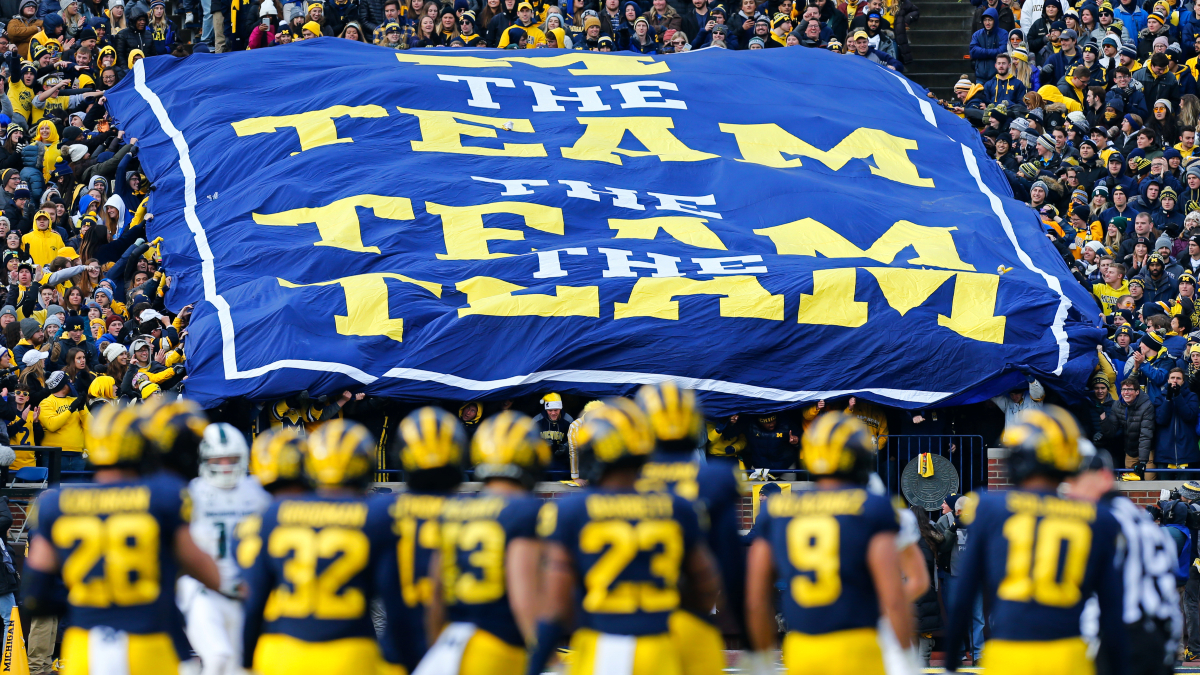 ---
» Return to the table of contents «
---
Projected Win Total: 11.9 · Projected Conference Wins: 8.9
The Buckeyes are projected as double-digit favorites in every game this season with expectations of fielding one of the best offenses in recent college football history.
Heisman contender CJ Stroud returns at quarterback after posting 21 touchdowns to just two interceptions in blitzed dropbacks. The sophomore finished third among all quarterbacks in adjusted completion percentage with the best NFL quarterback rating in all of FBS.
Losing two NFL Draft picks at the wide receiver position would hinder most teams, but the return of Jaxon Smith-Njigba makes Ohio State the deadliest air attack in the country.
Head coach Ryan Day struggled to find consistency on defense throughout the depth chart and coaching staff. Day plucked elite defensive coordinator Jim Knowles, who spent the last four seasons at Oklahoma State.
While the Buckeyes struggled to stop explosive plays, the Cowboys finished top-five in big-play defense, Havoc, Line Yards and coverage. Finishing Drives fell out of the top 50 for Ohio State, allowing teams such as Minnesota and Purdue to score more than 30 points.
Knowles is expected to implement the 4-2-5 with minimal blitz, allowing the four-man front to generate Havoc.
Edge Zach Harrison finished 34th of all edge rushers in pass rush grading last season.
"Ohio State to win the College Football Playoff" at +800 was the first betting ticket I acquired after Alabama and Georgia played in the National Championship game.
That number has come down through the spring and summer, giving minimal value to the number.
While national title and Smith-Njigba Heisman tickets are in my investment portfolio, there's an opportunity to play on the first game of the season against Notre Dame.
An opener of Ohio State -10.5 has steamed to -14.5 with expectation of closing toward -17 before the first kick of the season. The last time Day's offense took on a Marcus Freeman defense came in 2019, when the Buckeyes posted a 28-0 lead by halftime.
Notre Dame returns a healthy amount of defenders at 83%, per TARP, with elite players in the back seven. But the handicap is on offensive coordinator Tommy Rees' ability to keep up with minimal resources at the skill positions.
Tyler Buchner and Drew Pyne are expected to battle to replace quarterback Jack Coan, while the Irish also lose more than 50% of their rushing yards from last season.
Notre Dame will start redshirt freshman Blake Fisher at tackle, a hot spot against Harrison and other defensive linemen in Knowles' scheme. This offensive line posted a rank of 68th in Havoc Allowed and 100th in Line Yards.
Ohio State will leave its mark as the top team in the nation following the opener against Notre Dame.
Pick: Ohio State vs. Notre Dame (Sept. 3) · Ohio State -14.5
---
» Return to the table of contents «
---
Projected Win Total: 3.7 · Projected Conference Wins: 1.6
The first season of the Bret Bielema era at Illinois was a success, increasing the Illini's record by three wins and coming up just shy of making a bowl.
Illinois posted a 4-1 mark against the spread in road underdog spots with outright victories over Penn State and Minnesota. Karma took over in one-possession games, losing to UTSA, Maryland, Purdue and Rutgers by a combined 20 points.
Bielema is expected to exceed those five wins and make the postseason despite a roster that returns less than 56% of experience on both sides of the ball.
Brandon Peters' college clock expired, so Illinois elected to use the transfer portal to grab Tommy DeVito from Syracuse. The fifth-year junior must improve an offense that fell consistently behind schedule and ranked 124th in Passing Downs Success Rate.
The Fighting Illini had one of the worst ranks in the nation in points per opportunity as well, as drives that crossed the 40 rarely resulted in touchdowns.
Offensive coordinator Barry Lunney Jr. rejoins Bielema after serving as tight ends coach at Arkansas. Lunney previously served as coordinator at UTSA, where the Roadrunners finished 26th in Finishing Drives and 22nd in Passing Downs Success Rate.
The defense improved under coordinator Ryan Walters last season, leaving a mark of 12th in tackle grading and 28th in coverage. While the offense struggled in the red zone, the defense finished 12th in FBS when it came to opponent touchdown percentage in the red zone.
Half of the defense returns in every unit, but just 40% of pressure from last season will be on the roster in 2022.
Cornerback Devon Witherspoon returns to stabilize the defense after producing seven tackles for loss and nine pass breakups.
The Illinois season must have positive answers among many question marks to make a return to a bowl. DeVito must return to his 2019 form when he threw for more than 2,300 yards with a 19:5 touchdown-to-interception mark.
Bielema is known for offensive lines but returns just 25% of experience from snaps last season.
The Fighting Illini will be more than a touchdown favorite over Wyoming and Chattanooga, but a number of other small underdog spots on the schedule must result in a win.
Indiana, Virginia and Northwestern are all spots Illinois must win as an underdog to get over the win total number. None of those teams have the defensive front seven to stop the ground-and-pound attack that Bielema wants to run.
The remaining seven games project Illinois as double-digit underdogs, leaving little wiggle room for Illinois to top the current win total number.
Pick: Illinois Team Total Under 4.5 (-105)
---
» Return to the table of contents «
---
Projected Win Total: 4.5 · Projected Conference Wins: 2.0
No team in college football has crypto-like volatility in win totals like Northwestern. A record of 3-9 in 2019 and 2021 fell in between a 26-10 record from the 2017, 2018 and 2020 seasons.
From an advanced analytics perspective, the formula was based upon Defensive Finishing Drives. The successful 2017 and 2020 seasons were led by a Wildcats defense that finished top-10 in opponent points per opportunity.
As Pat Fitzgerald's club struggled to win three games last season, the Wildcats posted a rank of 108th in Defensive Finishing Drives. If Northwestern becomes predictable by simply looking at its ability to keep teams out of the end zone, there must be vast improvement in coordinator Jim O'Neil's second season.
Northwestern returns a middling number in experience on the defensive side of the ball at 64%.
Pressures, stops and tackles take a hit in returning production, but the most positive aspect heading into camp is 85% of passes defensed returning for the 2022 season. AJ Hampton and Cameron Mitchell return at the cornerback position to limit all wideouts on the Wildcats' schedule.
The offense has 66% of experience back from last season, per TARP. More than 80% of the offensive line snaps and rushing yards return for the third season for coordinator Mike Bajakian.
Northwestern had nearly a 10% bump in the number of pass attempts last season — the result of a rank outside the top 100 in Standard Downs Success Rate.
There was no consistency in a run game that spiraled in explosiveness and line yards. Northwestern fell to 115th in first downs and depended on quarterback Ryan Hilinski's average of 5.5 yards per passing attempt.
When the offense did have scoring opportunities, the Wildcats finished near dead last at 2.9 points per trip inside the 40-yard line — a full point less than the 2020 season.
If Defensive Finishing Drives is any indicator for Northwestern, the end of the 2021 season did not finish with positive reviews. The Wildcats allowed 114 points to Wisconsin, Purdue and Illinois.
The good news is this season doesn't feature any dominant offenses in the first half of the schedule. After starting the season in Dublin against Nebraska, the Wildcats will take on Duke, Southern Illinois and Miami (Ohio). Northwestern will be favored in those three games, leaving any of the remaining nine as a chance to win and push the season win total wager.
The Wildcats will have success against teams that rely on explosiveness in the receiving ranks. Although Maryland, Nebraska and Purdue have talent on the outside, Northwestern is prime to upset teams that cannot swivel to the rush.
The Action Network win total projection falls at 4.5 with three clear-cut wins on the schedule.
Look for O'Neil to return Northwestern to the top 100 in numerous defensive categories, specifically Defensive Finishing Drives.
This is a chance to catch the stock on a dip with hedge chances throughout the year.
Pick: Northwestern Team Total Over 4 (+105)
---
» Return to the table of contents «
---
Projected Win Total: 6.5 · Projected Conference Wins: 4.1
There are high preseason expectations for a Purdue team fresh off a Music City Bowl victory over Tennessee.
The Boilermakers notched a victory over two top-five teams a season ago in Iowa and Michigan State, thanks to both sides of the ball ranking top-40 in Success Rate and Finishing Drives.
Quarterback Aidan O'Connell returns to the 11 personnel offense that throws on 67% of downs.
O'Connell's top three targets have moved on, but receiver Broc Thompson and tight end Payne Durham bring 10 touchdowns from last season.
The addition of Charlie Jones from Iowa gives Purdue a possession receiver who was low in yards per route run but racked up 17 first downs for the Hawkeyes offense last season.
This is still a high-octane offensive unit that finished fourth in Passing Success Rate last season.
The defense loses two top tacklers and all-Havoc edge rusher George Karlaftis, but 71% of passes defensed fill the back seven. Safety Cam Allen thrived in the 36 passing attempts he was targeted, hauling in four interceptions on the season.
Purdue has improved its fundamentals, moving up to 25th in tackle grading while limiting explosiveness on known passing downs. The best way to attack the Boilermakers was in early downs, where Purdue ranked 115th in defending standard downs explosiveness.
Purdue will face the second-easiest schedule of offenses, per SP+. The cross-division schedule avoids Michigan, Michigan State and Ohio State, while the season ends with the easiest slate of offenses in Iowa, Northwestern, Illinois and Indiana.
Despite the ease of scheduled offenses, Purdue will be a comfortable favorite in only four games.
The opener against Penn State comes against the Big Ten's projected top secondary. Minnesota, Maryland and Nebraska are all coin-flip games against offenses that can attack a poor linebacker unit for the Boilermakers.
There's reason to believe the defense will take a step back with the departure of coordinator Brad Lambert, the new coordinator at Wake Forest.
The projection for Purdue falls below seven wins, indicating a play on the under after a copious amount of steam in the futures market. The Boilermakers are the dark horse to win the division, but a single moneyline ticket against Wisconsin is the better investment.
Pick: Purdue Team Total Under 7.5 (-135)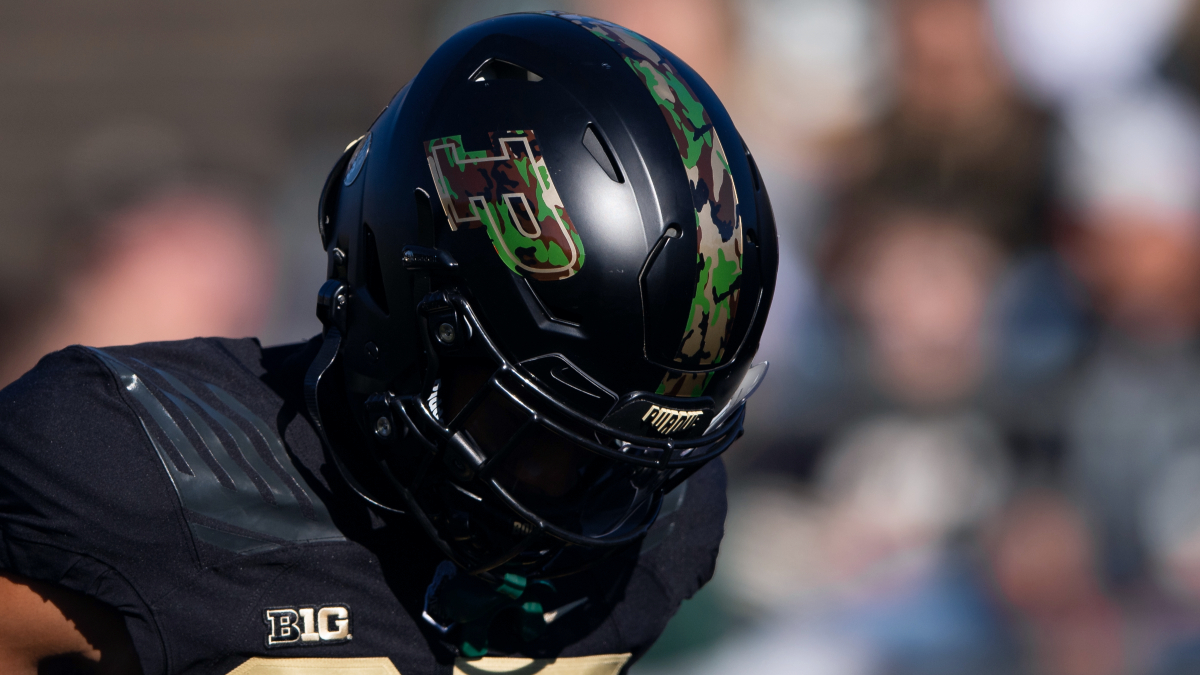 ---
» Return to the table of contents «
---
Projected Win Total: 6.8 · Projected Conference Wins: 4.6
The Gophers offense has remarried with offensive coordinator Kirk Ciarrocca after a two-year absence. Minnesota was a College Football Playoff outsider in 2019, ending with an 11-2 record and a victory over Auburn in the Outback Bowl.
Ciarrocca was soon hired by James Franklin at Penn State. After a season in the books, Franklin elected to move on from Ciarrocca with the chance to nail down Mike Yurcich.
The road has come full circle for the coordinator in rejoining PJ Fleck's staff, as he looks to return to his 2019 ranks that included top-20 marks in Success Rate, explosiveness and Finishing Drives.
Three offensive players gladly welcome back the coordinator, including quarterback Tanner Morgan, running back Mohamed Ibrahim and receiver Chris Autman-Bell.
Minnesota struggled in the wake of Ibrahim's injury last season, falling to 70th in Offensive Success Rate and 81st in Finishing Drives. Minnesota will return to an offense that ran 11, 12 and 10 personnel while feeding Ibrahim on third-down attempts.
The biggest area of concern is the offensive line, as just 29% of snaps from the 2021 season remain on the roster. Center John Michael Schmitz returns over 800 snaps, but no other player logged more than 40 in passing attempts.
Defensive coordinator Joe Rossi saw remarkable improvement last season, finishing 16th in Success Rate. Minnesota was excellent at getting teams off the field by forcing drives into passing downs and posting a top-25 opponent third-down conversion rate.
The Gophers were best in the nation defensively in Passing Downs Success Rate despite owning a tackling grade rank of 74th. Now, six of the top 10 tacklers depart, leaving less than 30% of experience returning in tackles, pressure and stops.
Minnesota will continue to play excellent defense in the secondary, but the ability to stifle the opposing rush or stop crossing routes over the middle could be the Achilles' heel for this defense.
Minnesota is considered a dark horse to win the West, but six games on the schedule fall within a projection of a six-point spread. Of the remaining games, only nonconference play, plus Rutgers and Northwestern, are expected to be high-probability wins.
The inexperience in the trench is the biggest issue for Minnesota heading forward. Iowa, Nebraska, Wisconsin and Illinois are expected to have better trench play on both sides of the ball.
Ciarrocca's return will make this an exciting, explosive offense to watch. But without a solid base of offensive linemen, this season could come down to Morgan throwing under pressure.
Pick: Minnesota Team Total Under 7.5 (-120)
---
» Return to the table of contents «
---
Projected Win Total: 8.1 · Projected Conference Wins: 5.4
The biggest interest heading into last season centered on whether Graham Mertz was as good as his near-perfect opener in 2020 against Illinois or if he was a shade of that version after spending most of the pandemic season injured.
Instead, Wisconsin struck gold in the running back department with then-17-year-old Braelon Allen. Mertz completed last season in disappointing fashion, throwing more turnover-worthy passes and interceptions than big-time throws and touchdowns.
The former four-star saw small improvement in passer rating under pressure, but Wisconsin stuck to ground-and-pound with an elite rusher in the form of Allen.
Allen consistently faced eight men in the box and continued to create missed tackles and bull rushed to the best season of any freshman running back. Wisconsin found a running back who averaged 4.5 yards after contact and posted 18 attempts for more than 15 yards.
Allen returns to an offense that's looking for answers on the offensive line while losing the three leading receivers from last year.
Head coach Paul Chryst often lines up in 12 and 21 personnel to have the advantage in the run game, as the offensive line will start five players with at least 300 snaps of experience.
Wisconsin may never resolve finishing dead last in passing downs explosiveness, but any opponent that cannot defend the rush will be hard-pressed to get the Badgers into third-and-long.
The defense loses eight of its top 10 tacklers from a season ago, checking in below 50% in experience, per TARP. Coordinator Jim Leonhard has been in this spot before with a depleted Wisconsin defense but has managed to produce top-25 defenses in those respective seasons.
There's expectation of a small drop-off after the Badgers finished top-five in nearly every advanced statistical category. The fresh faces in the back seven will be on alert in Week 2 against a Washington State team that features a heavy influx from Incarnate Word.
Crossover games against the East Division add plenty of strength to the schedule this fall. The Big Ten powers that be gave the Badgers road dates against Ohio State and Michigan State, along with playing host to high-flying Maryland.
The good news for Wisconsin is it plays in the West Division, where every team outside of Iowa will have issues defending the run with their respective front seven. That makes Wisconsin a contender for the West, but the better bet should be on its team total under.
There are seven defenses on the schedule that cannot defend the run, but the remaining opponents will force Mertz to complete passes on third down — an area Wisconsin finished 111th in last season and will continue to hold the Badgers out of Big Ten Championship contention.
Pick: Wisconsin Team Total Under 8.5 (+125)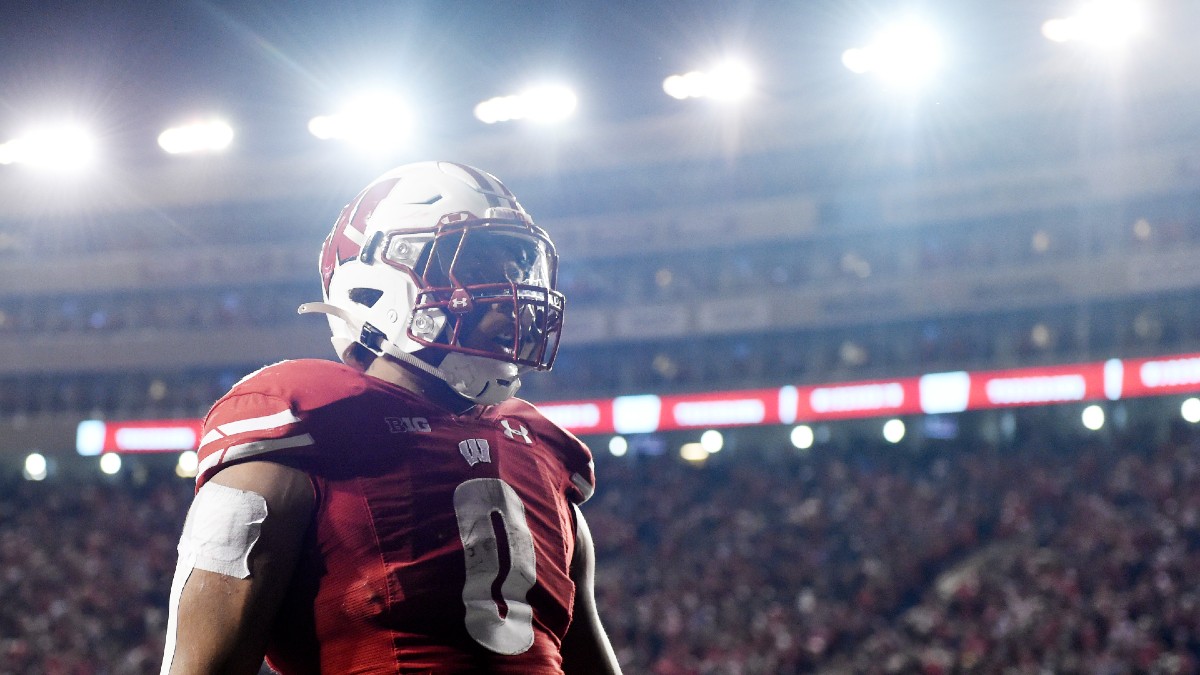 ---
» Return to the table of contents «
---
Projected Win Total: 8.5 · Projected Conference Wins: 6.2
Through the first six games of last season, the Hawkeyes accumulated a +15 turnover ratio, leading to an unblemished record with two victories over top-10 teams. The turnover faucet eventually turned off, and issues on the offensive end resulted in losses.
Quarterback Spencer Petras threw one touchdown against seven interceptions in the second half of the season. Iowa finished bottom-10 in Offensive Rushing and Passing Success Rate and owned one of the worst Finishing Drives marks of all FBS teams.
Despite struggles on offense, Petras generated a better big-time throw to turnover-worthy play ratio than in 2020 while producing just a single interception in 101 pressured dropbacks.
Per TARP, Iowa returns 87% of rushing yards and 67% of offensive line snaps from an experience perspective.
Petras will have his top three targets in the passing game, but the loss of Tyler Goodson in the backfield leaves question marks as to whether Gavin Williams will be the only contributor to the offense.
The Hawkeyes were stellar on defense, finishing top-25 in tackling, defending explosive plays and pass coverage grading, per PFF. Nearly 80% of pressures from last season return to the Hawkeyes defense, projecting Iowa to field another top unit in Big Ten play.
Iowa received an offseason power rating bump thanks to a healthy amount of experience on the offensive side of the ball, specifically in passing and rushing yards.
A slight downgrade was given for a perfect record in games decided by one possession, with a projection of five games this fall that will have close spreads.
The entire month of November — games against Purdue, Wisconsin, Minnesota and Nebraska — is projected to have a spread of five points or less.
Before November, Iowa's expected to enter as double-digit favorites in six games. Winning half of the coin-flips in November will get Iowa to eight wins — a clear expectation as Petras continues to progress in running the Hawkeyes offense in his third season as a starter.
Pick: Iowa Team Total Over 7.5 (-115)
---
» Return to the table of contents «
---
Projected Win Total: 9.4 · Projected Conference Wins: 6.5
Ask any fan or alum what's wrong with Nebraska football and the answers could vary from bad luck in one-possession games to turnovers to the coaching style of Scott Frost.
Ask any seasoned sports bettor about the Cornhuskers, and the answers would be much different after a profitable 7-4-1 against-the-spread mark last season.
Athletic Director Trev Alberts made it clear that Frost must improve this team after a three-win season. Nebraska has not made it to a bowl game since 2016 and has gone even longer in terms of being relevant in the conference title picture.
The good news is the fumbles are regressing, albeit at a snail's pace. The 2019 season saw the Cornhuskers as the worst team in the nation when it came to ball protection, followed up by 22 fumbles during the shortened pandemic season of 2020. Last season, that number shrunk to just 17 — a step in the right direction.
After four years of Adrian Martinez at quarterback, a new starting quarterback takes over. Martinez posted 30 interceptions and 42 fumbles in his career before transferring to Kansas State. Now, Texas transfer Casey Thompson takes over in Lincoln.
The junior quarterback has a 30:9 touchdown-to-interception ratio and is accustomed to constant pressure. Thompson was sacked 15 times for the Longhorns last season, and his targets dropped passes 14 times.
The issues come when a crowded pocket presents itself, as Thompson had twice as many turnover-worthy plays as big-time throws in pressured dropbacks.
More than 83% of offensive line snaps return from a unit that ranked 125th in pass blocking.
The biggest change comes at the coordinator position, as Mark Whipple will take on the role after previously working at Pitt. Whipple is known for running an uptempo brand, as Pitt ended last season ranked 23rd in seconds per play.
If there was a question of how much influence Frost will have with his new coordinator, the answer is not much. Frost indicated at Big Ten Media Days he will have an influence on game day, but his absence in the planning will allow him to give attention to defense and special teams.
Frost moved out his offensive line coach for Donovan Raiola, who previously served as an assistant with the Chicago Bears. There may not be a bigger spotlight in Lincoln than what's on Raiola after the Bears finished dead last in offensive adjusted sack rate.
The defense returns a mixed bag of experience with 56% of passes defensed returning versus 87% of pressure. Garrett Nelson is one of the best Havoc initiators in the conference. The Huskers will lean into experience rushing from outside the tackles, as two new interior linemen take over starting roles.
Coordinator Erik Chinander continues to run an aggressive amount of blitz from 3-4 and 2-5-4 personnel groupings.
The biggest improvement last season was the Cornhuskers' ability to keep opponents from scoring when given opportunities. Nebraska finished eighth in Defensive Finishing Drives, allowing only half of their opponent red-zone attempts to end in a touchdown.
For years, Nebraska has been the darlings of second-order win total, a Pythagorean look at a true winning percentage.
If regression is coming to turnovers and victories, the schedule is conducive to help. Nebraska dodges Ohio State, Michigan State and Penn State from the East. The Huskers' first road battle doesn't come until October against Rutgers.
Nebraska will play host to Wisconsin and Minnesota, while a season finale game against Iowa in Kinnick may decide the division.
Nebraska will be comfortable favorites in seven games, but the crux of the season comes in the final two against Wisconsin and Iowa.
The Huskers will be the primary challengers to their final two teams on the schedule, making a division bet worthy of investment with a hedge strategy that can wait until just before Thanksgiving.
With Frost giving way to a proven offensive coordinator, expect this version of the Huskers to be more efficient with tempo this season.
Pick: Nebraska to Win Big Ten West (+380)
---
» Return to the table of contents «
---
How would you rate this article?
This site contains commercial content. We may be compensated for the links provided on this page. The content on this page is for informational purposes only. Action Network makes no representation or warranty as to the accuracy of the information given or the outcome of any game or event.