CFP National Championship Player Prop Picks: The Alabama Bets to Make vs. Ohio State
Credit:
Credit: Getty Images. Pictured, from left: DeVonta Smith (6) and Najee Harris (22).
Alabama vs. Ohio State Odds
---
Alabama has put up a historic season in terms of Success Rate. A matchup with Ohio State in the National Championship on Jan. 11 will only open things up more for the Crimson Tide's playmakers.
With an offense that includes the Heisman Trophy winner in DeVonta Smith and one of the best running backs in the country in Najee Harris, the Mac Jones will have plenty of options when it comes to distributing the ball.
Wide Receiver DeVonta Smith
Two areas of concern for the Buckeyes are missed tackles and pass coverage. 
Ranked 35th in pass coverage by Pro Football Focus, Ohio State free safety Josh Proctor and cornerback Shaun Wade posted the lowest grades against Clemson. Cornerbacks Marcus Williamson and Sevyn Banks both missed two tackles each, as seven different defensive players allowed Trevor Lawrence to complete a target of 15 yards or more. 
That has been the critical data point for the Buckeyes all season long, as it ranks 84th in opponent big plays through the air. Over 17% of passes completed against Ohio State go for more than 15 yards. Specifically, Wade will have to stay with his assignments unlike he did on a Trevor Lawrence-to-Cornell Powell touchdown in the Sugar Bowl.
In 40 combined targets, Wade and Williamson are allowing opposing quarterback ratings over 115. Wade's six allowed touchdowns on the season are more than all other Buckeye back seven defenders combined. If there's a place for Mac Jones to find explosiveness, it's identifying who Wade will cover pre-snap. 
As for who on Alabama will find the most success in the passing game, that will come in the right outside receiver position. That spot draws the most targets with a quarterback rating of 113.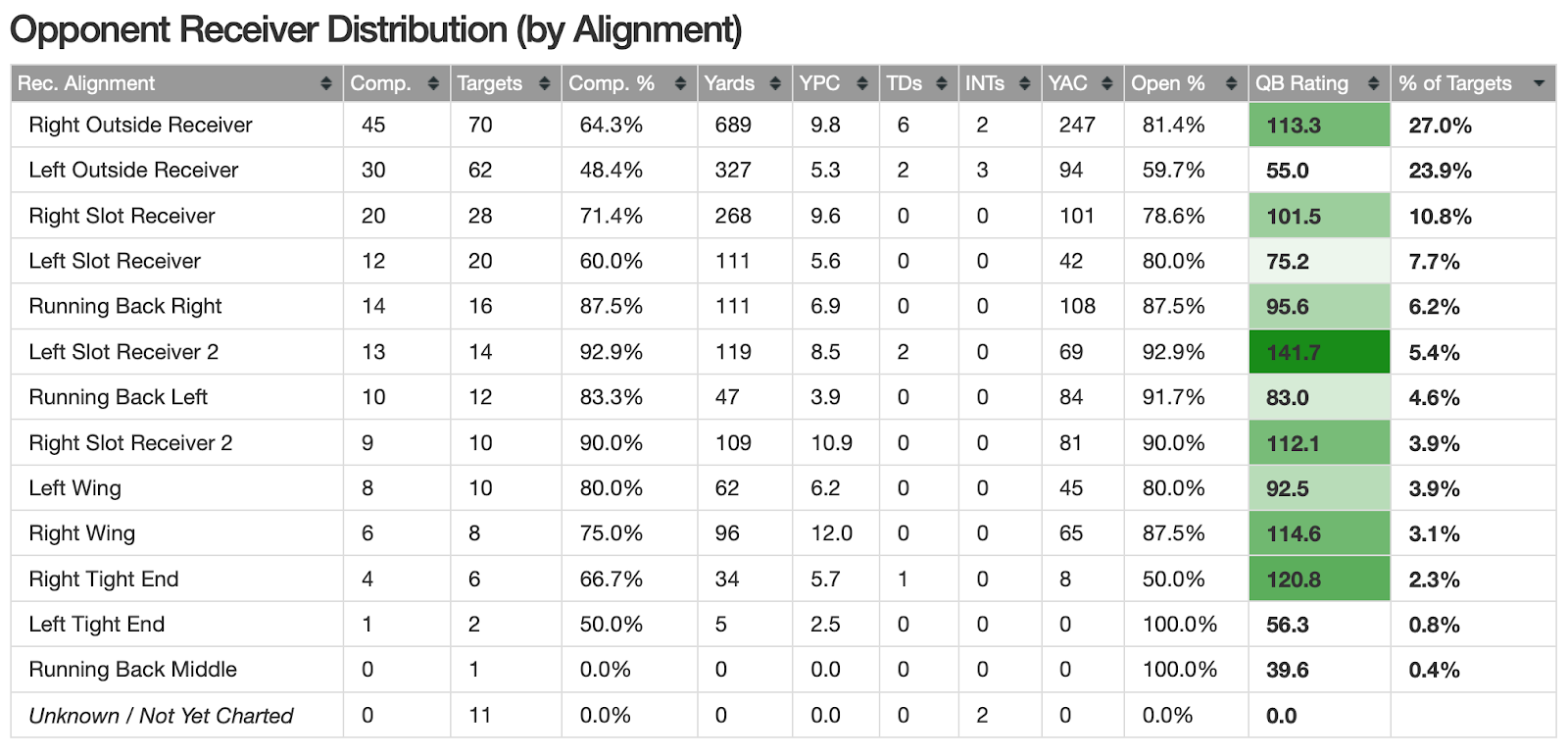 While Williamson is expected to take the slot position defensively, Banks and Wade will defend the corner spots against John Metchie and DeVonta Smith.
Smith split time most of the season between the slot and wideout position, but that ratio has grown for the outside position over the past two games. 
Smith has 94 snaps as the left or right wideout and only 42 in the slot over the past two games against Notre Dame and Florida.
One reason for Smith getting relief in the slot position is the emergence of tight end Jahleel Billingsley. The sophomore tight end lined up in the slot 14 times against Notre Dame, a decent amount of work before facing an Ohio State defense that struggles to defend the position. 
No matter if Jones is going quick-strike to the outside receivers or deep through the Ohio State secondary, the Crimson Tide targets will accumulate plenty of yards after catch. 
Right outside receiver is Jones' primary target area, isolating Metchie and Smith. Metchie's targets have come down over the past several games, collecting a season-high nine targets against Arkansas but just a total of nine over the past two games against Florida and Notre Dame. Whether it's a push to prove Smith deserved the Heisman Trophy or just a result of game plan, no Metchie props can be played. 
Smith has been listed as the left outside receiver the past three games after a stint in the slot against Auburn and LSU. Smith will draw head-to-head action with Wade. 
Targets for Smith may be a little tough to project as the totals weave in and out of double-digits each game. Smith tallied 40 total targets against Kentucky, LSU and Florida and only 18 in games versus Auburn, Arkansas, and Notre Dame. 
One area that can be counted on is Smith's longest catch prop. Jones has connected with Smith for a minimum 30-yard pass in eight of the past 10 games. In three of the past seven games, Smith has logged at least a 53-yard catch. Look for any DeVonta Smith longest reception over 40.5 yards or better when props hit the board. 
Player Prop Pick: Longest reception over 40.5 yards or better.
Tight End Jahleel Billingsley
If dealing with Najee Harris, Smith and Metchie wasn't enough for any defense, coordinator Steve Sarkisian has gravitated to more 12 personnel as the season goes on. Tight end Billingsley tied his season record of targets with four, catching every attempt and even going for a score against Notre Dame.
Opposite of Billingsley is tight end Miller Forristall, who has become Jones' most reliable target, catching 23-of-27 targets on the season while not dropping a pass since the 2016 Texas A&M contest. 
The tight end duo is not going away in the Alabama attack, as half of Forristall's targets have come in the past three games, while Billingsley has hauled in all 15 targets over the past five games played. After Sark paid little attention to two-tight end sets in recent years, 25% of all Alabama formations are now in 12.
Billingsley has missed just one target the entire season, coming in Week 8 against Tennessee. Since then, the sophomore tight end has caught all 15 targets and has collected a touchdown in three of his last four games played.
It's a monster longshot that Sark would call for No. 19 in the red zone, but his usage in the passing game continues to increase. As Saban and Sark continue to sing the praises of the tight end, look for the prop Billingsley over 2.5 receptions.
Player Prop Pick: Over 2.5 receptions.
Running Back Najee Harris
Finally, Harris should be at the top of all names for first touchdown scored.
Alabama ranks fifth in the nation in red-zone touchdown scoring, utilizing the rush in 62% of those scores.
The Crimson Tide are one of the heaviest teams in terms of utilizing the run in scoring opportunities, but with Najee Harris first touchdown +400 or better not offering a ton of value, there could be opportunity at other positions.
Player Prop Pick: First touchdown +400 or better.
My Full Betting Card of Alabama Player Props:
DeVonta Smith: Longest reception over 40.5 yards
Jahleel Billingsley: Over 2.5 receptions (no higher than 3)
Najee Harris: First Touchdown +400
How would you rate this article?