CW9: Week 7 college football betting guide
The CW9 will take a weekly look at nine of the college football games that I'm interested in from an investment standpoint. I will focus on a number of factors, such as unit specific mismatches, scheduling opportunities and discovering value in the the market perception of teams. You can follow all of my plays for free on the SportsAction App through the App Store or Google Play.
---
Florida State at Duke +7.5
Date: Saturday, October 14th 12:00 pm ET
Notes: Florida State was a confident play in Week 6 until the last second of the game against Miami when a Hurricane touchdown pass killed all Seminole +3 tickets. Braxton Berrios is still running around in my nightmares this week. This should be considered a letdown spot for Florida State as Jimbo Fisher tries to rally the troops and find some meaning to the 2017 season. Florida State has never traveled well outside of their home state, and new QB James Blackman loses one of his WR targets in Keith Gavin (downgraded to doubtful). Duke enters the game 4-2 on the season (and against the spread) looking to get closer to bowl eligibility. That was stunted in Week 6 with the Blue Devils having a costly turnover in the UVA game.
Duke has made strides thanks to the seventh-most efficient defense in all of FBS. This bodes well against an FSU squad that ranks just 120th in offensive efficiency. The Blue Devils are prone to giving up the big play, but allowing just 4.72 yards per play on defense should be enough to get the cover.
The Pick: Duke +7.5
---
Michigan at Indiana +7.5
Date: Saturday, October 14th 12:00 pm ET
Notes: Michigan was still looking for an offensive identity in the driving rain last week, with John O'Korn contributing to five turnovers in a loss to Michigan State. In previous weeks against Purdue and Air Force, the Wolverines had problems converting red zone trips into points. This week they get a conference opponent that can play quality defense in Indiana. Indiana was sleep walking through Charleston Southern, but did have a few explosive plays.
While Michigan may be the No. 1 team in the nation for defensive efficiency, Indiana is ranked eighth in limiting explosive plays. I expect the Wolverines to take a step back from the passing offense and get the ground game going, which plays into a disciplined Indiana defense that ranks 27th in sacking the quarterback. Look for first half and full game unders which should add value to the home dog.
The Pick: Indiana +7.5
---
Appalachian State at Idaho +13
Date: Saturday, October 14th 5:00 pm ET
Notes: Who doesn't love a little Funbelt action in Moscow? There aren't many more games in the Kibbie Dome before the Vandals are relegated to the FCS. Appalachian State has been looking for a loss over the past couple of weeks. Although the final scores have been victories, App State needed six picks and 28 fourth quarter points to come back against New Mexico State. Prior to that, the Mountaineers needed a second half comeback in San Marcos to beat Texas State. Appalachian State generally crushes inferior conference opponents, but these struggles can be attributed to an offense that ranks outside the top 100 in efficiency. The 2017 App State team now relies solely on explosive plays, ranking 10th in the nation.
Idaho will be the first team that is prepared to defend the big play, currently ranking 21st in explosive plays allowed. Idaho also ranks 16th in the nation in sacks. Buckle up with the Vandals and don't forget the moneyline.
The Pick: Idaho +13
---
New Mexico State at Georgia Southern +7.5
Date: Saturday, October 14th 6:00 pm ET
Notes: As fun as it's been to ride the Aggies of New Mexico State this season, this will be the third road game in a matter of 15 days. New Mexico State has listed star RB Larry Rose III as probable, but it may not be enough to keep the chains moving. Georgia Southern ranks fifth in the nation in time of possession, which is a direct reflection of the offense they run. New Mexico State relies on quick strikes and ranks 105th in time of possession. NMSU crawls into this game just not beat up at RB, but two defensive line starters are out along with a questionable offensive lineman. Look for the Eagles to take advantage of a well-traveled Aggies team to obtain a cover and possibly their first season victory.
The Pick: Georgia Southern +7.5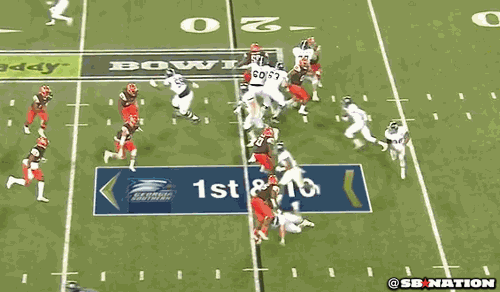 ---
Middle Tennessee State at UAB +6.5
Date: Saturday, October 14th 6:30 pm ET
Notes: The Blazers are back! Quietly, UAB has been getting better week by week. After having some holdover players, junior college transfers and a head coach all pouring their hard work into this program, it may have a payoff with a bowl trip at the end of the season. The point spread is where I make it, at UAB +6.5, while S&P+ has this UAB +4. We will take all the points we can get. Middle Tennessee State has struggled this year with health, specifically starting quarterback Brent Stockstill. This puts more pressure on a Blue Raiders defense that ranks 16th in rushing yards per attempt. The Blazers match up well against the Blue Raiders in areas like finishing drives (28th vs. 73rd). Finishing drive statistics look at the number of points converted once a team gets past the 40, and MTSU ranks in the bottom 10 of FBS at 120th with their offense. UAB comes in hot on third downs, converting 52 percent of the time for fifth in the nation. I'll ride this efficient Blazers team that turns long drives into points.
The Pick: UAB +6.5
---
East Carolina at UCF O 41 1H
Date: Saturday, October 14th 7:00 pm ET
Notes: Need a game that pits the hottest team in explosive plays against the worst team at defending them? Look no further than East Carolina (124th defending explosive plays) and Central Florida (first in explosive plays). Scoring 40 in the first half of UCF and East Carolina games has not been tough this far in the season. As an added benefit in this over, the Pirates rank 106th in defensive field position and finishing drives… meaning UCF will get great field position and easy access to the end zone. This should bode well for the team that is playing in their "Space Uniforms."
Also a bonus is Central Florida's 88th ranked explosive play defense. The heavy first half side of UCF -22 might be too much if ECU does their own scoring, but what we do know is that there will be scoring frequently in Orlando.
The Pick: Over 41 first half
---
UTSA at North Texas +2.5
Date: Saturday, October 14th 7:00 pm ET
Notes: The Roadrunners have been a personal favorite since they joined the FBS years ago. Sadly, fading UTSA will be the call in Week 7. UTSA comes off a loss to Southern Miss which exposed some holes in the Roadrunners' defense. UTSA is 129th in explosive plays allowed, meaning any team that can break big plays should score at will. North Texas comes off a bye week but has had an impressive 2017 to date, including a ranking of 15th in explosive plays. If you haven't seen the Mean Green in 2017, it has been efficient on both sides of the football.
Don't forget that this is a revenge game for the Mean Green from 2016 where they outgained the Roadrunners. My number makes this closer to a pick'em, so add North Texas to a dog round robin parlays.
The Pick: North Texas +2.5
---
Boise State +7.5 at San Diego State
Date: Saturday, October 14th 10:30 pm ET
Notes: San Diego State is the toast of the Group of Five, leading national discussion for the College Football Playoff. That title used to be reserved for Boise State. The Aztecs had no issue disposing of UNLV, who were led by a redshirt freshman quarterback seeing a 4-2-5 defense for the first time. I had plenty invested in the UNLV game, thus finding a child mocking me after a Rashaad Penny highlight video felt fitting to be on loop all week.
While this sweet kiddo was laughing at me and my UNLV side, the Broncos shook off the Virginia game with a cover and victory over BYU. Boise won this contest in 2016 and looks for more of the same on the road. The Aztecs' bread and butter is their explosive offense (ranked 19th in the nation). Boise presents the first test in 2017 with the seventh ranked defense against explosiveness. In contrast, even Stanford only ranks 58th in defending explosive plays (a team the Aztecs beat). San Diego State will have their toughest defensive matchup on their schedule, and I fully expect the Broncos to cover.
The Pick: Boise State +7.5
---
San Jose State at Hawaii U 62
Date: Saturday, October 14th 11:59 pm ET
Notes: Blackout chaser games always end best on the island. This week we get two of the most inept offenses in all of FBS playing for bowl elimination. Hawaii does have decent offensive numbers, but they also have the 124th ranked strength of schedule. They also like to throw interceptions in critical situations. Both of these offenses have major issues reaching the red zone and turning those trips into points. Offensively, San Jose State ranks 129th in efficiency, 99th in explosiveness, 94th in starting field position and 123rd in finishing drives (points converted past the 40-yard line). It's turning into a record breaking season for the Spartans of San Jose. The Rainbow Warriors aren't much better offensively, ranking 113th in finishing drives, 91st in starting field position and 69th in explosive plays. If you have not had enough Vodka or Fireball by midnight Eastern, this game gives you plenty of opportunity. Have I mentioned it's homecoming and there will be plenty of live music to go with your late-Saturday beverage?
The Pick: Under 62
---
Be part of the Action
Download the Sports Action app at the App Store or Google Play