CW9: Week 8 college football betting guide
The CW9 will take a weekly look at nine of the college football games that I'm interested in from an investment standpoint. I will focus on a number of factors, such as unit specific mismatches, scheduling opportunities and discovering value in the the market perception of teams. You can follow all of my plays for free on the SportsAction App through the App Store or Google Play.
---
Tulsa at UConn +6
Date: Saturday, October 21, 12:00 pm ET
Notes: Most people took the UConn victory over Temple as a projection of how bad the Owls are at football. That may be true, but what isn't mentioned is UConn's efficiency during the game. Bryant Shirreffs led UConn on multiple long drives and totaled three touchdowns in the win. Quietly UConn has put together some fantastic offensive stats, ranking 49th in total offense and 44th in yards per play.
What in the world is going on with Tulsa? After some embarrassing losses to three option teams in a row, they defeated Houston by four touchdowns. Houston brought Christmas gifts early with three costly turnovers, but they did keep up with the Golden Hurricane in total yards. The general public may think Tulsa is back on track, but it's hard to ignore a terrible pass defense ranking 119th in Passing S&P+ and 120th in Passing IsoPPP+. Even the interceptions from the Houston game were a result of Cougar wide receivers letting balls bounce off hands, heads and shoulder pads. UConn and Shirreffs should take full advantage against this Tulsa defense.
The Pick: UConn +6
---
Oklahoma State -7 at Texas
Date: Saturday, October 21, 12:00 pm ET
Notes: Texas's recent results include an overtime cover against USC, close victories over Iowa State and Kansas State and a comeback cover against Oklahoma. While the Longhorns are currently 3-3, the metrics on explosiveness show a team that is primed for a beatdown. Texas ranks 112th offensively and 117th defensively in the explosiveness charts. While they have been middle of the pack in efficiency, Texas lacks any kind of big-play ability on both sides of the ball.
Oklahoma State's explosive numbers are off the charts. The number is spot on with Texas +7, but the Cowboys rank almost 100 position points better than Texas in explosive plays; OSU ranks third offensively and 22nd defensively. OSU should be in quick strike mode most of the day down in Austin, where the Cowboys are quite comfortable. Oklahoma State is 5-0 ATS and 4-1 straight up in their last five visits to Austin.
The Pick: Oklahoma State -7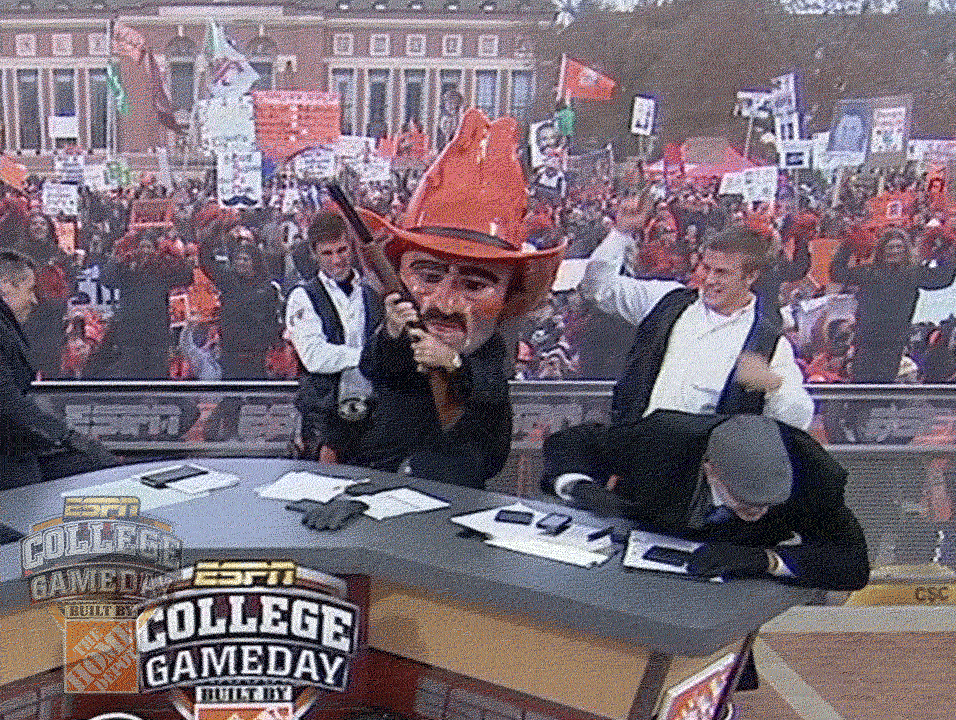 ---
Troy at Georgia State +7.5
Date: Saturday, October 21, 2:00 pm ET
Notes: Who doesn't love a little #Funbelt mixed into their Saturday diet? Troy continues a trend of only showing up when the opponent is named LSU. It's been maddening to back Troy over the past eight games, as they have only covered against the Tigers. There have been close wins against New Mexico State and Akron, but karma finally caught up to Trojans last week when they lost to South Alabama as three-score favorites. Most of this can be attributed to the predictable passing attack of Troy, which ranks close to last in efficiency and explosiveness. Teams have been able to stack the box and take advantage.
The story for Georgia State leading into Week 8 is the 670 yards of total offense they put up against ULM. Led by redshirt senior Connor Manning, Georgia State has quietly been the third-ranked team in the nation in offensive passing success rate. The Panthers' rushing offense is terrible by every metric, but Georgia State does rank fourth in third down conversions. Grab the hook anywhere you can and enjoy this game on your third screen TV/device while Connor Manning throws his team to a cover during homecoming.
The Pick: Georgia State +7.5
---
Syracuse at Miami -17
Date: Saturday, October 21, 3:30 pm ET
Notes: As a person that seeks out underdogs in every game, I was a bit surprised how convinced I was that Miami was going to take Syracuse to the woodshed this week. The Orange are coming off their biggest win since possibly the 1993 Fiesta Bowl. Dino Babers had the most returning production of any team in FBS entering 2017, and it was expected that they would cause trouble for some teams with their pace. While all the credit in the world should be handed to the Orange, they will crash hard Saturday against a Miami team that squeaks out winners in anxiety-riddled games.
The Hurricanes have had last-minute heroics against Florida State and Georgia Tech, causing some people to question if they are frauds. I will wait until Virginia Tech on November 4 to make that determination, but in this contest the Hurricanes find Syracuse in hangover city. Miami is posting an impressive yards per play differential of +2.27, while Syracuse is barely in the positive at +.14. Miami has major advantages statistically, ranking in the top 25 in efficiency, finishing drives and starting field position.
The weather may play a factor, specifically the heat and humidity in Miami. With temps in Syracuse ranging in the high 60s, these Orange players come to Miami where it will be 90 degrees with a chance of rain. That bodes well for the team with the better ground game on both sides of the ball, and that would be Miami. Take the Canes to cover against Cuse in a emotional and physical letdown spot.
The Pick: Miami -17
---
South Florida at Tulane +12
Date: Saturday, October 21, 7:00 pm ET
Notes: Charlie Strong was in the media this week saying South Florida belongs in the rankings and can compete with anyone in the nation. That is a tough buy, as USF has faced a schedule of teams that includes some of the worst in FBS. According to S&P+ rankings, the Bulls have taken on teams ranked 124th, N/A (Stony Brook), 107th, 100th, 128th and 110th. By no means is Tulane a superpower, but having an S&P+ ranking of 78th makes this the toughest weekend for South Florida in 2017.
Tulane is vastly improved this season, and some of the final scores may not indicate that. The Green Wave held Oklahoma in check and covered most of the game until some bizarre offensive playcalling by the Sooners to cover. Tulane held serve with Navy in a close loss, destroyed Tulsa and beat Army in a close one. Tulane has been efficient on defense with a havoc rate that has led to +5.1 points per game turnover luck. One of the primary reasons for the Green Wave side this weekend is the offensive explosiveness in their run game. Tulane ranks 17th in the nation in Rushing IsoPPP+, and once the Willie Fritz triple option shotgun attack gets rolling, it can be tough to stop. A great example of the havoc on defense and the triple option on offense can be found in the Navy highlights:
We circle back to South Florida and their strength of schedule. Despite facing this collection of teams outside the top 100, USF has managed to rank 113th in rush defense explosiveness. I expect Tulane to run on almost every down with great success, busting plays over 20 yards multiple times in this contest.
The Pick: Tulane +12
---
USC +4 at Notre Dame
Date: Saturday, October 21, 7:30 pm ET
Notes: Has the hate on the Trojans gone too far? The schedule has been unkind to USC so far, with no bye week and a tough Friday travel road spot to Washington State. USC has the 10th rated strength of schedule, and Notre Dame looks to beef up the number. The Irish have been scary good so far, coming within one point of beating Georgia. Notre Dame is ranked No. 1 in Rushing S&P+ and No. 2 in IsoPPP+ (a metric that measures explosiveness). The Trojans have a decent defensive ranking, as they're in the top 30 in most advanced stat categories. USC will need to have their best day to keep the rushing attack of Brandon Wimbush in check. The Irish QB did miss action with a foot injury before the bye week, but he should be all systems go for Saturday.
There are positives for the Trojans. The long list of players on the injury report is starting to shore up, with only three starters in questionable status. My power ratings make this game a pick'em, and the heavy public action on the Irish is warranted with the rushing statistics combined with a bye week to get healthy. Still, anything over three points with a quarterback that has Sam Darnold's ability to turn it up several notches is too many. USC played the part of explosive and efficient after getting down 21-7 against a decent Utah team. If Darnold can play better than in any previous game so far, the USC defense will hold the Wimbush ground and air attack in check. Hold on to those USC National Champion futures tightly.
The Pick: USC +4
---
Michigan at Penn State -9.5
Date: Saturday, October 21, 7:30 pm ET
Notes: James Franklin doesn't forget, and neither should the betting public. In a September 2016 contest in Ann Arbor, Michigan lit up Penn State to the tune of 49-10. The Wolverines had a 28-0 halftime lead and continued to add, ending with 515 total yards. The Nittany Lions moved to 2-2 with a conference record of 0-1 after a demoralizing loss that had Franklin steaming. Penn State recovered to rattle off nine straight and make a trip to the Rose Bowl as Big Ten champions. Fast forward to 2017, and Franklin has revenge on his mind 13 months later.
Michigan's issues on offense cast a shadow over how great the defense is performing this year. The Wolverines have not been able to convert drives into points in multiple weeks, ranking 115th in red zone points per attempt. The Wolverines are ranked No. 1 in total defense, but offensively they rank 105th on first down and 108th on third down conversions. No one would be surprised to find this Michigan defense fatigued during the second half of 2017. One gap the Michigan defense does have is allowing explosive plays on the ground, ranking 79th in Defense Rush IsoPPP+. That is not a great stat when on the road against a Heisman contender in Saquon Barkley.
I expect Penn State to move the chains and bust explosive plays offensively. I expect the Wolverines to continue their poor offensive play in the red zone and on third downs. Finally, if James Franklin has a chance to make a seven-point lead go to double digits in the fourth quarter, you have to believe he won't forget what happened in Ann Arbor last season.
The Pick: Penn State -9.5
---
West Virginia at Baylor +9.5
Date: Saturday, October 21, 8:00 pm ET
Notes: The last game on the Big 12 slate for Week 8 belongs to a Baylor Bears team desperate to get their first win of the season. The numbers aren't good for Baylor, as they allowed 747 yards to Oklahoma State, which topped a previous worst of 634 yards to Oklahoma. The name of this game against West Virginia is holding serve. While West Virginia has an explosive offense with Will Grier, the Mountaineers have had their own issues on the defensive side of the ball. Both Texas Tech and Kansas have already put up 500-plus yards against the WVU defense, and Baylor looks to do the same. Both of these teams rank in the top 25 in offensive explosiveness, so there will be opportunities for the Bears to hang around.
One key item to watch during the game is Baylor's starting field position on both offense and defense. The Bears rank 118th offensively and 110th defensively in field position. That is typically a special teams stat derivative, but Baylor ranks 12th in the nation in punting with 45 yards per punt. Going through drive logs, Baylor's offense has multiple fumbles in their own territory in the games they did not cover. In the one week they played solid football from a turnover margin standpoint, they nearly defeated Oklahoma. With some solid ball protection, the hungry home dog should be able to keep serve and stay in business Saturday night.
The Pick: Baylor +9.5
---
Wyoming at Boise -14
Date: Saturday, October 21, 10:15 pm ET
Notes: If I played name association with "fraud" I would immediately reply with "Wyoming." I was very high on this team coming into 2017, but the meteoric fall of Josh Allen was not expected. Wyoming ranks 124th in Passing S&P+, which was predicted by no NFL scout just a short seven weeks ago. Wyoming's box scores have been a bit of a laugh also. Although they count as wins in the standings, Wyoming was outgained by Utah State 363-293 and by Hawaii 450-269. Wyoming ranks 116th in yards per play, and any team with a defensive pulse will drill them.
Boise enters the game having played a schedule that has been much tougher than most expected preseason. Early losses to Washington State (which shouldn't have been a loss) and Virginia now look like Power Five quality defeats. Boise has the defensive metrics in the efficiency and explosiveness department and rank 15th in the nation in defensive yards per play. This could be a very long night for Josh Allen and the Wyoming offense.
The Pick: Boise -14
---
Be part of the Action
Download the Sports Action app at the App Store or Google Play