2017 Iowa Hawkeyes Betting Preview
Offseason Notes
Iowa will be dealing with plenty of turnover in the experience department in 2017 as they come in at 118th in the S&P+ Returning Production rankings. Kirk Ferentz became the longest tenured coach in FBS after Bob Stoops announced his retirement. Coach Ferentz's son, Brian, will move from OL Coach to Offensive Coordinator for the upcoming season so it looks as if the transition plan is in place for the Ferentz Dynasty to continue in Iowa City.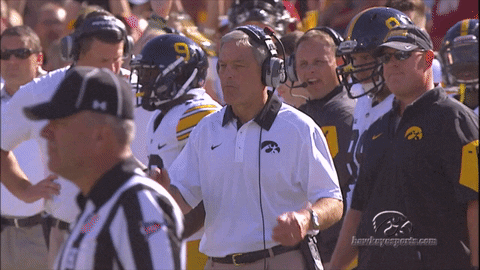 The Quarterback situation is still not resolved with both Tyler Wiegers and Nathan Stanley battling daily to replace the loss of CJ Beathard. Stanley was considered the 2nd string QB in 2016, but it really could still go either way. There will be additional scrimmages leading up to the Wyoming kickoff to determine who will get the start. The Iowa passing game is the biggest mystery heading into the season, but it can't get much worse than their 118th ranked passing offense that averaged a paltry 153 yards per game in 2016. The return of a healthy Matt VandeBerg, who missed a substantial portion of last season with a foot injury, should help.
One of the bright spots from Iowa City this August has been RB James Butler, a Graduate Transfer from Nevada, which should provide some added flexibility for Akrum Wadley to move to the slot as needed. The running back position should be solid for Iowa in 2017, but the core strength of the offense will be up front as one of the best Offensive Lines in the country in 2016 returns all 5 starters.
The defense returns 7 starters from a very strong unit last season. Iowa should have an extremely solid front 7 especially at LB and DE. In fact, because Iowa is so deep in talent at Defensive End, the staff started moving a few from that group to the interior in order to fill the void left by Jaleel Johnson. Iowa will be hoping that their front 7 will anchor a defense that was best in the nation in 2016 for Explosiveness.
The secondary in 2016 was a top 30 unit nationally, but they will need to rely on a lot of inexperience this season to replace 3 starters. Replacing 2 effective corners is never easy, but especially when one is former All American, Desmond King, who may be starting at nickel for the Chargers in 2017. The first game of the season against NFL prospect Josh Allen will provide a difficult test for this young and inexperienced unit.
Expected Win Totals
CW Projected Total Wins:           5.2
CW Projected B1G Wins:            3.4
Posted Total Wins:                   O 6.5 -135
2017 Schedule
Home Field Advantage:              2.9
Opening Power Rating:              52.5
Date
Away
Home
CW Line
Sep 2
Wyoming
Iowa
IA -5
Sep 9
Iowa
Iowa St.
ISU -1
Sep 16
North Texas
Iowa
IA -18.5
Sep 23
Penn St.
Iowa
IA +9
Sep 30
Iowa
Michigan St.
MSU +2
Oct 7
Illinois
Iowa
IA -15
Oct 21
Iowa
Northwestern
NW -6
Oct 28
Minnesota
Iowa
IA -1
Nov 4
Ohio St.
Iowa
IA +15
Nov 11
Iowa
Wisconsin
WISC -12
Nov 18
Purdue
Iowa
IA -12
Nov 24
Iowa
Nebraska
NEB -0.5
Legend:

Off Of Bye

/

Overlook Watch

/

B2B Road Games

/

Neutral Site
Betting Notes
With Division trips to Wisconsin, Northwestern and Nebraska on their schedule, I elected to stay away from placing any futures on the Hawkeyes. Ohio State also rolls onto the schedule so it may be a struggle getting to 7 wins, but the season win total of 6.5 juiced to the over looks fair from my perspective. With 6 games projected to have a spread of 6 or less, a few coin flips should ultimately determine the outcome of a wager on the 2017 Iowa Season Win Total.
The Wyoming line has been steadily dropping, and currently sits at Iowa -12 at a few shops. If you have interest in Josh Allen Week 1 against this Iowa Defense, I don't expect +14 to pop on gameday so I recommend grabbing a piece if you can find +13 or better.
The Hawkeyes travel to Madison in November in what should be a favorable situational spot for the Badgers. Iowa plays Ohio State in Kinnick the week before traveling to Camp Randall for its second straight road game. Conversely, Wisconsin will be coming off an easy stretch of Purdue, Maryland, Illinois, and Indiana.
Iowa waxed Nebraska last year by a score of 40-10 so I expect full focus from the Huskers when the Hawkeyes come to Lincoln on Thanksgiving weekend.
Since 1992, Iowa is 1-13 against Ohio State with that one win coming in 2004 when the Hawkeyes smoked a Justin Zwick led Buckeyes team.
X-Factors
Josey Jewel (MLB) – Josey Jewel is widely considered one of the best Linebackers in the Big 10. He led Iowa in Tackles (124) and Tackles for Loss (4.5) in 2016 while also adding in 1.5 sacks and 5 QB hits for good measure. Most of the impressive Iowa defensive rankings in Explosiveness and Efficiency can be directly attributed to the play and leadership of Josey Jewel.

Arkum Wadley (RB) – While Wadley is a known commodity on this Hawkeyes team, rushing for 1,096 yards, don't forget his skills as a pass catcher. In 2016, Wadley had 36 receptions for 315 yards and 3 Touchdowns. With the addition of James Butler as a workhorse type Running Back, Arkum Wadley will get ample opportunity to line up in the Slot where he can pose an even bigger threat in the open field.

Devonte Young WR – Matt VandeBerg is the only scholarship receiver on the roster with a career reception. Iowa must balance out their rushing attack by finding playmakers on the outside, which will tremendously help in the development of an inexperienced QB under center.
Useless Trends
Hawkeyes are 11-2 ATS as an away favorite since 2012.
Iowa is also 9-1 straight up on the road the past two seasons.
It all goes right if…
Their offense can do enough early to get Iowa through their non conference slate with an undefeated record. All 3 opponents in September may look easy on paper to the casual fan, but all are expected to be significantly better in 2017 (Wyoming, Iowa State, and North Texas). A 3-0 start may just prove they are indeed contenders in the B1G West.
It all goes wrong if…
The youth in the Iowa secondary struggles throughout 2017. Wyoming, Ohio State and Penn State are 3 teams on the schedule that could light up this Hawkeyes secondary. Also, keep tabs on Purdue's passing attack progression. Purdue plays Iowa in November, and Jeff Brohm may have that passing attack primed for an upset.
Betting Recap
For more, check out the full B1G Conference Preview.
How would you rate this article?