2017 Nebraska Cornhuskers Betting Preview: Going Low
Offseason Notes
Huskers only return 10 starters from their 2016 squad and rank 126th in S&P Offensive Returning Production. They must replace a number of key starters on the offensive side of the ball including QB Tommy Armstrong, who will be replaced by Tulane transfer, Tanner Lee. The Blackshirts will also need to replace their leading rusher from a season ago, Terrell Newby, in addition to 63% of their receiving yards. Mike Riley is not currently on the hot seat, but it may start to warm heading into 2018 if the Season Win Total wager that I highlight shortly ends up cashing.
Riley brought in Bob Diaco, former Uconn Head Coach, as the new Defensive Coordinator; the Nebraska defense wasn't terrible overall in 2016 which made the switch somewhat surprising. Diaco will need to replace the top two tacklers from a unit that must improve on Completion Rate and Explosive Plays allowed. He will implement a new 3-4 scheme in Lincoln so look for early season growing pains up front that could potentially cost them games against Arkansas State, Oregon, and Northern Illinois. The defense will at least have a very solid back end with the return of Kieron Williams and Joshua Kalu at safety.
Expected Win Totals
CW Projected Total Wins:             4.7
CW Projected B1G Wins:             3.2
Posted Total Wins:                   O 7 -130
2017 Schedule
Home Field Advantage:               2.9
Opening Power Rating:               49
Date
Away
Home
CW Line
Sep 2
Arkansas St.
Nebraska
NEB -9.5
Sep 9
Nebraska
Oregon
ORE -11.5
Sep 16
N. Illinois
Nebraska
NEB -9.5
Sep 23
Rutgers
Nebraska
NEB -15.5
Sep 29
Nebraska
Illinois
ILL +6.5
Oct 7
Wisconsin
Nebraska
NEB +9.5
Oct 14
Ohio St.
Nebraska
NEB +18.5
Oct 28
Nebraska
Purdue
PUR +3.5
Nov 4
Northwestern
Nebraska
NEB +4
Nov 11
Nebraska
Minnesota
MINN -8
Nov 18
Nebraska
Penn St.
PSU -18.5
Nov 24
Iowa
Nebraska
NEB +0.5
Legend:

Off Of Bye

/

Overlook Watch

/

B2B Road Games

/

Neutral Site
Betting Notes
I've taken multiple shots at the Under 7.5 Nebraska Season Win Total since I forecast less than 5, and I would still suggest getting in at Under 7 especially at plus money. In order to lose this bet, Nebraska would have to upset 1 of Oregon, Wisconsin, Ohio State, or Penn State assuming they win coin flip games against Northwestern, Minnesota, and Iowa which I just don't see. Given the defensive scheme changes and multiple personnel changes on offense, Mike Riley would be a wizard if he gets this team to 8-4.
Take the Game of the Year line of Oregon -7 or better on September 9th. The Huskers were outgained and outplayed in last years contest in a game Oregon should have won in Lincoln. The 2017 Ducks should actually be much improved on the defensive side of the ball and should have the upper hand against a Nebraska offense that will still be searching for an offensive identity. The new look 3-4 defense will so have its hands full with Royce Freeman. I have this game projected at double digits so Oregon -7 is still good to hit even after the recent line move.
Nebraska should be extra motivated for Wisconsin in early October as an OT loss to the Badgers in 2016 prevented an 8-0 start and really changed the feel of their entire season. I would love to get +10 or better here for a team that has a very good home field advantage. They better be careful the week prior at Illinois though as that is a very sleepy situational spot.
X-Factors
Stanley Morgan (WR) – Nebraska loses 5 of their top 7 pass catchers from 2016 including Jordan Westerkamp, one of the best wide receivers in the history of the program. Morgan has the most returning catches (33) and has big play ability as he showed with a 72 yard catch for a touchdown last year. Morgan, who will need to step up as the leader of this inexperienced core of receivers, can hopefully avoid any additional off the field trouble as he had a misdemeanor marijuana arrest last May.

Carlos Davis (NT/DE) – Keep tabs on Carlos and his brother, Khalil Davis. Carlos has spent some time during fall practices lining up at Nose Tackle, a new position within the 3-4 scheme. Bob Diaco has stated that the Cornhusker Defense will move 'in and out from 3-4 to 4-3', which means Carlos Davis will switch from his natural position of DE to NT frequently.
Useless Trends
Overs are 9-3 when the Huskers have been an underdog since 2010
It all goes right if…
An offensive identity is established after a Week 2 trip to Oregon. Nebraska ranked dead last in completion rate in 2016 and will need to replace almost all of their offensive sklll positions. Maybe this ends up being a net positive and Tanner Lee has a coming out party in Eugene. The bottom line is Nebraska must get more consistent QB play which will be even tougher this year with all of the offensive turnover.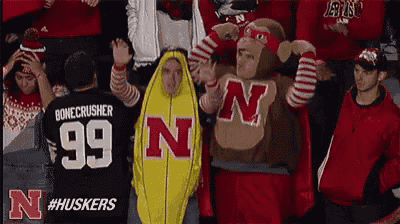 It all goes wrong if…
The switch to Defensive Coordinator Bob Diaco doesn't work out and his hybrid 3-4 scheme changes prove ineffective for this roster. After a 7-0 start in 2016, Nebraska ended 9-4. This year, their schedule is a little tougher as they draw Ohio State and Penn State out of the East. Exiting the month of September any less than 3-1 will start the widespread panic in Lincoln; therefore, the defense must be ready from the jump.
Betting Recap
Nebraska Season Win Total Under 7

Oregon -7 GOY line week 2
For more, check out the full B1G Conference Preview.