One Bettor's Ridiculous Ride to a 9-Team Parlay Winner
Credit:
Aaron Doster-USA TODAY Sports. Pictured: Terry McLaurin and Urban Meyer
An Indiana University sophomore reached out to share the nine-team college basketball/football parlay he cashed this past weekend.
Here's how a $1,249 winner almost went up in smoke right before this bettor's eyes.
Below is an email I received from a sports bettor this week, with the subject line of "Northwestern's Sportsmanship Saved Me." A sophomore at Indiana University, this bettor endured the sweat of a lifetime this past Saturday with a nine-team college basketball/football parlay. Enjoy!
We want to feature more of your awesome wins and horrible losses. Email me at mybet@actionnetwork.com. Please include all necessarily proof that you placed the wager you're describing. 
Editor's note: This has been slightly edited for length. 
---
Before I tell this ballad, I must give you the backstory. While I was growing up in Las Vegas, my father told me the only ways to make money gambling were 1. Blackjack and 2. Moneyline parlays.
I ended up taking this to heart, and using my Vegas background, I began sports betting online.
I have had many experiences of triumph as well as crippling defeat, but the afternoon/night of Dec. 1 had to be the most insane and unbelievable of my parlay career.
Indiana vs. Northwestern (men's basketball)
Bet: Indiana -310
Story: Now, this game hurt to select. I grew up rooting for NU basketball. My dad and I even road-tripped to Salt Lake City to watch that roller coaster of a basketball game in the first-round of the 2017 NCAA tournament.
Anyway, IU/NU was close throughout, with a late 10-5 run by Indiana to seal the deal. It's nice to see the 'Cats competitive, though.
Result: 68-66 Indiana (W)
Kentucky vs. UNC Greensboro (men's basketball)
Bet: Kentucky -1000
Story: This game was at the same time as IU/NU and I have priorities, so I had it on my phone. I don't know much of what happened, but when I saw Kentucky was down at half, I almost fainted.
Result: 78-61 Kentucky (W)
Michigan vs. Purdue (men's basketball)
Bet: Michigan -280
Story: By the time this game started, I was already in downtown Indianapolis getting ready for the Big Ten Champion. Wasn't really close. Michigan helped my emotional health here.
Result: 76-57 Michigan (W)
Loyola Chicago vs. UIC (men's basketball)
Bet: Loyola Chicago -185
Story: This game was oddly close. I remember Loyola being a +180 dog against Nevada last week, but only -185 against the Flames? Thank you, next.
Result: 73-64 Loyola Chicago (W)
Gonzaga vs. Creighton (men's basketball)
Bet: Gonzaga -280
Story: No. 1 team in the nation versus a team that put up 98 on Montana. The only way Gonzaga loses this game is if Creighton turns into the Monstars and Zags' equivalent of Michael Jordan (Hachimura?) tears his ACL.
Result: 103-92 Gonzaga (W)
Maryland vs. Penn State (men's basketball)
Bet: Maryland -280
Story: Wow, all three -280s came through for me. By the time this game was on I was in downtown Indy and the constant stress was piling up. Terps came back from down at the half to pull it out.
Result: 66-59 Maryland (W)
Nevada vs. USC (men's basketball)
Bet: Nevada -270
Story: Nevada, the No. 5 team in the nation, barely projected to beat USC, a team struggling to put points on the board. Come on Vegas, get it together.
Result: 73-61 Nevada (W)
Here comes the fun…
Alabama vs. Georgia (football)
Bet: Alabama -460
Story: Supposed to be an easy game right? Nope. Alabama is down 14 and Tua gets hurt. THIS IS THE EXACT SAME THING THAT HAPPENED IN THE NATTY. I was in Lucas Oil Stadium at the Big Ten title game and had horrible cell phone coverage, so I was crying in the rafters. Do not recommend.
Result: 35-28 Alabama (W)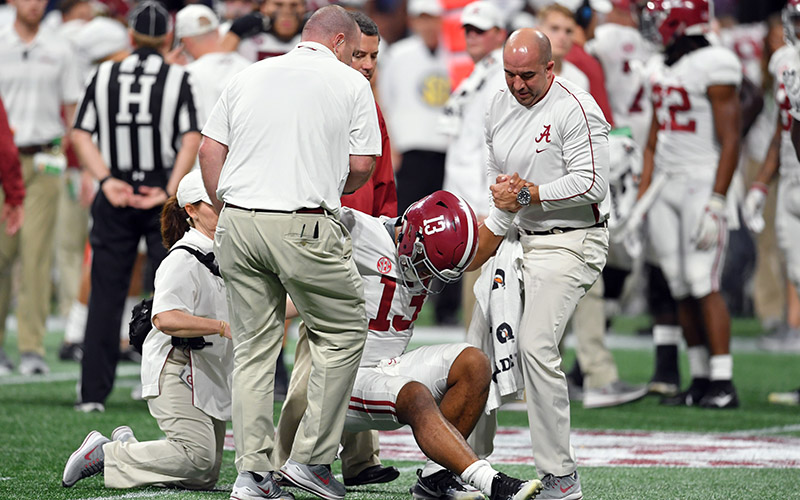 Northwestern vs. Ohio State (football)
Bet: Northwestern +21.5 (-215)
Story: If you're actually reading this, you're probably wondering "How did this loser get +21.5?" Well, Mr. Rovell, I bought points — +17 seemed too close for comfort. I hate whole lines, so +21 was a no, but +21.5 was calling my name.
OH
MY
GOD
How did we get to this? Down 17 at halftime. Our lord and savior Clayton Thorson decides to be a Heisman candidate for seven minutes. Down 3.
We trade scores and field goals. NU down 7. WE ARE CLOSE, WE WANT BAMA!
Then Dwayne Haskins decides to continue being himself. Down 21. Four minutes left. Clayton gets sacked twice. Third-and-18. Short pass down the middle. fourth-and-10.
On this fourth-and-10, my mind is racing. "Will we punt? Will we go for it? If we don't get it, they have two minutes to go at our 25. A FIELD GOAL LOSES IT FOR ME"
Then it happens … punter Jake Collins walks onto the field. FITZ GIVES UP THE GAME. Ohio State runs the time out and wins the title, and I'm up $1,249.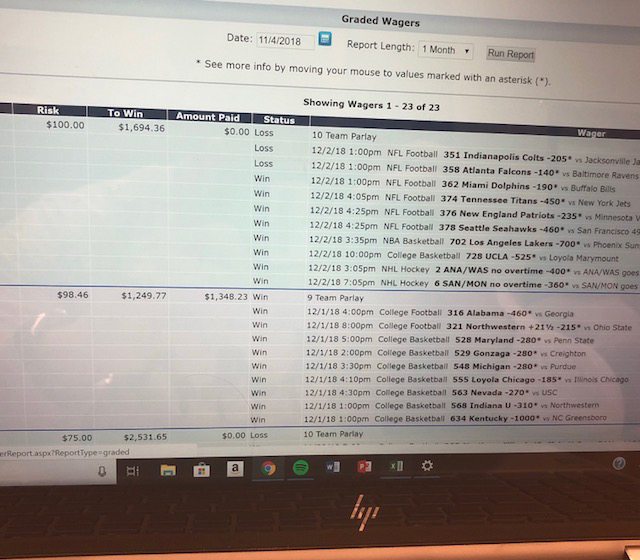 Let's just remember that Ohio State covered their 16/17 point spread. If I don't buy those points, I'm out.
Being the smart man you are, you're probably asking "Why didn't you hedge, loser?"
I couldn't hedge, Mr. Rovell. The coverage at Lucas Oil was so bad that I could not get the bet across. I was stuck.
Result: 45-24 Ohio State (W)
How would you rate this article?
This site contains commercial content. We may be compensated for the links provided on this page. The content on this page is for informational purposes only. Action Network makes no representation or warranty as to the accuracy of the information given or the outcome of any game or event.