Brian Kelly's Journey to LSU: Why the Former Notre Dame Coach Needed a New Challenge in Baton Rouge
Credit:
Jonathan Bachman/Getty Images. Pictured: LSU President William F. Tate IV (left), LSU football head coach Brian Kelly (center), and LSU athletics director Scott Woodward (right).
In 2009, two days before Brian Kelly's Cincinnati Bearcats played Pitt for the Big East Championship, I asked Kelly about speculation he was leaving for Notre Dame.
Kelly downplayed it. He pushed back and asked why he couldn't remain at Cincinnati long-term, referencing Bobby Bowden's tenure at Florida State and others.
Five days later, Kelly accepted the Notre Dame job.
In 2020, Kelly was asked if he would finish his career at Notre Dame. Kelly told me he would.
"This is where I want to be," Kelly said.
A year later, Kelly left Notre Dame for LSU.
Each of Kelly's career moves made sense. And this one — likely the final stop for the 60-year-old — gives Kelly what he's been seeking since leaving the Division-II coaching ranks nearly 20 years ago: a legitimate shot at winning another national title.
That wasn't possible at his previous stops.
---
---
Despite being saddled with the academic restrictions at Notre Dame, Kelly still guided the Fighting Irish to a BCS title game and two College Football Playoffs. In national title contention, Kelly lost to Alabama, 42-14 (2012 title game), 30-3 to Clemson (2018 semifinals) and 31-14 to Alabama (2020 semifinals). Those games all magnified the talent difference between the Golden Domers and the southern behemoths.
That won't happen to Kelly on the bayou.
"You're looked at in terms of championships here. I want that … to be under the bright lights," Kelly said. "I want to be on the Broadway stage. That's what my passion is. Yeah, that's part of the draw — there's no doubt about that.
"This opportunity is clearly different than any other opportunity I've had."
A Power Five athletic director said he believes Kelly will "crush it" in Baton Rouge.
"He's a great coach, and now he'll have better players than he's ever had," the AD said. "The last three coaches there won national titles (Nick Saban, Les Miles and Ed Orgeron), and only Saban is a better coach of the three than Kelly."
LSU's deep talent pool is no secret. LSU had 46 players on 2021 NFL rosters, third-most in the nation (by comparison, Notre Dame was fifth with 34). There also were 23 Tigers on 2021 NFL playoff rosters, second only to Alabama's 24.
Then, there's the Tigers' national title history. LSU has won three titles in the past 19 years. Only Alabama has won more in that span.
Bringing another title to Baton Rouge won't be easy. Since LSU's 2019 national title, the Tigers have gone 11-12 in their last two seasons.
Despite consecutive mediocre seasons, expectations have skyrocketed with Kelly's arrival. LSU is ranked No. 18 in my ridiculously way-too-early Top 25 rankings. The Tigers also have the 17th-shortest odds to win the national title (60-1) at Caesars Sportsbook and the fifth-best odds among SEC schools.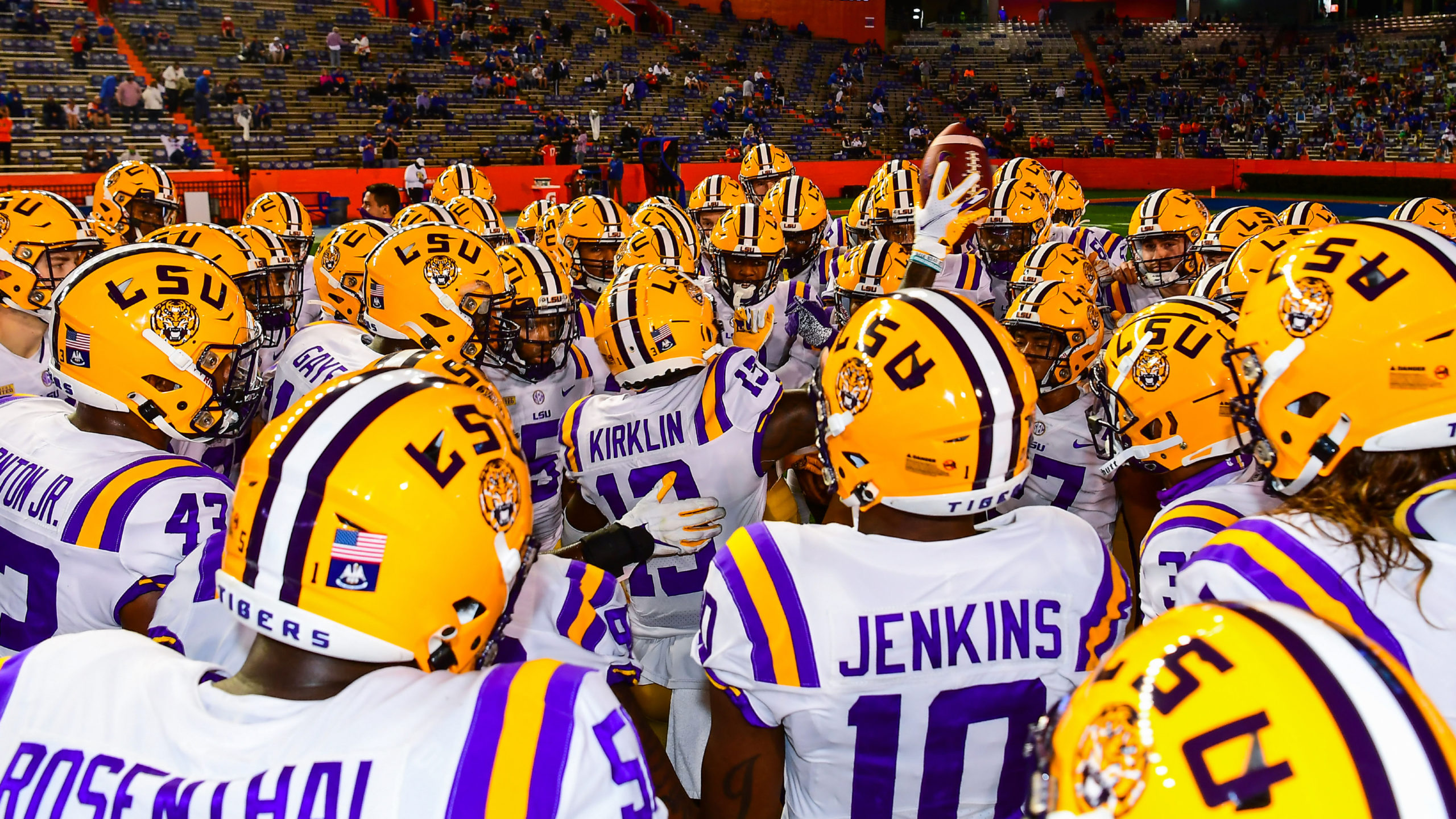 Oh yeah: the big, bad SEC. You know, the SEC? It rhymes with "fay-am-lee" — as Kelly pronounces it.
The SEC schedule is a beast. In the past four years, 51% of LSU's games were against top-25 opponents, including a ridiculous 28% against top-10 teams. No team played a tougher schedule.
Kelly's initial schedule will be no different. The Tigers face nine teams that played in bowls last year, including each of their final eight games. Coaching in the SEC with the weekly landmines will be Kelly's biggest challenge.
"Brian's not here to simply fit into our culture," LSU athletic director Scott Woodward said. "He's here to transform it."
Kelly could have remained at Notre Dame and finished out his career in South Bend, adding to his legacy as the school's winningest coach. However, Kelly wanted — no, needed — another challenge.
He won two national titles with Division II Grand Valley State, but he wanted a national title at college football's highest level.
Still, he almost didn't end up at LSU. He was at least Woodward's third choice behind Texas A&M's Jimbo Fisher and Oklahoma's Lincoln Riley. LSU was prepared to offer Fisher an eight-year, $125 million deal — $15.6 million a year — sources told The Action Network. However, Fisher declined to reunite with his old boss, Woodward, and Riley opted for USC.
Ironically, Ed Orgeron also was LSU's third choice — after Fisher and Texas' Tom Herman — but he eventually delivered a national title.
And Kelly knows, ultimately, he will be judged by one metric: national titles.
"Our potential is unlimited," he said.
Despite the deeper talent pool available and better resources at LSU, some critics believe Kelly won't succeed in the deep south. The narrative goes like this: Kelly's not likable, his fake southern accent will be exposed more than his Notre Dame teams in the playoff and he's difficult to work with.
How else would only two assistants (most notably special teams coordinator Brian Polian) make the move with Kelly from Notre Dame to LSU? Because he must be an absolute pain, right?
Several years ago when LSU hired its new coach from Michigan State, no assistants from the Spartans program followed their coach to LSU. He was too difficult to work with and demanded too much. That coach was Nick Saban.
Kelly has put together a solid staff at LSU, headed by Frank Wilson, one of the nation's best recruiters who left a head coaching gig at McNeese State to return to LSU for his second stint as running backs coach.
Kelly bypassed Knute Rockne's wins total at Notre Dame and is currently known as being the active coach with the most wins without winning a national title.
Like his accent, that's something that could change.
"I would only say that this opportunity for me was one that I was ready for and excited to take on," Kelly said. "I think each opportunity you measure differently."
---
More from Brett McMurphy
How would you rate this article?
This site contains commercial content. We may be compensated for the links provided on this page. The content on this page is for informational purposes only. Action Network makes no representation or warranty as to the accuracy of the information given or the outcome of any game or event.