Wilson: My Complete Betting Breakdown & Picks for Clemson-LSU in the National Championship Game
Credit:
Christian Petersen-USA TODAY Sports. Pictured: Clemson QB Trevor Lawrence
The stat profiles for Monday's national title game are both a sea of green.
For every outstanding Clemson stat you can throw out, an equally impressive LSU number can be used to combat the argument.
Joe Burrow not only won the Heisman, but has turned in one of the best statistical seasons ever from a quarterback.
Burrow's level of execution is even more impressive considering he faced four top-10 defenses and made quick work of pretty much all of them.
Clemson on the other hand slept through the first half of the year and shifted into high gear in the second half.
Quarterback Trevor Lawrence has not thrown an interception since Oct. 19. Running back Travis Etienne leads the nation in yards after contact. The offensive line, which is the highest-rated group in efficiency per SportsSource Analytics, limited Ohio State's Chase Young to just one solo tackle and zero sacks.
While the Clemson offense gets the spotlight, the defense was the MVP against Ohio State in the Fiesta Bowl. The Tigers limited the Buckeyes to a 34% success rate rushing (well below the national average) and just 2.5 points per trip inside the 40-yard line, which ultimately won them the game.
Both teams deserve to play in the national title game, and this column will serve to find the small holes in two ironclad rosters and statistical profiles.
Clemson defensive coordinator Brent Venables will look to disrupt the schemes of pass game coordinator Joe Brady and play calling of LSU offensive coordinator Steve Ensminger.
On the other side, LSU defensive coordinator Dave Aranda orchestrated a remarkable turnaround in the last five games and will look to halt a dynamic Clemson offense.
EDGE members can use the links below to jump to specific sections. Let's dive in.
JUMP TO: Market | LSU Offense | Clemson Offense | Special Teams | Refs | Live Betting Strategy | My Picks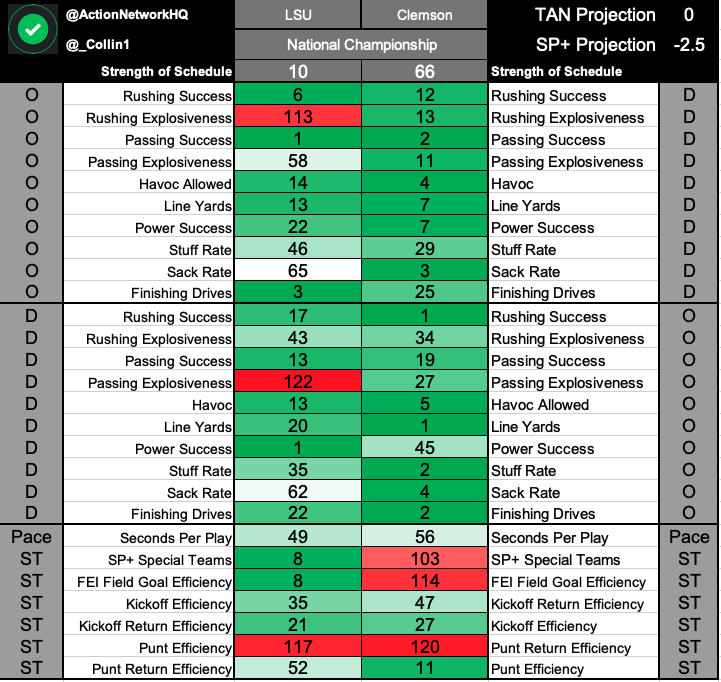 Click to return to table of contents.
Market Movement
Bettors have been all over LSU from the start. After the Peach Bowl, Circa Sports posted LSU -3.5 against Ohio State or Clemson. Circa took nothing but LSU money all the way to -5.5 before the completion of the Fiesta Bowl, but that did not deter bettors from continuing to back LSU.
The markets in Las Vegas, New Jersey and Pennsylvania have been steady from LSU -5 to LSU -6.
The Tigers are getting 75% of the tickets and 80% of the money as of Thursday.

Click to return to table of contents.
When LSU Has the Ball
Even with all the information we can dissect about a given football game in 2020, it may be impossible to find any flaws in LSU's offense.
And even the adage of "blitz him and throw him off his game" has not been useful. Burrow has been one of the best quarterbacks ever tracked when under pressure.
Per SportsSource Analytics, Burrow has a 14-1 touchdown to interception ratio under pressure and completes 72% of passes when blitzed.

Burrow has also been surgical in all parts of the field, with a 22-2 touchdown to interception ratio in passes over 20-plus yards. When Burrow has been pressured, the Heisman winner looks to throw inside the hash marks within the 0 to 10 yard range from the line of scrimmage.
Clemson defensive coordinator Brent Venables will need to effectively deploy versatile linebacker Isaiah Simmons to slow LSU. The importance of Simmons cannot be understated, as the junior has 7 sacks, 14 tackles for loss, three interceptions and 60 solo tackles.
Venables can use Simmons to pressure Burrow, cover wide receiver Justin Jefferson or spy on running back Clyde Edwards-Helaire. Simmons has missed just four tackles all season and none in his last five games.
There will not be a single snap Joe Burrow takes without having his eyes on No. 11.
There are so many weapons for the LSU offense that it's unlikely Clemson will know where to start through the first few drives of the game, and I think that will give LSU an early lead.
Justin Jefferson has been the biggest weapon of late for Burrow, as the wide receiver is ranked No. 3 in the nation at slant, dig route or crossing route patterns, per PFF. He caught four touchdowns in the first half of the Peach Bowl.
Simmons will float and Venables will figure out how to best use him, which should result in Clemson's defense improving as the night goes on and in the "Middle 8" portion of the game — more on that in our live betting section.
Clemson is not the kind of team that sends the house in blitz attempts. Depending on the formation, Venables defense rarely sends two or more players after the quarterback who are not down lineman.
Clemson will need pressure on Burrow during passing downs, as the LSU quarterback's rating with more than three seconds to throw is the best in college football. The only quarterback with a higher grade and three seconds to throw is Baker Mayfield in 2016 since PFF began tracking the statistic.
If Clemson can get pressure with down linemen, the back seven will be able to double team LSU targets or allow Simmons to float in Joe Burrow's most comfortable passing zones. Formations and motion may be the key to where Simmons lines up, as LSU running plays in the Pistol have jumped from 81% to 89% over the past five games.

Motion may be the biggest indicator of pass or rush, as LSU has held steady of having pre-snap motion 80% of the time before passing plays. No motion and a pistol package are sure indicators Clyde Edwards-Helaire is getting the ball in the backfield.
As for the offensive line, there has been a decline in efficiency which may have triggered the usage of more 12 personnel over the last month of the season.
PFF ranks the LSU offensive line just 30th in FBS, and that number has been in decline over the last five games.
Specifically, center Lloyd Cushenberry has dramatically seen his Run Disruptions Allowed increase from 4.5% to 14% from the previous 650 snaps.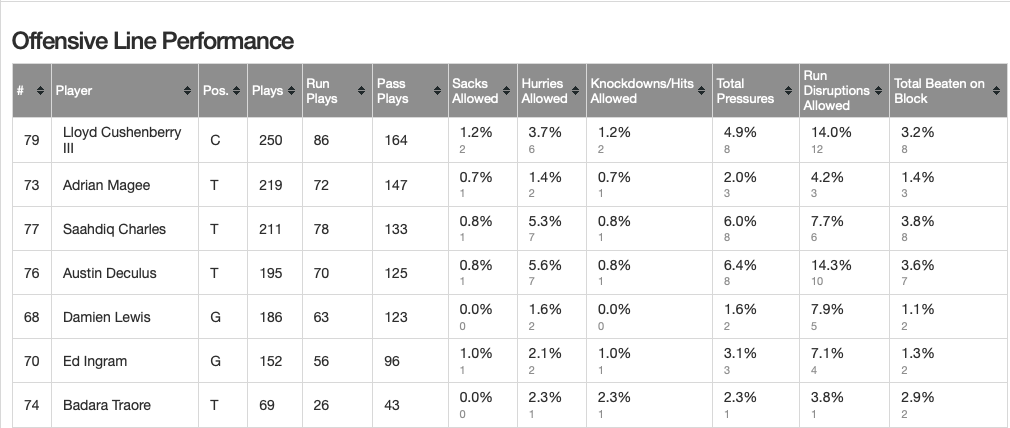 The Clemson defense should generate the most pressure LSU has seen this season with a sack rate of third in the nation. Oklahoma was 15th in FBS but was without their leader in sacks Ronnie Perkins. Georgia, Auburn, Texas A&M and Alabama all ranked 35th or worse in sack rate on LSU's schedule.
LSU should have plenty of offensive success out of the gate, but when Venables makes his first adjustment, the Clemson defense should slow down the scoring pace. Joe Burrow feasts on passes 0 to 10 yards past the line of scrimmage in between the hash marks.
Expect Simmons to float over the middle and cause havoc. Clemson should pick up on formation and motion signals pre-snap, target Jefferson in crossing routes and Ja'Marr Chase on the deep ball.
LSU may be predictable on where and who will get the ball on the field, but no single defense has been able to slow down one of the greatest offenses in the modern era.

Click to return to table of contents.
When Clemson Has the Ball
The toughest handicap in this game is the LSU defense.
Just how real are its improvements over the last two months?
This is a defense that gave up over 30 points to Texas, Ole Miss and Vanderbilt. Even Arkansas with a lowly interim coach covered the number against LSU and scored 20 points.
The renewed defensive focus on Aranda's group came after Ole Miss quarterback John Rhys Plumlee ran for more than 200 yards and four touchdowns on Nov. 16.
Aranda said the issue was not X's and O's but more of bad angles and missed tackles. The health of safety Grant Delpit also loomed over the Tigers defense.
Since the focus on those issues, LSU has allowed just 17 points in the first half against Texas A&M, Georgia and Oklahoma.
Delpit missed 14 tackles through the first nine games, but per SportsSource Analytics, the junior safety has just a single missed tackle over the past 179 snaps in five games.
Even with the missed tackles remedied, this is still an LSU defense without much bite in the takeaway department. The Bengal Tigers rank 119th in forced fumbles, only causing five the entire season.
One offensive advantage for Clemson is their disguises pre-snap. Throughout the season, Clemson has split the run-pass ratio evenly in shotgun, while 60% of motion and 70% of pistol have led to running plays.
Clemson is more balanced than most teams, leaving the element of surprise to their advantage. Ohio State was considered the best defense in the nation, but Clemson racked up missed tackles and pre-snap reads on Trevor Lawrence running plays and Travis Etienne receptions. Lawrence has particularly been objective in play-action passing, hitting nine different targets this season.
Unlike LSU, Clemson does not use heavier personnel in to block, using six or fewer blockers on 84% of its plays.
Also unlike LSU, Clemson has a really efficient offensive line, per SportsSource Analytics. PFF grades Clemson's offensive line as No. 7 in the nation. This is a group that is just as dominant in run blocking as it is protecting Lawrence.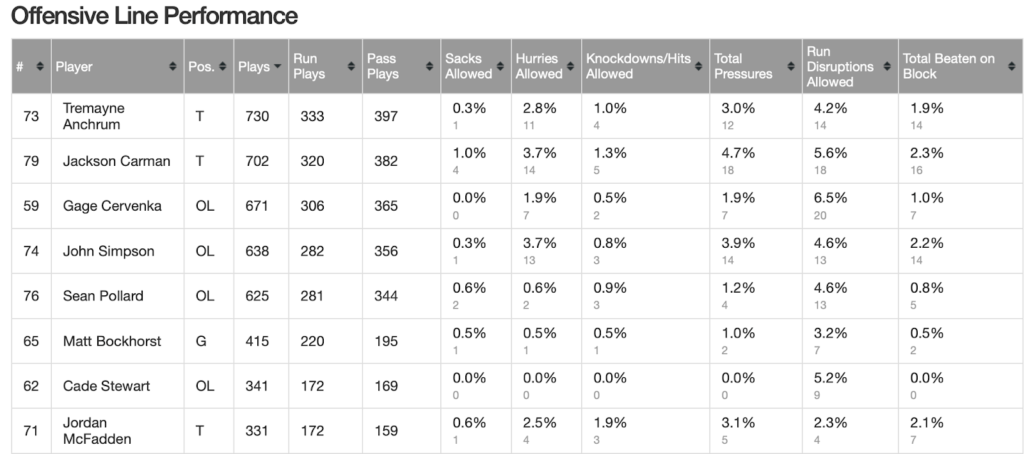 LSU ranks 62nd nationally in sack rate, and considering the minimal number of players needed for pass protection, there will be advantages down the field for Clemson's offense.
Jackson Carman has not allowed a sack this season, while Tremayne Anchrum had allowed only a handful of pressures. The downfield blocking by the offensive line and wide receivers have opened plenty of lanes for Travis Etienne, too.
Etienne leads the nation in yards after contact by running backs and has forced a record 45% of missed tackles.
Derek Stingley Jr. and Kristian Fulton have been shutdown corners all season for LSU, which means Lawrence should attack the middle part of the defense with Etienne and his slot receivers.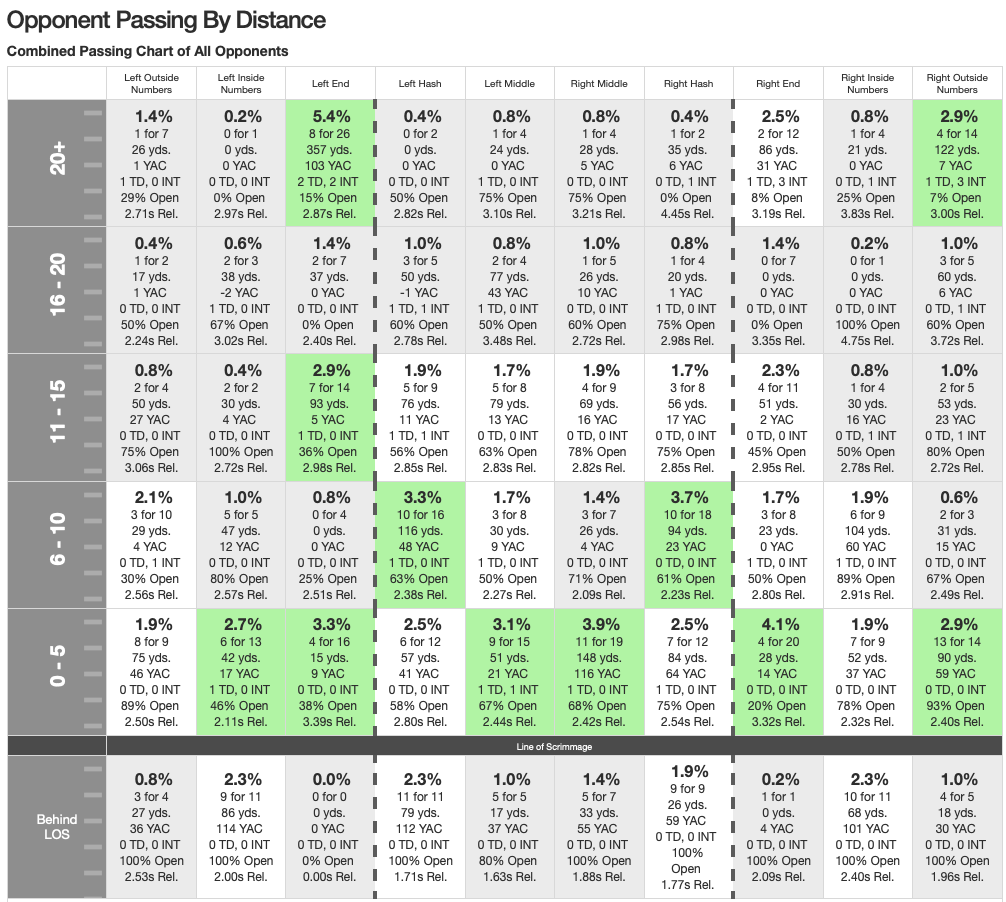 A look at the opponent passing chart from LSU shows Clemson may have no success throwing to any distance on Lawrence's blindside.
Etienne over the middle in open field against Delpit will be fascinating. Linebacker Michael Divinity will be back for LSU after an extended absence, but that may not help in pass coverage over the middle where a team like Alabama had its greatest success.
The most successful passing pockets for opposing quarterbacks through the season and most recently against LSU is the right slot receiver and running back right, per SportsSource Analytics.
Clemson targets the right slot receiver the third most behind the left and right sideline receivers. Lawrence has a 61% completion percentage to the right slot for a team high 7.9 yards per catch.

Clemson cross trains its wide receivers to rotate throughout each position, even running dynamic deep threat Justyn Ross through the slot in 10 personnel. Clemson runs a heavy amount of 11 personnel, which will have Tee Higgins and Ross line up outside the hash with one-on-one battles against LSU's outstanding corners.
The biggest beneficiaries of the gap in LSU's coverage of the right slot receiver zone should be Amari Rodgers, Diondre Overton, and Joseph Ngata. Overton has had 16 targets over the past five games for Clemson, resulting in 127 yards on 10 receptions.
I will look to take the over on Overton receptions and yards in the prop market.

Click to return to table of contents.
Special Teams
Could the national championship cover against the spread come down to a final field goal?
Clemson is outside the top 100 in SP+ special teams, highlighted by a rank of 114th in field goal efficiency.
But Clemson should dominate field position thanks to its stellar punting unit that ranks 11th compared to Louisiana State's rank of 117th.
LSU is top 10 in SP+ special teams with their best unit coming in the field goal department.
Cade York has had ice water in his veins kicking for LSU most of the season. He has not missed a field goal from less than 40 yards, and is 4 of 5 from beyond 50 yards.
Potter is just 7 of 11 from inside 40 yards on the season, and might be needed in this game.
I'll be backing any LSU and York props for longest kick. The LSU kicker has hit from 45 yards or more in five different games this season, and Clemson's stingy red zone defense could force LSU to kick at least one long distance field goal.

Click to return to table of contents.
How Refs Will Impact this Game
This game will be officiated by a Pac-12 All-Star crew led by head referee Chris Coyte. If that name sounds familiar, you may remember the 2017 Music City Bowl. The controversy surrounded the ejection of Benny Snell Jr. as he refused to be helped off the ground by Coyte.
There has been plenty of scrutiny around Pac-12 officiating for years, with three former officials blasting the current regime.
Needless to say, the national title game may be filled with flags and uncalled penalties that will affect the outcome.
Per SportsSource Analytics, Coyte is ranked No. 8 in penalties per game among Power 5 refs. Three of the head officials that average more penalties per game are from the Pac-12 conference and may be involved with this "All-Star" crew as well.
Coyte averages 118.27 yards per game with a tendency to call holding on both offense and defense.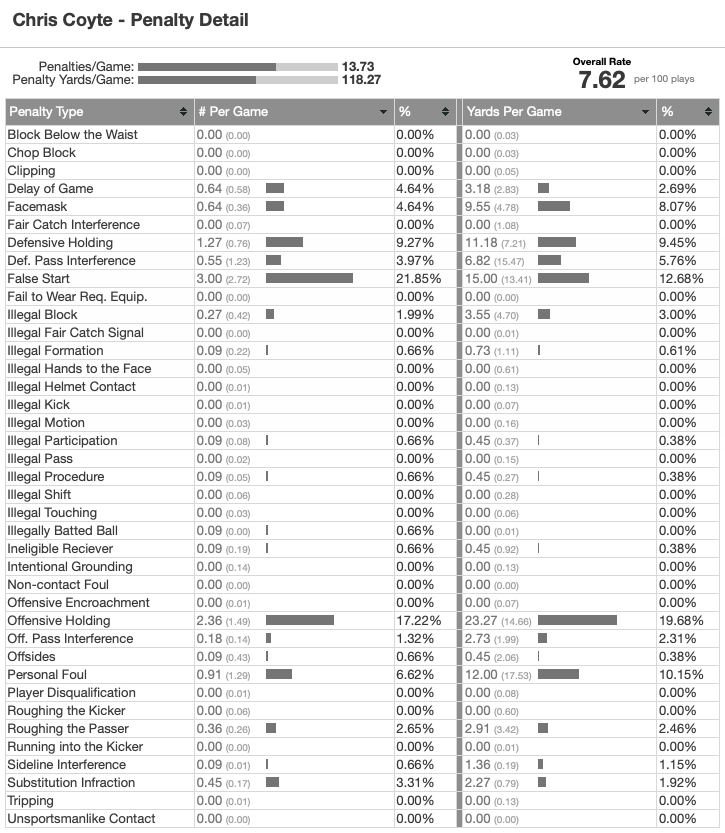 Clemson ranks 21st in the nation in penalty yards averaging just 44.2 per game. LSU has been less disciplined with a rank of 86th at 58.4 yards per game.
Expect personal fouls, roughing the passer and pass interference to all change the course of the game.

Click to return to table of contents.
Live Betting Strategy
There is no exact science to live betting other than getting the best of the closing number. The coin toss is a crucial part of live betting, as the team that gets the ball in the second half can likely have consecutive possessions if the clock is played correctly in the second quarter.
Clemson has become the master at coaching the "Middle 8." First coined by SportsSource Analytics, the Middle 8 combines offensive and defense scoring differential through the last four minutes of the first half and the first four minutes of the second half.
Winning this metric takes a combination of play calling, execution, clock management and halftime adjustments. Clemson is not only the best team of 2019 in this stat, the Tigers are the best "Middle 8" team of the College Football Playoff era.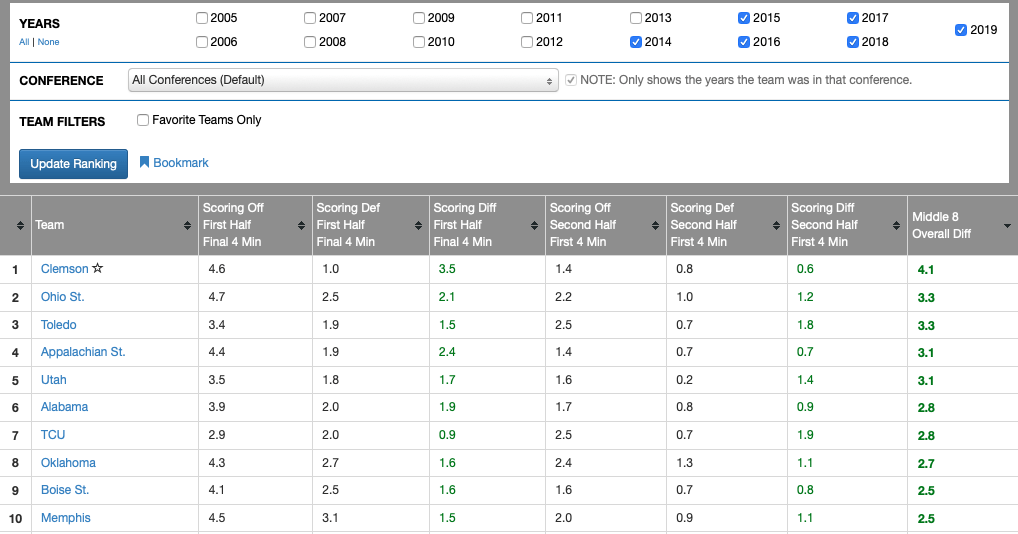 LSU has been fantastic in 2019 in first half final four minutes differential, but ranks 82nd in first four of the second half.
If there's a spot to bet Clemson live, it's before their last possession of the first half, particularly if there is room to run off the clock. In some of Clemson's most important games over the past few years, the Middle 8 statistic has been accurate at predicting a comeback from a first half deficit.
Here's a list of recent Clemson games where this came into play:
2019 Fiesta Bowl: Clemson trailed Ohio State 16-0 through the middle of the second quarter, won 29-23.
2019 North Carolina: Clemson trailed 14-7 with 6 minutes remaining in the second quarter, won 21-20.
2018 Cotton Bowl: A 9-3 slugfest vs. Notre Dame opened up with two minutes left in the second quarter. Clemson won 30-3.
2017 Auburn: Clemson trailed 6-0 until a Kelly Bryant touchdown run with 48 seconds left in the second quarter. Clemson won 14-6.
2017 National Title: Clemson trailed 14-0 to Alabama mid-second quarter, would go on to win 35-31.
A Clemson live bet with about four minutes left in the first half is not only recommended, but necessary for me depending on the situation.
Venables makes $2 million with incentives for this very reason. The LSU offense may be the biggest hurdle in his' career, but the "Middle 8" stats support a Clemson wager in the second quarter and fading LSU through the third quarter.

Click to return to table of contents.
My Title Game Picks & Props
Clemson +5.5: This point spread would have been about a pick'em two weeks ago. With an LSU beatdown of Oklahoma and Clemson's comeback victory over Ohio State, the public and sharps have inflated the number beyond any power rating. Clemson is the better team in hiding their play on both sides of the ball pre-snap. Venables' ability to dial up pressure with just four rushers will complicate matters for Joe Burrow, especially after the second quarter adjustments.
LSU -0.5 1Q: Not only has LSU had some of their highest success rate marks in the first quarter, Clemson is a team that will take the ball in the second half. Expect LSU to get a quick score and lead after one.
[In New Jersey, Pennsylvania, Indiana or West Virginia? Bet now at FanDuel]
Under 73 or better: Our Action Network projection makes this game 72.5, and while I thought this number would rise closer to kickoff, it has only gone down, so I'll be staying away.
Diondre Overton Over 34.5 Receiving Yards: The right side in the slot is expected to be a hot bed of activity for Clemson, according to LSU efficiency charts. Overton has been apart of designed play-action and screen passes, and may be Lawrence's most open target. The senior has averaged just over 30 yards in the past five games.
[In New Jersey, Pennsylvania, Indiana or West Virginia? Bet now at DraftKings]
Amari Rodgers Over 35.5 Receiving Yards: Injury was the reasoning behind his slow September start and November fall off. Rodgers had one reception for 38 yards against the Buckeyes, but should find himself in more open pockets against the middle of LSU's defense.
[In New Jersey, Pennsylvania, Indiana or West Virginia? Bet now at DraftKings]
Terrace Marshall Jr. First Touchdown: DraftKings is offering this at 12-1 right now. LSU will get the ball first if Clemson wins the toss. Joe Burrow's weapons are endless, but only one of them has been the most efficient in the red zone. Justin Jefferson has 19 red zone targets and 12 touchdowns which should have him as a heavy favorite for first touchdown. Marshall should come at a much better price, as the wide receiver has been targeted 12 times in the red zone and come away with 10 touchdowns.
[In New Jersey, Pennsylvania, Indiana or West Virginia? Bet now at DraftKings]
Joe Burrow Over 0.5 Interceptions (+110): While individual player props may not exist for the defense, this is more of a bet on Isaiah Simmons. The Clemson linebacker is one of the best havoc makers in the nation in all areas. The last time Burrow saw an individual defensive player with this much havoc was in Austin against Texas LB Joseph Ossai. He had a sack and an interception against Burrow in Week 2.
[In New Jersey, Pennsylvania, Indiana or West Virginia? Bet now at DraftKings]
Travis Etienne Longest Rush Over: LSU ranks outside the top 100 against rush explosiveness. Much of that came before the renewed focus on defense after the Ole Miss game, but Etienne is the best running back in the nation in yards after contact. LSU has allowed 11 rushes this season over to go over 30-plus yards.
How would you rate this article?