National Championship Game Live Betting Strategy: When to Play Clemson-LSU In-Game
Credit:
Gregory Shamus/Getty Images. Pictured: Joe Burrow
Betting won't end when LSU and Clemson kick off on Monday night -- there should be plenty of live opportunities available as two high-powered offenses trade blows.
Collin Wilson and Steve Petrella identify a pair of live betting angles they're looking for during the national championship game.
Two elite offenses playing in a competitive game makes a great live betting recipe.
LSU is a 5-point favorite over Clemson in Monday's national title game, and we're sure to get better prices as the game progresses.
Here are two ways we're trying to get the best of the live betting market.
There is no exact science to live betting other than getting the best of the closing number. The coin toss is a crucial part of live betting, as the team that gets the ball in the second half can likely have consecutive possessions if the clock is played correctly in the second quarter.
Clemson has become the master at coaching the "Middle 8." First coined by SportsSource Analytics, the Middle 8 combines offensive and defense scoring differential through the last four minutes of the first half and the first four minutes of the second half.
Winning this metric takes a combination of play calling, execution, clock management and halftime adjustments. Clemson is not only the best team of 2019 in this stat, the Tigers are the best "Middle 8" team of the College Football Playoff era.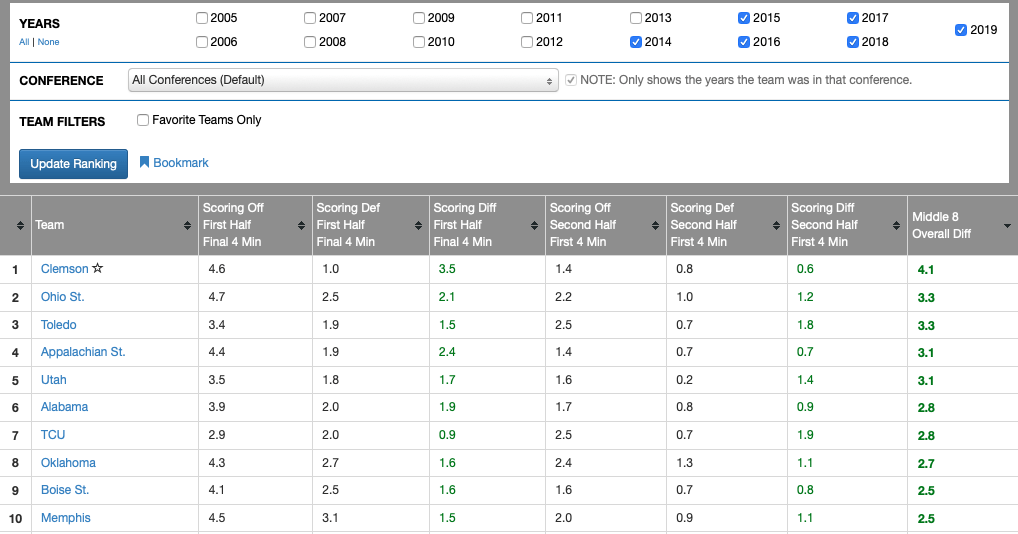 LSU has been fantastic in 2019 in first half final four minutes differential, but ranks 82nd in first four of the second half.
If there's a spot to bet Clemson live, it's before their last possession of the first half — particularly if there is room to run off the clock. In some of Clemson's most important games over the past few years, the Middle 8 statistic has been accurate at predicting a comeback from a first-half deficit.
Here's a list of recent Clemson games in which this came into play:
2019 Fiesta Bowl: Clemson trailed Ohio State 16-0 through the middle of the second quarter, won 29-23.
2019 North Carolina: Clemson trailed 14-7 with six minutes remaining in the second quarter, won 21-20.
2018 Cotton Bowl: A 9-3 slugfest vs. Notre Dame opened up with two minutes left in the second quarter. Clemson won 30-3.
2017 Auburn: Clemson trailed 6-0 until a Kelly Bryant touchdown run with 48 seconds left in the second quarter. Clemson won 14-6.
2017 National Title: Clemson trailed 14-0 to Alabama mid-second quarter, would go on to win 35-31.
A Clemson live bet with about four minutes left in the first half is not only recommended, but necessary for me depending on the situation.
Brent Venables makes $2 million with incentives for this very reason. The LSU offense may be the biggest hurdle in Venables' career, but the "Middle 8" stats support a Clemson wager in the second quarter and fading LSU through the third quarter.
Steve Petrella: Banking on Some Red-Zone Stops
Getting red-zone stops might be Clemson's best chance to win this game — that's how the Tigers beat Ohio State, which scored just 16 points on six trips inside Clemson's 40-yard line.
Dabo Swinney's team has one of the best red-zone defenses in the country, allowing touchdowns just 35% of the time to rank second nationally. They also rank 20th in opponent points per trip inside the 40.
Meanwhile, LSU's red-zone offense — and goal line, in particular — has been somewhat pedestrian, ranking 61st in success rate from inside the opponent's 10-yard line, per ESPN's Bill Connelly. A lot of that is because they're scoring from farther out. But in games against Auburn, Mississippi State and Georgia, the Tigers settled for field goals far too often. Against Auburn, it almost cost them.
The national average for points per trip inside the opponent's 40 is 4.4.  So for how good LSU's offense has been, you'd expect the Tigers to blow that number out of the water. But in the games they've been held to fewer than 40 points, they've been average at finishing drives.
That's why I'm targeting a live under when LSU is marching toward the end zone, even though it will be downright terrifying to watch Joe Burrow march down the field and count on him not getting in the end zone.
But the live total should tick up in anticipation that LSU will punch it in, and I'll count on Clemson to make a few stands and force field goals. Hopefully I pick the right drive or two to plant the flag.
There's no exact number I'm targeting. It depends more on the situation than anything. But I'll be trying to grab an inflated total that assumes LSU will walk right into the end zone in its next few plays.
I also may try to grab "next score will be an LSU field goal" live at +300 or so while LSU is on the move into Clemson territory.
How would you rate this article?