Coach Never-Punt: Recapping Kevin Kelley's Fascinating First Season with FCS Presbyterian
Credit:
Frank Mattia/Iconsports Wire. Pictured: A Presbyterian Blue Hose football helmet.
Editor's note: Kevin Kelley has since resigned from Presbyterian to pursue other football opportunities.
---
You've probably heard about Kevin Kelley before if you've floated around football Twitter, even if you don't remember his name.
Kelley is the Arkansas high school coach from Pulaski Academy who:
Punted eight times in his last 16 years
Went for it on just about every fourth down
Almost always onside kicked
Won nine Arkansas state titles in 18 years
Has frequent contact with Bill Belichick
Kelley took his first collegiate coaching job this spring with FCS Presbyterian in rural South Carolina, the smallest school in Division-I with about 1,000 students.
The Blue Hose play in the Pioneer League, which doesn't have football scholarships and is generally the weakest league at the D-I level. They've been struggling to keep the football program afloat for 20 years. But it's still FCS, and not all that far from big-time college football — Presbyterian played Wake Forest in 2017.
The Washington Post wrote a fun profile on Kelley earlier this season that I encourage you to check out. Athletic Director Rob Acunto basically said, "Why not?" when deciding to give Kelley his first college coaching job. Kelley got the offer the same day he interviewed.
It's not like Acunto or Presbyterian had a ton to lose.
Presbyterian finished above .500 twice (6-5 both times) in the last 15 years, and hasn't made the FCS Playoffs since 2005.
But Kelley's first season … did not go great.
Presbyterian went 2-9 with wins over two lower-division opponents early in the season. The Blue Hose gave up 54+ points in eight of their losses.
Here are six fascinating things to know about Kelley's first year.
1. Kelley mostly stuck to his principles…
The Blue Hose mostly did what Kelley did at Pulaski Academy.
In 11 games, Presbyterian:
Did not attempt a field goal
Tried 48 onside kicks, and recovered nine. They kicked off 25 times.
Punted just 13 times
Went for it 84 times on fourth down, and converted 34% of them
But that came with a whole lot of downside, because the Blue Hose frequently turned the ball over in their own end. And this aggressive style led to some wild statistics.
2. How those stats ranked among FCS teams
Naturally, Presbyterian led the country in a lot of statistics and finished last in others. The Blue Hose:
Attempted twice as many fourth downs (86) as the next closest team (43)
Attempted seven fewer punts than the next closest team (20)
Tackled for loss 107 times, 14 more than the next closest team
Threw 35 INTs, 15 more than the next closest team
| Stat | Total | Next Closest |
| --- | --- | --- |
| 4th Down Tries | 86 | 43 |
| Punts | 13 | 20 |
| TFL Allowed | 107 | 93 |
| INTs | 35 | 20 |
3. Presbyterian gave up 53.36 points per game, nearly 11 more than the next-worst team
That 53.36 points-per-game mark includes a 68-3 win over NCCAA Fort Lauderdale in the opener. That number is north of 60 without their two games against lower-division opponents.
Brown ranked second-to-last in FCS scoring defense and allowed 42.40 points per game.
Kelley's team was also last in FCS in turnover margin per game at -2.91. Brown was next at -1.80. The Blue Hose just kept chucking late in games, with no fear of the final score.
4. But they outgained their opponents on a yards-per-game basis
Because Presbyterian was turning the ball over so frequently in its own end of the field, the Blue Hose actually outgained their opponents for the season. The other team never had much ground to cover.
Presbyterian got outgained on a yards-per-play basis, but not by a ton — it gained 5.82 per play on offense and allowed 6.56 per play on defense.
That defensive mark was not the worst in the country, as there were nine teams worse.
The interesting thing about Kelley's approach is that it's more aggressive than the math suggests. Teams should be going for it more on fourth down than they do, but not every fourth down. And there are optimal times to kick field goals, at least in the NFL, which has reliable kicking.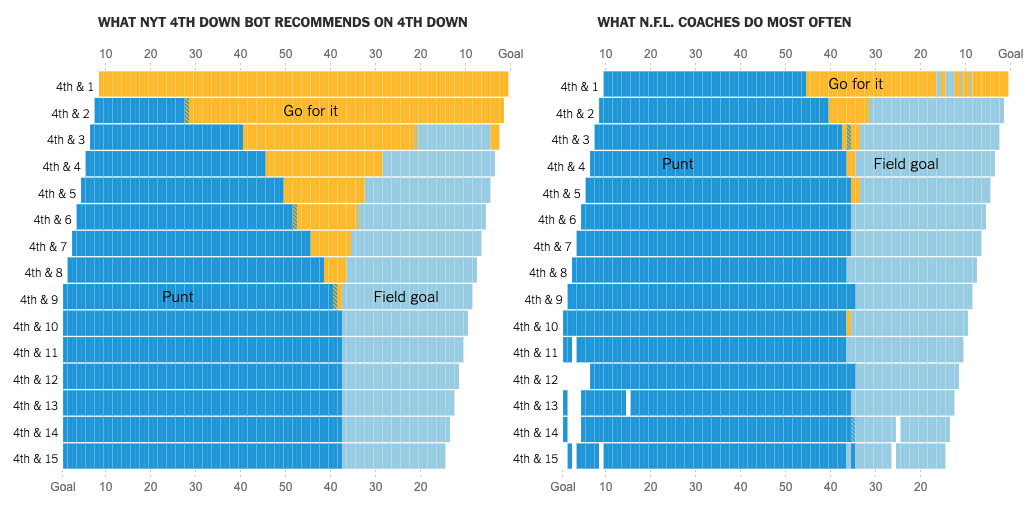 via the New York Times' NFL 4th down bot
But again, Kelley didn't kick any field goals this season. He rarely punted.
Below are all the fourth downs that Presbyterian attempted against Davidson (70-35 loss), Valparaiso (65-55 loss) and Stetson (56-14 loss).
Early in games, Kelley went for it on fourth-and-9 or less just about anywhere on the field. Late in games, he went for it almost no matter what.
5. QB Ren Hefley had a fascinating statistical year
Hefley started the season with an FCS single-game record 10 touchdown passes in a 68-3 win over Ft. Lauderdale, but the celebration stopped there.
In 11 games, Hefley:
Threw 39 touchdowns
Threw 31 interceptions
Was sacked 55 times
Threw for nearly 4,000 yards
Completed 62.46% of his passes
Averaged 6.99 yards per attempt
Some good, some bad.
6. Presbyterian finished last in the Sagarin ratings and would be an 89-point underdog to Georgia…
USA TODAY's Sagarin Ratings rate both FBS and FCS teams, and Presbyterian finished 258th of 258.
According to those ratings, the Blue Hose would be about an 89-point underdog on a neutral field against Georgia.
But finishing near the bottom of the Sagarin Ratings isn't uncommon for Presbyterian. Here are its ranks over the last five years.
| Year | Rank | Total Teams |
| --- | --- | --- |
| 2020 | 238th | 257 |
| 2019 | 251th | 256 |
| 2018 | 250th | 255 |
| 2017 | 221st | 254 |
| 2016 | 224th | 253 |
Kelley took the job in May and didn't meet his team until practices started in August. It's likely things get better at some point.
But at Pulaski Academy, Kelley eventually had talent advantages. Patriots tight end Hunter Henry is one of four NFL players to play for Pulaski in the last two decades.
So, will Kelley stick with it? He wavered a bit after a 72-0 loss to Campbell, when his team kept chucking and threw seven interceptions.
"I wasn't thinking about the mental impact," he said. "I saw their faces on the sideline, but not until it was too late.
"If we'd run out the clock, the final score is probably 52-14 and I'm probably not dealing with everything I am dealing with all week. Our players aren't the only ones on a learning curve. I am, too. A big one."
How would you rate this article?
This site contains commercial content. We may be compensated for the links provided on this page. The content on this page is for informational purposes only. Action Network makes no representation or warranty as to the accuracy of the information given or the outcome of any game or event.