Rovell: Penn State's Sluggish Finish Saves Books from Massive Liability
Credit:
Matthew OHaren-USA TODAY Sports. Pictured: James Franklin and Mike Miranda
Darren Rovell brings you the latest college football betting odds and news, straight from Vegas bookmakers, leading up to Saturday's slate.
Saturday Updates
4:15 p.m. ET: After going up 28-0 in the game's first 16 minutes, Penn State limped home, only scoring one more touchdown. The Nittany Lions ended up winning by 28 — 35-7 — which was huge for the Sugar House sportsbook, which has locations in Pennsylvania. One Sugar House official told me the score landing exactly on 28 instead of 29 or higher saved the book "a six-figure liability." Eighty-five percent of the tickets at Sugar House were on the Penn State -28. Quite a few books around the country closed at -28.5, so they were even happier with the Nittany Lions' lackluster finish to the game.
1:45 p.m. ET: Penn State, one of sportsbooks' biggest liabilities on Saturday, blitzed out to a 28-0 early lead against Penn State and went into halftime up, 28-7. That means the Nittany Lions bettor who wagered $165,000 total on Penn State's first-half spreads (-16.5, -17 and -17.5) won all of his bets at William Hill, profiting $150,000 in total.
12 p.m. ET: CG Technology got a massive moneyline bet on Maryland-Rutgers at the last minute. One bettor is risking $337,500 to win 50,000 on Maryland's moneyline (-675).
11:30 a.m. ET: Where money is on for Auburn-Florida (+2.5)? DraftKings: Auburn 87%; PointsBet: Auburn 75%; William Hill: Auburn 72%. Translation: Florida will be one of sportsbooks' biggest needs on Saturday.
11:10 a.m. ET: Where money is on Iowa-Michigan (-4)? DraftKings: Michigan 57%; PointsBet: Michigan 60%; William Hill: Iowa 55%. William Hill is the only one of these three sportsbooks that currently does business in Iowa, which went legal right before football season.
10:55 a.m. ET: Here are the most lopsided Over/Unders, per DraftKings: Boise State-UNLV (99% of the money on the Over), Ohio State-Michigan State (95% of the money on the Over), Texas-West Virginia (93% of the money on the Over) and Auburn-Florida (93% of the money on the Over).
10:45 a.m. ET: Another huge Penn State first-half bet has come in. According to a report by Patrick Everson, MGM has taken a $110,000 bet (to win $100,000) on Penn State -17 in the first half against Purdue. Yesterday, we reported that William Hill took three separate bets on the Nittany Lions in the first half, totalling $150,000. Penn State (-28) is the still the most lopsided bet at DraftKings, with 90% of the money on the Lions.
10:38 a.m. ET: Notre Dame is entering virtually uncharted territory. The Irish were a 34.5-point favorite against New Mexico earlier this year, the largest favorite the Fighting Irish have been since at least 2005. This weekend, the Irish have blown through that number and are a 46-point favorite at home against Bowling Green. According to William Hill, 63% of the money is on the Irish. That isn't the case everywhere, though, as other sportsbooks are reporting that the public is backing the Falcons.
10:15 a.m. ET: The most bet early game is Michigan-Iowa, according to William Hill, which has more than 100 sportsbooks across the country. That game has 14% of all tickets. Auburn-Florida is second at 9%.
10:10 am ET: Big bet into CG Technology in Vegas this morning, as one bettor has put $44,000 on Miami (-14) to net $40,000. Both teams are 2-2, but Virginia Tech is coming off a horrendous 35-point loss against Duke as 2.5 point favorites. The Hurricanes are coming off a bye and won their last time out, but hardly in convincing fashion, beating Central Michigan by five.
---
On Sunday, at 2:07pm local time, Circa bookmaker Matt Lindeman already knew he got a number really wrong.
All year, the Circa in Las Vegas has been garnering attention by being first to open the college football lines on Sunday. Given that gamblers can get $2,000 down at the window and $1,000 on the app, Lindeman & Co. find out pretty quickly if they post a number that's off.
So when Circa opened Penn State as 16.5-point favorites over Purdue … and six minutes later, the line had been bet up to 20, Lindeman knew he had a problem.
"That might have been my worst number of the year," Lindeman said. "We didn't account for the losses of (Elijah) Sindelar and (Rondale) Moore. And I thought, from the score that their game against Minnesota (they lost 38-31) was closer than it really was. When it was 19, we were hoping it was going to stop at 21. At 22, we hoped it would only go to 23. At 25, we hoped it wouldn't go to 28."
It closed on Sunday night at 25.5 after the book took three max bets, and is now up to 28 at Circa and 28.5 elsewhere around the market. Check out this up-to-the-second line movement we catalogued within our Sports Insights product for this game:
Some of Gambling Twitter has been brutal. One guy made his profile picture the Circa logo and Penn State -16.5.
"I laughed," Lindeman said.
So does he regret being first?
"I think it has been worth it," said Circa bookmaker Matt Lindeman. "Because you can really call it how you see it. If someone opens first at -5 and you think it should be -2, you can start at -4.5 but you can't really go down to -2 immediately. Then it moves down to -2 and you might have been right all along."
The most massive college football position we've found from talking to bookmakers is actually on Penn State.
It's one bettor who took the Nittany Lions at William Hill at -16.5, -17 and -17.5 to cover the first half spread, betting three equal installments of $55,000! The bet would net $150,000 if they cover.
Biggest Game Of The Day
Last week, Ohio State easily covering Nebraska hurt the oddsmakers, and they'll be cheering against the Buckeyes again this week. As of 4:30 p.m. ET on Friday, the Buckeyes are 20-point favorites vs. Michigan State. "Our whole day might depend on this game," said CG Technology's Tony DiTomasso.
The Non-Conference Game That Matters
LSU-Utah State likely won't be compelling to the general public, but to bettors it's a different story. There's a lot of action on this game due to the big spread (now at 27.5) and the fact that Utah State is serviceable. "We have nice two-way action," said Nick Bogdonovich at William Hill. "We've had sharps on both sides, but there's some concern about how motivated LSU will be." The bigger bet is that Joe Burrow will continue to sling it.
"We have a lot of liability on over 72.5," said the SuperBook's Eric Osterman.
"As a random non-conference game in the middle of the season, this is pretty fascinating," Lindeman said. "Utah State can score."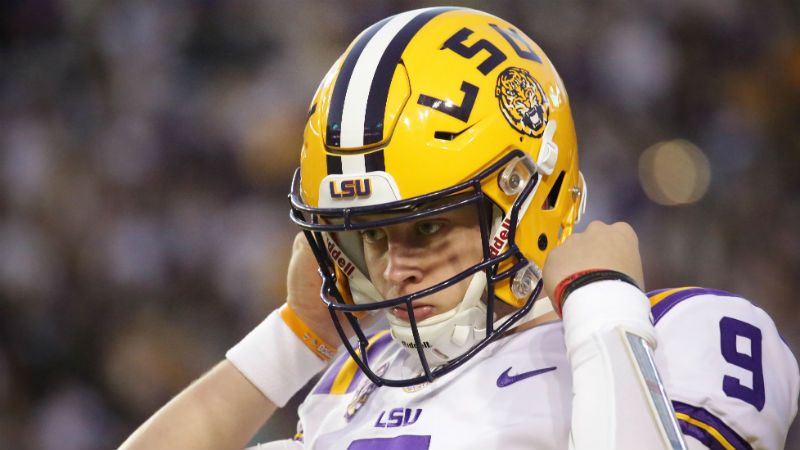 Service Academy Game
Service Academy games usually go under due to the fact that both teams employ a run-heavy, clock-sucking offensive scheme. How often does this happen?
Under Record, Last 14 Games
Army-Navy: 13-1 (.928)
Navy-Air Force: 11-3 (.786)
Army-Air Force: 9-5 (.643)
Navy and Air Force face off this weekend, and bettors, for the most part, believe the opening number is right. The game opened in many places at 45 or 46, and it's right around that number still.
The Game People Are Scared To Bet
Wisconsin-Kent State. "We have three bets in and they're all on Kent State," the SuperBook's Osterman said. The Badgers are a 35-point favorite, which, if you count how they did against non-conference teams this season, you'd think it shouldn't be a problem. In their two non-conference games, they averaged 55 points per game, outscoring USF and Central Michigan, 110-0.
Hot Totals
According to DraftKings, these are the most lopsided over/under bets for Saturday:
99% on Over 57 in LSU-Utah St.
95% on Over 49 in Ohio St-Michigan State
93% on Over 48.5 in Auburn-Florida
Aftermath of Last Week's Beating
After the public took a huge beating last week, especially in the NFL, and bookmakers in Vegas have noticed business was a little bit slower this week. "We're light on the bankroll this week so far," Bogdanovich said. "People are a little gun-shy.
Teams in the Most Parlays
Here's who CG Technology will be cheering against to blow up their parlay liabilities:
1. Ohio State
2. Auburn
3. UCF
How would you rate this article?