Behind the Scenes as Vegas Bookmakers Open College Football Playoff Odds: Clemson, LSU Take Early Action
Credit:
Vasha Hunt-USA TODAY Sports. Pictured: Ed Orgeron
Live from the Westgate
John Murray, Ed Salmons and Jay Kornegay from the Westgate Las Vegas SuperBook were kind enough to let me hang behind the scenes on Sunday in the run-up to the NFL slate and as they debate the College Football Playoff lines and take action. Here's a running list of quotes, observations, etc. The most recent entry is at the top.
1:09 p.m. ET: Westgate, which originally opened LSU -9.5, is now all the way up to LSU -12. That's above the number that Kornegay, Murray and Salmons all threw out an hour ago. It's been all LSU action from the start.
12:45 p.m. ET: A futures odds update from the SuperBook:
LSU 7-5
Clemson 2-1
Ohio State 3-1
Oklahoma 16-1
Salmons: "Our best scenario is Clemson winning the title. Going into the year, Alabama took a ton of money — big bets on them all year. No one was betting Clemson. We didn't have Clemson higher than 7-2."
12:38 p.m. ET: Action on LSU right away. SuperBook moved from LSU -9.5 to -10 and then eventually to -10.5.
Clemson, which opened +1, is now -1.5 against Ohio State.
12:34 p.m. ET: It took 2 minutes to get a 4-figure bet: $1,100 to win $1,000 on Clemson +1. SuperBook moves to pick'em for the game.
Salmons: "If the public bets Clemson, I like Clemson."
12:32 p.m. ET: Minutes after the committee released the two playoff matchups — LSU vs. Oklahoma and Clemson vs. Ohio State — Westgate opened its spread markets for the games:
LSU -9.5 vs. Oklahoma
Ohio State -1 vs. Clemson
11:52 a.m. ET: Westgate isn't ready to release lines for the two College Football Playoff semifinal games quite yet, but they've started internally debating spreads for the two likely matchups: LSU vs. Oklahoma and Clemson vs. Ohio State. Here's how Jay Kornegay, John Murray and Ed Salmons are thinking about it as of now:
LSU vs. Oklahoma Odds
Kornegay: LSU -11.5
Murray: LSU -10.5
Salmons: LSU -10
The biggest question here: Do you give bettors the chance to grab a number above +10 from the jump?
Clemson vs. Ohio State Odds
Kornegay: Clemson -1
Murray: Clemson -1
Salmons: Ohio State -1
Murray: "I think Clemson beats everyone."
---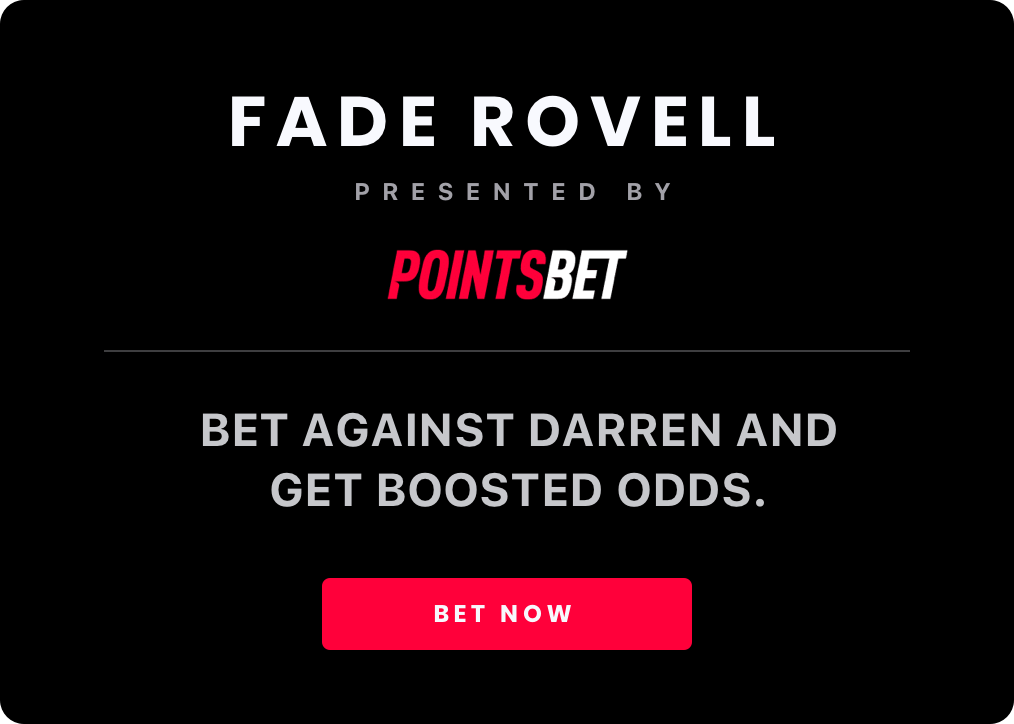 Darren Rovell isn't buying Eli Manning in his return to action on Monday Night Football. PointsBet is giving everyone in New Jersey boosted odds to Fade Rovell and bet on the Over of 249.5 Passing Yards for Manning (normally -105, now +120). New customers get an exclusive promotion: Deposit $50, bet with $150. No strings attached. No rollover required.
---
Saturday Updates
11:48 p.m. ET: It's been 41 days since Ben Patz hit his first six-figure parlay. It was a crazy 15-teamer: $1,800 to win $237,200. The 23-year-old college student went on to cash tickets of $22,202, $33,481 and, the real kicker, $326,000 over the next three weeks. It was a string of wins Patz called "ridiculous."
So how did he react after Ohio State's come-from-behind victory in the Big Ten Title Game completed an eight-team parlay to win him $183,892?
"What the actual f***!"
Parlay Patz was at the William Hill sportsbook in Atlantic City watching the first half of the Ohio State game, needing a win from the Buckeyes to cash his ticket, on which he risked $42,391. Down 21-7 to Wisconsin at the half, he said he "left the sportsbook floor because I had no hope."
Then Ohio State outscored Wisconsin 27-0 in the second half to complete their comeback and add another six-figure winner to Patz's pockets.
"When Ohio State had the ball and was down 21-17, I tried hedging at Wisconsin at +500 for $15,000," Patz told The Action Network after the game. "I wasn't convinced they could shut the door like they did. Turns out, the (William Hill) app rejected the bet."
Among winning parlays we've been able to confirm through William Hill, this brings Parlay Patz's tally to $1.020 million in winnings over the past 41 days. (Patz told me he's also had $300,000 in losing bets during this timeframe and has profited approximately $736,000 on all of his wagers.)
Note: Always tread lightly when betting parlays, as they tend to be -EV bets over a long period of time.
8:15 p.m ET: Ben Patz, the 23-year-old college student who has been on a run betting parlays, has another six-figure potential winner on the line tonight in the Big Ten Championship game between Ohio State and Wisconsin.
Patz, whose friends call him "Parlay Patz," wagered $42,391 on an eight-team moneyline parlay consisting of favorites. The bet would profit $183,892.
He's won the first six legs — Ohio State over Penn State in college hoops, Mavericks over Pelicans in the NBA, Boise State over Hawaii in the Mountain West title game, BYU over UNLV in college basketball, Memphis over Cincinnati in the AAC title game and Oklahoma over Baylor in overtime of the Big 12 title game.
The two pending bets at the time of writing: Kansas over Colorado in college basketball (leading by double digits in the second half) and Ohio State over Wisconsin in the Big Ten title game.
A week ago, Patz cashed a $108,951 parlay, adding to his tally. The Action Network has been able to confirm $836,282 in winnings on parlays since Oct. 27. Patz also told me that he has approximately $220,000 in losing bets during that time frame.
Should the final two legs of Patz's parlay come through on Saturday night, that would bring his winnings since Oct. 27 north of $1 million.
Six-Figure Bet on Boomer Sooner: DraftKings just reported that they took a $220,000 bet on Oklahoma to cover as 9.5-point favorites (-110) against Baylor.
[In New Jersey, Pennsylvania, Indiana or West Virginia? Bet now at DraftKings]
Will the Dogs Bark?It's pretty clear that a chalky day could be a disaster for sportsbooks. According to our market-wide data seven favorites on Conference Championship Saturday are getting at least 60% of the money and five (Clemson, LSU, FAU, Boise State and Ohio State) are getting at least 65% of the bets and money.
With most of the action coming in on the favorites, the guys in the desert will be hoping for some dogs to bark on Saturday.
We spoke to PointsBet's Matt Chaprales about some of his shop's biggest decisions for what figures to be a terrific day of action:
Baylor vs. Oklahoma (-9) | Over/Under: 66.5
12 p.m. ET
"Ticket count is tilted toward Baylor at a 55/45 split, which isn't surprising given that anyone holding a +10 ticket in the first matchup never had to break a sweat. Heavier money is on Oklahoma, over 70% of handle. Pros were more interested in the total, hitting the over early in the week."
Georgia vs. LSU (-7)
4 p.m. ET
"This number opened LSU -5.5 and saw steady Tigers action through the early part of the week, pushing the line as high as 7.5. That marked the resistance point, as we got hit with a good deal of Georgia +7.5 money. Number has since settled at 7, with over 60% of both the tickets and money on LSU. Moneyline is a different story. All Dawgs."
Wisconsin vs. Ohio State (-15.5) | Over/Under: 57.5
8 p.m. ET
"Sharp money grabbed Wisconsin +16.5 when it was available, but since then it's all Ohio State action, which isn't a surprise given the first meeting between these teams — 75% of the tickets and 70% of the money currently on the Buckeyes."
Virginia-Clemson (-28.5) | Over/Under: 56.5
7:30 p.m. ET
"It's rare that a number generates almost equal action on either side, and even rarer when that number is as high as it is in this matchup. But 28.5 looks to be right, with tickets and money both split straight down Broadway."
Thursday Update
The 2019 college football regular season has come to an end, but now the real show starts.
How much of a show will it actually be? Hard to say, since there are some projected blowouts on the card.
Two marquee games feature double-digit favorites (Clemson -28 and Ohio State -16.5) and the size of the spread has seemed to affect the money.
It's still early in the betting market, most action won't show up until Friday and Saturday, but a quick snapshot of the market, using our market-wide betting data, shows that the public is expecting a chalk-fest this weekend:
76% of bets on Ohio State (-16.5) vs. Wisconsin
76% of bets on Florida Atlantic (-7.5) vs. UAB
75% of bets on Central Michigan (-6.5) vs. Miami of Ohio
71% of bets on Boise State (-13.5) vs. Hawaii
71% of bets on LSU (-7) vs. Georgia
63% of bets on Baylor (+9) vs. Oklahoma
63% of bets on Clemson (-28) vs. Virginia
58% of bets on Cincinnati (+9.5) vs. Memphis
56% of bets on Appalachian State (-6.5) vs. Louisiana
Only two underdogs are attracting more than 50% of the tickets in their respective matchups and only one of them, Baylor, is getting more than 60% of the bets.
Ohio State Liability
No spread seems large enough for Ohio State, but that wasn't the case last week, when sportsbooks got their share of Michigan bets. The Buckeyes easily covered that game, winning by 29.
According to our data, Ohio State is tied with Central Michigan as the most popular side of the day. But considering that the handle for the Big Ten Championship will dwarf the action on the MAC Championship, it's pretty fair to call the Buckeyes the slate's most popular side, for now. That seems to be the case at FanDuel, where the Buckeyes have taken 95% of the money.
Even though the Buckeyes could lose the game and still make the playoff, the Superbook's John Murray says that prospect hasn't stopped Ohio State bettors from coming to the window at a 4-to-1 pace.
It's a similar story at PointsBet.
"The first meeting between these teams is clearly fresh in bettor's minds, as it's been one-sided Ohio State action," PointsBet's Matt Chaprales said of the Big Ten title game. "Over 85% of the tickets and just under 80% of the money have laid the wood with the Buckeyes so far."
It's pretty clear that the books will be cheering on Wisconsin.
How Bettors Are Playing the Day's Biggest Spread
While our data shows Clemson as the popular side against Virginia, Murray says the SuperBook is getting two-way action on the ACC Title Game. That will happen with a four-touchdown spread.
"No one wants to lay that many points," Murray explained. "The tickets are basically split."
Big spreads haven't been an issue for Clemson this season. The Tigers are 9-2 ATS when favored by 24 or more.
Betting on the Dawg
Perhaps the most interesting market this weekend is the SEC Championship Game between LSU and Georgia. The Tigers are a 6.5-point favorite but were offered as low as -3.5 and as high as 7.5 before the line began to settle at LSU -7 across the market. Chaprales said bettors at PointsBet hammered the Bulldogs when they hit +7.5 to push the line back down and Murray says the SuperBook is betting on the underdog in this one.
"We think the line is too high," Murray said. "LSU is good but we think Texas A&M ran out of gas last week and we know Georgia's defense is better than LSU's."
The Westgate finally moved Georgia to +7 late Thursday night.
How would you rate this article?