Wilson's Championship Weekend Hedge Mailbag: How to Lock in Profits on Conference Futures
Credit:
Kevin Jairaj-USA TODAY Sports. Pictured: Oklahoma Sooners quarterback Jalen Hurts (1).
Some bettors are sitting on longshot conference championship futures tickets, and need just one more win this weekend to cash them.
Collin Wilson answers questions from readers on how to hedge in a variety of scenarios, and breaks down what he's doing with his futures tickets.
A year ago at this time, conference championship weekend featured titanic matchups in the power five conferences. Kyler Murray looked to take Oklahoma to the playoff with Texas standing in the way. Tua Tagovailoa would unknowingly need an assist from Jalen Hurts against Georgia.
But we at the Action Network had our sights set on the biggest matchup of the weekend … UAB versus Middle Tennessee State.
The Blazers were the preseason 20-1 Conference USA future that overshadowed everything else for me during championship weekend. The hedge was obvious enough, with Middle Tennessee -1 before the game, so we locked the Blue Raiders in for our initial UAB investment. Bill Clark's team did come through to cash that longshot ticket.
Hitting a futures wager is the most euphoric feeling a gambler can experience. A winning futures ticket signifies a researched edge in the market, a financial position and the patience to let it ride. As someone who hit a 200-1 Mecole Hardman prop and lost a 625-1 TCU ticket when the College Football Playoff committee picked Ohio State in 2014, my ideology on futures will never change:
Always hedge a minimum amount to safeguard the initial bet.
Do not listen to the outside noise that hedging is for cowards. Retaining an investment in the gambling world makes you a winner, which can be hard to find in our ecosystem. With that said, we digest the weekend slate and answer the biggest questions from a season long futures perspective.
For any questions around our Action Network projections, reference the power ratings that were updated for conference championship weekend. Stay tuned for much more betting coverage in the run-up to Friday night, and follow me in The Action Network app for all my early bets and bets closer to kickoff.
College Football Championship Weekend Projections
Oregon vs. Utah
Friday, 8 p.m. ET | ABC
A little less than two years ago I came into the Action Network and proclaimed to my peers:
"Clemson has solved its explosiveness problem with Trevor Lawrence. I'm betting them to win it all."
Thankfully, that proclamation came through as Clemson mopped up Levi's Stadium with the Crimson Tide last season. When asked to come on my boss' podcast last May, I was not shy to share the team where all my 2019 investments had been made.
I have a few tickets on Utah to make the playoff and win it all, but the bulk of investments came on 10-1 odds to win the conference. Our August preview suggested a Utes Pac-12 future down to +350.
RickyV has the right idea on how to handle the Utah futures. The Oregon loss to Arizona State was a blessing and a curse. An easy hedge of the Pac-12 futures is now available thanks to the Ducks taking a second loss.
Taking Oregon moneyline for your initial Utah investment will guarantee a win. Followers in the Action App saw me bet a juiced Oregon +7 for twice my Utah investment.
My Hedge for Pac-12 tickets: Oregon straight up or with the points achieves the same goal, but I'm taking the +7. This creates a window to hit both a season long future and a Pac-12 Championship side in one game.
Can You Hedge a Utah National Title Future?
The curse of Oregon losing a second game is likely to play out with Oklahoma jumping into the No. 4 spot for the College Football Playoff. I believe Utah's havoc minded defense would present a big challenge to Ohio State, while Oklahoma would be a track meet ending in a Buckeyes victory. Sadly, there is no way to truly hedge a Utah national title ticket, as a Pac-12 conference title does not guarantee a spot in the Fiesta or Peach Bowl.
This is why high investment futures will depend on decisions that are made on the field and not by a committee, which will always be quick to throw out a program that will not draw eyeballs (see TCU and Baylor 2014).
For a sneak peek: Expect a heavy dose of Oklahoma State predictions in 2020. Viktor Hovland at the Masters, a Final Four run in March, and the possible return of Chuba Hubbard and Tylan Wallace will have us shopping for Pokes gear and have me looking hard at the Cowboys in the 2020 college football season.
Miami Ohio vs. Central Michigan
12 p.m. ET | ESPN2
Our preseason MAC column did well on win totals, but severely missed on Miami of Ohio and Central Michigan making the jump to the championship game in Detroit.  Miami +850 and Central Michigan +3600 were the preseason numbers for each squad to win the conference, with the Chipps falling to as far as 300-1 at Circa Sports.
The Hedges: If you have any Central Michigan futures, consider an initial investment bet on Miami Ohio at +7.
As for the Redhawks, shop for -250 on the Chipps to wash your hands of the ticket and guarantee you at least break even, because I think CMU has the upper hand in this game.
These teams have been heading in separate directions, and Miami's offense could be in for a long afternoon.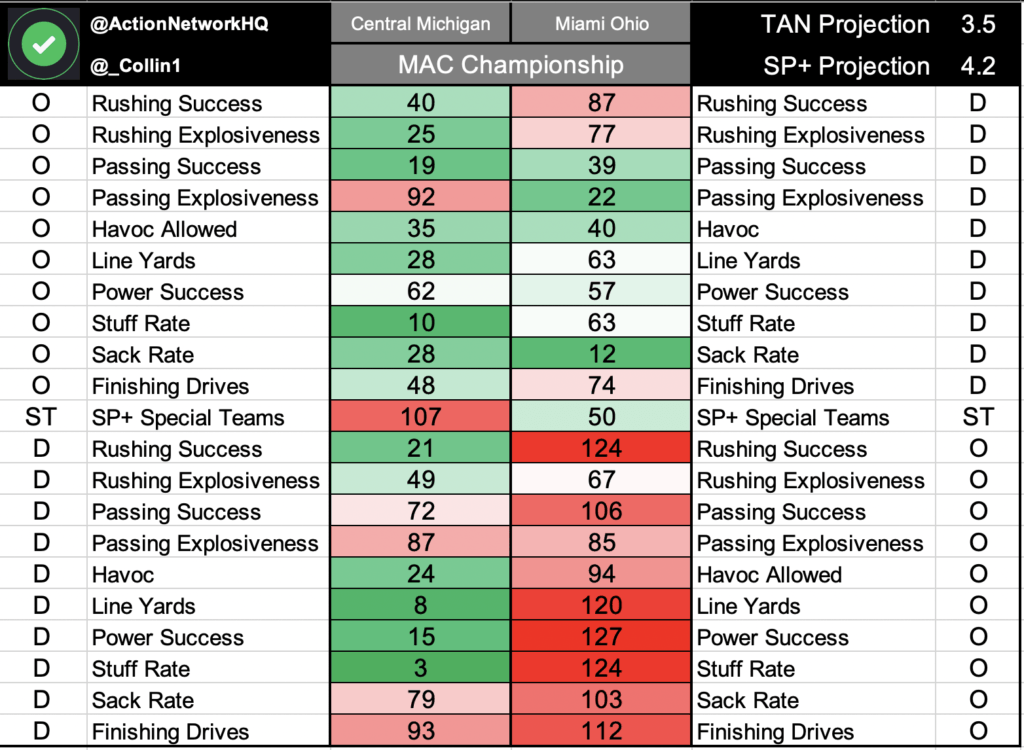 UL Lafayette at Appalachian State
12 p.m. ET | ESPN
You could find around -175 for Appalachian State and 13-1 for UL Lafayette preseason.
My podcast partner Stuckey has been hot on the ULL train since odds hit the board, along with some loyal listeners.
As of Wednesday night, Ragin' Cajuns money is hitting the market, moving the number down to ULL +6.
With multiple projections, including the Action Network power ratings, suggesting a point spread less than the current market, the number has a chance to dip even further.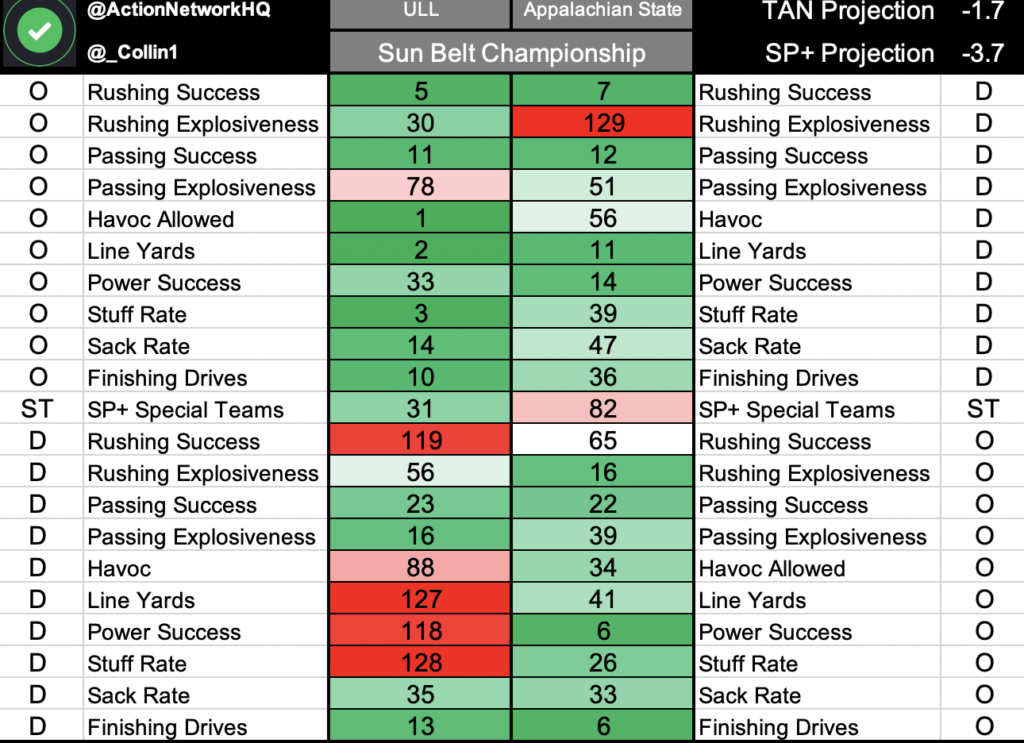 As I said above with UAB last season, I am not afraid to let a future ride. But in this particular scenario I would look to get a couple of units back on a ULL conference future. Not only has Appalachian State won every instance of this game since 2014, UL Lafayette has never kept this game within 10 points.
It took an amazing array of events to get a Mountaineers cover earlier this season. If Billy Napier gets an unbiased set of referees and decides not to punt on fourth-and-1 from midfield in the fourth quarter, ULL should cover the number.
The Hedge: Wait for the market to dip on the moneyline below -200 on Appalachian State and hedge at least the initial investment from the ULL future.
Baylor vs. Oklahoma
12 p.m. ET | ABC
This is just one of several rematches during the Saturday slate. Baylor was listed at 30-1 in several places preseason to win the Big 12. Backers of the Bears are faced with a big decision as Oklahoma is more than a touchdown favorite in Arlington.
While we suggested Oklahoma for the Playoff as the futures wager, plenty of sharp gamblers took Baylor to challenge for the conference title in Matt Rhule's third year.
Alex's tweet was one of my favorites because I have two different strategies for the Big 12 and Mountain West championship games.
First, the Oklahoma-Baylor breakdown will go into great detail about the expected flow of this game. Take out three drives and eight plays from Baylor during the first half of last month's meeting and the Sooners win a landslide in Waco. Although Oklahoma had issues with ball protection, this is the biggest havoc gap of the weekend.
Oklahoma has moved to 20th in defensive havoc in contrast to Baylor's rank of 90th in havoc allowed. Field position and turnovers were responsible for the Bears 28-3 lead, and I don't expect to see that again on Saturday.
Those opportunities may not come in Arlington, giving way to grabbing an Oklahoma moneyline pregame before kickoff.
The Hedge: There are shops offering -300, which would make a decent hedge price against a 20-1 or better on Baylor to win the Big 12.
[In New Jersey? Bet now at PointsBet]
Hawai'i at Boise State
4 p.m. ET | ESPN
Tagging on to the previous tweet, how would a bettor of Hawai'i futures handle the conference title game in Boise? Our Mountain West Conference preview called both Hawai'i 25/1 and Boise State -105 to win the conference.
For those that do not have the Broncos side of the equation, this game might be a great situation to bet live.
Willie has the right idea. The first game between these teams came up just shy of 96 points. Hawai'i started the game with a punt and fumble, but managed to keep the margin at just seven points through the end of the first quarter. The Rainbow Warriors scored 37 points, including 16 in the fourth quarter.
Nick Rolovich must limit the turnovers to keep this game within the number. Boise will have plenty of success against the Hawai'i defense, but the Bows are top 10 in offensive success rate.
The Hedge: Turnovers aside, I like Hawai'i to keep this game close, so I'm expecting a better price in-game than the -500 on Boise that's being offered pregame.
Look for -250 or better on the Broncos live to hedge any Island Magic tickets.
Wisconsin vs. Ohio State
8 p.m. ET | ESPN
Justin Fields will play in this game, but his health is in question after mentioning the pain in his knee. The Badgers have had more passing attempts in each game since the first meeting with the Buckeyes, which may lead to increased scoring in Indianapolis.
Wisconsin came out throwing against Minnesota in terrible weather conditions on Minneapolis, a wrinkle in the play calling from what happened in Columbus. The Badgers will have to play mistake-free and limit explosive passing from Fields. Chase Young was responsible for two Jack Coan turnovers, but Michigan may have shown the template for isolating the defensive end.
The Hedge: With a moneyline at -650 on the Buckeyes, the best course of action is to play the number live or parlay the Buckeyes with another team on the Saturday slate. My personal favorite as a straight-up winner is Oklahoma on the Saturday card.
A parlay of Oklahoma and Ohio State pays about 2-1. That is the direction I will go to guarantee at minimum of a small win in the Big Ten Championship Game.
Virginia v Clemson
7:30 p.m. ET | ESPN
If you hold a Virginia to win the ACC ticket, you're probably just going to have to let it ride. The best advice is to look at Coastal Division futures ONLY over the next few years.
Dabo Swinney has felt slighted by the media this week, getting plenty of reaction fodder to feed his players as motivation. Trevor Lawrence will take advantage of an injured and depleted secondary of Virginia.
This burns Joshua, but not enough to keep me from making Lawrence my very first Heisman bet in 2020… making it the third consecutive year I will back the Clemson quarterback.
Collin Wilson is 482-404-23 (54.4%) overall betting on college football. You can follow him in our free app.
How would you rate this article?