College Football Fantasy & Futures: Examining the Next Playmakers for Alabama & Georgia
Credit:
Kevin C. Cox/Getty Images. Pictured: Will Anderson.
It's a bittersweet moment. We've reached the final game of the 2021 college football season.  So, what better way to wrap up the season than to look at next season's futures and to evaluate prospects for fantasy football?
Alabama enters this game as the No. 1 team in the country following its demolition of Cincinnati in the Cotton Bowl.
After losing a midseason matchup against Texas A&M, the Crimson Tide rallied and secured their place in Atlanta for the SEC Championship game. They then defeated their National Championship game opponent, Georgia, in a one-sided contest.
Georgia enters this game after a dominant win over No. 2 ranked Michigan. The Bulldogs sat atop the rankings for the majority of the season with only one regular-season win within a single touchdown margin.
They slipped up in the SEC Championship game against Alabama but are once again favored in the rematch.
Finding Value with Futures
The 2021 Heisman trophy has been sorted so it's time to take a look forward. Current odds for the 2022 winner are limited, but we can identify early move opportunities based on the current available odds.
Unfortunately for this matchup, there aren't many players I'll be running to the counter to bet on, but there are several longshot options to go along with betting the presumptive favorite.
Winning back-to-back Heisman Trophies is a monumental task, so I'm not jumping at the chance to bet Bryce Young as the presumptive favorite, but he checks the boxes for a strong Heisman bet.
Since 2000, 72% of Heisman trophy winners have been a part of a conference champion, including each of the last five, and 81% of winners have been quarterbacks.
It's nearly impossible to win multiple Heisman Trophies — it has only been done once — but Young is likely the safest bet of any player in this game to be a finalist, which makes him worth a small wager.
Will Anderson finished fifth in Heisman Trophy voting this season, so he'll have odds posted at most books when the season kicks off. His resume included 17.5 sacks and 31 tackles for a loss to lead the nation in both categories.
This award continues to be an offensive award, even if voters are showing a greater willingness to include defenders on their ballots. Because of his low likelihood of winning, he's likely a stay-away bet for anything longer than +10000.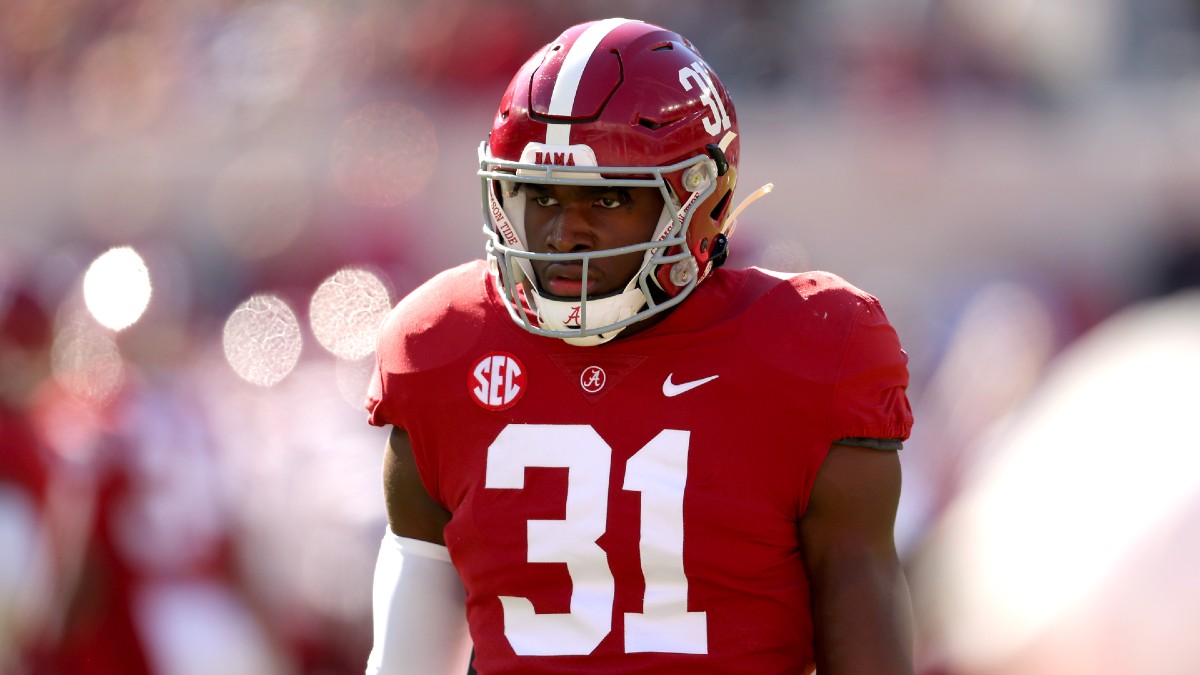 Arguably the best value for any Alabama player is for a player who won't be featured in the National Championship game. Georgia Tech transfer Jahmyr Gibbs is expected to take over Brian Robinson Jr.'s running back position atop the Crimson Tide depth chart.
The Yellow Jacket import has averaged 5.2 yards per carry for each of his first two seasons. He also proved to be a dynamic athlete with 59 receptions and while returning kickoffs as well. While running backs will always be operating at a disadvantage compared to quarterbacks, Gibbs represents a good longshot bet if you can find odds at +3000 or better.
One final name to consider is wide receiver Ja'Corey Brooks. Brooks was a five-star high school prospect who has emerged as an option toward the end of the season.
With both Jameson Williams and John Metchie III likely to leave for the NFL, over 170 receptions will be vacated. If Brooks is overwhelmed with the type of volume DeVonta Smith received in 2020, he could steal the vote from Heisman voters who refuse to give Young a second win. I'll be holding a ticket at any odds over +5000.
Either Stetson Bennett or J.T. Daniels will be in position to win the Heisman Trophy based on team performance entering SEC Championship week.
Georgia will enter the 2022 season as a strong favorite to win the SEC East, and the starting QB for this offense will have a chance. But it may require a dramatic shift in offensive style.
Bennett averaged 11.0 adjusted yards per attempt for the season, but he attempted 230 fewer passes than Young this season. Whoever wins the job will likely have odds around +2500, but barring any coaching changes, they're likely stay-away plays for me.
There are several solid running back options for Georgia who could emerge as viable Heisman candidates if the Bulldogs once again rely on a strong running game and defense.
If Zamir White chooses to return to school, he'd be the strongest play from the bunch. If he leaves, I may place very small speculative bets on Kendall Milton and Daijun Edwards in hopes that one emerges and takes over the lead role around +10000 odds.
However, if there's one player I'm happy to place a longshot bet on, it's Brock Bowers. As a true freshman, Bowers leads the Bulldogs in receptions, receiving yards, and touchdowns. And as a tight end, his odds will remain super long all offseason.
Favorite Picks: Jahmyr Gibbs, Ja'Corey Brooks, and Brock Bowers (Small-Unit Plays Ideally at +5000 or Better)
Fantasy Perspective
Both of these teams are loaded with future NFL talent and future fantasy contributors.
Rookie Drafts
For dynasty leagues, there will be an influx of talent into upcoming rookie drafts from players in this game.
Williams transformed himself from an Ohio State castoff to a Biletnikoff Award finalist. A former top-100 high school prospect, he averaged 17.7 yards per reception during limited usage with the Buckeyes.
With an expanded role at Alabama, Williams increased his average to 20.1 yards per reception. He posted a breakout season with a 31.8% dominator rating in his age 20 season, and his 2.93 yards per team pass attempt is in the 97th percentile for the last five seasons.
Williams is projected as a possible top-10 overall selection in the NFL Draft. With his high capital and strong peak final season, Williams ranks as my WR3 but should be in the discussion for the first WR taken in rookie drafts.
Metchie isn't my favorite draft prospect. His usage during the 2020 season following the injury to Jaylen Waddle was so limited that it opened the door for a wide receiver to win the Heisman for the first time in more than 20 years.
But he turned in a strong 2021 campaign that should earn him high enough draft capital to be a legitimate WR prospect in rookie drafts.
He accounted for 24.3% of Alabama's receiving yards and posted a 20.5% dominator rating. He's no longer being projected as a Round 1 NFL Draft selection, and his injury status could cause him to fall into Round 3.
With the lack of a breakout season and non-Day 1 draft capital, he's likely outside of my top-10 WRs in the class and in the Round 3 range for rookie drafts.
Robinson proved to be a capable workhorse back this season after waiting his turn behind Najee Harris, Damien Harris, and Josh Jacobs.
For his career, he averaged 5.0 yards per carry and had 3,047 yards from scrimmage. Robinson improved his receiving usage this season, averaging 2.4 receptions per game.
Capital will be the key for him as a prospect. If he earns Day 2 capital, then he should be considered in Round 2 of rookie drafts. If not, then he probably should be a later-round selection in a weaker RB draft class.
George Pickens looked like a surefire NFL prospect after his freshman season, but he's played in only 11 games since that season and has fewer yards over that stretch than he did in his 12-game freshman season.
His peak season was a 26.7% dominator rating with 1.75 yards per team pass attempt. If he gets Day 2 capital, Pickens deserves to be a fringe top-10 WR option because of his peak production and pedigree. He deserves consideration in the second round of rookie drafts.
At running back, White isn't guaranteed to declare for the NFL Draft, but after his third season on campus and second consecutive double-digit TD season, it wouldn't be a surprise if he left school.
White has averaged more than 5.0 yards per carry in each of his three collegiate seasons. He was the top running back and the ninth overall prospect in the class of 2018.
The Bulldogs back projects as an early Day 3 prospect and likely a fringe top-10 RB in the class. If we assume he'll be drafted in the fourth round, then he should be selected in the third round of rookie drafts.
Devy Drafts
For devy leagues, there are a few prospects you should be watching for the next few seasons.
The devy value for returning Heisman Trophy winner Young is undeniable. He was a top pick in Superflex leagues as an unproven talent, and his 2021 campaign only helped solidify his value.
Despite an unproven group of WRs, Young enters the National Championship game with 4,503 passing yards and a 67.6% completion percentage. His 10.6 adjusted yards per attempt ranks fifth nationally.
As a passer, Young appears to have proven his value, but his limited rushing upside is notable. After piling up 1,084 rushing yards and 26 rushing touchdowns in his high school career, Young was viewed as a potential dual-threat prospect. However, if his first college season as a starter is any indication, Young's rushing upside is minimal.
Still, Young should be viewed as one of the top options for the class of 2023 and a top devy pick.
After the final exodus of the four first-round wide receivers, Alabama brought in four highly-rated freshmen receivers in the class of 2021.
Brooks has emerged as the top freshman of the bunch. He has two touchdowns on nine receptions and has averaged 16.1 yards per reception during his first season on campus. The former five-star is likely a top-five WR in his class and a top-20 WR overall.
Agiye Hall and JoJo Earle were each top-50 overall prospects in the class of 2021. At various times during the offseason, each of the receivers received significant praise from the coaching staff, and they combined for 13 receptions this season.
Because of their pedigree and Alabama's WR development, all three should be rostered in all devy leagues.
Gibbs' decision to transfer to Alabama has created an immediate buzz around him in the devy community. Gibbs was productive behind a questionable Georgia Tech offensive line, and the immediate improvement to his offensive situation offsets the concern for a potential timeshare.
Gibbs ranks as a top-five overall running back prospect in devy and a top-three RB in the class of 2023.  He'll be an early pick in devy drafts.
Trey Sanders has been plagued by injury during his time with the Crimson Tide, and it's affected his place on the depth chart. The combination of Robinson's exit and Gibbs' transfer in will likely leave Sanders with similar usage volume as the 2021 season.
As it stands, the former No. 1 running back in the class of 2019 is a late-round flier with the hopes he still has the elite athleticism that could lead to Day 2 NFL Draft capital.
Jase McClellan appeared poised to make an impact in the 2021 season but managed only 40 carries and 10 receptions. With a rapidly filling depth chart, McClellan isn't worth consideration in devy drafts.
Freshman Camar Wheaton was the third-ranked back in the class of 2021 but missed a chunk of the season with a meniscus tear. With another top high school RB prospect coming to Tuscaloosa and another through the portal, 2022 will be an important year for Wheaton to earn meaningful production.
Bowers has emerged as one of the top two tight end prospects in all of college football. Bowers was the third-ranked TE prospect in the class of 2021 and a high four-star prospect, but he made an instant impact by leading Georgia in receiving and scoring double-digit touchdowns.
Bowers should likely be the second TE selected in devy drafts behind Notre Dame's Michael Mayer, and depending on league format, that selection could be justified in either the late first or early second round.
Jermaine Burton appeared poised for a breakout season following the injury to Pickens, but he accounted for only 13% of the team's receiving yards and 1.2 yards per team pass attempt, which ranks in the 48th percentile of the last five seasons.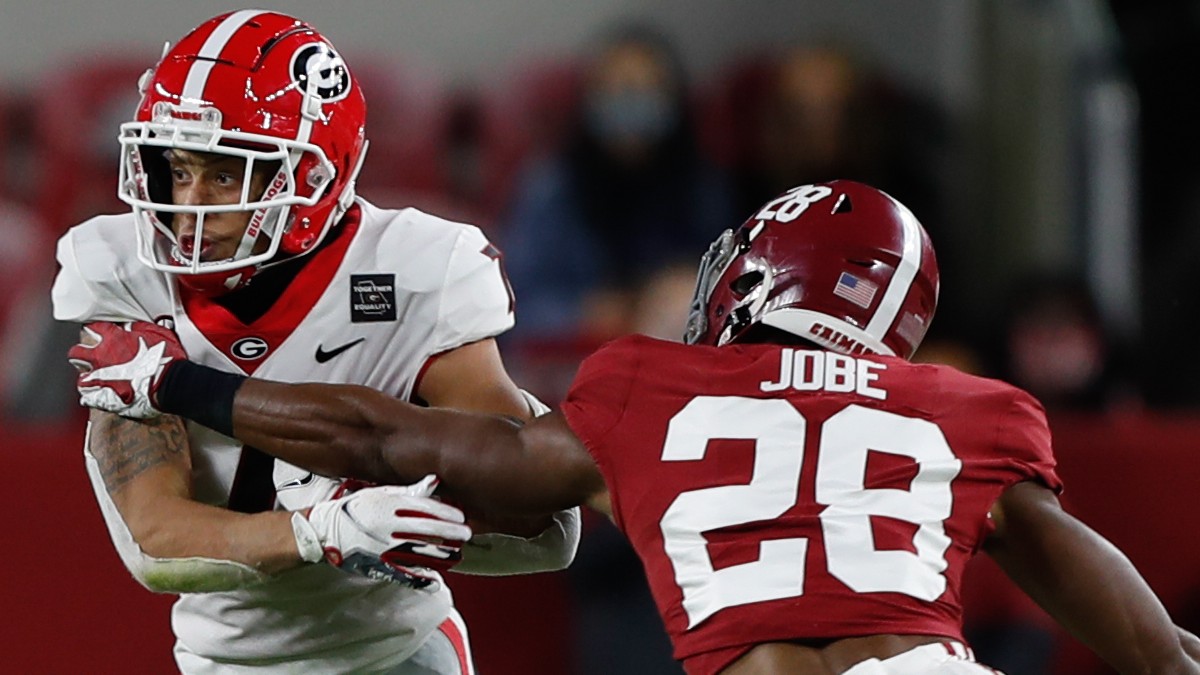 His raw production is held back by his offensive scheme which makes Day 2 capital less likely. He shouldn't be targeted in shallow devy leagues.
Neither Adonai Mitchell nor Arian Smith have received enough production to make them meaningful targets in most devy drafts. In super deep devy leagues, Smith could be a player to monitor because of his ability to stretch the field. His athleticism will earn him an NFL roster spot.
One of Kenny McIntosh, Milton, or Edwards will earn meaningful volume in 2022.
Milton entered the 2021 season with the expectation that he could become a top devy prospect, but he finished fifth on the team in rushing yards. Both he and Edwards were four-star backs in the class of 2020, and both are worth stashing with fourth- or fifth-round devy selections.
Darnell Washington came out of high school as one of the top athlete prospects in his class. Over two seasons, he has 16 total receptions for 311 yards and appears to have been passed on the depth chart by Bowers. He should only be considered in deep devy leagues.
Brock Vandagriff was a five-star quarterback prospect in the class of 2021 — although there were some questions about his school's level of competition — and he attempted just one pass this season.
Both Bennett and Daniels can return in 2022, so Vandagriff isn't guaranteed to see significant playing time once again. He's not a player who should be targeted.
How would you rate this article?
This site contains commercial content. We may be compensated for the links provided on this page. The content on this page is for informational purposes only. Action Network makes no representation or warranty as to the accuracy of the information given or the outcome of any game or event.