Misleading College Football Final Scores, Week 7: Trying to Figure Out LSU
Credit:
Matthew Emmons-USA TODAY Sports. Pictured: Jake Fromm
Ken Barkley dives into the most misleading final scores in college football Week 7, because the end number doesn't always tell the truth about each team's performance.
This week, a few teams blew game they dominated, and we're still trying to figure out LSU.
College football fans were treated to bonus action this weekend. After watching games Thursday night, Friday night and all day Saturday, we got an extra college game Sunday night.
The Patriots and Chiefs spread opposing defenses out, threw the ball all over the field, couldn't stop anyone, and essentially recreated the model the Big 12 has been using for years! Of course Patrick Mahomes went to Texas Tech; the reenactment looked truly realistic and he played a huge part.
No matter who won that game, the other team's fans were going to be upset. It was truly an evenly played, coin flip where the last team to have the ball was going to win, in all likelihood.
However, In actual college football games, there were scores that were much more misleading. Here are a few.
LSU 36, Georgia 16
LSU has been one of the most interesting teams to talk about all season. For a team that's won so many big games already, it seems like after each win we're saying "yeah, but is LSU really that good?"
Georgia was -4 in turnover differential, which doomed the Dawgs. They'd struggled with turnovers entering the game; Kirby Smart had warned his team about hanging onto the ball, but none of that mattered. A turnover-prone team turned it over a lot.
When you throw in that absurd Les Miles-style fake field goal toss by LSU, it gets worse. The other statistics of the game are moderately pro-LSU — its ability to run the ball stands out the most  — but I feel like at the end of each week, we're in the same spot with the Tigers.
Their two other "big" wins are now over a Miami team that just lost to Virginia, and an Auburn team that's absolutely falling apart.
LSU quarterback Joe Burrow makes enough plays to win but almost never looks impressive. The schedule looks less impressive every single week. The good news is the remaining opponents are as tough as any team in the country, and we'll get this sorted out.
Look, we're going to know if LSU is good eventually.
Next up
LSU -6.5 vs. Mississippi State
Georgia vs. Florida (Oct. 27)
Ohio State 30, Minnesota 14
The Gophers may have actually deserved an even better outcome here. Although losing by only 16 (they were a 30-point dog) is some kind of moral victory, this was really tight throughout. Minnesota trailed 17-14 at halftime, and just 20-14 entering the fourth quarter.
The Gophers had two drives in the first half that got into Ohio State territory and ended with turnovers. In the third quarter, they got in the red zone and missed a field goal.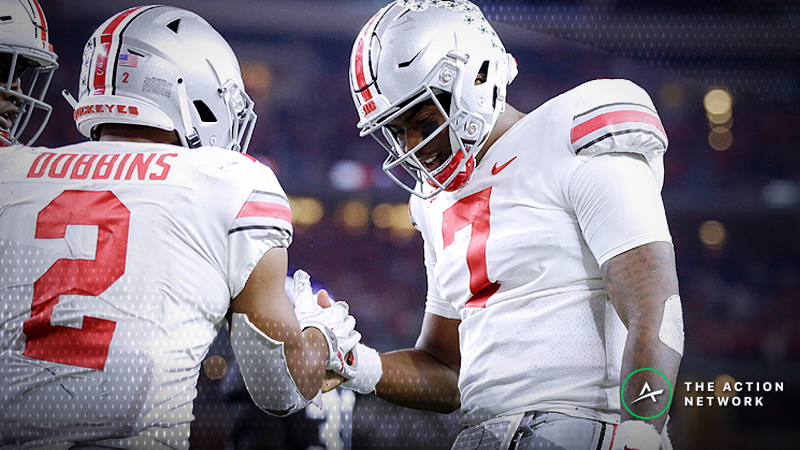 With 10 minutes left, down nine, Minnesota got into Ohio State territory again and threw a pick. Imagine the range of results that are most likely in this game if Minnesota just doesn't make so many crushing mistakes?
Instead, Ohio State is the team that benefited from Georgia's loss, vaulting to No. 2 in the AP poll and being placed alongside Alabama as the Tide's stiffest future competition. Dwayne Haskins is alongside Tua for Heisman frontrunner.
But don't be fooled. This game was an absolute struggle for the Buckeyes.
Next up
Ohio State -13.5 at Purdue
Minnesota +3.5 at Nebraska
Iowa State 30, West Virginia 14
Another 30-14, but one that goes completely in the opposite direction analysis-wise. This should have been a 40-point blowout by the Cyclones.
Final stats (and keep in mind West Virginia had every garbage-time opportunity possible to improve these):
Iowa State 498 total yards, WVU 152
Iowa State 244 rushing yards, WVU 52
Iowa State 25 first downs, WVU 9
This was a thorough demolition of a Mountaineer team that was starting to enter the playoff conversation.
Next up
Iowa State vs. Texas Tech (Oct. 27)
West Virginia vs. Baylor (Oct. 25)
Virginia Tech 22, North Carolina 19
Leave it to Larry Fedora to figure out how to lose a game like this. There is no greater indictment of the Carolina coaching staff than having 16(!) days off to prepare for an opponent and then fumbling the ball on the FIRST PLAY OF THE GAME. Virginia Tech scores the other way, and before you can blink it's 7-0.
Maybe the Heels needed 30 days off. Or a year. You need time to get everything just right, ya know?
After that Hokie touchdown, Virginia Tech had seven more first half-possessions. They all ended in either punts, turnovers or the clock expiring in the first half. The Hokies were doing nothing.
Carolina should have been stacking up points. Instead, the Heels get in the red zone, and settle for a field goal. Then they settle for another one. Then they miss one. Then they turn it over on downs. before kicking another field goal. What should have been a multi-touchdown lead was instead just 9-7 at the half.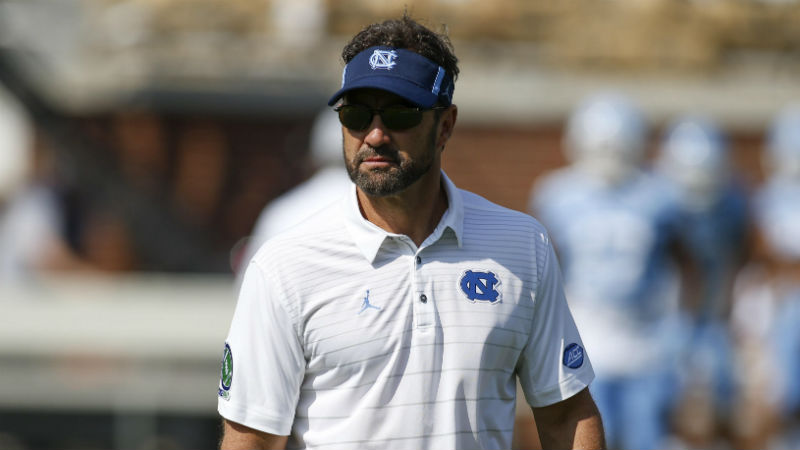 That series of struggles opened the door for late drama, but Carolina had the game in its grip yet again. UNC was up five, had the ball first and goal at the 1-yard line going in to put the game away, then FUMBLED.
The Heels pulled a Kenyan Drake (sorry Kenyan, but hey you won, so this is cool, right?), only their defense isn't exactly the Miami Dolphins. Virginia Tech drove 98 yards and won the game.
Unfortunately for Carolina, it now has the conventional one week off until its next game at Syracuse, so things might come even more off the rails, somehow.
Next up
UNC +10 at Syracuse
Va. Tech vs. Ga. Tech (Oct. 25)
Western Michigan 42, Bowling Green 35
This is our first misleading final score of the season that actually cost a coach his job, although Mike Jinks may have been headed out the door anyway (he was 7-24 with the program, after all). This was the Falcons game to lose, and boy did they lose it.
Bowling Green led 21-7 at the half, and things were going swimmingly. In the second half, it basically needed to make just a couple stops in the entire 30 minutes and would have been fine the way the offense was working. Instead, the Falcons allowed the Broncos to do just enough on every single drive to find the end zone.
On the first possession of the second half, Western Michigan is down 21-7, and it's fourth-and-8. No problem! Jon Wassink runs for 13 yards and a first down. The Broncos score later in the drive, after two Bowling Green pass interference penalties.
After Bowling Green scores again, it's 28-14. Just one stop fellas! Western Michigan has fourth-and-1 near midfield. No problem! First down. Western Michigan scores later in the drive, and it's 28-21.
Fast forward to the fourth quarter. It's 35-28 Bowling Green. Can it just get ONE STOP PLEASE!
Third-and-7 at the Bowling Green 41. Nope, first down Broncos. Third-and-5 at the BG 27. Nope. Another first down. Then ANOTHER pass interference penalty on Bowling Green. Then the tying touchdown. Yikes.
After Western Michigan takes a 42-35 lead with a few minutes left, Bowling Green has two possessions to tie the game, and throws an interception on both. One was in the red zone. And THAT is how you lose a game, folks.
This seems like a good time to mention that apparently Bowling Green found Jinks in the first place by running a Google search of Texas Tech assistants (Texas Tech had a great offense at the time). Read that last sentence again.
One newspaper story referred to it as "the dumbest coaching search in college football history." So really it was inevitable that the Falcons were going to appear in this column eventually.
Next up
Bowling Green +16.5 at Ohio
Western Michigan -4.5 at Central Michigan