College Football Futures Roundtable: What to Make of the SEC, Big Ten & Cincinnati Ahead of Week 5
Credit:
Ian Johnson/Icon Sportswire via Getty Images. Pictured: The Cincinnati Bearcats.
There's no question that the college football landscape changes on a week-by-week basis.
Ohio State, Clemson, and Oklahoma all opened the season with national title odds of +800 or better. Now, two of those teams have a loss on their resume, and the other squad has had to survive tight matchups week in and week out.
The college football world has seemingly been turned upside down — or at least sideways — in four short weeks. So, what does that mean for futures bets?
Our staff broke down four key storylines heading into Week 5 that can help with navigating the futures market, including two conference races and the chances that Oklahoma, Oregon, and Cincinnati actually make the College Football Playoff.
Buckle up. The rest of the season should be a fun ride.
---
Click on any logo or topic in the table below to navigate to that topic in the article.
---
How likely is it that the SEC gets two (2) teams into the Playoff regardless this season due to the colossal collapse of the ACC and possible cannibalization of the Big Ten?
Kody Malstrom: The SEC is by far in the best position to hoist the trophy come playoff time. Alabama and Georgia are the clear-cut best two teams in the country with the benefit of being in opposite divisions in the SEC.
With the Big Ten cannibalizing itself, the ACC being a joke, and Oklahoma looking shaky, the SEC has a better chance than ever to get two teams in the playoffs.
What makes the thought of two teams getting in the playoffs interesting is the rise of Arkansas and Ole Miss. Both are more than capable of representing the conference in their own right but not nearly as secure as Bama and Georgia being undefeated in the conference showdown.
With Texas A&M looking awful and Florida losing at its best chance of a resume builder, it's not the end of the world if Georgia loses to Arkansas. The Bulldogs would still have a puncher's chance to get into the playoff even if they lose to Bama as well in the SEC Championship with the other conferences looking worse than ever before.
---

Oregon
&

Oklahoma
Is Oregon a lock to the Playoff at this point presuming it takes care of business? 
Is Oklahoma in the same position as Oregon, even if it hasn't looked as impressive on the field?
Roberto Arguello: If Oregon goes undefeated, it's an absolute lock to make the College Football Playoff, thanks to its upset over Ohio State.
However, I wouldn't bet it to run the table in the Pac-12. I don't love the value on the Ducks' national title futures right now with road games against Stanford, UCLA, and Washington remaining.
They also face an underrated Oregon State in their final game of the season, and this rivalry game — which the Beavers won in 2020 — is no gimme with the rapid development of Beavers quarterback Chance Nolan, as USC fans can attest to.
I would wait until Oregon loses one of those four games to take a chance on the Ducks' futures.
Oklahoma doesn't have the luxury of a top-tier nonconference win that Oregon does, and I would expect it to be on the outside looking in if Oregon and the Big Ten winner have the same number of losses as it and the SEC winner and runner up have a combined one loss.
Spencer Rattler has been one of the more disappointing players this season, as he hasn't taken the next step in his development that being the Heisman preseason favorite would imply. Rattler has zero big-time throws and six turnover-worthy throws through four games — yikes.
I see the Sooners losing at least one Big 12 game and getting stuck on the outside of the playoff, as they don't have the quarterback play of years past.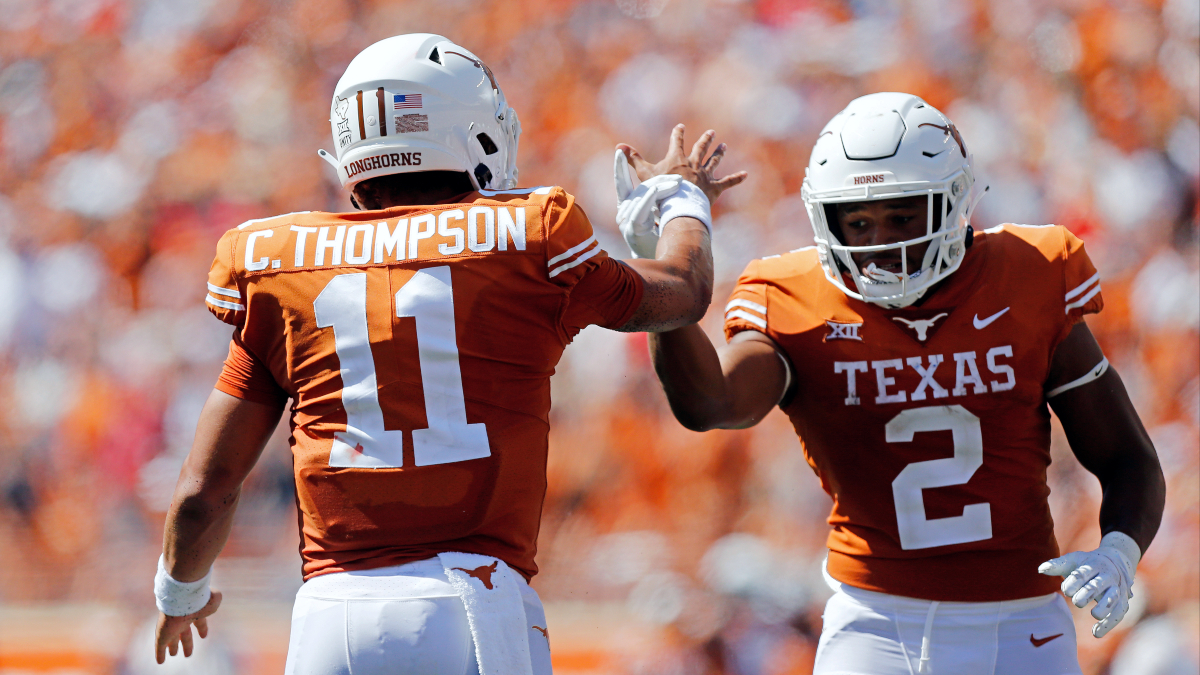 Brett McMurphy's Updated Bowl Projections
---
Does Ohio State have a path to the College Football Playoff after losing to Oregon? Is there value on a potential futures ticket?
Patrick Strollo: Even though Ohio State has had a less-than-desirable start to the season, there is still an unencumbered path to the Big Ten Championship for the Buckeyes.
If the Bucks win out and win the Big Ten Championship, there is almost no doubt they make the College Football Playoff.
While the loss to Oregon was shocking at the time, it's now palatable given that the Ducks are ranked No. 3 in the country. Outside of this one-touchdown early-season loss, I don't see the Buckeye narrative having materially changed since late summer.
In fact, betting markets are telling you that this team is a clear-cut favorite (-155) to win the Big Ten Championship.
The Buckeyes are one of the most talented and best-coached teams in the country. Replacing Justin Fields was always going to be a tall order.
Looking at the team statistics so far, it's actually the defense that has disappointed this season. Ohio State can and will turn things around defensively while figuring out the quarterback predicament.
Looking forward, Ohio State catches a break by getting Penn State at home on Halloween weekend.
While it's easy to fall prey to the storyline that Ohio State is down this year, the Buckeyes are still a team with tremendous upside. The Buckeyes started the season as +600 to win a national title but can be had now at +1293. This lengthening in odds presents a tremendous value for bettors who think Ohio State will continue to improve this season.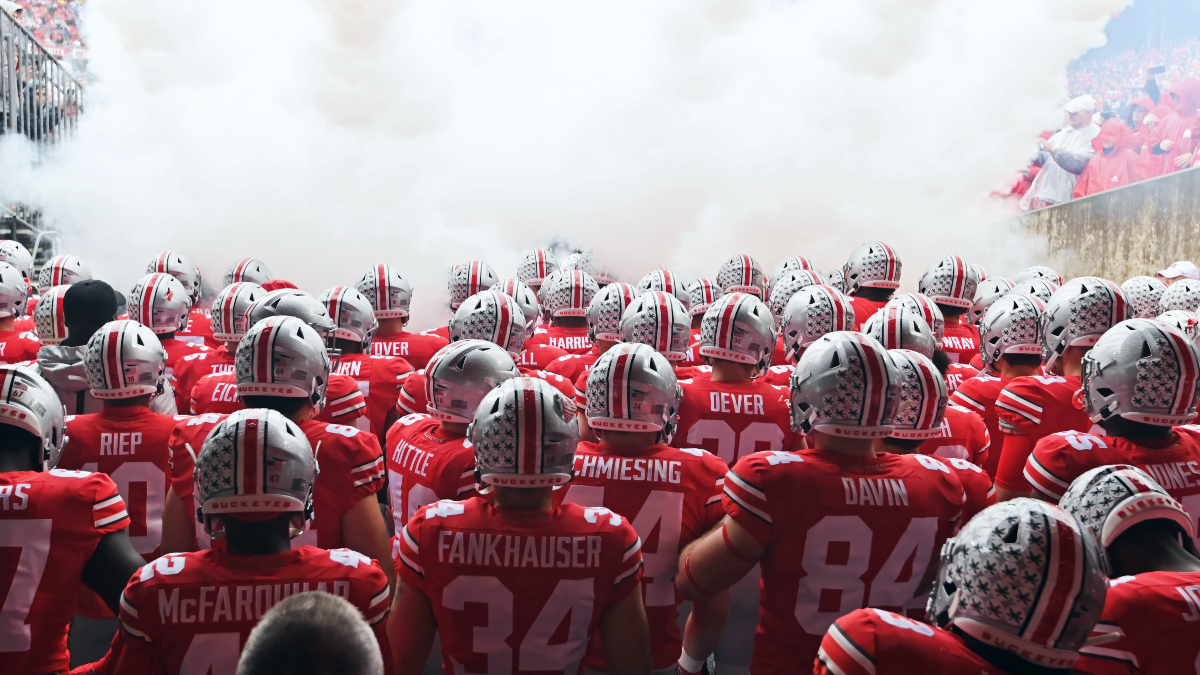 ---
What would have to happen in order for Cincinnati to earn a spot in the College Football Playoff?

If the Bearcats do go undefeated, what else would have to break right in order to open the lane for a trip to the CFP?
Mike Ianniello: While I still don't think a Group of Five team will ever make the College Football Playoff in its current state, this year might be the most realistic chance given the early chaos.
I think Cincinnati is the only team that has a shot, due to its reputation and sustained success over the past couple of seasons. It's been ranked in the top 10 every week since October of last year. Only the Bearcats and Alabama can say that.
Cincinnati will obviously need to run the table, and it'll also need some help. A one-loss Big Ten champion and one-loss SEC runner-up are going to make the playoff over an undefeated Group of Five team.
The ACC already looks dead in the water so that's big for the G5, but it will also need Oklahoma and Oregon to lose at least a game, if not two.
It doesn't help that Indiana and Notre Dame — the Bearcats' two marquee games — don't look as impressive as they once did. But if last season's success and impressive showing in the bowl game against Georgia is considered, Cincinnati should at least have a chance of getting in the College Football Playoff if the Big 12 and Pac-12 can cannibalize themselves.
---
Stuckey: I love the fact that the College Football Playoff race is absolutely wide open this year with many of the usual suspects struggling over the first month of the season.
I think the experience throughout the landscape due to COVID-19 rule changes has closed the gap between the upper middle class and the upper echelon for one year. It's a nice change of pace from what we usually see. As a result, unlike most years, I think the college football futures market is at least worth taking a look into.
One team I have circled is Cincinnati. If you're going to buy the Bearcats, now is the time ahead of a date with Notre Dame in South Bend.
If they win that game (which I think they do), their national title odds in the futures market should shrink significantly, especially if we see other names in the discussion go down, such as Iowa (at Maryland), Oklahoma (at its nemesis Kansas State), Arkansas (at Georgia), Oregon (at Stanford), Michigan (at Wisconsin) and Florida (at Kentucky). It wouldn't even shock me if Alabama got upset at home by Ole Miss.
Bottom line, the picture could look a lot different after this week. I just don't see anybody from the ACC getting in, and Cincy could have a leg up on the entire Big Ten if Iowa loses at Maryland this weekend and then turns around and beats PSU at home.
If you assume the SEC will get two teams in (certainly not a lock, but let's make that assumption), that leaves Oregon and Oklahoma as two primary potential undefeated teams Cincy would have to leap.
Do I really trust a Pac-12 team not to slip up the rest of the way? No, but more importantly, I have not been impressed at all with Oklahoma to date, so it's hard to see the Sooners running the table.
And just take a look at Cincinnati's remaining schedule after this week:
vs. Temple
vs. UCF (QB Dillon Gabriel hurt)
at Navy
at Tulane
vs. Tulsa
at USF
vs. SMU
at ECU
Conference Championship
Not the biggest gauntlet you'll ever see, as Cincy would be significant favorites in all nine contests. I'd give the Bearcats about a 2-1 chance of finishing undefeated if they win this weekend, including the conference championship.
So, the question then becomes do they get in if they go undefeated?
Given what I've seen from the teams in legitimate contention for a CFP spot and their remaining schedules, I'd say yes. However, Cincy's schedule isn't that strong compared to the other contenders, especially if Indiana continues to rack up the losses and Notre Dame struggles down the stretch.
Throw in some potential Power Five committee bias, plus the chances that a few other P5 teams finish undefeated (in which case they'd go in front of Cincy), and we'll throw the probability of an undefeated Cincy team getting in at around 75%.
If the Bearcats did go undefeated and got in, they'd have to win two playoff games as underdogs, likely somewhere in the range of +10 to +14.
So, what does that mean from a price perspective? Well, if you can find a 100-1 or better this week, that's worth an investment. If they beat Notre Dame (big IF) and other top teams go down on Saturday, their true odds could drop to around 50-1 even accounting for the chance they miss the playoff without a loss.
However, if you can't find a 100-1 or better, start a moneyline rollover, which means you'd bet whatever you want to risk on Cincy ML this weekend against Notre Dame. If they win, you take your original stake plus profits and put it on Cincy ML the following week and repeat until it loses, in which case their CFP playoff hopes would be dead just like a futures ticket would be.
This should pay at least 50-1 if Cincy somehow won it all, while providing a payout if it goes undefeated but doesn't get into the playoff.
You also have the option to abandon the plan at any point in time if, say, quarterback Desmond Ridder got hurt, the team has COVID-19 issues, or you simply didn't like a matchup in the CFP.
And if they do make it, you can decide whether or not you want to keep going for an eventual payout of 80 to 90-1 per my projections and a few assumptions. This is the route I'm taking.
How would you rate this article?