College Football Havoc Ratings: Games to Watch for Week 4
Credit:
Photo by Brian Rothmuller/Icon Sportswire via Getty Images
Havoc is a college football term defined as a play where there's an unexpected outcome.
Pass breakups, forced fumbles and tackles for loss are just a few of the plays that cause pandemonium on any given Saturday. These plays, collectively, are used to build an identity for a team.
A prime example of a "Havoc Play" from Saturday was the interception of the year (don't argue) by Oklahoma's D.J. Graham.
The calculation for Havoc is simply a cumulative number of tackles for loss, interceptions, fumbles and passes defensed divided by the number of plays on both sides of the ball.
Our Havoc column will look at the defensive Havoc and offensive Havoc allowed each week.
Do not forget to check out the updated Power Ratings and follow Collin Wilson in The Action Network App to see when he bets on games that have the biggest Havoc discrepancies.
Let's dive right into the Havoc ratings and see what they can tell us about Week 4!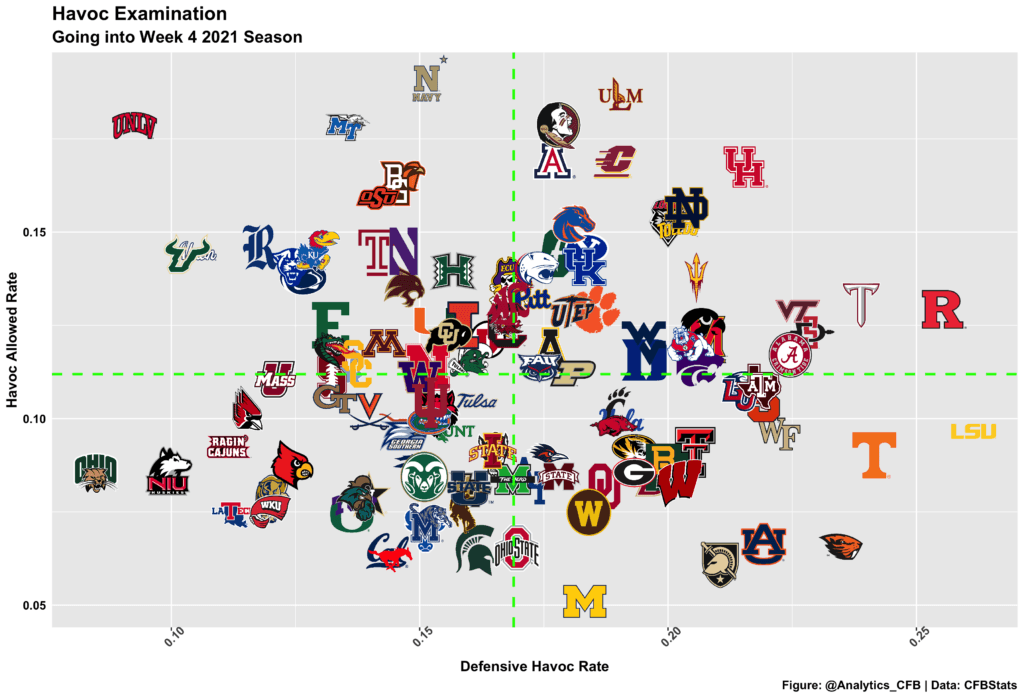 So, where do you want to be in this graph?
The Y-Axis is offensive Havoc allowed, and a lower number here is better. The X-Axis is Defensive Havoc Rate, and a higher number here is better.
Therefore, if a team is in the lower right quadrant, they cause a lot of Havoc on defense but do not allow much Havoc on offense. The top left quadrant indicates that a team allows a lot of Havoc on offense but does not cause much on defense. So, think of it this way: bottom right is good, top left is bad.
Who causes the most Havoc for opposing offenses?
LSU
Rutgers
Tennessee
Troy
What offenses are playing clean football (So far)?
Michigan
Army
SMU
Michigan State
Among the top teams, Cincinnati had a great week on defense Havoc-wise, forcing five turnovers against Indiana. This forced fumble on the goal line was a key play in the game, swinging the win % from Indiana 55% to Cincinnati 80%.
So, now that we know what Havoc is and how each team stacks up, how do we take advantage of it?
Let's take a look at the biggest discrepancies in the home team's Havoc rank vs. the away team's Havoc Allowed rank: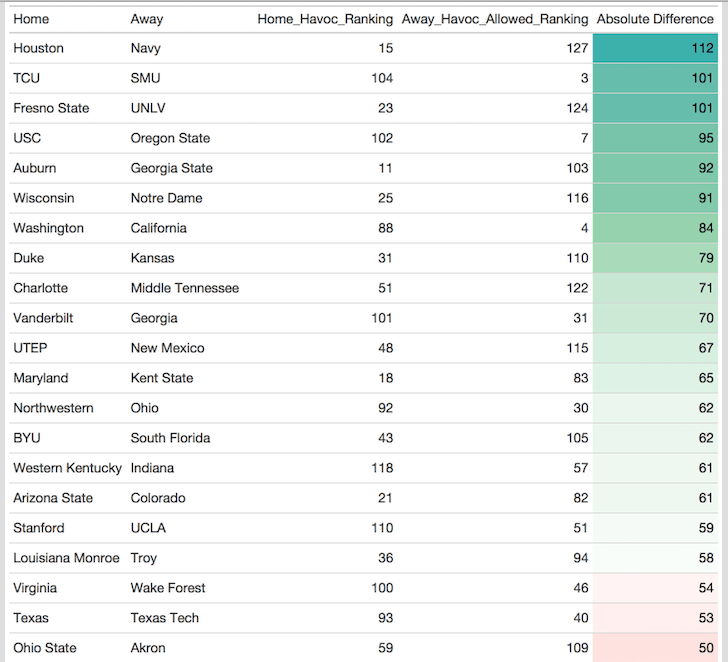 One surprise is Navy's Havoc Allowed Rating.
Historically, Triple-Option teams are very good at taking care of the ball. Army is second in Havoc Allowed and Air Force is 25th.
TCU vs SMU is a game to keep an eye on, as TCU is favored by 9.5 at the time of writing. SMU has played Louisiana Tech, North Texas and Abilene Christian, but TCU's schedule hasn't been a juggernaut either. The Horned Frogs have played Duquesne and Cal so far.
Now, let's take a look at the discrepancies in the away team's Havoc rank vs. the home team's Havoc Allowed rank:
Unsurprisingly, Ohio State-Akron shows up on both charts as a mismatch.
If this was 2004, you would be unsurprised to see USC and Oregon State pop up on both charts as well. However, it's 2021 Oregon State is the one with the dominant Havoc Ratings going into this matchup. Oregon State is an 11-point underdog, which seems like a lot given USC's struggles this season and Clay Helton's dismissal.
I will have my eye on the Beavers for sure this week.
How would you rate this article?
This site contains commercial content. We may be compensated for the links provided on this page. The content on this page is for informational purposes only. Action Network makes no representation or warranty as to the accuracy of the information given or the outcome of any game or event.