Friday Night College Football Odds & Picks: How to Bet Purdue vs. Minnesota, New Mexico vs. Air Force, 2 More FBS Games
Credit:
Zach Bolinger/Icon Sportswire via Getty Images. Pictured: DJ Knox.
What's better than some Friday night football? Very few things on the planet.
Our college football staff breaks down all four games on the slate, including Purdue vs. Minnesota and New Mexico vs. Air Force.
Check out our experts' full betting previews complete with updated odds and their picks below.
Friday Night Lights.
Don't get us wrong: At The Action Network, we rep midweek MACtion to the fullest, Thursday Fun Belt (or Mountain West) games, and — of course — Saturday's wall-to-wall college action. But there's just something about Friday night college football under the lights that hits differently.
This week, we've been blessed with a four-game card for Friday night. We've analyzed the odds, poured through the tape, broken down schemes, and highlighted our favorite betting positions for each of those three games. Below, check out comprehensive game guides for each of Friday's college football matchups:
---
---
CLICK THE DROPDOWN ARROW TO EASILY NAVIGATE TO ANY GAME
---
Syracuse vs. Louisville
by Pat McMahon
---
---
Syracuse (1-7) travels to Louisville (2-6) on Friday night for an ACC contest featuring a pair of struggling teams. It's not the game of the century, but college football fans and bettors will be thankful to see this game kick off in a week full of cancellations across the sport. Both teams are glad to get this game in as well as they look to build toward the future.
Syracuse gave true freshman JaCobian Morgan his first start against Boston College on Nov. 7. Coach Dino Babers and the Orange staff will be excited to see what Morgan can do with an extra week to prepare for this contest, and his performance on Friday could go a long way in determining who will be Syracuse's quarterback in 2021.
Louisville has dealt with COVID-19 issues within the program the last couple of weeks, which hurt it in losses to Virginia Tech and Virginia. The Cardinals received more tough news this week when star running back Javian Hawkins announced he was opting out of the rest of the season to prepare for the NFL Draft. The one positive note for the Cardinals in recent weeks is that many young players who were forced into action saw invaluable live game experience that will benefit Louisville in the long term.
Syracuse Orange
Offense
Morgan is the third quarterback to start for Syracuse this season. The Orange offense has been dreadful this year, regardless of who's lined up under center. Syracuse ranks 123rd out of 126 teams in total offense and is posting a lowly 4.4 yards per play on the season.
Morgan showed mixed results in his first start, going 19-of-30 for 188 yards with a touchdown and a pick against Boston College. Babers' uptempo spread offense is designed to make life easier for his quarterback with plenty of quick throws and simple reads. However, the offense still needs playmakers on the outside and a strong offensive line for the system to work. This year's Syracuse team is not strong in those areas, and the results on the field have shown that.
The running game has been a major weakness as well, as the Orange have struggled to gain quality yards on first and second down to help out their quarterbacks. The Orange are posting just 86 yards per game on the ground on only 2.93 yards per carry.
Defense
The defense has had a rough year on a number of levels. The secondary has been ravaged by injuries and has now seen its two best players opt out and declare for the draft in safety Andre Cisco and corner Trill Williams. Thankfully, the secondary is the deepest unit on the team, but with its top guys now gone and several other contributors missing time with injuries, the pass defense hasn't been consistent.
The Syracuse front seven is among the worst in the ACC, and it's really struggled to defend the run. The Orange rank 109th in the nation in rushing defense, giving up 223 yards per game. They've allowed opponents to gain nearly five yards per carry and could be in for a long day against a strong and explosive Louisville rushing attack.
The Orange defense has been strong in one area this season — turning opponents over. Syracuse has 17 takeaways to date, the second-most in all of college football. If the Orange have any hope of keeping this game competitive, they'll need the defense to come up with a few key takeaways and put the offense in a position to score.
Louisville Cardinals
Offense
The Cardinals can move the football a lot better than your average 2-6 team. Louisville ranks in the top 40 in the nation in total offense, putting up over 440 yards per game and a very solid 6.78 yards per play.
Dual-threat quarterback Malik Cunningham has had a strong junior season, completing 63% of his passes for 1,907 yards and 15 touchdowns. He's kept defenses on their toes with his running ability, accumulating 417 yards and five touchdowns on the ground to date. The one knock on Cunningham so far is his nine interceptions, which is a big concern going up against a Syracuse secondary that has a knack for the ball.
The Louisville running game has been terrific, but the sudden loss of Hawkins certainly hurts. Hassan Hall and Jalen Mitchell will likely split Hawkins' workload, but the duo doesn't have a ton of experience, with only 49 combined carries on the season. However, if there's a team you'd want to break in your new lead running backs against, it's Syracuse and its bottom-20 ranked rush defense.
---
Defense
The big story for the Louisville defense recently has been its depleted defensive line. Against Virginia Tech on Halloween, nine players missed the game due to COVID-19, including four of the six defensive linemen on its two-deep. After pushing back their game against Virginia a week and having no new positive tests reported, the Cardinals should be able to get most of their players back for this game. That's huge news for the defense, who shouldn't have any issues slowing a  struggling Syracuse offense down.
The main strength of the Louisville defense comes against the pass, where the Cardinals boast a top-30 ranking in passing yards allowed per game. They rank in the middle of the pack nationally in total and scoring defense but have struggled against the run this year. However, with how little success Syracuse has been able to establish on the ground, a healthier front seven shouldn't have too many issues in this game.
Betting Analysis & Pick
With plenty of unknowns heading into this contest on both sides, I think we see conservative game plans from both teams, setting up a strong potential under spot.
Syracuse wants to get a good evaluation of Morgan in this game, but it has limitations in its ability to throw the deep ball. With a line that struggles in protection and a lack of difference-makers on the outside, expect a healthy dose of run plays and screens early to help Morgan get his feet wet.
From Louisville's standpoint, the one way Syracuse will beat them is if the Cardinals shoot themselves in the foot with turnovers. After a trio of costly turnovers last week against Virginia, including a Cunningham pick-six in the first quarter, there's no reason to try to beat a stingy Orange secondary through the air right away. If Syracuse hangs around, it'll need to unleash Cunningham and take some shots down the field to its speedy receivers, but it doesn't have to risk it early if it can run all over Syracuse first.
Look for Louisville to play to its strength in the running game and exploit Syracuse's vulnerability in the front seven. This is the perfect time to break in a new starting running back and build up his confidence. Expect the Cards to keep in on the ground early and often, killing the clock on the way to a low-scoring first half.
Pick: First-Half under 29 (down to 28).
---
CLICK THE DROPDOWN ARROW TO EASILY NAVIGATE TO ANY GAME
---
Purdue vs. Minnesota
---
Purdue Boilermakers
Jeff Brohm has the inevitable task of keeping his team focused after a loss to Northwestern that may have ended Purdue's hopes of winning the Big Ten West.
The Wildcats continue to field an excellent back seven against passing attacks and limited the Boilermakers to a 35% Success Rate on passing plays for an average of 3.9 yards per play.
Purdue throws at a 64% clip, and the loss to Northwestern came as a result of minimal explosiveness and just three drives with two-plus first downs. Given time in the pocket, quarterback Aidan O'Connell has room to cook.
The Purdue defense is tracking in the wrong direction, ranking 67th in Passing Success Rate and owning a Pro Football Focus coverage grade of 94. Getting to the quarterback has been the primary concern for the Boilermakers' front seven, as Purdue has recorded a grand total of 22 hurries in 237 defensive snaps.
Minnesota Golden Gophers
These are tough times for the Gophers after a bludgeoned box score against Iowa.
The Hawkeyes dominated the line of scrimmage on both sides of the ball, while play calling from P.J. Fleck and Mike Sanford Jr. have plenty of fans scratching their heads.
The special teams rank 122nd, with the big area of concern coming in the form of a walk-on kicker. In rivalry games in which a trophy is involved, Minnesota is a combined 10-46 against Iowa, Wisconsin and Michigan since 2000.
After Kirk Ferentz burned all three Iowa timeouts, Minnesota eventually got on the board late against the Hawkeyes. Minnesota has had success on offense, ranking top-20 in Success Rate and 34th in Finishing Drives. The offensive line has opened holes for running back Mohamed Ibrahim, who now has 24 avoided tackles on the season. The Gophers rush the ball at a 62% rate and can overcome defensive woes against an opponent that cannot dominate the trench.
Betting Analysis & Pick
Fleck will need to have a masterful motivational speech to keep a 1-3 Minnesota squad hungry this late in the season. Minnesota's defense and special teams are some of the worst in the country, but the Gophers field one of the youngest rosters in the Big Ten. The focus on the defense is the pass coverage, as Purdue is one of the most pass-heavy teams in the nation.
---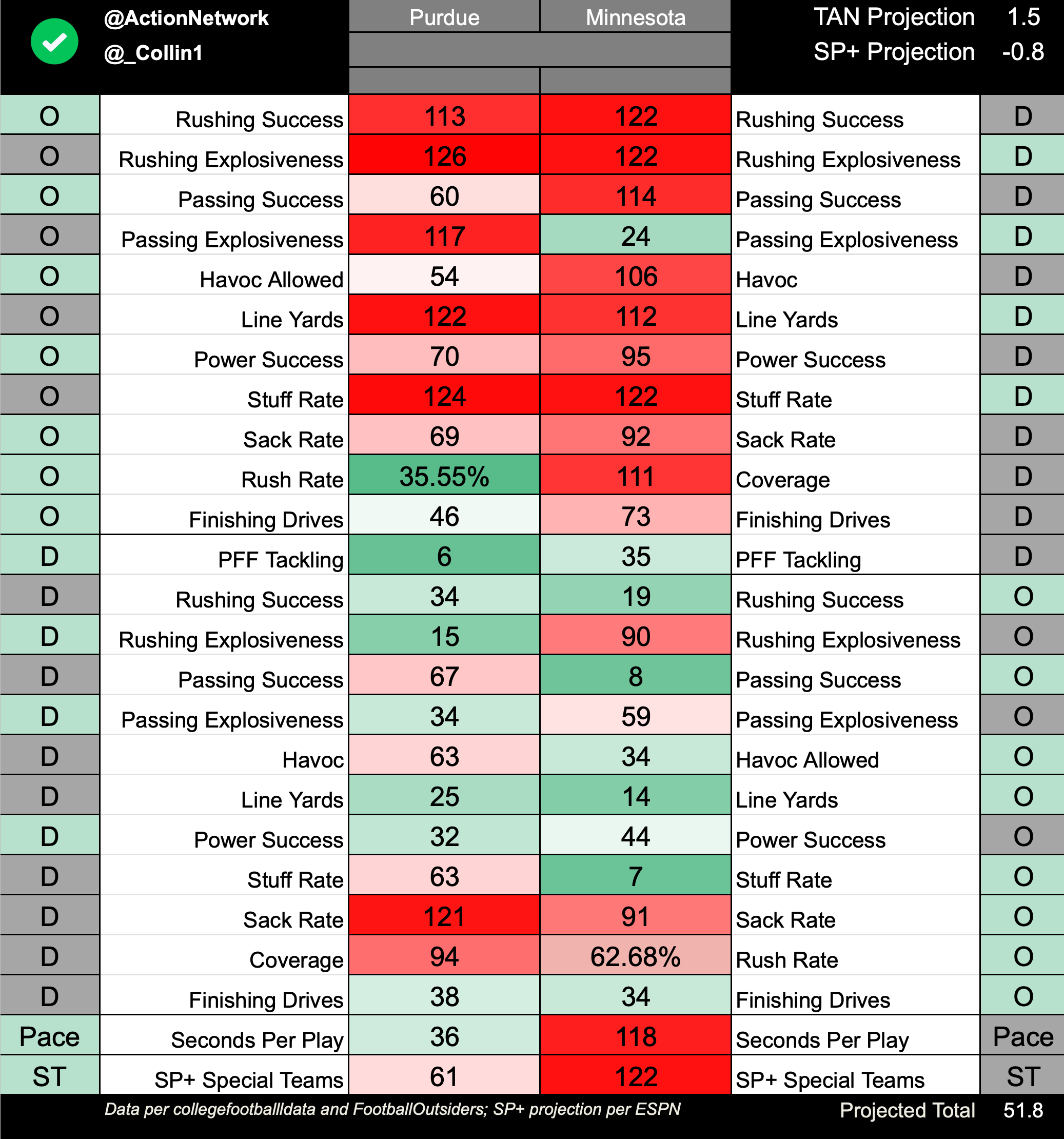 ---
While Minnesota is outside the top 100 in pass coverage and Passing Success Rate, it does boast a top-25 mark against the explosive pass. Combined with a PFF tackling grade of 35, there is reason to think the Gophers defense won't be barreled over in the trench similar to the Iowa game last week.
As for Purdue, this is a short week road spot after a deflating conference loss. The pass explosiveness has spiraled as the weeks go by, with just three 20-plus yard passes versus Northwestern and only one the week before against Illinois. The numbers say Minnesota keeps the explosive pass rate down on Purdue's offense.
The Gophers offensive line should create plenty of holes for Ibrahim to break some runs. Minnesota has higher rankings in Line Yards and Stuff Rate in the rush attack than the Purdue defense. This isn't an easy play considering Iowa's primetime domination last Friday, but Minnesota has more rest and an advantage in the trenches against Purdue.
Pick: Minnesota +3 or better.
---
CLICK THE DROPDOWN ARROW TO EASILY NAVIGATE TO ANY GAME
---
UMass vs. Florida Atlantic
---
---
UMass gets to play its third game of the 2020 season on Friday night as it heads south to take on Florida Atlantic under the lights in Boca Raton.
Somehow, UMass looks even worse than it did in 2019, losing by a combined score of 92-10 against Georgia Southern and Marshall in its first two games this season. The Minutemen will try to salvage some of their pride against a Florida Atlantic squad that has C-USA title aspirations after winning four of its first five games.
Naturally, UMass is a massive underdog again. But it covered in one of its first two games with a spread of more than 30 points. So, do you dare back the Minutemen again on Friday night?
UMass Minutemen
Offense
Boy, oh boy, is UMass' offense terrible. In 2019, it ranked in the bottom 10 of college football in both Rushing and Passing Success. In fact, it gained only 4.1 yards per play, which was the fourth-lowest mark in college football. The problem for UMass is that it has no downfield passing attack whatsoever.
Four different quarterbacks received a shot at running the offense last season, which has been the case so far this year as well. Two quarterbacks got their shot against Georgia Southern, but neither could muster up anything close to competent football. Against Marshall, freshman Will Koch earned an opportunity and was better than the other two quarterbacks.
However, if UMass is going to have any success offensively, it's going to come on the ground. It does have one bright spot, and that is rushing explosiveness. It ranked 44th in the country in 2019 and is already 13th in 2020, per College Football Data.
Junior college-transfer Ellis Merriweather is the main back this season, but he hasn't found much success. UMass does get four of its five starting offensive linemen back, so Walt Bell is hoping for some drastic improvement with more continuity on the line.
Defense
The good news for UMass is that it returns nine of its top 13 tacklers on defense. The bad news is that those nine players composed part of the worst defense in college football last year. UMass ranked dead last in Defensive Rushing Success and second-to-last in Defensive Passing Success, per College Football Data.
The Minutemen allowed a whopping 7.8 yards per play, which is the second-worst yards allowed per play mark in the last 17 years of college football (UConn allowed 8.7 yards per play in the 2018-19 season). Through their first two games of 2020, the Minutemen are allowing 7.0 yard per play: I guess you could call that an improvement.
Their main issues have come against the run, as they are allowing 6.9 yards per rush attempt and rank 124th in Defensive Rushing Success. That's going to be a big issue against Florida Atlantic's offense, which ranks 14th in rushing explosiveness, according to College Football Data.
Florida Atlantic Owls
Offense
New head coach Willie Taggert has the Florida Atlantic offense humming through its first five games. However, almost all of its success has come on the ground. Coming into the season, the Owls returned their top four running backs and have been gaining 4.8 yards per rush attempt. Malcolm Davidson has been their best back, averaging 8.1 yards per carry.
The passing attack has struggled, though, as Nick Tronti is only averaging 5.6 yards per attempt. However, it's been hampered by bad weather the last two games and will be facing the worst passing defense of the season.
The wind is going to whipping on Friday night in Boca Raton, so I think we'll see the Owls unleash their rushing attack to run the ball at will on UMass.
Defense
Florida Atlantic has gone through a lot of changes on the defensive side of the ball. It returned only 43% of their defensive production from last year, including its entire defensive line.
So far, it's been solid versus both the run and pass but has been prone to giving up the explosive plays, ranking 78th in rushing explosiveness allowed.
If UMass is going to have any success offensively in the windy weather, it's going to have to come on the ground.
Betting Analysis & Pick
Even though the wind is going to be whipping on Friday night, I don't think the weather is going to have much of a factor because most of the offensive success will come on the ground.
I have the total projected at 56.54, so I think there is a little bit of value on over 50.5 points.
Pick: Over 50.5.
---
CLICK THE DROPDOWN ARROW TO EASILY NAVIGATE TO ANY GAME
---
New Mexico vs. Air Force
---
The New Mexico Lobos (0-3) face the Air Force Falcons (1-2) on Friday at Falcon Stadium in Colorado Springs.
This game marks the 38th meeting between the two programs, with Air Force holding a 23-14 series edge. The Falcons hold an even bigger advantage at home, holding an impressive 13-3 lifetime mark against the Lobos.
The Falcons won last year's game, 44-24, in Albuquerque, thanks to an explosive second half. Both teams are looking for their first Mountain West wins of the season, making this matchup even more important for each squad.
New Mexico will have its hands full as it faces the rested, run-intensive Air Force triple-option offense on a short week. However, the Lobos' run defense should be up for the tall order it faces against the Air Force run game.
New Mexico Lobos
The Lobos are based out of Las Vegas for the time being due to of local COVID-19 restrictions on team gatherings in Albuquerque. They head into Colorado Springs on a short week after losing to Nevada, 27-20, last Saturday.
Redshirt junior quarterback Tevaka Tuioti was left that game, putting him at questionable for this week's game. Tuioti was replaced by redshirt sophomore quarterback Trae Hall in the defeat.
With the Nevada loss added to its résumé, the Lobos remain winless after dropping games against San Jose State and Hawaii earlier in the season. Suffice it to say, first-year head coach Danny Gonzales is eager to secure his first career win.
The Lobos head into the matchup ranked 44th in FBS total offense. New Mexico is averaging 431.3 yards per game, scoring eight offensive touchdowns (five passing and three running) so far this season.
The Lobos have a Predicted Points Added (PPA) per play of 0.12, which is below the conference average of 0.18. The offense is middle of the pack when it comes to allowing Havoc, featuring a rating of 0.17 rating. New Mexico will look to continue its balanced attack against the Air Force, but an emphasis on passing should be in the game plan.
Defensively, New Mexico has allowed some big offensive performances this season, resulting in a 116th ranking in FBS total defense. The Lobos are yielding 491.3 yards per game, with the vast majority of the success against it coming via the opposition's passing game.
Of the 13 touchdowns New Mexico has allowed, 12 have come through the air.
The Lobos hold a defensive PPA per play of 0.29, which is well above the Mountain West average of 0.19. However, the Lobos are below average in generating Havoc on defense, with a rate of 0.14. So far this season, the way to beat the Lobos is by exploiting their passing defense.
---
Air Force Falcons
The Falcons won their season opener against Navy, but went on to drop their next two games against San Jose State and Boise State. Air Force is coming off of a two-week break following back-to-back cancellations against Army and Wyoming due to COVID-19 issues.
The team has been quarantining in a hotel close to campus since November 5, with the hope of avoiding further complications. It's unclear whether or not the Falcons will be at full strength for the game given their COVID-19 situation.
That said, Air Force looks to get back on track after a two-week layoff following two consecutive losses. The Falcons are ranked 67th in FBS in total offense, averaging 397.3 yards per game. They have scored nine offensive touchdowns this season, with eight of them coming on the ground.
The Falcons have an offensive PPA per play of 0.28, which is well above the conference average of 0.18. They also hold an offensive Havoc rate of 0.11, which is the lowest in the Mountain West. The triple-option offense allows the Falcons to be diligent with their offensive drives, avoiding blow-up plays.
Defensively, Air Force is ranked 24th in FBS in total defense, giving up an average of 331.3 yards per game. The Falcons have a defensive PPA per play of 0.20 and generate defensive Havoc at a 0.11 rate, which is the worst in the Mountain West and well below the conference average. The Falcons' inability to create Havoc should allow the Lobos to find success passing the ball.
Betting Analysis & Pick
Nothing about the three words "triple-option offense" ever excites an opposing team. Throw in the words "short week," and it knows it will have its hands full. Triple-option week, as it is called, is a daunting challenge because of the departure from a normal week's routine preparation for a game.
Air Force's bread and butter is running the ball via the triple option, much to the chagrin of opposing teams. It will look to stick with the ground game against the Lobos.
The only problem is the fact New Mexico has a very good run defense and coach familiar with the triple option. The Lobos are only giving up 81 yards per game, having surrendered one rushing touchdown all season. Air Force has the top-ranked rushing offense in FBS, while New Mexico comes into the game with the third-ranked rushing defense in FBS.
Given the strong running matchup, I think this one should be a low-scoring affair.
My model has Air Force as a 7-point favorite, with the total set at 56 points. Personally, I don't have an edge on the market odds for the spread or over/under.
Air Force averages 25.33 points per game this season, and it hardly looks to throw the ball. The Falcons are facing a capable New Mexico rush defense that has only allowed 243 rushing yards all season. Air Force will chew up a lot of clock with the triple option and should face arduous resistance from the Lobos on the ground.
I think the play here is the Air Force team total under 31.5 points.
Pick: Air Force Team Total Under 31.5 points or better.
---
CLICK THE DROPDOWN ARROW TO EASILY NAVIGATE TO ANY GAME
How would you rate this article?