College Football Odds & Picks: Collin Wilson's Best Bets for Michigan vs. Michigan State, Plus 2 More Saturday Games
Credit:
Steven King/Icon Sportswire via Getty Images. Pictured: Nick Eubanks (82).
Collin Wilson breaks down his 3 favorite betting picks for Saturday's college football slate, beginning with two noon kickoffs.
The first two games on his radar are both noon kickoffs: Michigan vs. Michigan State and Cincinnati vs. Memphis.
Below, find his full analysis on both matchups, plus updated odds and his pick for the game of the night: Ohio State vs. Penn State.
It's a big week in the Big Ten.
Arguably the biggest game of the conference's season — Ohio State vs. Penn State — will take place in Happy Valley on Saturday. While the game may have lost a bit of its luster after the Nittany Lions' season-opening loss, it will be one of the most entertaining contests of the week.
In addition to the clash between the top teams in the East Division, there's a battle for the state of Michigan and the Paul Bunyan Trophy between the Wolverines and Spartans.
Throw in a Group of Five game between two powerful teams in Cincinnati and Memphis, and we're in for a pretty solid weekend of college football.
---
Check out the Action Network Power Ratings for all Week 9 games and follow me on the Action App for the latest updates.
---
My College Football Betting Card for Week 9
Here's a rundown of my favorite betting spots on Saturday's slate of games:
---
All odds listed below have been updated as of Saturday morning and via DraftKings. Specific bet recommendations at the end of each matchup breakdown come from the sportsbook offering preferred odds as of writing. Always shop for the best price using our NCAAF Odds page, which automatically surfaces the best lines for every game.
---
---
Memphis vs. Cincinnati
12 p.m. ET, ESPN

Cincinnati hosts Memphis on Saturday in what feels like an AAC elimination game for the Tigers.
Both teams have lived up to their billing this year, with Memphis continuing to roll on offense and Cincinnati turning in masterful defensive efforts with a solid ground game to boot.
Here's how I'm betting Saturday's game.
Memphis Tigers
Despite a 3-1 record, Memphis finds itself clawing through an AAC conference with three undefeated teams and two other teams with just one loss.
The Tigers offense has been as good as advertised despite major losses at the skill positions over the last year, including WR Damonte Coxie, who left the team two weeks ago.
The Tigers are 14th in Passing Success Rate and 25th in Finishing Drives against a schedule that includes SMU and Central Florida.
The weakness for Memphis comes on defense, a unit that was heavily exposed in the SMU game.
The Tigers are 87th in defending pass explosiveness and allowed eight passes of 15 yards or more against the Mustangs.
Coverage has been a poor collective effort, as Jacobi Francis and Rodney Owens have allowed targeted passes over 85 yards this season.
Each of Memphis's five starting defensive backs has allowed a 60% completion rate or higher, per Pro Football Focus.
Cincinnati Bearcats
The Bearcats may have panicked in canceling a trip to Tulsa for concerns over COVID-19 but showed no rust after a three-week layoff in a dominant win over SMU. Cincinnati limited Mustangs QB Shane Buechele to 23-of-44 passing for just 216 yards.
This may be the best defense Fickell has fielded in his four years at Cincinnati, as the Bearcats are 11th in Success Rate, 10th in Havoc and fourth in Finishing Drives. Opponents are scoring just 1.8 points per trip inside the 40-yard line.
On offense, QB Desmond Ridder is posting his most disciplined campaign yet. He's got a pedestrian 7:4 touchdown-to-interception rate, but just three sacks with minimal fumbles and an average of 10.9 yards per carry have made the Cincinnati offense explosive on the ground.
The Cincinnati defense is fourth in the country in Defensive Finishing Drives, always a strength for this team under Fickell. But the offense is now holding up its end of the bargain. The Bearcats rank 20th in Finishing Drives, averaging 4.4 points per trip inside the opponent's 40.
Betting Analysis & Pick
These two teams know each other quite well after meeting in the final week of AAC play and then again in the AAC Championship Game last season.
Memphis head coach Ryan Silverfield has been with the Tigers offense since 2016, which has provided a number of tough matchups for Fickell, Cincy's defensive-minded head coach.
---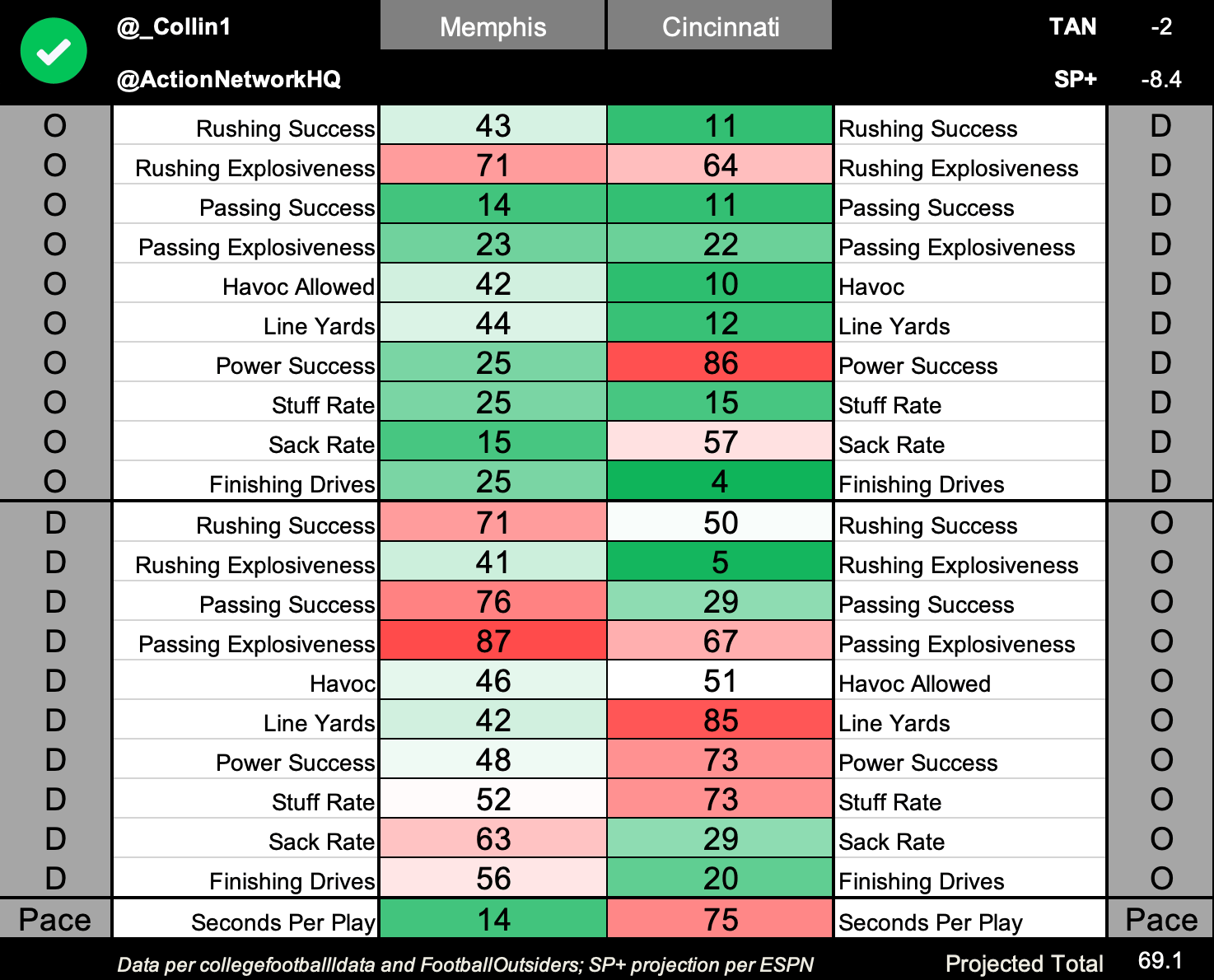 ---
These two teams run a much different pace of offense, with the Bearcats at 27.4 seconds per play and the Tigers at 22.4.
My Week 9 Pace Report sets this total far beyond the current market of 55, at 69 points. You can get all my point spread and over/under projections as part of Action PRO.
The Bearcats play slow, but 42 points against SMU came with a boatload of explosive plays. Cincinnati finished with a 31% Explosive Drive Rate, far beyond the national average of 13%.
The Memphis defense is 41st in defensive rushing expected points and 87th against the pass. Throw in the flailing secondary and lack of stopping power in the red zone, and everything points over.
Memphis can keep up on offense with a pace that ranks 14th. There are not many weaknesses in this Cincinnati defense, but a Sack Rate of 57th suggests Brady White will have plenty of time in the pocket.
In passing attempts without blitzing or pressure, White has completed at least 72% of passes with a 7:1 touchdown-to-interception ratio.

---
Memphis should keep pace and keep this a one-possession game. If the Tigers happen to catch a two-possession lead, it will be interesting to see if Fickell continues to play slow on offense while trying to get back into it.
Either way, White will be taking shots down the field without pressure in the pocket.
Pick: Over 55 or better; Memphis +7 or better
---
Michigan State vs. Michigan
12 p.m. ET, FOX
Michigan State Odds
+22.5 [BET NOW]
Michigan Odds
-22.5 [BET NOW]
Moneyline
+1000/-2500 [BET NOW]
Over/Under
50.5 [BET NOW]
Time
12 p.m. ET
TV
FOX

Check out our free College Football Odds page, which automatically surfaces the best line for every game.
The battle for the Paul Bunyan Trophy is upon us.
Michigan and Michigan State experienced very different first weeks, with the Wolverines picking up a victory over a ranked Minnesota squad on the road and the Spartans falling to Rutgers in East Lansing.
But in rivalry games, many preconceived notions are thrown out the window.
Michigan State Spartans
Plenty of game previews in the landscape will focus on the negative aspect of the Spartans' opening loss to Rutgers. Sure, there were seven turnovers and just 50 rushing yards on 39 attempts, but the special teams unit did its duty. Matt Coghlin drilled both field goals with a long of 48, while punter Bryce Baringer booted two balls for an average over 50 yards. The defense did force two fumbles and an interception.
While the final score is a bit shocking, there's more to consider in the advanced box score. Rutgers had just one explosive drive in 15 possessions and averaged 3.89 yards per play. While the national average for two-plus first down drives is 41%, the Scarlet Knights had just 26% in that category. Scottie Hazelton's Michigan State defense can play, but things tend to get questionable when it comes to the offense.
In 36 rushing attempts, the Spartans were stuffed on 19 of them — more than 50%. The offensive line struggled in run blocking but did a favorable job in the passing game for quarterback Rocky Lombardi. The Spartans allowed just one quarterback hurry and three sacks.
Rutgers found itself with an average starting field position of the 45-yard line — a result of costly turnovers, not special teams play.
If the Spartans want to compete, the offensive line must do a better job in protecting Lombardi while improving on a run-blocking grade that was the worst in FBS, per Pro Football Focus.
---
Michigan Wolverines
The Wolverines could not have asked for a better start to the season, answering critics with 35 points in the first half against a ranked Minnesota squad. After an initial drive that included an unsportsmanlike conduct penalty and a punt, the Wolverines ripped off four touchdowns, a defensive 'pop-n-score' but missed two field goals in the remainder of the half.
The defense starts the season off with a 20% Havoc rate that includes eight tackles for loss and five passes defended. Minnesota posted a 27% Success Rate in passing plays and did not generate a single explosive drive. Despite finishing top-10 in PFF's top-graded pass-rush rankings, there were low marks on rush defense and coverage. Gemon Green and Josh Ross pulled the highest grades of all players in the back seven, but defensive backs Vincent Gray and Makari Paige may see more targets down the road.
---

---
Betting Analysis & Pick
The market is predictably high on Michigan and down on Michigan State after their respective openers. There's a small sample size for what Harbaugh does at home as a minimum two-touchdown favorite against the Big Ten, but since 2015, Michigan is 8-3 against the spread in this scenario. The pace of this game may make it difficult for Michigan to cover such a large number.
Michigan State finished with a pace that ranked sixth in FBS, but trailing Rutgers early dictated a quicker tempo.
Mel Tucker held his Tuesday presser ahead of the Michigan game and stated he wanted to be a run-first team and protect the quarterback in passing plays. Tucker also mentioned the need to "establish our culture, our brand," which means no matter how bad the run blocking is, the Spartans will still run the ball.
Michigan's offense needs further inspection after diluted stats that included plenty of garbage time in the second half. The Wolverines are currently ranked first in the nation in Rushing Expected Points, with an Offensive Success Rate in the top 10. Although the final numbers say Michigan ran an offense at a tempo of 26.6 seconds per play, the first-half splits say Josh Gattis ran the Wolverines at 23 seconds per play before garbage time started.
Knowing Michigan ran tempo in the first half when the game was competitive, the question becomes whether or not the Wolverines will run straight into a stout Spartans defensive front seven instead of passing. Michigan started 6-of-7 first-half possessions with a Joe Milton pass. Specifically, on all first downs in the first half, the Wolverines started with eight passes and seven rushing attempts.
The best way to attack this Michigan State defense is not to run straight at it. Instead, it would be beneficial to throw at cornerback Kalon Gervin and safety Tre Person; both gave up passer ratings over 100 to Rutgers. Considering Gattis' tendencies to pass first in tempo during the first half of the Minnesota game, a first-half over is warranted.
The current market is coming down on the total, so shopping Saturday morning for a number south of four touchdowns is recommended.
Pick: First-half Over 28 or better
---
Ohio State vs. Penn State
7:30 p.m. ET, ABC

Ohio State Buckeyes
The Buckeyes opened the season with a 35-point victory over Nebraska, leading college football consumers to believe Ohio State is a lock for the playoff. And while that may be true, underneath the final score shows an advanced box score that may have revealed some future conflicts for Ryan Day's defense: Nebraska pushed the Ohio State front seven around for most of the game, leaving the Buckeyes with a rank of 87th in Line Yards.
The Cornhuskers may be improved, but the Buckeyes' loss of Chase Young left new defensive coordinator Kerry Coombs without any bite in the Havoc department. Ohio State tallied just five tackles for loss without a quarterback hurry. More worrisome is a back seven that was graded 79th in coverage by Pro Football Focus.
Nebraska quarterback Adrian Martinez found himself with plenty of open looks that other Big Ten quarterbacks can capitalize on against Ohio State.
There are no worries for the Buckeyes on the offensive side of the ball, as Justin Fields went 20-of-21 last week. Both Chris Olave and Garrett Wilson had more than 100 yards receiving as Fields found eight different pass-catchers on the day.
If there was a concerning note for the Ohio State offense, it's the number of times Fields was used to rush the ball: The quarterback was hampered by knee issues down the stretch of 2019 that limited his pocket mobility, yet Fields recorded 15 rushes for 54 yards with seven scrambles on passing attempts.
Penn State Nittany Lions
Of the many misleading box scores from Week 8, the Indiana-Penn State tilt was at the top of the list.
A simple fall at the 1-yard line by Devyn Ford would have kept Penn State in the hunt for the College Football Playoff. Instead, the Nittany Lions are 0-1 on the season after posting a 99% postgame win expectancy against the Hoosiers.
Ford ended with 69 yards on 20 carries and will be the workhorse now that Noah Cain is lost for the season — a huge blow to the running back unit that previously featured Journey Brown and Ricky Slade.
Penn State had possession of the ball for more than 40 minutes against Indiana with a pace that ranks 79th in terms of seconds per play. The offensive line did a tremendous job, ranking 10th in Sack Rate and 13th in PFF's run-blocking grades.
Sean Clifford led an attack that produced 52% of available yards against the national average of 40%. Penn State also had 53% of drives result in first downs, proving the Nittany Lions have become sustainable chain movers under new offensive coordinator Kirk Ciarrocca. The defense also did a great job of limiting the Hoosiers.
Indiana had just two runs longer than 12 yards and not a single rush longer than 20, while more than half of the Hoosiers' rushing attempts were stuffed by the Penn State defense. The Nittany Lions' back seven did just as well, limiting quarterback Michael Penix Jr. to just one pass longer than 20 yards. Penn State also posted the third-highest pass-rush grade, per PFF.
Betting Analysis & Pick
The number of designed runs for both Clifford and Fields was more than expected in the first week of Big Ten play. The quarterbacks combined for 32 rushes for two offenses that average around 28 seconds per play.
Ohio State is an explosive offense, but Penn State's defense continues to be one of the best in limiting chunk plays: Indiana had just one play that exceeded 20 yards against the Nittany Lions. The Buckeyes will certainly rack up their share of chunk plays, but Fields will take some hits.
Penn State finished third in PFF's grading of pass rush — the one area Ohio State's offensive line had problems. Nebraska posted a pass-rush grade of 56th, as the Buckeyes' offensive line graded out 53rd in pass blocking.
The health of Chris Olave must be monitored while in concussion protocol, as the junior accounted for seven targets against Nebraska.
---

---
Our PRO Projections make this game Ohio State -9, which means at -12, there's plenty of edge to the Penn State side. The Nittany Lions' loss to Indiana enhanced the public appetite for Ohio State in this game. This has created an opportunity to back a Penn State team that will limit explosiveness and give Fields plenty of pressure.
Pick: Penn State +11.5 or better
How would you rate this article?