College Football Odds & Picks: Stuckey's 12 Favorite Week 12 NCAAF Betting Spots
Credit:
Ron Jenkins/Getty Images. Pictured: Baylor wide receiver Kyron Drones.
Just like I've done every Wednesday, I will share my favorite spots for this week's college football games.
Last week's 10 spots finished 5-4-1 with a painful loss on South Florida after the Bulls decided not to kick the extra point in the final minute down 18 for the cover, instead opting for a failed two-point try. Maximum pain. That brings the four-week running tally to 32-11-1 (74.4%).
For Week 12, I have highlighted my 12 favorite spots, which I will detail below in what will likely be my last massive single-day college football betting card of the season. That made me sad to type.
Hopefully, we can avoid the regression monster for another week and keep it rolling through the end of the season. Although, there will always be rough weeks in this gig, so please wager responsibly.
Ultimately, the actual spread value still reigns supreme. No matter how great a situational spot appears on paper, you still have to factor in how much value the number holds. A good or bad spot may sway me one way or the other on a bet I'm on the fence for, but it's certainly more art than science.
My primary goal is to simply help you make one or two of those same tough wagering decisions while sharing a few key angles, notable matchups and injury situations for each particular game.
Let's kick things off with four noon kicks then move on to a trio of mid-afternoon matchups before finishing up with five prime-time games.
---

Navy +17 vs. UCF
11 a.m. ET · ESPN2
Just like last week, we're starting off with Navy catching over two touchdowns.
That will always get my attention for one of the most run-heavy teams in the country that will bleed the clock and limit possessions, making it very tough to cover with any margin.
It's also not a great spot for UCF.
The Knights come home for an 11 a.m. local kick after two massive road wins against Memphis and Tulane to put them in the driver's seat for a spot in the AAC title game.
They also have a rivalry game with USF in the War on I-4. That could impact their focus and discipline, which is paramount against the triple option.
From a matchup perspective, I'm sure UCF will hit some explosive passing plays against a horrific Navy secondary. Everybody does.
However, in order to slow down the UCF offense, teams need to slow down its explosive ground game, led by quarterback John Rhys Plumlee. Navy is fully capable of doing just that, ranking in the top 25 nationally in the following rush defense categories:
Yards Per Rush (9th)
Line Yards (3rd)
Opportunity Rate (25th)
Power Success Rate (8th)
Stuff Rate (6th)
EPA per Rush
Rush Success Rate
Additionally, Navy is not afraid of the highway. Its defense and run game travel well. The Midshipmen are 5-0 against the spread away from home this year, covering by an average of 12 points per game. They closed as at least 12.5-point underdogs in all five contests, losing by margins of 3, 3, 3, 6 and 10.
The Mids could be down to their third-string quarterback in Massai Maynor, but he has the best arm of any quarterback on the roster. He gives them the best chance of hitting a handful of explosive passing plays through the air against a vulnerable UCF secondary.
Notable Nugget: Service academies are 41-22-2 (65.1%) ATS when catching more than two touchdowns since 2005, covering by over five points per game.
---
Texas A&M -33.5 vs. UMass
Noon ET · ESPN+
While everybody has been trying to identify the bottom of the market to buy low on Texas A&M, I've simply maintained my stance of fading Jimbo Fisher's bunch until the cows come home.
Well, I just saw the cows show up in my backyard.
I'm reluctantly going to try to catch the falling knife on an Aggies squad that just lost six straight games for the first time over the past 50 seasons.
I just think this is a get-right spot where the Aggies can take out all of their season-long frustrations on a team they will have a massive talent gap over.
Plus, after suffering a heartbreaking loss at Arkansas State, UMass heads to College Station for its third straight road game. That's not ideal this late in the season for a team that lacks depth. For reference, since 2005, nonconference dogs of 20-plus points in their third straight road game have gone just 23-38 ATS (37.7%).
Meanwhile, Texas A&M could get a few key skill position players back this week and is now two weeks removed from a bad flu outbreak that ran through its locker room.
Now, if A&M just doesn't show up at all, this has no chance. However, I'm willing to take that risk here since I do also show plenty of line value. If the Aggies have any remaining pride or care at all, they should hold UMass close to scoreless and put up at least 40.
Notable Nugget: Jimbo Fisher is 26-13 ATS (66.7%) as a favorite against nonconference opponents. That includes a 15-6 ATS (71.4%) record when favored by 28-plus, making him the most-profitable coach in that situation since 2005.
---

Vanderbilt +14.5 vs. Florida
Noon ET · SEC Network
I think this is a good opportunity to fade Florida in a potential sleepy spot for a noon kick in Nashville against the Commodores, who still have dreams of getting to a bowl. I'm also sure they want to avenge an embarrassing 42-0 loss in Gainesville last year.
Meanwhile, the Gators clinched a bowl berth and have a big rivalry game against Florida State on deck.
When evaluating any Florida game, you have to look at the opponent's rush defense. Well, Vanderbilt has been much stronger in the department. Plus, I'm not sure Anthony Richardson can truly exploit its porous secondary.
On the other side of the ball, Vanderbilt can put up enough points to stay within this number against a very suspect Florida defense. The Gators also don't get much pressure, which is a major key if Mike Wright has to start once again for the injured AJ Swann.
Notable Nugget: Florida is 0 for its last 8 ATS as a road favorite, failing to cover by 14-plus points per game on average. That includes four consecutive outright losses — all as favorites of over touchdown.
---

Baylor +2.5 vs. TCU
Noon ET · FOX
On the surface, this is a great spot to back Baylor.
Last week, TCU remained perfect with an upset win over Texas, while Baylor got absolutely embarrassed at home against Kansas State. Considering that had major Big 12 title implications, it was one of the most head-scratching efforts of the season.
It may be the perfect time to buy low on the Bears, who will look to avenge last season's loss at TCU in a complete role reversal after the Horned Frogs pulled off an upset to ruin Baylor's potential chance at a College Football Playoff berth.
Also, TCU just played its ninth-straight big game in nine weeks (with seven of the previous eight being close) over a stretch that started with a highly-anticipated road game against rival SMU. Historically, teams have suffered a bit of a decline in production in this spot.
The Frogs have to be gassed and feeling the effects — both mentally and physically — of that gauntlet without a breather over the past two months. For example, Max Duggan is dealing with a lingering calf injury.
You should get Baylor's best effort at home against a TCU team playing with all of the pressure. The Horned Frogs also remain overdue for a few bounces to go the other way in a close game.
In the interest of full transparency, maybe you should ignore my advice about fading TCU. I'm 2-0 backing the Horned Frogs — the most profitable team in the country — but 0-4 fading them. You'd think I'd learn my lesson by now, but then again, I'm not the sharpest knife in the drawer.
In fairness, West Virginia should've covered if not for an incredibly bad beat. Kansas State blew a big lead after its third-string quarterback played a couple of critical second-half drives. A similar thing happened with Texas Tech. TCU has undoubtedly benefited from opposing quarterback injuries and a few critical calls.
Now, I did bet Texas last week, which was a total dud. TCU was clearly the right side in a shockingly low-scoring affair. The Horned Frogs forced Quinn Ewers to beat them deep, and he couldn't connect on anything. It was eerily similar to his second-half performance against Oklahoma State.
I did upgrade TCU after that victory, but it's a team that still has flaws, especially on defense.
Now, there's an interesting dynamic with Sonny Dyke's group. If everybody says they're frauds, are they really frauds? The backup quarterback angle has also probably been overplayed. Some of the backups they've faced are more than capable.
As a result, I don't show as much value as I had anticipated. Although, my numbers still do like Baylor, especially if I can get +3 in a great situational spot.
Notable Nugget: Baylor head coach Dave Aranda is a perfect 5-0 ATS as an underdog against top-15 teams, covering by 12.5 points per game. That includes four consecutive outright wins over the past two seasons against opponents ranked fourth, fifth, eighth and 14th.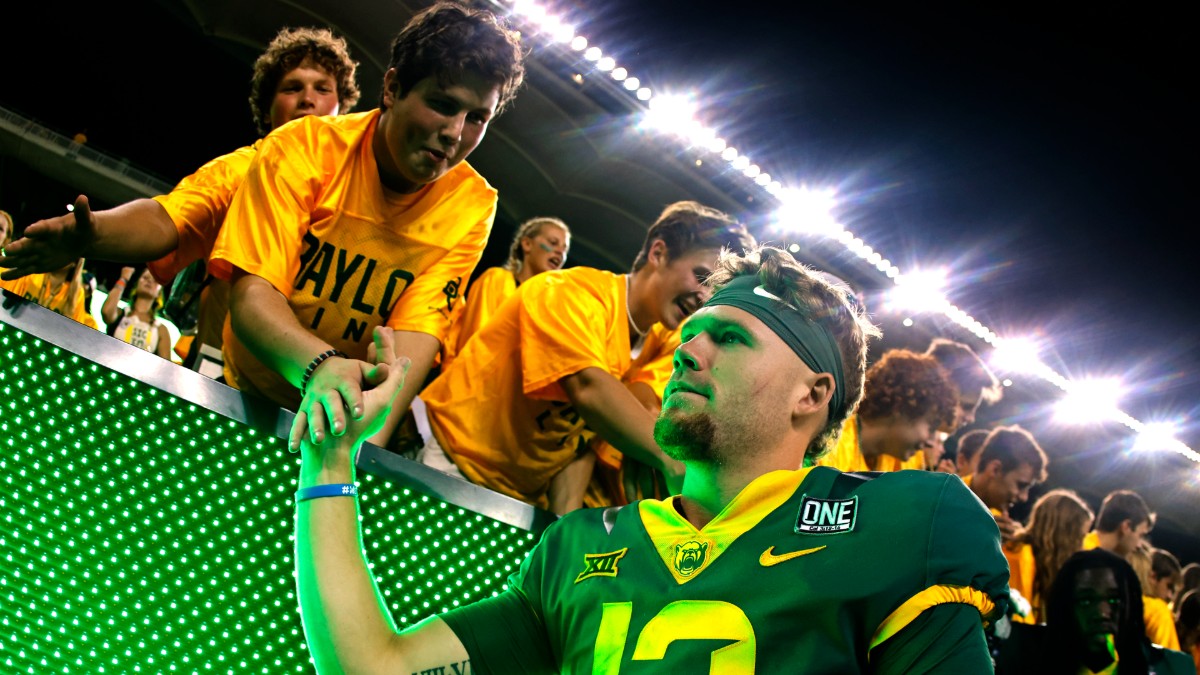 ---
Boston College +21 at Notre Dame
2:30 p.m. ET · NBC
I hate to put teams into simple buckets but Notre Dame seems to be the definition of a team that plays up and down to its level of competition each week. That's actually not too surprising to me for a very young team with a first-year head coach.
Meanwhile, after surviving a scare against Navy following two ranked victories, I'm not sure how hyped Notre Dame will be to host Boston College one week before it squares off with USC.
Plus, Boston College has seemingly found a spark at quarterback with backup Emmett Moorhead. After a promising debut start against Duke, the Virginia native threw for 330 yards in an upset victory at NC State last Saturday.
I'm not sure what happened with quarterback Phil Jurkovec, but he was apparently part of the problem for the struggling Eagles offense that still can't run the ball at all.
With no chance of a bowl, this is basically Boston College's Super Bowl. I think the Eagles carry over that momentum from last week and can give the Irish a game.
Notable Nugget: In 2022, Notre Dame is 4-0 ATS as an underdog but just 1-5 ATS as a favorite, including 0-5 as double-digit chalk with two outright losses and another pair of one-possession victories.
---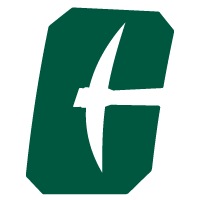 Charlotte +3 vs. Louisiana Tech
3:30 p.m. ET · ESPN+
One last trip to Club Lit.
It's the regular-season finale for Charlotte after an extremely tumultuous season. Last week, it got us a cover at Middle Tennessee in a game it should've won if not for two non-offensive touchdowns for MTSU.
The defense has improved marginally since head coach Will Healy's dismissal due to scheme simplification and a few personnel changes. It still has one of the five worst defenses in the country, but so does Louisiana Tech.
In a battle of two capable offenses against putrid defenses, I'll happily take the home dog with the better offense since Louisiana Tech won't have starting quarterback Parker McNeil. He's been a bright spot for the Bulldogs this season.
Backup quarterback Landry Lyddy significantly lowers the explosiveness potential of the offense. In his two starts, Louisiana Tech lost outright at Florida International and got blown out by UTSA, 51-7.
It's also not a great spot for the Bulldogs, who lost any shot at bowl eligibility last week. Now, in between games against UTSA and UAB, it will travel east to face lowly Charlotte.
Meanwhile, I'm not concerned about motivation for the 49ers. They have a number of key seniors playing in their final game after joining the program in 2018. It's also another audition for the staff for future jobs either under newly-hired head coach Biff Poggi or elsewhere.
Notable Nugget: Over the past two seasons, Louisiana Tech is 0-4 ATS as a road favorite, failing to cover by 13 points per game. All four actually came against conference opponents in outright losses.
---

Auburn -5.5 vs. Western Kentucky
4 p.m. ET · SEC Network
This Auburn team continues to play with newfound energy after Cadillac Williams took over as interim coach. The players have bought in, and the fans are showing up for a Tigers team that needs this game to keep their bowl eligibility alive.
Even with this game sandwiched in between a victory over Texas A&M and the Iron Bowl, I believe Auburn will come out ready to roll.
Meanwhile, Western Kentucky is already bowl-eligible. The Hilltoppers still have hopes of reaching the C-USA title game, but they will need a win next week combined with a North Texas loss.
Most importantly, this is a very good matchup for Auburn's defense, which has struggled all year defending the run but excelled against the pass.
That's good news against WKU's pass-heavy Air Raid attack. On the season, Auburn ranks in the top 25 in Success Rate against the pass compared to a ranking that sits outside the top 100 against the run.
Western Kentucky also has some potential looming negative turnover regression coming its way. On the season, it ranks third in the country with a +13 turnover margin. On the opposite end of the spectrum, Auburn ranks third-worst at -11.
I actually prefer the moneyline here since Auburn is not a team I fancy to win with margin. And for what it's worth, WKU lost a pair of road games by a field goal against UTSA and Indiana.
I personally paired the Tigers with Wake Forest in a moneyline parlay.
Notable Nugget: Western Kentucky is a perfect 5-0 ATS on the road, covering by an average of 14 points per game. Only Troy can make that same claim with a minimum of five road games.
---

Arkansas +2.5 vs. Ole Miss
7:30 p.m. ET · SEC Network
This looks like a great spot to back Arkansas at home against an Ole Miss team that might be a bit deflated after blowing a golden opportunity to beat Alabama last week with the Egg Bowl looming next Friday night.
Plus, any shot at a division crown is now gone.
Meanwhile, Arkansas should come out super motivated at home against a team it lost to by one last year after a failed two-point conversion.
Still trying to get to bowl eligibility, the Razorbacks battled hard last week against LSU. Despite being shorthanded, they should've won that game, according to postgame win expectancy.
Arkansas not only may return starting right tackle Dalton Wagner and versatile defensive back Myles Slusher, but quarterback KJ Jefferson could also come back from injury. He's been one of the most underrated quarterbacks in the country, and the drop-off to the backups is pretty stark.
I'd guess Jefferson starts, which would provide a huge boost to the offense. He practiced early this week, and Sam Pittman said
he expects him to play on Saturday. Plus, Jefferson is from Mississippi. In the offseason, he stated he really wanted to beat the Mississippi teams. Well, he didn't play against Mississippi State in a loss, so I'm sure he's itching to get another shot at Ole Miss after his six-touchdown effort fell short by a point last season.
Keep in mind Arkansas has five losses, but two came with Jefferson sidelined, including last week's three-point loss to LSU. The Hogs also lost a pair of other games by a combined four points to Liberty and Texas A&M with the latter being very unlucky.
They've been quite unfortunate in close games, which may be part of the reason I show line value here. The situational spot only helps.
Notable Nugget: Arkansas head coach Sam Pittman has an impressive 13-6 ATS record (68.4%) as an underdog, covering by 4.5 points per game. That includes a 9-3 ATS (75%) mark against top-20 teams with a perfect 7-0 mark excluding games against Alabama and Georgia.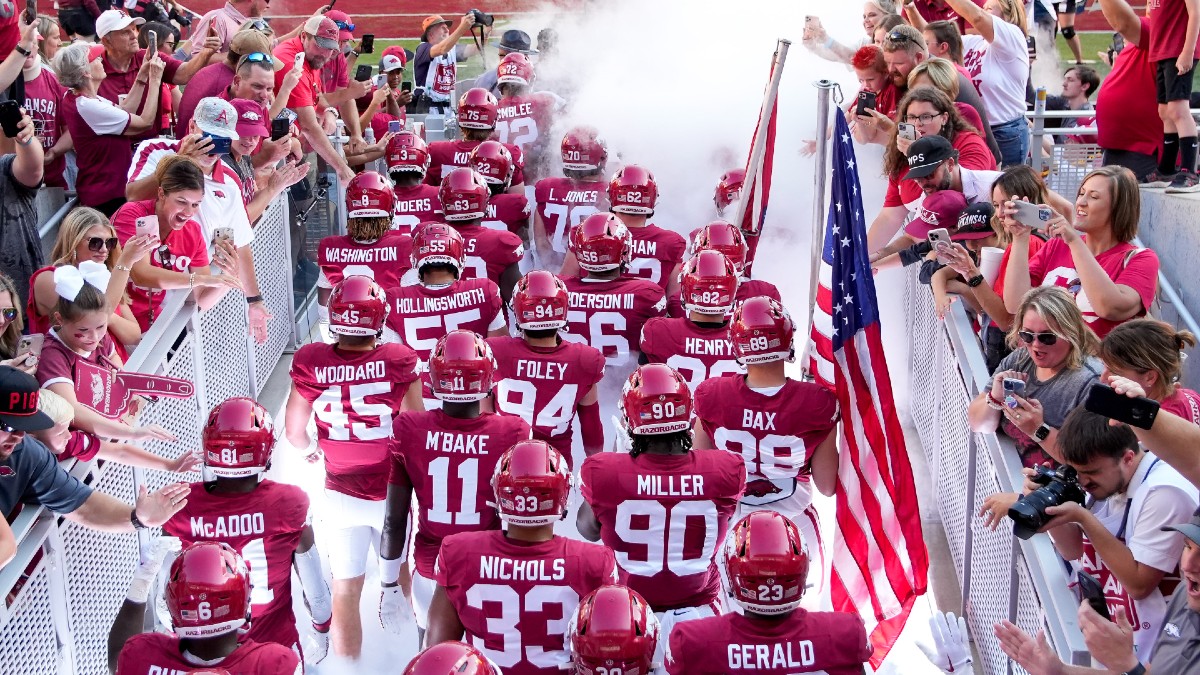 ---

UCLA +1.5 vs. USC
8 p.m. ET · FOX
I believe UCLA's loss against Arizona last week has given us value with the Bruins this week. The Wildcats actually deserved that win, but Chip Kelly's crew might have been caught peeking ahead to this matchup.
I've also been waiting for an opportunity to fade USC, which has played only two top-30 teams, losing at Utah and pulling out a lucky win at Oregon State.
These teams profile very similarly. They both boast top-10 offenses and horrid defenses. However, I think the USC defense and special teams are a bit worse.
USC should have success moving it on the ground, which sets up everything in a Lincoln Riley offense. However, it won't have the services of star running back Travis Dye and both star wideouts (Mario Williams and Jordan Addison) may not be 100% healthy.
UCLA should also run wild behind its elite offensive line against a USC defense that ranks in the bottom 10 nationally in EPA per Rush, Rush Success Rate and Opportunity Rate. That spells trouble against a Bruins offense that ranks first in the country in yards per rush (6.3).
USC also hasn't seen a true mobile quarterback in 2022. Dorian Thompson-Robinson's mobility and scrambling ability could play a major role against a USC defensive front that can put some pressure on opposing quarterbacks.
Lastly, the turnover regression monster could show up and bite USC on Saturday night. On the season, USC has an FBS-best +17 turnover margin that simply isn't sustainable. For reference, UCLA sits at +3.
Notable Nugget: Chip Kelly is 16-8-2 ATS (66.7%) as a conference underdog, covering by 8.2 points per game. That includes a 9-0-1 ATS mark as a short underdog between 1-3 points.
---
Colorado State +22.5 vs. Air Force
9 p.m. ET · FS2
Fading a Service Academy laying over two touchdowns is just as appetizing as taking one as the dog in that scenario. A game with limited possessions just makes it so much tougher to build bigger margins.
Plus, I don't think the market has fully caught up to Colorado State's offensive improvement in recent weeks. First, Clay Millen has returned under center from injury, which is a massive upgrade over the incompetent backups that saw action while he missed time.
Additionally, this offense overall has just improved as the season has progressed, as one logically would anticipate for a team transitioning to a brand new offensive scheme in the first year of a new regime.
Just take a look at what the Rams have done over the past two games. In a 28-16 loss to San Jose State, they actually outgained the Spartans, 468-355 (6.7-5.6 yards per play edge).
CSU followed that performance up with an unlucky loss (90% postgame win expectancy) against Wyoming in which it outgained the Cowboys, 372-236 with a 6.3-4.5 yards per play advantage.
From a matchup perspective, Colorado State wants to throw the ball with Millen. That's how teams can move the ball on an Air Force defense that struggles more in coverage. Look for stud wide receiver Tory Horton to have a big day.
The Falcons also don't generate a ton of pressure, which may give the Rams' horrid offensive line a break.
On the other side of the ball, Air Force obviously runs as much as any team in the country. That actually plays into the hands of Colorado State, which has had much more success defending the run.
Lastly, big conference dogs with low totals in this range have historically cashed at a 60% rate over the past 30 seasons.
It's also worth noting that Air Force won't have its normal altitude advantage against a team that plays its home games in Fort Collins (both altitudes over 5,000 feet).
Notable Nugget: Since 2005, service academies have gone 37-57-2 ATS (41.6%) as favorites of more than two touchdowns, including an even worse clip of 20-30-2 ATS (40%) when laying over three touchdowns.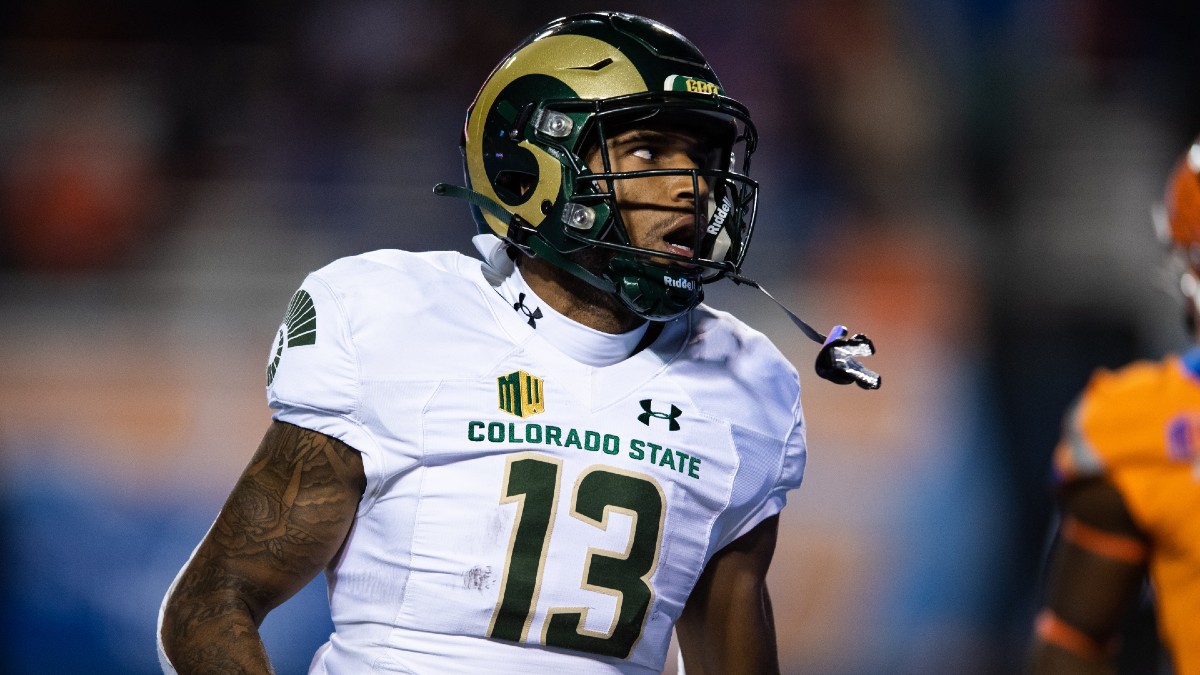 ---

UAB +15 at LSU
9 p.m. ET · ESPN2
Last week, LSU escaped Fayetteville with a fortunate win against a shorthanded Arkansas squad. With that victory, it clinched the SEC West Division and a berth in the SEC title game.
Considering that game followed its thrilling overtime victory over Alabama, the young Tigers could come out a bit flat.
Meanwhile, UAB is still fighting for bowl eligibility. And with a conference title game appearance out of reach, this becomes the Blazers' Super Bowl.
More importantly, I believe UAB is undervalued in the market with quarterback Dylan Hopkins back after missing time with injury. He's significantly better than backup Jacob Zeno, who came in against Western Kentucky in relief of the injured Hopkins and eventually blew the lead in a three-point loss.
UAB then dropped its next two games with Zeno starting before blowing out North Texas last week in Hopkins' return.
The Blazers sit at 5-5 on the season with five one-possession losses — three of which came without Hopkins. I actually graded them as a winner in their two other losses. Meanwhile, all five victories have come by at least two touchdowns.
They've certainly been unlucky in close games and in the turnover department (-8 in five one-possession losses), which has depressed their current market value, in my opinion.
From a matchup perspective, UAB features one of the nation's best running backs in DeWayne McBride, who averages an astounding 6.9 yards per carry. He leads a methodical, run-heavy offense that can shorten games and set up explosive passing opportunities.
UAB can have success on the ground against an LSU defense that ranks outside the top 100 in EPA per Rush.
On the other side of the ball, UAB has an excellent defense that I rank in the top 35 nationally. It has a shutdown secondary that can at least hang with the LSU receivers on the outside.
The run defense has some holes, but the Blazers have excelled at containing mobile quarterbacks. That's critical against Jayden Daniels.
Notable Nugget: You will always hear a lot about the LSU's home-field advantage in prime-time games, but that gets priced into the market. Since 2005, the Tigers are just 41-45 ATS in night games (7 p.m. ET or later start time) in Death Valley, including just 2-6 against nonconference opponents in similar November scheduling spots.
Not even the 2019 covering machine squad with Joe Burrow covered against Rice. Historically, SEC teams have covered at around a 45% clip in this spot.
---
Colorado +31 vs. Washington
9 p.m. ET · Pac-12 Network
This is sandwich city for the Huskies after upsetting Oregon with the Apple Cup against in-state rival Washington State on deck.
You really have to hold your nose to pull the trigger on the Buffs. They're a very bad football team.
However, they may have some success running the ball against a vulnerable Huskies defense that ranks in the bottom 15 nationally in Rush Success Rate. That would keep the high-flying UW offense on the sidelines for stretches — a necessity for this putrid Colorado defense that won't get many stops.
For what it's worth, Colorado does have an extra day of preparation after playing last Friday night.
Ultimately, I just think this line is a touch high after Washington's high-profile win, especially after accounting for the spot.
Notable Nugget: Since 2005, no team has been less profitable on the road than Colorado, which enjoys an altitude edge at home. Over that span, it has gone 31-60 ATS (34.1%), failing to cover by 3.75 points on average. That includes a 1-6 ATS mark as an underdog of 30-plus points.
This season, Colorado and Cincinnati are the two least-profitable teams to back away from home at 0-5 ATS. (UAB, NC State and Indiana are also winless against the number on the road but in fewer games.)
How would you rate this article?
This site contains commercial content. We may be compensated for the links provided on this page. The content on this page is for informational purposes only. Action Network makes no representation or warranty as to the accuracy of the information given or the outcome of any game or event.